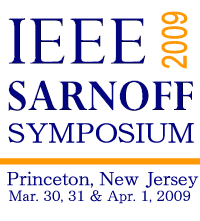 2009 IEEE Sarnoff Symposium
Mar. 30, 31 & Apr. 1, 2009, Nassau Inn in Princeton, NJ, USA
Sponsored by:

Note to authors
Deadline for final manuscript: March 2nd, 2009
The final manuscript of accepted papers must be IEEE Xplore compliant. Authors should use the free IEEE PDF eXpress tool at http://www.pdf-express.org/log.asp. The 2009 Sarnoff Symposium ID is: sarnoff09x.

Authors should also forward the copyright form to acheng@telcordia.com by March 2nd, 2009.

The copyright form can be found at http://www.ieee.org/web/publications/rights/copyrightmain.html. No technical paper will be included in the Conference CD Proceedings without a copy of the copyright form.

NOTE: Failure to register and submit the camera ready paper by March 2nd, 2009 may jeopardize the inclusion of the paper in the technical program and the conference's proceedings.