Welcome to Prague!
We are pleased to announce the 2013 IEEE—UFFC joint symposia on 21—25 July 2013. This joint conference celebrates the 60th anniversary of the IEEE Ultrasonics, Ferroelectrics, and Frequency Control Society and also will be the 6th in the series of successful joint meetings between the EFTF and IFCS and the 3rd joint meeting between the ISAF and PFM. So, the following three large Symposia will be joined together:
International Ultrasonics Symposium (IUS),
International Symposium on the Applications of Ferroelectrics – Piezoresponse Force Microscopy Workshop (ISAF–PFM),
International Frequency Control Symposium – European Frequency and Time Forum (IFCS–EFTF),
The event will be held at the Prague Congress Centre, situated above the Nusle Valley, just overlooking the unique historical centre of Prague. The site provides a great venue for our symposia as well as fascinating views and access to the UNESCO protected historical centre of Prague.
| | |
| --- | --- |
| Short courses: | Sunday, 21 July 2013 |
| Technical Program: | Monday, 22 July—Thursday, 25 July 2013 |
| General Chair: | Ahmad Safari, Rutgers University |
| Local Chair: | Jirka Hlinka, Institute of Physics, ASCR |
| Website: | http://ieee2013.fzu.cz/ |
Thematic areas
Dielectric, piezoelectric and ferroelectric materials
Fundamentals of ferroelectrics and piezoelectrics
Processing of ferroelectric crystals, ceramics and films
Characterisation and properties of ferroelectrics
Medical ultrasonics
Sensors, NDE & industrial applications
Physical acoustics
Microacoustics — SAW, FBAR, MEMS
Transducers & transducer materials
Oscillators, synthesizers, noise, & circuit techniques
Microwave frequency standards
Timekeeping, time and frequency transfer, GNSS applications
Optical frequency standards and applications
Sensors & transducers
For a detailed program topic list, see the Program section.
Venue
The venue of the IEEE Joint Ultrasonics, Ferroelectrics and Frequency Control Symposium will be Prague Congress Centre close to the historical centre of Prague, Czech Republic.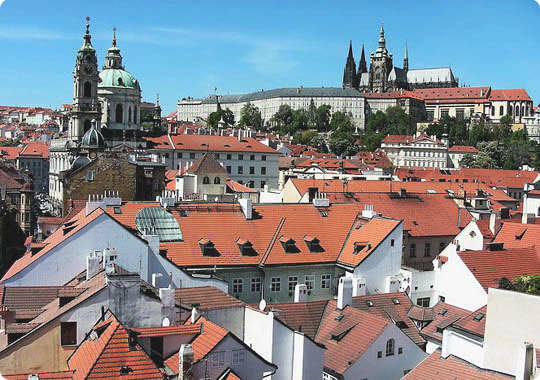 City of Prague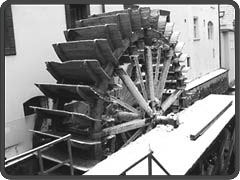 Prague, the capital of the Czech Republic, is well known for its historical monuments, classical architecture and rich cultural heritage that continues today in many theaters, concert halls, opera houses and galleries. Come and discover this wonderful city and walk in the footsteps not only of Franz Kafka and Antonin Dvorak but also of Tycho de Brahe, Johannes Kepler, Bernard Bolzano, Christian Doppler, Albert Einstein, Jaroslav Heyrovsky, Vladimir Prelog and others.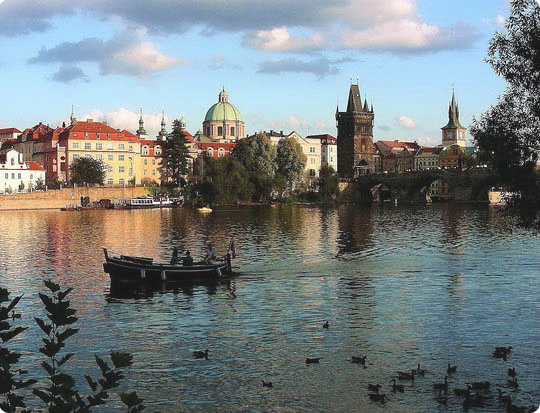 Getting to Prague
Vaclav Havel Airport Prague handles flights of most European carriers, including low-cost ones, as well as some overseas flights. To find the most appropriate flight without the need of visiting individual carrier websites, you may try a global travel search site at http://www.skyscanner.net/.
Czech Airlines as the official carrier for UFFC 2013 offers a 10% discount in Economy Class and a 15% discount in Business Class for all attendees and accompanying persons of the Symposium. The discount applies to flights within one week prior and after the Event. Detailed information can be found on the Czech Airlines Event website.
Transport from Prague Airport to the Conference venue
The airport is located approx. 30 minutes by car from the city centre, the travelling time extends during rush hours. There is a good connection by public transport buses and taxis, no train or underground connection is available.
Public transport
Bus 119: Prague Airport (Letiste Ruzyne) → Dejvicka (end stop of the bus and Metro line A terminal), then take Metro: Dejvicka → Muzeum (5 stations), then change the line and take Metro C: Muzeum → Vysehrad (2 stations). The journey takes less than 1 hour including the changes and waiting times. The bus stop is situated directly in front of the airport terminal.
Prague public transport is fast, efficient and frequent. Metro and most daily trams and buses operate every day from 5 AM till midnight. Night trams and buses (line numbers beginning with 5) operate throughout the night. Similar to most capitals, the concentration of picpockets is elevated, be aware in the historical centre as well as on your route from/to the airport.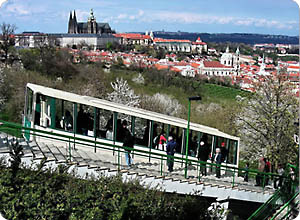 Tickets:
Basic fare of 32 CZK (approx. 1.30 EUR) entitles the holder to use all means of public transport (Metro, trams, buses and cable car to the Petrin hill) for up to 90 minutes including unlimited number of changes. The ticket must be validated using a yellow box inside the first bus or tram, or while first entering designated area in Metro. After validation, just keep the ticket with you.
Tickets can be purchased at:
Public Transport counters in Arrivals Halls of Terminals 1 & 2 (from 7 AM till 10 PM). Recommended option.
Ticket machine situated at the airport bus stop (CZK coins required). Press the button corresponding to the basic fare of 32 CZK, insert coins and the ticket will be printed for you.
From a bus driver (petty cash required). Please note that a ticket purchased from a bus driver costs 40 CZK and the passenger should pay by coins or nominally small banknotes. For cashpoint withdrawals, we therefore recommend setting an amount not ending with thousands CZK (200 CZK is a typical monetary quantum a cashpoint can dispense).
In the city, tickets can be purchased at newsagents, tobacconists, hotel receptions, ticket machines in Metro entrance areas etc.
When entering the bus, remember to validate the ticket.
Airport express
The fast bus line operates daily from 5 AM till 10 PM in regular intervals 30 minutes. The route is Prague Airport → Dejvicka (Metro A) → Masarykovo Nadrazi railway station (Metro B) → Hlavni Nadrazi (Prague Main Railway Station, Metro C). The fare is 50 CZK or 30 CZK if travelling just between the airport and Dejvicka Metro terminal.
From the terminal stop, Hlavni nadrazi, you can continue by Metro directly to the conference venue (Vysehrad, 2 stations). A cheaper 26 CZK ticket can be used for this route.
From Dejvicka Metro terminal, you can use Metro as described under Public transport.
Taxi (AAA, Radiocab)
The journey from the airport to Kongresove centrum takes at least half an hour and should cost around 600 CZK. The taxi rank of both official airport companies (AAA radiotaxi and Radiocab) is situated directly in front of the airport terminal. For the journey back, we strongly recommend ordering a taxi from your hotel reception rather than finding a cab in the street.
Resources
Transport from railway stations to the Conference venue
All principal railway stations are situated along Metro stations. There are only 3 Metro lines in Prague (A, B, C) so it is not difficult to reach Vysehrad station (line C).
If you decide to take a taxi, we strongly recommend ordering one rather than finding a cab in the street. For AAA radiotaxi, just call 14014 and wait 5–10 minutes until your taxi (yellow colour) picks you up.
Electrical outlets
Electrical outlets are 230 V, 50 Hz, French E-type plugs and sockets are used.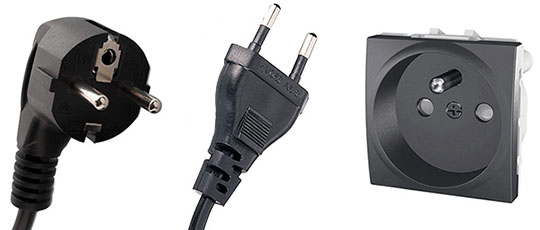 Photographs courtesy of fungus2. More Prague photos are available in our gallery.
Program of the Symposia
UFFC—IEEE Joint Symposia are an excellent platform to show activities deployed within the different working groups.
| | |
| --- | --- |
| Sunday, 21 July 2013: | Short courses and Tutorials |
| Monday, 22 July 2013: | IUS plenary presentation |
| Tuesday, 23 July 2013: | ISAF–PFM plenary presentation |
| Wednesday, 24 July 2013: | IFCS–EFTF plenary presentation |
| Monday–Thursday, July 22–25 2013: | Oral and poster sessions. |
Preliminary daily program
MON July 22
TUE July 23
WED July 24
THU July 25
8:30–10:00
Opening IUS
Awards & Plenary I
ISAF–PFM
Awards & Plenary II
IFCS–EFTF
Awards & Plenary III
Session (12)
10:00–10:30
Break
Break
Break
Break
10:30–12:00
Parallel sessions
Parallel sessions
Parallel sessions
Parallel sessions
12:00–13:00
Lunch
Lunch
Lunch
Lunch
13:00–14:00
Poster session
Poster session
Poster session
Poster session
14:00–15:30
Parallel sessions
Parallel sessions
Parallel sessions
Parallel sessions
15:30–16:30
Poster session
Poster session
Poster session
Poster session
16:30–18:00
Parallel sessions
Parallel sessions
Parallel sessions
Plenary IV and round table discussion
19:00–21:00
Reception
20:00–22:30
Banquet
Please note that the daily program may be updated.
Symposia topics
IUS–Group 1: Medical Ultrasonics
MBB Medical beam-forming and beam steering
MBE Biological effects & dosimetry
MBF Blood flow measurement
MCA Contrast agents
MEL Elastography
MIM Medical imaging
MPA Medical photoacoustics
MSD System & device design
MSP Medical signal processing
MTC Medical tissue characterization
MTH Therapeutics, hyperthermia and surgery
IUS–Group 2: Sensors, NDE & Industrial Applications
NAF Acoustics microfluidics
NAI Acoustic imaging
NAM Acoustic microscopy
NAS Acoustic sensors
NDE General NDE methods
NFM Flow measurement
NMC Material & defect characterization
NSP Signal processing
NPA Photoacoustics
NPC process control
NTD Transducers: NDE and industrial
NUA Underwater acoustics
NWP Wave propagation
IUS–Group 3: Physical Acoustics
PAT Acoustic tweezers
PGP General physical acoustics
PMI Magnetic/electromagnetic interactions
PNA Nano acoustics
POI Optical interactions
PPN Phononic crystal devices
PTF Thin films
PUM Ultrasonic motors & actuators
IUS–Group 4: Microacoustics – SAW, FBAR, MEMS
ADA Device applications
ADD Device design
ADM Device modeling
AMP Materials & propagation
AMS Microacoustic sensor devices & applications
AMR Microacoustic resonators
IUS–Group 5: Transducers & Transducer Materials
TMC Materials characterization & fabrication
TMI Medical imaging transducers
TMO Modeling (analytical & numerical)
TMU Micromachined ultrasonic transducers
TFT Thick film piezo-technology
TPF Applications of piezoelectrics & ferroelectrics
TTT Medical therapeutic transducers
---
ISAF–PFM Group 1: Fundamentals of Ferroelectrics and Related Materials
Conduction phenomena
Point defects & nanoionics (electroresistive & neuromorphic systems; tunneling; ferroelectric & magnetoresistive barriers; fundamental aspects of ionic motion & defects in functional oxides; energy storage systems; reliability & lifetime)
Domain engineering
Relaxor ferroelectrics/dielectrics
Ferroelectric photovoltaics (bulk and barrier photovoltaic effect, photostriction, photopoling, photoconductivity etc.)
Theory & modeling (domain structure, phase transitions, critical phenomena, density functional theory, first-principles calculations, phenomenology)
Nanoscale phenomena (nanostructure & size effects on piezo-/ferroelectric properties)
Multiferroics & magnetoelectric effects
Development of new materials: experiments & theory
Flexoelectricity
ISAF–PFM Group 2: Processing of Ferroelectric Crystals, Ceramics, Thick and Thin Films
Bulk materials (single crystals, ceramics, polymers, liquid crystals & composites)
Thick & thin film processing technologies (preparation, characterization)
Patterning methods (forming, net-shape forming, microfabrication)
Biomaterials (biofilms, self-organized nanostructures & ferroelectric-like tissues)
ISAF–PFM Group 3: Characterization & Properties of Ferroelectrics
Physical & structural characterization techniques (scanning probe microscopy methods including piezoresponse force microscopy, optical near field imaging, X-ray & neutron scattering, electron microscopies, vibrational spectroscopies & others)
Electrical & electromechanical characterization (broadband dielectric spectroscopy, piezoelectric characterization, non-linear methods etc.)
ISAF–PFM Group 4: Applications of Ferroelectrics, Piezoelectrics and Related Materials
Ferroelectrics & antiferroelectrics for energy (electrocaloric materials & devices, ferroelectric photovoltaics, thermoelectric materials & devices)
Dielectrics (capacitors, ultra high-K materials, RF & THz materials & properties, energy storage harvesting devices, MRI Concepts (dielectrics for focusing etc.))
Materials for low and high power ultrasound sensors, actuators, novel applications
Ferroelectric memory materials & devices
Piezoelectricity (high-performance piezoelectric single crystals, lead-based piezo-ceramics, lead-free piezoelectrics, lead-free piezoelectric polymers, MEMS & other integrated piezo-devices)
Pyroelectric materials & devices
Optical phenomena (signal processing, storage devices, periodic poling, photonic band-gaps)
---
IFCS–EFTF Group 1: Materials, Resonators & Resonator Circuits
Fundamental properties of materials
Micro- and macro-fabrication technology for resonators and filters
Theory, design and performance of resonators and filters, including BAW, FBAR, MEMS, NEMS, SAW and others
Reconfigurable frequency control circuits, e.g. arrays or channelizers
IFCS–EFTF Group 2: Oscillators, Synthesizers, Noise & Circuit Techniques
Oscillators — BAW, MEMS and SAW
Oscillators – microwave to optical
Heterogeneously integrated miniature oscillators, e.g. single-chip
Synthesizers, multi-resonator oscillators & other circuitry
Noise phenomena and aging
Measurements and specifications
Timing error in digital systems and applications
IFCS–EFTF Group 3: Microwave Frequency Standards
Microwave atomic frequency standards
Atomic clocks for space applications
Miniature and chip-scale atomic clocks and other instrumentation
Atomic interferometers
Fundamental physics, fundamental constants & other applications
IFCS–EFTF Group 4: Sensors & Transducers
Resonant chemical sensors
Resonant physical sensors
Vibratory gyroscopes & magnetometers
BAW, SAW, FBAR and MEMS sensors
Transducers
Sensor instrumentation
IFCS–EFTF Group 5: Timekeeping, Time and Frequency Transfer, GNSS Applications
TAI and time scales, time & frequency transfer and algorithms
Satellite navigation (Galileo, GPS etc.)
Telecommunications network synchronization, RF fiber frequency distribution
All-optical fiber frequency transfer
Optical free-space frequency transfer
Frequency and time distribution and calibration services
IFCS–EFTF Group 6: Optical Frequency Standards and Applications
Optical ion and neutral atom clocks
Optical frequency combs and frequency measurements
Ultrastable laser sources and optical frequency distribution
Ultrastable optical to microwave conversion
Fundamental physics, fundamental constants and other applications
---
Tutorials
For details on tutorial sessions, see the Short courses section.
Plenary and invited speakers
Plenary speakers
| | |
| --- | --- |
| IUS: | Peter Burns, University of Toronto, Canada |
| ISAF–PFM: | Kenji Uchino, The Pennsylvania State University and ONR, USA |
| IFCS–EFTF: | Daniel Kleppner, MIT, USA |
Plenary and round table discussion
| | |
| --- | --- |
| IUS: | Roman Maev, University of Windsor, Canada |
| ISAF–PFM: | Andreas Schoenecker, Fraunhofer IKTS, Germany |
| IFCS–EFTF: | Patrick Gill, National Physical Laboratory (NPL), UK |
---
Invited speakers
IUS
Group 1: Medical Ultrasonics
Mickael Tanter, ESPCI ParisTech, France
Vasilis Nitziachristos, Institute for Biological and Medical Imaging, Germany
Ayache Bouakaz, INSERM, France
John Hossack, University of Virginia, USA
Denise Hocking, University of Rochester Medical Center, USA
Kathy Nightingale, Duke University, USA
Group 2: Sensors, NDE & Industrial Applications
Yonina Eldar, Israel Institute of Technology, Israel
Mike Todd, University of California-San Diego, USA
Mauricio Pereira da Cunha, University of Maine, USA
Group 3: Physical Acoustics
Bruce W. Drinkwater, University of Bristol, United Kingdom
Sébastien Guenneau, Institut Fresnel, France
Victor V. Krylov, Loughborough University, United Kingdom
Group 4: Microacoustics – SAW, FBAR, MEMS
Rich Ruby and Robert Aigner
Wolfram Pernice, Karlsruhe Institute of Technology, Germany
Naoki Uchiyama, Japan
Group 5: Transducers & Transducer Materials
Qifa Zhou, University of Southern California, USA
Christine Démoré , University of Dundee, United Kingdom
Margaret Lucas, University of Glasgow, United Kingdom
Rémi Dufait, Vermon SA, France
---
ISAF–PFM
Group 1: Fundamentals of Ferroelectrics and Related Materials
Ian Reaney, University of Sheffield, United Kingdom
Tor Grande, Norweigan Institute of S&T, Trondheim, Norway
George Rossetti, University of Connecticut, USA
Lane Martin, University of Illinois, USA
Group 2: Processing of Ferroelectric Crystals, Ceramics, Thick and Thin Films
Takaaki Tsurumi, Tokyo Tech, Japan
Tadej Rojac, Jozef Stefan Institute, Slovenia
Shujun Zhang, Pennsylvania State University, USA
Nazanin Bassiri Gharb,Georgia Tech, USA
Group 3: Characterization & Properties of Ferroelectrics
Yasuo Cho, Tohoku University, Japan
Ruediger Eichel, RWTH Aachen, Germany
Pam Thomas, University of Warwick, United Kingdom
Jan Petzelt, Academy of Sciences, Czech Republic
Group 4: Applications of Ferroelectrics, Piezoelectrics and Related Materials
Clive Randall, Pennsylvania State University, USA
Paul Muralt, Swiss Federal Institute of Technology in Lausanne, Switzerland
Shoichiro Suzuki, Murata, Japan
Jung Won Lee, Samsung, Korea
Arman Hajati, Fujifilm Dimatix, USA
Brian Pazol, Materials Systems, USA
PFM
Ying-Hao (Eddie) Chu, National Chiao Tung University, Taiwan, ROC
Marin Alexe, Max-Planck Institute, Germany
Alexei Gruverman, University of Nebraska-Lincoln, USA
Valanoor Nagarajan, University of New South Wales, Australia
Sergei Kalinin, Oak Ridge National Laboratory, USA
Brian Rodriguez, University College Dublin, Ireland
---
IFCS–EFTF
Group 1: Materials, Resonators, & Resonator Circuits
Randy Kubena, Hughes Research Laboratory, USA
Dana Weinstein, Massachusetts Institute of Technology, USA
Aaron Partridge, SiTime Corporation, USA
Sheng-Shian Li, National Tsing Hua University, Taiwan
Group 2: Oscillators, Synthesizers, Noise, & Circuit Techniques
Wei Zhou, Xidian University, China
Vincent Cros, CNRS, France
Xianhe Huang, University of Electronic Science and Technology of China, China
Maxim Goryachev, University of Western Australia, Australia
Group 3: Microwave Frequency Standards
Peter Schwindt, Sandia National Laboratories, USA
Filippo Levi, INRIM, Italy
Jocelyne Guena, SYRTE, France
Guglielmo Tino, LENS, Italy
Group 4: Sensors & Transducers
Bernard Legrand, IEMN Lilles, France
Antoine Weis, University of Fribourg, Switzerland
Max Zenghui Wang, Case Western Reserve University, USA
Adam Olsson, McGill University, Canada
Group 5: Timekeeping, Time and Frequency Transfer, GNSS Applications
Erik van der Bij, CERN, Switzerland
Alexander Mudrak, ESTEC, Netherlands
Ulrich Schreiber, Technical University Munich, Germany
Miho Fujieda, NICT, Japan
Group 6: Optical Frequency Standards and Applications
Jun Ye, JILA, USA
Andrew Ludlow, NIST, USA
Stephan Falke, PTB, Germany
Tobias Kippenberg, EPFL, Switzerland
Short courses
IUS Tutorials
1A: 8:30–12:30
Medical Ultrasound Transducers
Instructors: Douglas G. Wildes, L. Scott Smith, GE Global Research
1B: 8:30–12:30
Hydrophone–based Measurement of Ultrasonic Fields for Biomedical, Non-Destructive Testing, and Regulatory (US FDA) Applications
Instructors: Keith A. Wear, US Food and Drug Administration, Andrew M. Hurrell, Precision Acoustics Ltd, Peter A. Lewin, Drexel University, Volker Wilkens, Physikalisch–Technische Bundesanstalt, Bajram Zeqiri, National Physical Laboratory
1C: 8:30–12:30
Signal Processing and System-on-Chip Designs for Ultrasonic Imaging, Detection and Estimation Application
Instructors: Jafar Saniie, Department of Electrical and Computer Engineering at Illinois Institute of Technology, Ramazan Demirli, Center for Advanced Communications, Villanova University, Erdal Oruklu, Department of Electrical and Computer Engineering, Illinois Institute of Technology
1D: 8:30–12:30
Nondestructive Materials Characterization by Ultrasonic Techniques
Instructors: Walter Arnold, Saarland University
1E: 8:30–12:30
High Frequency Transducers and Their Applications
Instructors: Jeffrey C. Bamber, Institute of Cancer Research and Royal Marsden Hospital, Timothy Button, University of Birmingham, Christine Demore, Dundee University
1F: 8:30–12:30
Acoustic Tweezing: Modelling, Implementation and Applications
Instructors: Bruce W. Drinkwater, Department of Mechanical Engineering, University of Bristol, Charles Courtney, University of Bath, Sandy Cochran, University of Dundee, Martyn Hill, University of Southampton
2A: 13:30–18:00
Biomedical Photoacoustics: From Bench to Bedside
Instructors: Stanislav Emelianov, Richard Bouchard, University of Texas
2B: 13:30–18:00
Comparing Piezoelectric Materials for Sensors, Actuators, and Ultrasound Transducers
Instructors: Susan Trolier–McKinstry Materials Research Lab, Penn State University, Sandy Cochran, University of Dundee
2C: 13:30–18:00
Ultrasonic Characterization of Advanced Materials
Instructors: Michal Landa, Hanus Seiner, Petr Sedlak, Institute of Thermomechanics, Academy of Sciences of the Czech Republic
2D: 13:30–18:00
Quantitative Acoustic Microscope – Measurement, Analysis, Biological and Materials Science Application
Instructors: Naohiro Hozumi, Toyohashi University of Technology, Kazuto Kobayashi, Honda Electronics, Sachiko Yoshida, Toyohashi University of Technology, Roman Gr. Maev, Institute for Diagnostic Imaging Research, Fedar Seviaryn, University of Windsor
2E: 13:30–18:00
Plane Wave Imaging and Applications for Ultrafast Doppler, Elastography, and Contrast
Instructors: Mathias Fink, Mickael Tanter, Langevin Institute, ESPCI ParisTech
2F: 13:30–18:00
Ultrasound Contrast Agents: Theory and Experiment
Instructors: Nico de Jong, Erasmus MC, Michel Versluis, University of Twente
For detailed information, please see the IEEE UFFC Short Courses (PDF) document.
ISAF–PFM Tutorials
Morning sessions
FE1AB Basic principles of FE and PFM
FE1A: 8:00–10:00
Fundamentals of Ferroelectrics and Piezoelectrics
David Cann
FE1B: 10:30–12:30
Principles and Applications of Piezoresponse Force Microscopy
Alexei Gruverman
FE2AB: Theory and modelling
FE2A: 8:00–10:00
First principles methods
Craig Fennie
FE2B: 10:30–12:30
Phenomenology of ferroelectrics
George Rosetti
Afternoon sessions
FE1CD: Advanced PFM techniques
FE1C: 13:30–15:30
Advanced Piezoresponse Force Microscopy Modes including acoustic and ultrasonic applications
Sergei Kalinin
FE1D: 16:00–18:00
Visualization and Manipulation of Electric Polarization and Charges using Atomic Force Microscopy
Seungbum Hong
FE2CD: PiezoMEMS
FE2C: 13:30–15:30
Piezoelectric thin films
Isaku Kanno
FE2D: 16:00–18:00
Piezoelectric materials for MEMS applications
Paul Muralt
IFCS–EFTF Tutorials
Track 1
Timing for GNSS and GNSS for Timing
Pascale Defraigne, Royal Observatory of Belgium, Belgium
Statistical Characterisation of Clocks for Timekeeping and Navigation Applications
Patrizia Tavella, Istituto Nazionale di Ricerca Metrologica, Italy
Fabrication Methods for MEMS-Based Frequency Control Devices
Clark T.-C. Nguyen, Berkeley, USA
Crystal Resonators and Oscillators
John Vig, USA
Track 2
Femtosecond Laser-based Optical frequency combs for frequency metrology
Yann Lecoq, Observatoire de Paris, France
Lasers for Optical Frequency Standards
Stephen Webster, M SQUARED LASERS LTD, UK
Frequency & Time Transfer using Optical Fibres
Gesine Grosche, PTB, Germany
Compact Atomic Clocks
Robert Lutwak, Symmetricom, USA
Track 3
Crystal Oscillator Design, Analysis, Simulation and Verification
Michael M. Driscoll, USA
The Pound Drever Hall Frequency Control Loop, Theory and Application
E. Rubiola, FEMTO-ST Institute, France
Optical Oscillators
Lute Maleki, OEWaves, USA
Phase and Amplitude Noise: Theory & Measurement
Craig Nelson, NIST, Boulder USA
Important dates
Call for papers:
October 1, 2012
Abstract submission begins:
December 19, 2012
Abstract submission reminder:
January 7, February 7 & 21, 2013
Abstract submission deadline:
March 6, 2013, 23:59 EST (USA)
Acceptance notification:
April 19, 2013
Advanced registration ends:
June 1, 2013
Hotel reservation:
June 19, 2013
Fee refunds:
July 1, 2013
Paper submission (online only):
July 21, 2013 (or earlier)
Tutorial and short courses:
July 21, 2013
Technical program, exhibition,
reception and gala dinner:
July 22–25, 2013
Registration
Advance registration is now open. For debit/credit card payments, registration can be processed using the online Registration form. For payments by bank transfer, please fill in the Registration form (PDF) and e-mail it to Lauren Pasquarelli at .
Registration fees
Conference registration
| Registration | Advance | Regular |
| --- | --- | --- |
| IEEE member | 665 USD | 820 USD |
| Non-member | 820 USD | 995 USD |
| Student / Retiree | 300 USD | 300 USD |
| IEEE life member | 245 USD | 245 USD |
| One day registration | 425 USD | 425 USD |
Registration fee includes admission to technical sessions, coffee breaks, Symposium Reception, Banquet Dinner, 4 days lunches and a copy of the Proceedings.
Advanced registration rates are available through June 1, 2013.
The deadline to request a refund is July 1, 2013. No refunds will be issued after this deadline. For the deadlines, see the Important dates section.
Tutorial registration
| | |
| --- | --- |
| IEEE member / Non-member | 245 USD |
| Student / Retiree / IEEE life member | 90 USD |
Conference Proceedings (CD-ROM)
| | |
| --- | --- |
| IEEE member | 75 USD |
| Non-member | 85 USD |
| Student / Retiree / IEEE life member | 75 USD |
Extra items
| | |
| --- | --- |
| Tutorials CD | 75 USD |
| Additional ticket for banquet dinner | 78 USD |
| Additional lunch ticket | 26 USD |
All prices include 21% VAT.
Tutorial registration includes tutorials, lunch on Sunday, and one copy of the Tutorial CD.
You must provide your current IEEE membership number to receive discounted rates. Member numbers will be verified.
Conference Registration is required for all Authors, co-Authors, and Track and Session Chairs.
Visa
Invitation letters for the purpose of application for Czech or Schengen visa are sent regularly to the REGISTERED participants or to the participants presenting ACCEPTED abstracts, provided such request was marked in their registration form or in their abstract submission webform. We do our best to process the requests as soon as possible. For more info, or if you failed to request the invitation letter previously, please contact local chair (J. Hlinka, ).
Very urgent special requests requiring fast delivery services or notary-certified documents can be handled by Guarant International (Veronika Brejchova, but in this case an additional handling fee of 100 EUR will required.
Contributions
Abstract submission
The abstract submission has been closed and the abstract acceptance has been notified. We would like to express our thanks for all the submitted abstracts.
Please note the organizers treat abstracts as confidential until publication online and in the program book.
To check the status of your submitted abstract, please follow a link to the dedicated website.
Instructions for poster presentations
Posters will be on display in the Poster Area located in the Forum Hall and the adjacent Foyer on the 2nd floor.
| | |
| --- | --- |
| Dimensions incl. the frame (landscape): | 100 × 150 cm (h × w) |
| Net dimensions of the poster area (landscape): | 94 × 144 cm (h × w) |
To keep good legibility of the poster, we recommend a maximum size of 94 cm in height and 140 cm in width. Pins for fastening the posters will be available in the Poster Area.
The material of the poster board is cork, so please do not use laminated paper for your poster. Your poster should be printed on paper, as light as possible.
Manuscripts
1. Proceedings
All participants are encouraged to submit a 2 to 4 page manuscript to the Proceedings of 2013 Joint UFFC, EFTF and PFM Symposium, which will be published on CD-ROM and on the IEEE Xplore Digital Library in a format compatible with IEEE Xplore. Authors publishing in the Proceedings will be required to transfer the copyright of the paper to the IEEE, the publisher of the Proceedings of 2013 Joint UFFC, EFTF and PFM Symposium, via the IEEE Xplore digital library.
Please use the MS Word template or LaTeX template when preparing the manuscript, as the templates are compatible with IEEE Xplore. Papers which are not PDF eXpress compliant will not be published through IEEE Xplore. The templates can be downloaded from http://www.ieee.org/conferences_events/conferences/publishing/templates.html.
Please complete the IEEE copyright form (PDF or DOC) and include a signed PDF copy with your manuscript.
The proceedings document is expected to be "camera ready", i.e. a final document with all figures placed in the text, no more than four A4 pages in length, and converted to a PDF document format.
Please submit your proceedings manuscripts and copyright form in PDF format via the web page (to be announced soon).
Proceedings will be published in three bands:

Proceedings of International Ultrasonics Symposium (IUS), editor Jafar Saniie.
Proceedings of International Symposium on the Applications of Ferroelectric and Piezoresponse Force Microscopy Workshop (ISAF–PFM), editor Stanislav Kamba.
Proceedings of International Frequency Control Symposium and European Frequency and Time Forum (IFCS–EFTF), editor Aaron Partridge.

Papers actually presented at the symposium will be included in the Proceedings. Thus if an author's paper is accepted for oral presentation and the presenter does not show up, the paper will not be included in the Proceedings. For the poster sessions, the presenting author is required to be located next to his or her poster during the session, otherwise the organizers reserve the right to reject publishing in the proceedings. In the case the author has a last minute problem he is kindly asked to immediately contact the session chairman (or group chair) to resolve the situation.
Proceedings will not be reviewed by independent referees. Only editors of the proceedings will check the content, figures, references and format (see the template) of the manuscripts. Only editors will decide which manuscript will be accepted for publication in the proceedings.
Proceedings will be electronically available for IEEE members three months after the conference on the IEEE Xplore Digital Library. A CD-ROM with proceedings will be distributed by mail.
Proceedings will have no impact factor but can be cited as a regular paper.
Submission of a manuscript to the Proceedings is not obligatory.
2. Publication in special issues of IEEE TUFFC
Only selected authors, who presented top-quality results on the 2013 Joint UFFC, EFTF and PFM Symposium, will be invited by conference organizers to submit a significantly expanded version of their Proceedings manuscript to three special issues of IEEE Transactions on Ultrasonics, Ferroelectrics, and Frequency Control (IEEE TUFFC). Impact factor of the IEEE TUFFC journal is 1.694.
The manuscripts will be submitted through the journal website and thoroughly peer reviewed, as would any other manuscript submitted to this journal. Jafar Saniie will be editor of papers from IUS, Aaron Partridge will edit papers from IFCS–EFTF and Stanislav Kamba will edit papers from ISAF–PFM.
Obviously there is a limit on the total number of articles that can be published in these three themed issues, but we believe to be able to accommodate the submissions of all authors that are of suitable content and quality. These invitations will be made by the end of the conference.
Authors will be asked to submit their manuscripts via the IEEE TUFFC journal website from the 9th September 2013. The final closing deadline for submission will be announced closer to the date.
Authors publishing in IEEE TUFFC journal will be required to transfer the copyright of their papers to the IEEE.
For any questions regarding your publication please contact the Publication Chair Stanislav Kamba at .
Accommodation
A number of hotels of various categories is available for the Symposium participants. The hotels are located within a reasonable distance from the Prague Congress Centre. Booking well in advance is highly recommended.
For detailed information including list of available hotels, terms and conditions etc. please follow the Accommodation link. For the deadlines, see the Important dates section.
How to make a hotel reservation
To book your accommodation, please fill in the online Hotel/Tour Application Forms.
Fake Housing Requests from Exhibitor Housing Services (EHS)
It has been brought to our attention that a company named Exhibitor Housing Services (EHS) is contacting individuals requesting final housing information on behalf of the UFFC–IEEE's name and logo.
UFFC–IEEE is not affiliated with this company in any way.
Do not send any personal information, in particular credit card details to EHS!
If you receive any e-mail from EHS, please forward to the .
Contact us
In case of any difficulties with your booking, questions or special requests, please do not hesitate to contact us at .
Social program
Conference reception
| | |
| --- | --- |
| Date: | Monday, July 22 |
| Time: | 19:00–21:00 |
| Admission: | Free for all registered participants |
| Venue & address: | Prague Congress Centre, 5. kvetna 65, Prague 4 |
The Conference Reception will be held at the Prague Congress Centre, the 2013 Joint UFFC, EFTF and PFM Symposium venue, in the Exhibition Area located on the 2nd Floor.
Banquet dinner at the Zofin Palace
| | |
| --- | --- |
| Date: | Wednesday, July 24 |
| Time: | 20:00–23:30 |
| Admission: | Free for all registered participants but with a limited capacity (1388 seats) so please reserve your seat well in advance. The tickets will be given on a first-come first-served basis. |
| Venue & address: | Zofin Palace, Slovansky ostrov 226, Prague 1 |
The historic Neo-Renaissance Zofin Palace on the picturesque "Slovansky" Island in the centre of Prague boasts a historical Zofin Palace which has been a leading centre of cultural and social life in Prague since 1837.
It is said that anyone of real importance can be seen at Zofin frequently. It offers Prague's loveliest hall, that you have the opportunity to explore.
The banquet dinner will be served to all participants to taste Czech and international cuisine. Czech beer and wine will be served during the event.
Sightseeing tours
Special tours have been arranged exclusively for the delegates and accompanying persons. All tours will leave from the Prague Congress Centre (Entrance No. 10). Booking in advance is recommended, on-site availability cannot be guaranteed.
A minimum number of participants is 13. The deadline for application is June 24, 2013. Symposium Secretariat reserves the right to cancel any tour for which a minimum number of participants has not been reached. In this case another tour will be offered or a refund will be paid after the conference.
Meeting point
Prague Congress Center, Entrance No. 10.
Participants are kindly asked to gather at the meeting point 15 minutes before the scheduled departure.
Booking
To book your tour, please fill in the online Hotel/Tour Application Forms.
Please note that the online application is only accessible with a password. Simply fill in the Personal Data Form and a password will be sent to you. Your password is the same for all online forms provided by Guarant International.
Available tours
Terms and conditions
Pick up time may vary due to the current traffic situation in Prague. Delay of the pickup service does not qualify for a refund.
All tours are usually guided bilingually.
Any complaints must be raised immediately with either the tour guide or at the Tours Desk based at the Prague Congress Centre. Complaints raised retrospectively will not be accepted.
Customers are obliged to stay with their group and the guide. Separation from the group may result in being left behind and will be at customer's expenses. We are taking no responsibility for personal belongings left behind in the bus.
Please note that tour programs and prices are subject to alteration.
No refund for tickets will be issued.
Cancellations, changes and refunds
| Cancellation date | Cancellation fee |
| --- | --- |
| Before and on July 11, 2013 | No cancellation fee |
| July 12, 2013 — July 18, 2013 | 50 % cancellation fee |
| July 19, 2013 or later | 100 % cancellation fee |
For any amendments or cancellations, please contact Guarant International (the tour organizer) by e-mail: .
Methods of payment
Tours expenses should be paid in EUR by one of the following methods:
1. Credit or debit card
For payments through the Online Payment System only MasterCard/Eurocard, Visa and Diners Club debit or credit cards are accepted. These payments will be charged in EUR.
For payments using American Express cards please complete the Credit Card Payment Authorization Form and kindly send it signed by the card holder to the Symposium Secretariat by fax +420 284 001 448, not via e-mail for security reasons. The payment will be charged in Czech crowns (CZK) at the exchange rate of the Czech National Bank valid on the date of payment. The approximate exchange rate is 1 EUR = 24.9 CZK (October 2012).
Credit Card Payment Authorization Form can be also used for MasterCard/Eurocard, Visa (will be charged in EUR) and Diners Club (will be charged in CZK).
2. Bank transfer
Please note that payments by bank transfer will only be accepted by June 29, 2013. After this date only card payments will be accepted (either by using the Online Payment System or by submitting the Credit Card Payment Authorization Form).
| | |
| --- | --- |
| Bank name: | Ceskoslovenska obchodni banka |
| Bank address: | Na Prikope 18, 110 00 Prague 1, Czech Republic |
| SWIFT/BIC: | CEKOCZPP |
| Account name: | GUARANT International spol. s r.o. |
| Account number: | 478533893/0300 |
| IBAN: | CZ69 0300 0000 0004 7853 3893 |
| Details of payment: | UFFC 2013 / participant's name * |
* The participant's name should be clearly legible, otherwise the payment cannot be identified.
All payments made by bank transfer have to be net of all bank charges. The payer pays the bank charges of their bank, and the beneficiary pays the charges of their bank, if any.
Organizers
Technical Program Committee
Local support
Organization
General Chair:

Ahmad Safari
Department of Materials Science and Eng.
Rutgers University


Local Chair:

Jirka Hlinka
Institute of Physics
Academy of Sciences of the Czech Republic


TPC Co-Chair, IUS:

Stanislav Emelianov
Department of Biomedical Eng.
The University of Texas at Austin


TPC Co-Chair, ISAF/PFM:

Susan Trolier McKinstry
W. M. Keck Smart Materials Integration Laboratory
Penn State University


TPC Co-Chair, ISAF/PFM:

Dragan Damjanovic
Institute of Materials, School of Engineering
EPFL, Switzerland


TPC Co-Chair, ISAF/PFM:

Andrei Kholkin
CICECO & Dept. of Ceramics and Glass Engineering
University of Aveiro, Portugal


TPC Co-Chair, IFCS/EFTF:

Warren Walls
U.S. Naval Observatory


Chairman of the EFTF Scientific Committee:

Gaetano Mileti
The LTF laboratory
University of Neuchâtel, Switzerland


Publication Chair:

Stanislav Kamba
Institute of Physics
Academy of Sciences of the Czech Republic


Financial Co-chair:

Herman van de Vaart
Honeywell (retired)


Financial Co-chair:

Debra Coler
OEwaves Inc.


Exhibition Representative, IFCS-EFTF:

Wolfgang Schaefer
TimeTech GmbH


IT-Chair:

Jan Pokorny
Department of Materials Science and Engineering
The University of Sheffield, UK

Organizational committee
Exhibition
Sue Kingston, Conference Catalysts
ISAF–PFM: David Cann
IFCS–EFTF: Wolfgang Schaefer
Short course
IUS: Roman Maev
ISAF–PFM: David Cann
IFCS–EFTF: Jeremy K. A. Everard
Publications
ISAF–PFM: Stanislav Kamba
IUS: Jafar Saniie
IFCS–EFTF: Aaron Partridge
Local organizing committee
Veronika Brejchova, Guarant International
Alexej Bubnov, Institute of Physics AS CR
Lidmila Burianova, Technical University of Liberec
Jiri Erhart, Technical University of Liberec
Jiri Hlinka, Institute of Physics AS CR
Marie Janovska, Institute of Physics AS CR
Stanislav Kamba, Institute of Physics AS CR
Michal Landa, Institute of Thermomechanics AS CR
Pavel Mokry, Technical University of Liberec
Jaroslav Nosek, Technical University of Liberec
Jan Petzelt, Institute of Physics AS CR
Jan Pokorny, Institute of Physics AS CR
Petr Sedlak, Institute of Thermomechanics AS CR
Hanus Seiner, Institute of Thermomechanics AS CR
Miroslav Sulc, Technical University of Liberec
List of exhibitors
For the large community of researchers, a product exhibition will be held during the meeting. The following companies, leaders in their areas, will present their technologies.
An independent ISO/IEC 17025:2005 accredited acoustic measurement and testing laboratory, Acertara provides advanced products and testing services, as well as advanced development services, special measurement, testing and analysis tools to medical imaging ultrasound and ultrasound related Original Equipment Manufacturers worldwide.
Advanced OEM Solutions (AOS) designs and manufactures customizable Ultrasonic Phased Array and conventional Ultrasonic instruments perfect for research and industrial applications. We provide full control of all parameters, so that you aren't blocked. The software platform (API) is extremely easy to use and integrate. Example source code is even provided! AOS will work with you to get the solution you want.
Advanced Modular Systems is a leading supplier of thin film process equipment and technologies for piezoelectric devices. The generation 4 tool is a combination of all thin film technological processes in one cluster tool – deposition and tuning/trimming based on our proprietory technologies. This tool delivers highest throughput, uptime and yield in industry. It provides the Lowest Cost of Ownership. Applications: SAW, BAW.
AnaPico AG manufactures RF & microwawe signal generators (low phase noise, fast switching), various models beyond 20 GHz. Broandband synthesizer and signal generator modules from 0.1 to 20 GHz, Phase Noise Test Equipment and Signal Source Analyzers up to 26 GHz. Customized solutions. Anapico is a ISO9001 certified Swiss company.
Apex Ultrasound company was founded in 1997. Located in Shanghai, Apex is one of the leading companies for designing, developing and manufacturing medical ultrasonic transducer and probe products, and providing interrelated technical service.
Asylum Research is the technology leader in atomic force microscopy. Asylum AFMs are the number one choice of leading researchers in the field of piezoresponse force microscopy, piezoelectrics, ferroelectrics and multiferroics. Our Cypher™ and MFP-3D™ Families of AFMs offer very high sensitivity, high bias and crosstalk-free measurements with our exclusive mode, Dual AC™ Resonance Tracking (DART) and Band Excitation (BE) modes. High voltage options are available for the Cypher AFM (± 150 V) and the MFP-3D (± 220 V).
Brilliant Instruments is a manufacturer of modular measurement instruments for timing and signal generation. Products include 5 GHz Time Interval Analyzers with picosecond resolution and millions of measurements per second, 3 GHz clock generators with extremely low jitter and phase noise, and 5 GHz electronic multiplexers.
The Berkeley Sensor & Actuator Center, headquartered at the University of California, Berkeley, will be discussing some of their 100 research projects and in particular, elements of their research related to RF MEMS and mechanical structures suitable for frequency control and radio integration. BSAC has, since its founding in 1986 as the U.S. National Science Foundation Industry/University Cooperative Research Center on MEMS, been devoted to interdisciplinary engineering research on micro- and nano-scale sensors, moving mechanical elements, microfluidics, materials, and processes that take advantage of progress made in integrated-circuit, bio, and polymer technologies. BSAC has 160 researchers, 36 industrial organization members, and faculty and affiliate faculty from 7 departments and 3 campuses of the University of California.
Fomos–Materials company is one of the worldwide leaders in producing and supplying of innovative piezoelectric materials: Lanthanum Gallium silicate (Langasite) and Lanthanum Gallium tantalate (Langatate) in boules, precut blocks, wafers, and blanks. The company has a comprehensive technological cycle for growing piezoelectric crystals by the Czochralski method, including initial charge synthesis, crystal growth and further processing. Fomos–Materials owns a family of 15 patents on Langasite crystal growth, processing and component production valid in Russia, Europe, the US, Japan, Korea and China. Its products are in high demand by domestic and foreign manufacturers of vibration, pressure, and temperature sensors operating in a temperature range up to 1000 °C supplied to air, power, oil and gas industries.
The ultrasound department of the Fraunhofer Institute for Biomedical Engineering is specialized in providing flexible customized development of single- and multichannel systems and ultrasound imaging techniques for use in biomedical and technical applications. The range spreads out from the low frequency application (sonar and treatment systems), over the clinical diagnostic field to high-frequency and ultra-high-frequency imaging systems and procedures for the imaging on small animals and for the acoustic microscopy.
HUMANSCAN is well known for its innovation in medical ultrasound transducer technology and we are supplying ultrasound transducer for many system companies. HUMANSCAN has been a leader in ultrasound transducers with state-of-the-art technologies since 2001. HUMANSCAN's wide range of transducers spans the full portfolio of array type and grades of ultrasound systems. Drawing on our knowledge and know-how, we can actively respond to customer's detail requirements and quickly provide optimized solution.
GuideTech is a leading provider of High-precision Frequency Counters and "CTIA" Continuous Time Interval Analyzers With 2 ps resolution and 4.5 million Measurements per second. Developing test and measurement instruments for scientific laboratories, development and volume manufacturing applications, GuideTech's products are based on 24 patents. GuideTech's multi-channel test systems substantially improve throughput of Automated Test Equipment (ATE) through fast measurement rates, greater accuracy, increased parallelism and critical high-speed timing test coverage. The Company sells its Computer-based timing instruments since 1988 to NIST, NASA, CERN, US Naval Observatory, Northrop, Rolls Royce and other respected organizations worldwide. GuideTech's products and test systems are available in PCI, PCIe, PXI, PXIe and as an Integrated System / Test Solution.
Holzworth Instrumentation is a global provider of high performance Phase Noise Analyzers and RF Synthesis products. Based in Boulder Colorado, Holzworth designs and manufactures cross correlation analyzers and ultra low phase noise RF sources that are used in test systems and OEM applications for both commercial and defense. These intuitive products are compact with the highest level of reliability.
Imasonic develops and produces ultrasonic transducers for Medical and NDT applications and benefits from 20 years of involvement in these fields. Using our proprietary Piezocomposite technology, any type of transducer can be designed based on customer's requirements, from single element to Phased Array transducers.

IPPT PAN is a government funded scientific institute conducting high quality research in science and technology. The most important fields of the Institute's expertise include theoretical and applied mechanics, theory of coupled mechanical and physical fields, theoretical and experimental mechanics of materials and structures, computational methods in mechanics, acoustoelectronics, and ultrasonic medical diagnostics.
Products: we are mainly promoting our Institute and running projects.
http://www.ippt.pan.pl/
http://www.us4us.eu/
.
Created January 1st, 1993 by the electronic engineer, Jean-Marc Lecoeur; the Lecoeur Electronique company is the result of many years devoted exclusively to non-destructive testing, using ultrasounds. Today Lecoeur Electronique is still growing and launching new products and becoming a strong reference in its field. On top of this, the company is really proud of the trust and satisfaction rates, their customers grant Lecoeur Electronique. We are capable of building your custom-made equipment. You just have to send us your specifications and we'll bring you the adapted solution. Our strength is to be able to adapt ourselves to your technical and budgetary requests.
Menlo Systems, a leading developer and global supplier of instrumentation for high-precision metrology, was founded in 2001 as spin-off of the Max Planck Institute of Quantum Optics. Known for the Nobel-Prize-winning Optical Frequency Comb technology, the Munich based company offers complete solutions based on ultrafast lasers, synchronization electronics and THz systems for applications in industry and research. Over the years, with more than 80 employees across offices in Germany and the US, Menlo Systems became the market leader in laser-based precision measurements, including the Optical Frequency Comb technology.
NEL Frequency Controls designs and manufactures ultra low phase noise crystal oscillators.
Highlighted NEW product: Precision Ultra Low Phase Noise O-CDF Series OCXO Dual Frequency Reference Modules. These new modules consist of two ultra low phase noise OCXOs that are phase locked together to provide a fully characterized, "plug and play" solution. The O-CDF Series provides customers the option of a low-HF reference (10 MHz – 100 MHz), or a low-UHF reference (10 MHz – 1 GHz) for their applications when they need two outputs phase/frequency locked with each other. These modules allow optimizing performance depending on the customer needs.
Noise XT is a provider of high spectral purity Test and Measurement solutions. Phase Noise testers and Pulsed Signals analysis systems enables users to achieve lower noise characteristics at high testing speed. State of the art noise testing down to the thermal noise limits is possible with our NXA-26 using cross-correlation architecture. Absolute, Added (residual) phase noise and Amplitude noise can be measured on CW or pulsed signals from 2 MHz to over 100 GHz.
Pascall Electronics is a leading supplier of RF, Microwave & custom power products. Pascall's range of Ultra Low Noise VHF OCXO's and frequency generators offer exceptional phase noise performance ideally suited for high end radar, EW & phase noise test systems. Pascall can also supply low noise fast switching multi channel frequency generators.
Precision Acoustics is a leading manufacturer of test equipment for high frequency ultrasound measurement. Products include membrane, needle and fibre-optic hydrophones along with ultrasound transducers for research purposes. To complement the hydrophones we can supply fully automated scanning systems. These provide motion control, data analysis and acoustic parameter report generation to satisfy international measurement standards.
Weidlinger Associates is the developer of PZFlex, the premier finite element simulation software for piezoelectric and ultrasound analyses. Specifically written for this class of problems, PZFlex displays efficiencies that allow multi-million element models to be solved rapidly on a desktop PC or in the cloud! For nearly 20 years PZFlex has been the simulation tool of choice of the ultrasound imaging, SONAR, NDT, sensor and actuator communities.
Radiant's Precision materials testers are designed unlike any other test instruments in the world. They can characterize the individual material properties of dielectric response, remanent polarization, piezoelectricity, pyroelectricity, and electrical leakage with no configuration change. Radiant has introduced a MultiFerroic Test system, Advanced Piezolectric measuring Software, as well as new Magneto software to characterize the charge response of a piezoelectric or multiferroic sample in the presence of a magnetic field.
Since its formation in 2006 SIMetris has supported ultrasonic product development for numerous customers worldwide. Using our finite element simulation tool NACS we provide analysis of piezoelectric, vibroacoustic, and magneto-mechanical interactions as well as product optimization. Measurement services offered include validation measurements as well as identification of piezoelectric and magnetic material data.
SpectraDynamics, Inc. is a leading supplier of Time and Frequency Products with exceptionally low noise and high stability. Our main product lines are Time and Frequency Distribution Amplifiers, Frequency Synthesizers and Noise Measurement Systems. SpectraDynamics, Inc. is proud to serve the Time and Frequency community around the world.
Symmetricom® is the world's leading source of highly precise timekeeping technologies, instruments and solutions. We serve communications, enterprise IT, power utilities, financial services, aerospace, defense, and national labs. In collaboration with international standards groups we help set the world's timekeeping standards.
T4Science is designing and offering maser products since 1982. The company is a world's leader in designing, manufacturing high performance, cost effective, high quality and compact maser products with smart functionality. It also offers a complete line of critical services for total customer satisfaction. T4Science products are used in a wide variety of scientific applications like VLBI, SLR, Navigation, Time and Frequency system.
TimeTech GmbH incorporated in Stuttgart, Germany, in 1990 specializes in the field of precise frequency and time systems for Space and Ground applications. The SATRE modems are de-facto TWSTFT equipment used by Metrology laboratories worldwide for comparison of their atomic clocks and SATRE is also used for precise ranging and orbit determination of satellites. TimeTech manufactures turnkey F&T Systems and Ultra-Stable Oscillators for Space applications.
The only technology to provide a relative frequency stability better than 1×10-14 for integration times ranging from 0.1 s to 1 day. ULISS does not require the boring and especially expensive use of liquid helium. As demonstrated by the implementation of our first prototype in the new Deep Space Network Station of ESA, in Malargue (Argentina), our technology is able to answering the most demanding applications.

Platinum patron

Verasonics has developed revolutionary ultrasound system technology. This real-time software based Ultrasound system accelerates research, provides unsurpassed control, while simplifying the data collection and analysis process. Verasonics licenses its technology, sells research systems, software components and provides consulting services. Key areas of application support: Optoacoustics, HIFU, High-Frequency, Low-Frequency, Elastography as well as a variety of standard imaging modes.
Invitation to exhibit
The UFFC, EFTF and PFM Societies join together in Prague for a Joint Symposium promising to be a very successful event. "City of a hundred spires" Prague, Czech Republic will be the host city for the next year's 2013 Joint UFFC, EFTF and PFM Symposium. The Prague Congress Centre, just overlooking the UNESCO protected historical centre of Prague, is a perfect location for our international meeting. The 2013 Symposium will also include an exhibition area that will allow all of the conference participants and exhibitors the opportunity to interrelate both technically and socially.
We expect that over 50 different vendors, displaying products covering a wide range of current cutting-edge technology, will be exhibiting this year. The exhibit area will also be the location of the session coffee breaks and lunches.
With an expected attendance of over 1500 scientists and technologists who are leaders in their field, plus 50 international vendors, the conference provides a unique opportunity for close interaction between exhibitors and attendees with the exhibition forming a significant part of the overall conference experience.
We are looking forward to hear from you soon, and hopefully meet you in Prague in 2013.
Exhibit hours and details
| | |
| --- | --- |
| Exhibitor set-up | |
| Sunday, July 21st | 3:00 PM – 8:00 PM |
| Exhibits open | |
| Monday, July 22nd | 8:30 AM – 6:00 PM |
| Tuesday, July 23rd | 8:30 AM – 6:00 PM |
| Wednesday, July 24th | 8:30 AM – 6:00 PM |
| Exhibitor tear down | |
| Wednesday, July 24th | 6:01 PM – 12:00 PM |
Exhibit space
3 m × 3 m Octanorm booth space — 2,500 EUR per booth
A booth includes the following:
Carpet – blue,
Booth hard backwall 8' high and side dividers 3' high,
Identification sign,
One (1) 6' × 2' draped table (blue) and two (2) fabric chairs,
One (1) 3–outlet power strip — 1500 watts (230 V, 50 Hz) electrical outlet – exhibitors must provide their own adapters (French E-type),
Complete detailed computer printout of all meeting/exhibition attendees after the Conference,
The Exhibit price includes TWO full registrations including Luncheon passes.
No refunds will be provided after 15th May 2013.
An application for exhibit space should be sent to the address below. The Application when accepted by the Exhibit Management, together with the Exhibition Rules and Regulations as listed on the following pages, will constitute your contract with Exhibit Management for exhibit space, as indicated by the Exhibit Chair's signature on this Application or acknowledgment by email.
Application form is available in two formats, PDF and Microsoft Word:
Please contact me with any questions and for further information.
Sue Kingston
Exhibits Coordinator
1514 First St., Manhattan Beach, CA 90266
Phone: +1 310 937-1006
Mobile: +1 310 699-2609
e-mail:
Additional equipment and services
The booth can be fitted with extra furnishing, audiovisual equipment, floral decoration etc. Extra services such as cleaning an hostesses are available. The deadline for ordering extras is July 8, 2013. Detailed information and price list can be found in the Equipment/services order form (PDF).
For further information on extra equipment and services, please contsct TRIUMF EXHIBITIONS:
TRIUMF EXHIBITIONS, s.r.o. – Official Exhibition Management
Mrs. Zdena Fialova
Jaromirova 54
128 00 Praha 2
Czech Republic
e-mail:
Shipping instructions
All goods should be shipped on a prepaid basis and should arrive to the Czech Republic well in time before the Symposium starts. All goods must be fully insured for all risk coverage. Please download and read the Shipping instructions (PDF), complete the included shipping form and send it to BECKSPEDITION as specified.
For further information on shipping/spedition, please contact BECKSPEDITION:
Ing. Pavel Beck - BECKSPEDITION
Chrastavska 113/4
190 00 Praha 9
Czech Republic
Phone/fax: +420 286 881 730
Pavel Beck
e-mail:
Mobile: +420 602 311 950
Monika Vesela
e-mail:
Mobile: +420 724 328 380
Partnership offer
2013 will see a unique event – several large communities will gather in a joint meeting, 2013 Joint UFFC, EFTF and PFM Symposium, to celebrate the 60th anniversary of the IEEE Ultrasonics, Ferroelectrics and Frequency Control Society (UFFC).
With an expected attendance of over 1500 scientists and technologists who are leaders in their field, plus 50 international vendors, the conference provides a unique opportunity for close interaction between attendees and industry.
Promotional partnership is a great way to have your brand recognized. We are offering several packages which are subsets of the following items:
Literature in Tote Bag,
Prominent logo on Web Site,
Verbal Recognition at Conference Opening,
Signage at Registration area,
Signage at the Monday Night Reception,
Signage at Coffee/Beverage Breaks,
Signage at Speakers Breakfast,
Recognition in Final Program,
Company name/logo printed on tote bag (maximum 3 patrons),
Website listing with a company logo and link to your website.
The packages are listed in the Corporate Promotional Partner Order Form (PDF).
Please contact me with any questions and for further information.
Sue Kingston
Exhibits Coordinator
1514 First St., Manhattan Beach, CA 90266
Phone: +1 310 937-1006
Mobile: +1 310 699-2609
e-mail:
Contacts
Ahmad Safari
Department of Materials Science and Engineering
Rutgers University
e-mail:
Jirka Hlinka
Institute of Physics AS CR
Na Slovance 2, 182 21 Praha 8, Czech Republic
Tel.: +420 266052154
Fax: +420 286890527
e-mail:
Registration
Lauren Pasquarelli
Conference Catalysts

Accommodation
Veronika Brejchova
Guarant International

Web site