VPPC 09 Keynote Speech
Automobiles in a Sustainable Energy World
Dr. Deepak Divan
Professor
Director – Intelligent Power Infrastructure Consortium
School of Electrical and Computer Engineering
Georgia Institute of Technology
Atlanta, GA 30332 USA
Email: ddivan@ece.gatech.edu
Tel: 1-404-385-4036
ABSTRACT: The impact on the electric grid due to charging of plug-in electric vehicle can vary greatly based on loading and local electric distribution grid configuration. This presentations reviews case studies performed on DTE Energy electric distribution circuits for both residential and commercial charging of plug-in vehicles and makes recommendations on control strategy to minimize the effect on the electric infrastructure.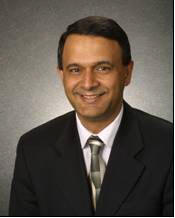 Bio: Deepak Divan is a Professor in the School of Electrical and Computer Engineering and Founding Director of the Intelligent Power Infrastructure Consortium at the Georgia Institute of Technology in Atlanta, one of the leading engineering schools in the world. He is Chairman and CTO for Innovolt Inc., a company specializing in energy management and energy efficient technologies. He is Chairman of Integral Technologies, Pune, India, a company specializing in energy efficient lighting technologies using LEDs. From 1995-2004, he was Chairman and CEO/CTO of Soft Switching Technologies, a company in the industrial power quality market. From 1985-95, he was a Professor in Electrical Engineering at the University of Wisconsin – Madison.
He is President of the IEEE Power Electronics Society for 2009 and 2010. He was Conference Chair for a new global conference on sustainable energy – IEEE Energy 2030, held in Atlanta on Nov 17/18, 2008. He is a Fellow of the IEEE and was the recipient of the 2006 IEEE William E Newell Field Award for contributions in power electronics technology. He has been a Distinguished Lecturer for the IEEE Industry Applications Society for 2004 and 2005. The IEEE or Institution of Electrical and Electronics Engineers is the world's largest professional organization with over 370,000 world wide members. He has over 250 papers and 35 issued and pending patents. His research interests are in sustainable energy, improving grid reliability and utilization, renewable energy, and the application of power electronics for power delivery, power quality, power reliability and industrial applications.
Mr. Asgeirsson is also involved in a DOE funded PHEV project tilted "Technical Challenges of Plug-In Hybrid Electric Vehicles and Impacts to the U.S. Power System" This is a research collaboration between the University of Michigan and Pacific Northwest National Laboratory with DTE Energy, Ford and GM as industry advisors.