Archive of Membership Development Activities
---
2011
Each year IEEE Calcutta Section provides recognition to section members towards services rendered as dedicated volunteer for recruitment of new members as well as for retention of existing members by awarding citations & personalized plaques.
In the year 2011, Best Volunteer award was given to Mr. P. Rajamani (M 90443596).
Each year IEEE Calcutta Section gives two awards as a part of its membership development program. The awards are given in the following category:
(1) Chapter with highest membership growth
(2) Chapter with maximum member from industry
In the year 2011, these awards were given to Power & Energy Society Chapter and Computer Society Chapter, respectively.
IEEE Calcutta Section has registered 4.4% rise in membership-up in 2011. The total membership strength of the section in 2011 is 1709, while in 2010 it was 1637.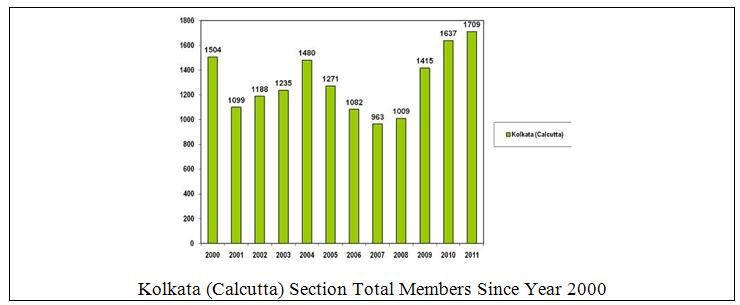 List of Kolkata Section members
2012
Please visit us frequently for the latest updates.
2011
In the year 2011, Prof. Sushmita Mitra, Professor & Head, Machine Intelligence Unit, Indian Statistical Institute (ISI) has been elevated to Fellow of IEEE.
In the year 2011, IEEE Calcuta Section has nominated two active members for elevation to Senior Member grade. The nominated members are :
(1) Sri Jiban K Chaudhury (M 4156741)
(2) Dr. Anirban Mukhopadhyay (M 90467842)
Both of them have been duly elevated to the grade of Senior Member in the year 2011.
---