IEEE SeenReport Event Reporting Portal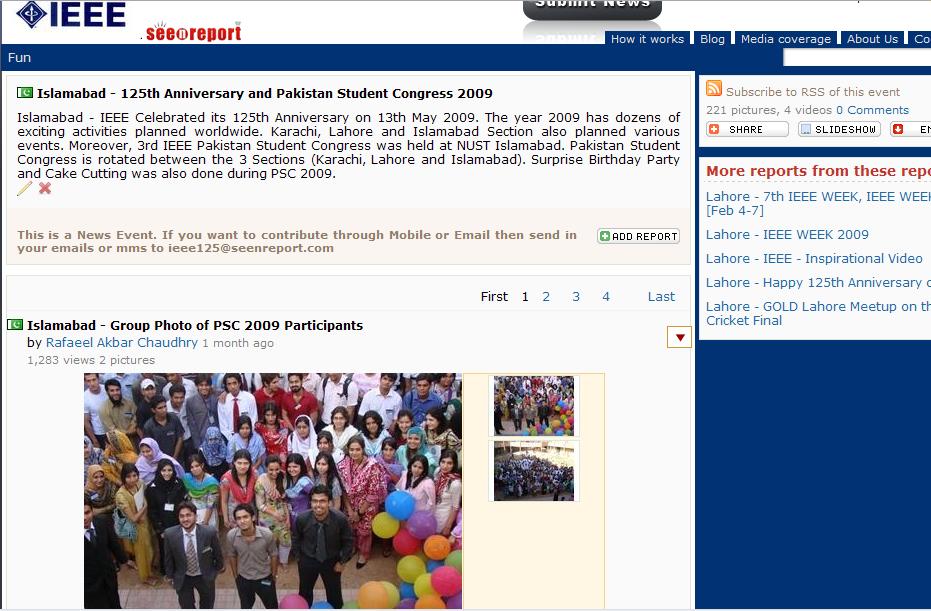 To tell you all that we live in an intricately interconnected world, that now thrives on information and self updating news feeds would be preaching to the converted. However, the members of IEEE remain unaware of events happening around them or even worldwide. Although, that might not be the only predicament that arises from the lack of having a portal that shares news and information globally on a routine basis.

On the 23rd of April 2009, an email by Mr. Kukjin Chun (R10 Secretary) was forwarded to us through Helene Fung (GOLD Coordinator, Region 10) with the subject "Experts for Public Visibility". Picking up on the context of the email the idea was to bring IEEE to the media and public visibility, to provide a global platform where members, regardless of their geographical location, could share news and upload event coverage as seamlessly and effortlessly as possible. Keeping the limitations of blogs and facebook in mind, we decided to provide an innovative solution to this impasse.

Seenreport.com, a start-up that was launched by a trio in Lahore, their slogan "people powered news" caught on and now they are part of a local media mogul's network while retaining a major share of their company still in their possession. One of the founding members, who also happens to be an IEEE member and currently teaches at the Lahore University of Management Sciences generously contributed for the advancement of the society and made a gift of a sub-domain of the official site, that is designed specifically keeping IEEE members in mind providing them with a platform to report, share thoughts and opinions and debate on topics of mutual interest. The address is http://ieee.seenreport.com and HOW it works is simple.

• The SeenReport IEEE sub-domain provides a platform to SMS, MMS, E-Mail or directly upload our videos and photographs with short description to be published immediately directly via your cellular phones. You don't even need to spend time registering for an account. You can however upload via cellphone or PC, the making of an account is not compulsory, if a non-account holder member uploads it would just name the source as anonymous.

• The news of the same city as well as the news with same description are automatically merged to form a single news.

• You can just send in your photographs and videos and description via email on ieee.delhi@seenreport.com, ieee.perth@seenreport.com , ieee.singapore@seenreport.com ,ieee.boston@seenreport.com etc. and it would be automatically published with the city name.

• Currently moderator i.e. GOLD Lahore can also create special events like ieee125@seenreport.com or r10sc2009@seenreport.com and all the emails and MMS sent to this address would be merged into the created "Event" running on the portal. R10SC2009 is being covered the same way.

• You can also directly upload your pictures and videos via the web interface. However in office and work environment, volunteers mostly don't have time to upload the pictures. So they can attach the pictures, use their email server and leave the rest to SeenReport to sort out.

• Volunteers can record, express and debate on various issues.

We realised the full potential of this platform when we, as a trial run before introducing it formally, covered the first event for this portal and asked other attendees at the event to send in their photographs too. The event was IEEE Pakistan Student/GOLD/WIE Congress 2009 organized by NUST-SEECS (Islamabad Section) at their campus from May 29th 2009 to May 31st 2009 The results were pleasantly surprising beyond even our own expectations, the portal which was not even publicized crossed 10,000 views mark in just 7 days. A total of 35 Reports containing 221 Pictures and 4 Videos of the event along with their description were sent. The event views are still increasing. The following analytical image shows the regions and countries from where the visitors viewed the coverage of IEEE Pakistan Student Congress at this portal.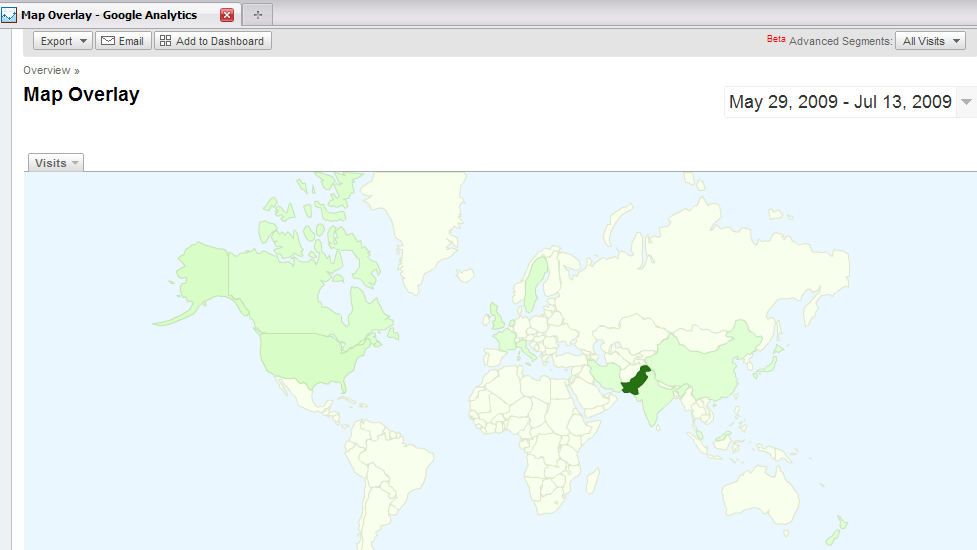 Analytical image showing the regions and countries from where the visitors viewed the coverage of IEEE Pakistan Student Congress 2009

What we aim to achieve to from this is a global platform for IEEE members to be able to instantly share, view and update news and content from their own locations, be able to debate with others upon topics of mutual interest or concern, even upload news and updates on a :as it happens basis". Join in, share, do your part, show the world engineering isn't only about bolts and volts.