About The Chapter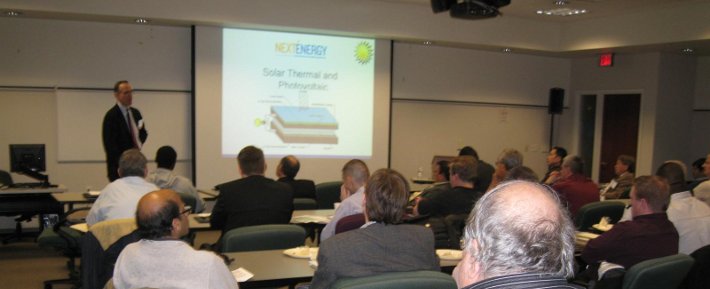 Welcome to the Southeastern Michigan Chapter of the IEEE Computer Society Chapter. We are a local chapter of the IEEE Computer Society. IEEE Computer Society members living in the Southeastern Michigan and Windsor, Ontario are members of the local chapter (see the Geographic Area information below).
Our Chapter was the fifth technical chapter formed in Southeastern Michigan, and so is called "Chapter V" (i.e. Chapter 5) by the local Section. Our Chapter in it's present form was officially created along with the local Section in 1963. Read the entire history.
The Society strives to advance the theory, practice, and application of computer and information processing science and technology and maintains a high professional standing among its members. The Society promotes cooperation and exchange of technical information among its members and to this end holds meetings for the presentation and discussion of technical papers, publishes technical journals, and through its organization and other appropriate means provides for the needs of its members.
When you join an optional IEEE Technical Society, you also join the local technical society chapter. Chapters are the local organization for an IEEE Technical Society. IEEE has thirty-eight Technical Socieites. Southeastern Michigan has sixteen Chapters, representing twenty-three Technical Societies.
Sections and Chapters are geographical entities. Our area covers the cities of Detroit, Windsor, Lansing, and Ann Arbor. See the Geographic Area below. We host technical meetings of interest to local management and technical professionals. See the meetings page for a list of upcoming meetings.
The Computer Society is one of several dozen IEEE Technical Societies.
The IEEE Computer Society maintains local chapters in dozens of cities around the world. These local chapters host meetings, seminars, and workshops on computer topics throughout the year. For a complete list of chapters, visit the Society web site.
Detroit is the major city in Southeastern Michigan. However, the IEEE chapter covers ten counties in southeastern Michigan and Ontario.
Clinton County, Michigan
Eaton County, Michigan
Ingham County, Michigan
Jackson County, Michigan
Livingston County, Michigan
Macomb County, Michigan
Oakland County, Michigan
St. Clair County, Michigan
Washtenaw County, Michigan
Wayne County, Michigan
Essex County, Ontario, Canada
Major cities include: Windsor, Ontario; Ann Arbor, Michigan; and Lansing, Michigan which is the State Capitol. We are the only U.S.A. IEEE Chapter that extends outside the country.
We are home to many colleges and universities. Ten of them have engineering programs and have IEEE student branches.