Ali Khajehoddin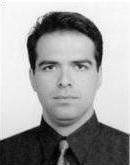 Ali Khajehoddin
Area of Expertise
Power and Energy Systems, Control Systems


Power Electronics
Renewable Energy Systems
Digital Control
Smart Grid
Ali Khajehoddin completed his B.Sc and M.Sc. degrees in Electrical Engineering at Isfahan University of Technology, Iran, in 1997 and 2000. Upon completing his M.Sc., he co-founded a start-up company which focused on the development and production of power analyzers and smart metering products used for smart grid applications.
In April 2010, he received his PhD in Electrical Engineering with specialization in Power Electronics and their applications in Renewable Energy Systems from Queen's University, Kingston, Canada. His Doctoral research at Queen's, focused on the design and implementation of compact and durable micro-inverters for photovoltaic (PV) grid connected systems. Based on this research, Queen's University spun off SPARQ systems Inc. where, as the lead R&D engineer, he has been working toward mass-production and commercialization of micro-inverters.
His research interests include Power Electronics, Digital Control Systems, Renewable Energy Systems, and Smart Grid.