Hossein Sarbishaei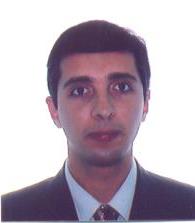 Hossein Sarbishaei
Area of Expertise
Circuits and Systems


Electrostatic-Discharge Protection Circuits
CMOS Circuit design
Integrated Circuit design
Hossein Sarbishaei received the B.Sc. degree from Ferdowsi University of Mashhad, Mashhad, Iran, in 1998, the M.S. degree from Sharif University of Technology, Iran, in 2001, and the Ph.D. degree from University of Waterloo, Waterloo, Ontario, Canada, in 2007.
From 2007 to 2009 he worked with CMOS Design and Reliability Group, University of Waterloo, Ontario, Canada, focusing on Electrostatic Discharge (ESD) Protection design for High Speed and RF circuits. Since January 2010 he has been with PMC-Sierra, Burnaby, BC, Canada where he is currently working as senior ESD design engineer.
His research interests include reliability and manufacturing issues of Deep-Submicrometer CMOS Circuits with focus on Electrostatic-Discharge protection Circuits for high-speed and RF applications.