Mojgan Daneshmand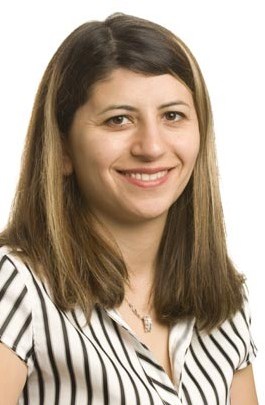 Mojgan Daneshmand
Area of Expertise
Electromagnetics and Micro/Nanotechnology


Microwave and Millimetrewave Systems
Radio Frequency
3D Micro Fabrication
Micro-Mechanical Systems
Nano-Mechanical systems
Nanotechnology based sensor
Mojgan Daneshmand (S'2000, M'2008) received the B.Sc degree from Iran University of Science and Technology (IUST), Tehran, Iran, in 1999, the M.Sc degree from the University of Manitoba, Winnipeg, Canada in 2001 and Ph.D degree from the University of Waterloo in 2005 all in Electrical Engineering.
From 2006 to 2008, she was awarded the Natural Sciences and Engineering Research Council of Canada (NSERC) and also Canadian Space Agency (CSA) Postdoctoral fellowship for tenure at the University of Waterloo. She is currently an assistant professor at the University of Alberta holding Canada Research Chair position in advanced Radio Frequency MEMS.
She is working towards establishing the Microwave to Millimeter-wave (M2M) lab at the University of Alberta with the focus on RF to Millimeter-wave MEMS device characterization, design and fabrication. She is the chair of the joint IEEE APS/IMS Northern Canada Chapter. She has been authored and coauthored more than 70 scientific publications including accredited journal papers and several patents. Her research interests includes Radio Frequency to Millimeter-wave MEMS components and Systems.