Bogota, the capital of Colombia, located in the center of the country on a vast plain at 2,600 meters above sea level and with a moderate temperature has a population of eight million people from all corners of Colombia; a city as diverse as the entire country.
Bogota has earned a place among the major gastronomic capitals of Latin America. Its six dining areas with world-class restaurants offer local and international cuisine. The many accommodation options with over 300 hotels of international and national chains make of Bogota the main destination of foreign tourists arriving in the country. Its venues for business, events and conventions consolidate it as one of the favorite destinations for executives worldwide.
The city, which was declared by the prestigious New York Times as one of the 31 destinations to visit in 2010 is an inspiring city with millions of amazing stories that surprise visitors every day.
Here you can check the weather in Bogota for this week: http://www.zoover.es/colombia/colombia/bogota/tiempo
More Information: http://www.colombia.travel/
AR Hotel Salitre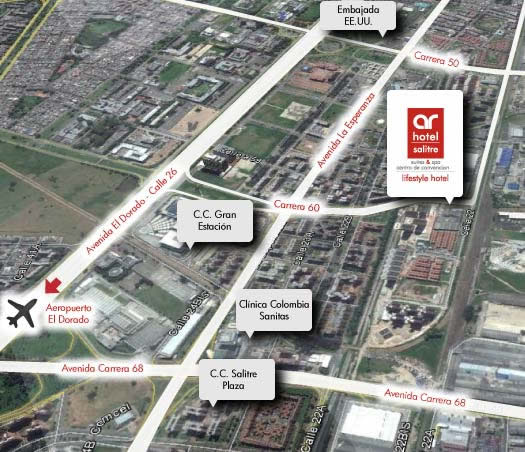 Avenida Carrera 60 No. 22-99 Bogota
Phones: +57.1.747.7333 - FAX: +57.1.743.6703
Page: http://www.hotelesar.com
Public transit system and car rentals
Taxi: a good and inexpensive way to get around
For safety reasons, avoid hailing a taxi in the street, especially at night. It is always better to ask for one in your hotel or by calling a taxi company.
Inside the car, you will always see an ID for the car and for the driver, as well as a pricing chart that indicates the price in pesos ($) according to the meter. Taxis only accept cash.
Trips to and from the airport, outside the city boundaries, at night and on holidays have an added fee.
Note that it is harder to get a taxi during rush hour (7 to 9am and 5 to 8pm). If you plan to take a taxi during those times it is best to call early.
Taxi companies in Bogota and phone numbers:
Radio Taxi: +57 (1) 288 8888
Taxi Real: +57 (1) 333 3333
Taxi Estrella: +57 (1) 212 1212
Taxatélite: +57 (1) 222 2222
Taxis Libres: +57 (1) 311 1111
Taxi Express: +57 (1) 411 1111
Transmilenio: A practical public transit option
These are the articulated red buses that run through the city that are made from two buses united by a pivotal joint.
The are stations located approximately every 500 meters along the routes. A one-way trip costs $1,700 pesos (US$1) which includes transfer onto connecting buses (green buses that go to neighborhoods that don't have Transmilenio service yet).
To find a route map visit:
http://www.transmilenio.gov.co
Ciclovía
On Sundays and holidays from 7am to 2pm, 121 km of the city's main roads become Ciclovías which are reserved for cyclists, rollerbladers and pedestrians.
The program has been a model in South America, and it allows close to one million people to spend time outside and be active each week.
Ciclorutas
Bogota has a large network of bike paths (ciclorutas). The more than 344 km practically cover the entire city.
Travel the streets in a fun, safe and health promoting way. During certain times of day, it is even faster to travel by bike than any other way.
More Information:
http://www.bogotacb.com/en/