Chapter Activities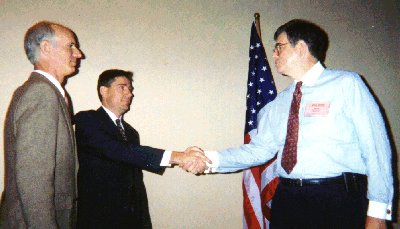 It is an honor to announce that the CPMT Society Santa Clara Valley California Chapter has been selected as the first winner of the CPMT Society Chapter of the Year Award. Primary chapter officers include: Martin Goetz - Chapter Chair, Rich Blish - Vice-Chair, Luu Nguyen - Treasurer, Rena Ayeras - Secretary, Harvey Miller - Program Chair and Paul Wesling - Advisor & Short Courses. Visit their web site to learn more about their outstanding program.


Ralph Russell (r) presents the Chapter of the Year Award to Santa Clara Valley chairman Martin Goetz, as chapter advisor Paul Wesling looks on.
---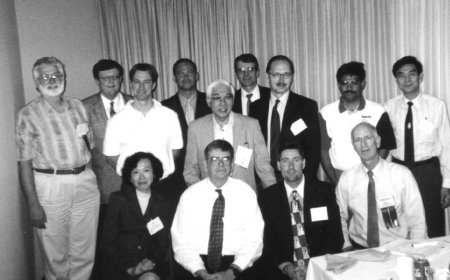 On 1 June 1999 representatives from 12 CPMT Chapters meet in San Diego, California for the first Chapters Meeting. The representatives were from Hong Kong, Korea, Singapore, Japan, Hungary-Romania, Germany, Finland, Boston, Virginia, Phoenix, San Diego and Santa Clara Valley. The 2000 Chapters Meeting will be held during May 2000 in Las Vegas, Nevada.
Ralph Russell (front row) and representatives of a dozen CPMT Chapters worldwide gathered in San Diego.
---
See our new Chapters Website for more information on your local chapter. Please contact me at r.w.russell@ieee.org if you need support of your membership or chapter activities.
Ralph W. Russell, II