ETHICS AND ETHICAL SUPPORT
IN THE IEEE

---
IEEE Codes of Ethics

1912 - First Code Adopted by AIEE, after 6 years of effort

1950 - First revision which incorporated the ECPD Canons


(BART Case Amicus Curiae did not know of this in 1975)

1974 - Revised after IEEE added Professional Activities to its Constitution

1987 - Revised again

1990 - Current version comprises 10 principles


---
First Page of 1912 AIEE Code of Professional Conduct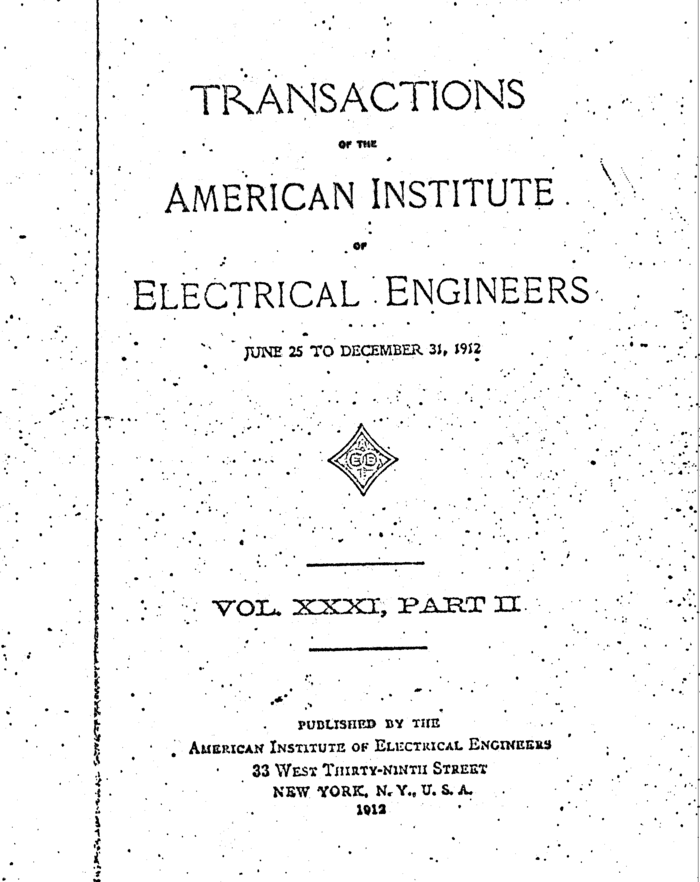 Today's IEEE Code of Ethics
We, the members of the IEEE, in recognition of the importance of our technologies in affecting the quality of life throughout the world, and in accepting a personal obligation to our profession, its members and the communities we serve, do hereby commit ourselves to the highest ethical and professional conduct and agree:
1. to accept responsibility in making engineering decisions consistent with the safety, health and welfare of the public, and to disclose promptly factors that might endanger the public or the environment;
2. to avoid real or perceived conflicts of interest whenever possible, and to disclose them to affected parties when they do exist;
3. to be honest and realistic in stating claims or estimates based on available data;
4. to reject bribery in all its forms;
5. to improve the understanding of technology, its appropriate application, and potential consequences;
6. to maintain and improve our technical competence and to undertake technological tasks for others only if qualified by training or experience, or after full disclosure of pertinent limitations;
7. to seek, accept, and offer honest criticism of technical work, to acknowledge and correct errors, and to credit properly the contributions of others;
8. to treat fairly all persons regardless of such factors as race, religion, gender, disability, age, or national origin;
9. to avoid injuring others, their property, reputation, or employment by false or malicious action;
10. to assist colleagues and co-workers in their professional development and to support them in following this code of ethics.
Approved by the IEEE Board of Directors
August 1990
https://www.ieee.org/organizations/committee/emcc/index.html
(Click on to go to)

---
ETHICS AND MEMBER CONDUCT COMMITTEE
(Excerpts from EMCC WEB Page)


The Ethics & Member Conduct Committee, which is governed by IEEE Bylaw I-306 , shall make recommendations for policies and/or educational programs to promote the ethical behavior of members and staff, and shall consider instituting proceedings, as defined in IEEE Bylaws I-110 and I-111 , related to matters of member and officer discipline and requests for support.

IEEE INVOLVEMENT IN MATTERS OF ETHICAL CONDUCT
A. Infractions of the IEEE's Code of Ethics by members, when reported to and investigated and evaluated by the Board of Directors, or its designated representative, are subject to appropriate action by the IEEE's Board of Directors on the basis of procedures established by that body.
B. Members who are placed in jeopardy as a consequence of adherence to the IEEE's Code of Ethics may be offered assistance, provided that in the opinion of the Board of Directors or its designated representative such assistance is warranted

MATTERS OF ETHICAL PRINCIPLE
A. The Executive Committee is empowered by the Board of Directors to enter an amicus curiae brief in any court in the U.S.A. or in cooperation with cognizant national societies in other countries where a member of the profession is involved as a consequence of his taking a position on a matter of ethical principle.
NOTE
The only Amicus Curiae entered by IEEE to date was in 1975 in the BART Case in California. Several, however, have been approved for entering when the case progresses to the proper state of proceedings.
---
SSIT* Carl Barus Award for Outstanding Service in the Public Interest


Award Recipients
Salvador Castro -- 2001
In recognition of his commitment to the public safety, in reporting a dangerous product design to the Food and Drug Administration at the cost of his job.
Rebecca Leaf -- 1997
In recognition of her work, under particularly dangerous conditions, in directing a project to make electricity available to people in a remote rural area of Nicaragua, and to educate local people in the rudiments of technology.
Demetrios L. Basdekas -- 1991
In recognition of his long-standing efforts to improve the regulatory process in the nuclear power field.
Benjamin Linder -- 1988
Awarded posthumously, in recognition of his "courageous and altruistic efforts to create human good by applying his technical abilities" while working on appropriate technology projects in Nicarauga.
Rick Parks -- 1986
In recognition of "his courageous adherence to the highest standards of professional ethics" in challenging procedures instituted by his employer in the nuclear power industry as unsafe and in violation of regulations.
Virginia Edgerton -- 1979
In recognition of her efforts to protect the public safety, despite losing her position, in filing a memorandum on possible degradation of police emergency dispatch response time by a computer program for which she was responsible.
Max Blankenzee, Robert Bruder, and Holger Hjortsvang -- 1978
In recognition of their efforts to protect the public safety, despite great personal sacrifice, in expressing their concern regarding uncorrected design problems in the BART rail system.
*SSIT - Society on the social implications of technology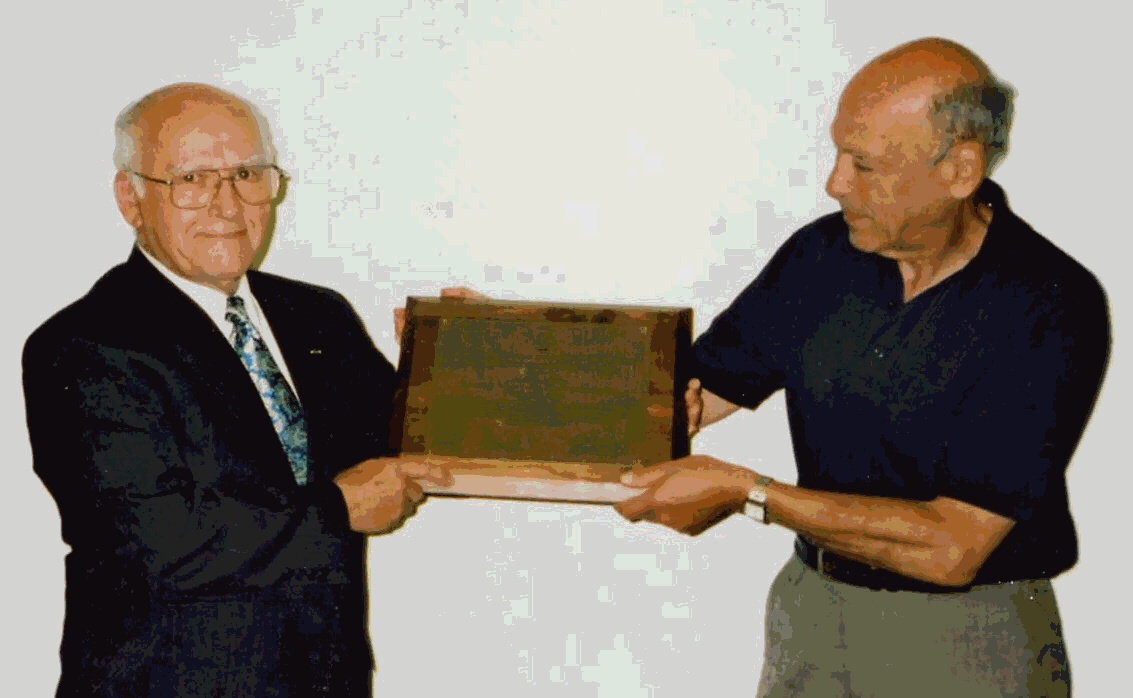 Salvador Castro Receives SSIT's 2001Carl Barus Award

Salvador Castro (left) was presented with the IEEE-SSIT Carl Barus Award for Service in the Public Interest at the IEEE-SSIT International Symposium on Technology and Society (ISTAS), in Stamford, CT, on July 7,2001. At right is SSIT Awards Chair Mal Benjamin.
Mr. Castro's Acceptance Speech is at this WEB address:
Experience of a Whistleblower
https://www.njcc.com/~techsoc/castro.html
---
The Assault on IEEE Ethics Support
Dr. Stephen H. Unger, Chair, IEEE Ethics Committee ('96-'98).
IEEE Board of Directors, ('95-'96), IEEE Life Fellow
" As a life fellow of the IEEE, I am deeply concerned over a number of recent events that I feel have had a devastating effect on IEEE ethics related activities.
1) The IEEE Executive Committee (ExCom) terminated the Ethics Hotline on what appear to be unsubstantiated grounds. This was done without giving the Ethics Committee (EC) a chance to present its case. The ExCom rejected out of hand the clear recommendation of its own specially appointed task force to reinstate the Hotline.
2) After having just been reelected by the IEEE Board of Directors (BoD) as EC chair, I was not permitted to remain in the room while the IEEE attorney presented his opinions on this matter to the ExCom.
3) I was amazed to be told that the report of the task force, which certainly does not contain any confidential information, will not be released to anybody - my requests for a copy have been to no avail.
I believe that the effect of these events has been the termination of an activity of great value to the IEEE, to its members, to our profession as a whole, to reputable employers of engineers, and to the general public. What follows is an account of what happened, along with my reasons for feeling that the ExCom's actions in the ethics area are misguided."
https://www.onlineethics.org/essays/discharge/unghot.html
---