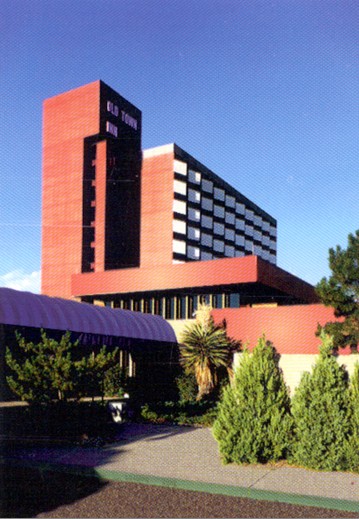 Information on...
The 38th International Carnahan Conference on Security Technology
October 11-14, 2004
Albuquerque, New Mexico, USA

Nestled below the majestic Sandia Mountains and along the famed Rio Grande, Albuquerque offers a stunning climate and a calendar of events and attractions you can't find anywhere else, including collections of Spanish artifacts, a canvas of 15,000 Native American rock drawings and the Sandia Peak Tram, the longest mountain tram in North America. New Mexico is a high-tech masterpiece of scientific exhibits, including the development of atomic energy and the latest advances in energy research.
CLICK HERE TO DOWNLOAD THE
CONFERENCE FINAL PROGRAM
CONFERENCE VENUE
Sheraton Old Town
800 Rio Grande Boulevard NW
Albuquerque, NM 87104
(505) 843-6300 1-800-237-2133
The Sheraton Old Town is Albuquerque's only hotel located in the heart of the city's historyand culture. The Southwestern-style hotel is within walking distance to historic Old Town (150 plus specialty shops, restaurants, galleries) and two fine museums. There is free parking and spacious guest rooms. For more information on the schedule and venue, click here to view or download the 2004 ICCST Presentation.

CONFERENCE FEES
Regular attendee: $650 (Before/on 10 September 2004)
Late attendee: $750 (After 10 September 2004)
Speaker: $325 (Fee must be paid with or prior to paper submittal; paper due 26 July 2004)
SPECIAL RATE FOR STUDENTS AND ACTIVE DUTY MILITARY: $450 (Before/on 10 Sep 2004)
Late Student & Active Duty Military: $550 (After 10 September 2004)
Exhibitor: $1000 (includes two attendee registrations)

EXHIBITION
A limited number of international exhibitors with unique innovations may be selected to display their products. Vendors, please contact the conference chairman Dan Pritchard directly to discuss exhibiting at the conference.
BANQUET
An ICCST Awards Banquet is provided with the registration. Additional banquet tickets are $40.
Music and entertainment will be by Syd Masters and the Swing Riders who provide "Vintage Western Cowboy Swing". Visit Syd at www.sydmasters.com
TOUR OF SANDIA NATIONAL LABORATORIES COOPERATIVE MONITORING CENTER

GOLF TOURNAMENT
The 38th ICCST Carnahan Cup Golf Tournament was held at the Isleta Eagle Golf Course, Albuquerque, New Mexico. For more information on the course, visit www.isletaeagle.com
The tournament fee was $60 which included lunch, cart, practice range and prizes!
The winners were: Warren Higbie, Alexander Zanes and
CONFERENCE ORGANIZING COMMITTEE
Daniel A. Pritchard, Conference Chairperson, USA
Ms. Donna Bruce, Assistant, USA
Bill Estes, Assistant, USA
Mona Torres, Assistant, USA
Larry Sanson, Consultant, USA