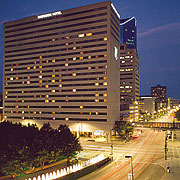 Information on...
The 40th International Carnahan Conference on Security Technology
October 16-19, 2006
Lexington, Kentucky, USA

Lexington is positioned in the heart of the Bluegrass State, a city encircled by rolling hills and picturesque horse farms, with big-city dining, entertainment, and shopping in historic downtown. Lexington's beauty and activities span the four seasons. Meet past and future Kentucky Derby winners and get a behind-the-scenes look at the multi-billion-dollar Thoroughbred industry on personalized horse farm tours. Visit the Kentucky Horse Park, the world's only state park dedicated to the horse. Get a taste of the racing industry with Keeneland Race Course's early morning workouts and breakfast at the Track Kitchen. Arrange a hub-and-spoke tour to nearby Shaker Village of Pleasant Hill, the nation's largest restored Shaker Village community. Enjoy afternoon teas and garden tours while exploring an herb farm or historic homes. Explore the area's Civil War sites or take an educational distillery tour and learn the history of bourbon. Plan an antique shopping excursion among over 200 area stores.

CLICK HERE for the CONFERENCE FINAL PROGRAM
CONFERENCE VENUE
Radisson Plaza Hotel Lexington
369 West Vine Street, Lexington Kentucky 40507
Reservations: 1-800-333-3333 USA Toll Free

Be sure to mention the Carnahan Conference for preferred rates!
HOTEL BOOKING- THREE METHODS
1. Log on to www.radisson.com/lexingtonky (click on hotel web site above). Enter in the dates for desired reservations, and use "IEEE" as the PROMOTIONAL CODE. This will give you the discounted rate that has been set up for the conference.
2. The hotel's direct number is 1-859-231-9000, and ask to be connected to reservations. State the name of the conference as well as the dates you are requesting reservations.
3. The reservation hotline number for Radisson is 1-800-333-3333. State the name of the conference as well as the dates you are requesting reservations.
Lexington Kentucky's finest hotel, Radisson Plaza Lexington, is the hotel destination of choice for meetings and weddings alike. Centrally located in downtown Lexington and adjacent to Rupp Arena, Radisson Lexington Hotel is just minutes away from Blue Grass Airport, Keeneland Race Track, University of Kentucky, Kentucky Horse Park and many more of the area's top attractions and businesses.

CONFERENCE FEES (All fees in United States Dollars)
Regular attendee: $650 (Before/on 10 September 2006)
Late attendee: $750 (After 10 September 2006)
Speaker: $325 (Fee must be paid with or prior to paper submittal; paper due 26 July 2006)
SPECIAL RATE FOR STUDENTS AND ACTIVE DUTY MILITARY: $450 (Before/on 10 September 2006)
Late Student & Active Duty Military: $550 (After 10 September 2006)
Exhibitor: $1200 (includes two attendee registrations, subject to change-final arrangements are to be determined)
CANCELLATION FEE: $100.00
WIRE TRANSFER FEE: $15.00
Conference fees include:
Copy of printed proceedings
Monday Night Reception at Registration
Continental breakfast Tuesday, Wednesday and Thursday
Lunch on Tuesay, Wednesday and Thursday
Banquet on Wednesday evening
INFORMATION FOR AUTHORS
CLICK HERE FOR THE PAPER STYLE GUIDE
CLICK HERE FOR THE IEEE COPYRIGHT FORM (MUST SUBMIT WITH PAPER)
CLICK HERE FOR THE TEN TIPS FOR A GREAT PRESENTATION

INFORMATION FOR EXHIBITORS
A limited number of international exhibitors with unique innovations may be selected to display their products. Vendors, please contact the conference chairman Mr. Larry Sanson directly to discuss exhibiting at the conference.
BANQUET
An ICCST Awards Banquet with entertainment is provided with the registration. Additional banquet tickets are $40. There is a menu choice of vegetarian, beef or chicken.
ACCOMPANYING PERSONS PROGRAM
There will be tours available for accompanying persons. More information will be available nearer to the conference date.
GOLF TOURNAMENT
The 40th ICCST Carnahan Cup Golf Tournament will be held at the Marriott Griffin Gate Golf Club, Lexington, Kentucky.
For more information on the course, visit www.golflink.com
The tournament fee is $______, which includes lunch, cart, practice range and prizes!
The winners are: ____________________ (announced after the tournament).
CONFERENCE ORGANIZING COMMITTEE
Mr. Larry Sanson, Conference Chairperson, USA
Mr. John (Jack) Veatch, Executive Committee, USA
Mr. Gordon Thomas, Executive Committee, UK
Mr. Daniel Pritchard, Executive Committee, USA
Many others!