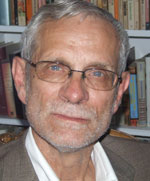 How can we best achieve deep cuts in carbon emissions? The United States, alone among the advanced industrial countries, has declined to join the Kyoto program; were it to join today, an immediate cut in our greenhouse gas emissions of about 25 percent would be required, which of course is not going to happen. The cuts anticipated in the pending Obama cap-and-trade bill are much more modest, but the United States will come under considerable pressure at the December climate meeting in Copenhagen to do more, faster. Can we make deeper cuts without greater reliance on nuclear energy? Not unless advances in solar technologies and carbon sequestration techniques accelerate enormously.
Bill Sweet has been covering energy and the environment for IEEE Spectrum magazine since 1995. Before joining Spectrum he worked for Physics Today magazine and Congressional Quarterly, covering science policy and politics, and national security. He is the author of Kicking the Carbon Habit: The Case for Renewable and Nuclear Energy, and The Nuclear Age: Energy, Proliferation and the Arms Race.
The meeting will be held at Olin College in Needham, MA. A light snack will be served at 6:00PM and the presentation will start at 6:30PM. A brief Boston Chapter PES Meeting will precede the presentation. For further information please call Ron Tabroff at 978-535-2815 or e-mail Ron at r.tabroff@ieee.org. Directions to Olin College: Take Route 95/128 to exit 19B (Highland Avenue, Needham). Follow Highland Avenue for 1.5 miles to a three-way intersection with Chapel and May Streets; bear slight right onto Chapel Street (to the right of the gas station). Take a right at the first light onto Great Plain Avenue/Rte 135. Proceed on Great Plain Avenue for 1.5 miles and the Olin College campus will be on the right. Enter the campus at "Olin Way" and follow the road around to the left to parking lot A, which provides access to all campus buildings. The meeting is being held at the Auditorium at Milas Hall.