---
Tuesday, October 19th, 2010


Western Digital, 1710 Automation Parkway, San Jose, CA
Directions and Map
Cookies, Conversation &

Pizza too

at

7:00 P.M.


Presentation at

7:30 P.M.
Shingled Magnetic Recording and Two-Dimensional Magnetic Recording
Roger Wood

Hitachi Global Storage Technologies
Abstract
Magnetic recording as we know it today is approaching its theoretical limit of about 1 Terabit/in2. Annual increases in HDD capacity will come to a halt unless a significant new technology can be introduced quickly. There are several new technology options, but all are fraught with serious practical difficulties. The presentation will briefly review the options including Bit-Patterned Magnetic Recording (BPMR), Heat-Assisted Magnetic Recording (HAMR), and Microwave-Assisted Magnetic Recording (MAMR), plus the new concepts of Shingled Magnetic Recording (SMR) and Two-Dimensional Magnetic Recording (TDMR). The focus of the talk will be on the latter concepts, SMR and TDMR. These approaches rely more on evolutionary developments of heads and media, though requiring major changes in data-handling and signal-processing.

The presentation will review recent progress on SMR and TDMR. Numerous papers have been published both on shingled-writing and on 2D signal-processing. Research on shingled-writing has explored novel head designs and real spin-stand and HDD-level measurements are now being reported. Asymmetric "Corner" heads with narrow side-gaps have been fabricated and shown to have superior performance producing narrower less-noisy erase-bands between tracks. Compared to conventional recording, spin-stand measurements of shingled tracks invariably reach a much tighter track-pitch before failure. HDD-level measurements have shown large gains in areal-density in the presence of realistic servo track-misregistration. At very high track-densities there is considerable inter-track interference that will require 2D signal-processing techniques to overcome. Much more work has been done in this area including further confirmation of the earlier claims about the inherent Shannon capacity of random granular media as well as answering basic concerns about the feasibility of timing and position recovery with such extreme levels of media noise. The Achilles heel of the technology is the need to change the way data is handled in the drive and the consequences this may have for the customer. Two recent papers have started to address this issue and an IDEMA standards committee has been established to co-ordinate industry and customer interests.
/tr<>

Biography


Roger Wood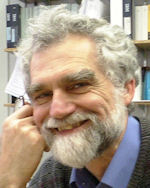 Roger Wood hails originally from the UK and holds degrees from London University and the University of British Columbia. He is currently with Hitachi GST is San Jose. Dr. Wood has a long history in the Magnetic Recording industry starting at Ampex Corporation in 1979 then moving to IBM in 1986. In 1996, he spent a year at the Data Storage Institute in Singapore. In 2003, the IBM HDD operation became part of Hitachi GST and subsequently, in 2003-4, he was fortunate to enjoy an assignment in Odawara, Japan. At Ampex, Dr. Wood was the inspiration and driving force behind the introduction of the first PRML channel. More recently, at Hitachi GST, he led the advanced development effort for perpendicular recording and was delighted by the string of successful products that resulted. Dr. Wood is perhaps best known for dire predictions about conventional magnetic recording being limited to an areal density of about 1 Terabit/in2 – a prediction now uncomfortably close. Dr. Wood's interests include magnetism, signal-processing, and mechanical-dynamics. He is the author of over 70 journal papers and 12 patents and is often invited to speak at conferences and technical meetings. Dr. Wood is an IEEE Fellow and was the recipient of the Magnetics Society Achievement Award for 2009.


Contact:
Roger Wood
Hitachi Global Storage Technologies
5601 Great Oaks Parkway, San Jose, CA 95193, USA
---
Return to SCV Magnetics Society Homepage
SCV Magnetics Society Webmaster: Tom Gardner (SCVMagSociety@gmail.com)
Last updated on