---
Tuesday, April 19th, 2011


Western Digital, 1710 Automation Parkway, San Jose, CA
Directions and Map
Cookies, Conversation &

Pizza too

at

7:00 P.M.


Presentation at

7:30 P.M.
Spin Torque MRAM Technology: Physics, Design, and Implementation Challenges
Robert Beach, PhD.

MagIC Technologies, Inc.
Abstract
This talk will present the physics of Spin-Torque Transfer Magneto-Resistive RAM (STT-MRAM) in magnetic tunnel-junctions. It becomes difficult to scale down the bit cell for conventional field-based MRAM beyond the 90nm node, and the industry is keen to bring STT-MRAM into advanced products. A tutorial presentation of the physics behind tunneling magnetoresistance (TMR) and STT will be followed by a consideration of various STT design options for the MRAM bit. These include the recent discovery of perpendicular magnetic anisotropy in thin CoFeB films adjacent to MgO, and the design of the TMR stack and physical bit dimensions for optimal electrical and magnetic performance. Of paramount importance to the realization of a STT memory is a careful study of array statistics. Bits in the STT-MRAM array need to be engineered so they can be written and read repeatedly and reliably under multiple write cycles, down to the PPM level. Control of the distributions that determine these attributes is critical for STT-MRAM to be successful in the marketplace.

Biography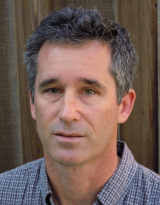 Bob Beach received his Ph.D. in Physics from the University of Illinois in 1992, where he studied the magnetic structure of rare-earth multilayers. As a post-doc at U.C. San Diego, he investigated GMR in spin-valves and heterogeneous alloy films, discovered the magneto-impedance effect, and found a passion for device physics. He has spent the bulk of his career in the magnetic recording industry, mostly working on read head design, and was a member of the team at Hitachi that introduced the industy's first MgO-based TMR recording head. Since 2007, he has been at MagIC Technologies, a division of TDK, working to develop Spin-Torque MRAM. He is an author on over twenty papers and an inventor on seventeen U.S. patents.


Contact:
Robert Beach
MagIC Technologies, Inc
Milpitas CA 95305
---
Return to SCV Magnetics Society Homepage
SCV Magnetics Society Webmaster: Tom Gardner (SCVMagSociety@gmail.com)
Last updated on