---
Tuesday, January 21st, 2014


Western Digital, 1710 Automation Parkway, San Jose, CA
Directions and Map
Cookies, Conversation &
Pizza too
at
6:45 P.M.

Presentation at
7:30 P.M.
FePt

HAMR Recording Media
Progress and Key Requirements
Dr. Dieter Weller, Manager Future Recording Media

HGST a Western Digital Company
Abstract
Highly chemically ordered and textured L10FePtX-Y (001) granular media with sufficient perpendicular magnetic anisotropy are key approaches for future high areal density heat-assisted magnetic recording (HAMR). X=Cu, Ag etc. reduces the Curie temperature and Y=Carbon, SiO2 etc. decouples the grains. Texture and heat sink layers optimize the recording speed and achievable areal density beyond 1Tb/in2.

This talk will summarize the ongoing HGST HAMR media efforts including experiments and modeling. Included are challenges and required research and development efforts based on joint discussions between HGST, Seagate and Western Digital at ongoing Advanced Storage Technology Consortium (ASTC) meetings.

For additonal information on this subject see:
L10 FePtX–Y media for heat-assisted magnetic recording
PSSa, Weller et al, May 29, 2013
And
A HAMR Media Technology Roadmap to an Areal Density of 4 Tb/in2
IEEE Trans. Mag. , Weller et al, Jan 2014

Biography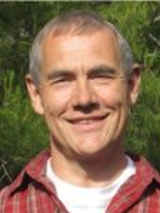 Dieter Weller received a Ph.D. in physics in Germany in 1985 and worked for Siemens, IBM Almaden Research, Seagate R&D and is now at HGST a Western Digital company. His efforts include fabrication, characterization, electronic, magnetic and magneto-optical properties of thin films and multilayers relevant for magnetic recording. He is Fellow of the American Physical Society (APS), published 270 scientific papers and holds more than 60 U.S. patents. His current focus is on heat assisted magnetic recording.
Contact:
Dr. Dieter Weller

Manager Future Recording Media

HGST a Western Digital Company

San Jose Research Center, San Jose, CA USA
---
size=1 width="100%" noshade style='color:navy' align=center>
Return to SCV Magnetics Society Homepage
SCV Magnetics Society Webmaster (SCVMagSociety@gmail.com)
Last updated on