---
Click here for see the full list of upcoming events.
---
Wednesday, September 10, 2014
Breast CT Scanner Imaging Advancement and Evolution at UC Davis
Speaker:

   Dr. John M. Boone, Ph.D., FAAPM, FSBI, FACR
   Professor and Vice Chair of Radiology
   Professor of Biomedical Engineering
   University of California Davis Medical Center
   Sacramento, California
Location:
  1 AMD Place, Sunnyvale, CA 94088 (Commons Bldg - map or Google Maps)
Schedule:  
   6:30pm: Networking/Light Dinner
   7:00pm: Announcements
   7:05pm: Presentation
   8:15pm: Adjourn
Cost:
  Free. Donation accepted for food.
Abstract:
The breast tomography project began at the University of California Davis around the year 2000. Since then, for prototype breast CT scanners have been designed, fabricated, integrated, and tested clinically. This process, over 600 women have had breast CT scans on these platforms. The breast CT systems at UC Davis made use of existing hardware such as an x-ray, x-ray tube and generator, and motor/encoder systems, but all other aspects were designed in-house, fabricated at a local machine shop under contract, and assembled and integrated in our laboratory. In this presentation, an overview of the hardware evolution will be presented, outlining the improvements in image quality through each prototype scanner. A thorough discussion of the image processing requirements of the breast CT system will also be discussed, including image correction methods, image preprocessing (prior to reconstruction) for scatter correction and Hounsfield Unit calibration, cone beam reconstruction, and image analysis methods including post-reconstruction flat fielding, and the assessment of quantum and anatomical noise of the breast.
Biography:
Dr. John M. Boone is an academic medical physicist who has worked at UC Davis in the Department of Radiology for 22 years. He received his undergraduate degree in biophysics from the University of California Berkeley, and went on to receive the Masters and PhD in Radiological Sciences at the University of California Irvine. Prior to his appointment at UC Davis, he served in faculty positions at the University of Missouri Columbia and at Thomas Jefferson University (Philadelphia). Dr. Boone is the principal investigator of the Breast Tomography Project at UC Davis, and has developed breast CT technology over the past 12 years, with over 600 women imaged on his three breast CT scanners. Dr. Boone is in a leadership role in the American Association of Physicists in Medicine (AAPM), as President-Elect (2014), President (2015), and Board Chair (2016). In addition to breast CT, Dr. Boone has published widely on issues pertaining to radiation dose in whole body computed tomography, image quality assessment, and computer modeling studies. Dr. Boone has published about 200 peer-reviewed papers, and is a fellow of the AAPM, the Society of Breast Imaging, and the American College of Radiology.
A joint meeting co-sponsored by IEEE Control Systems Society Chapter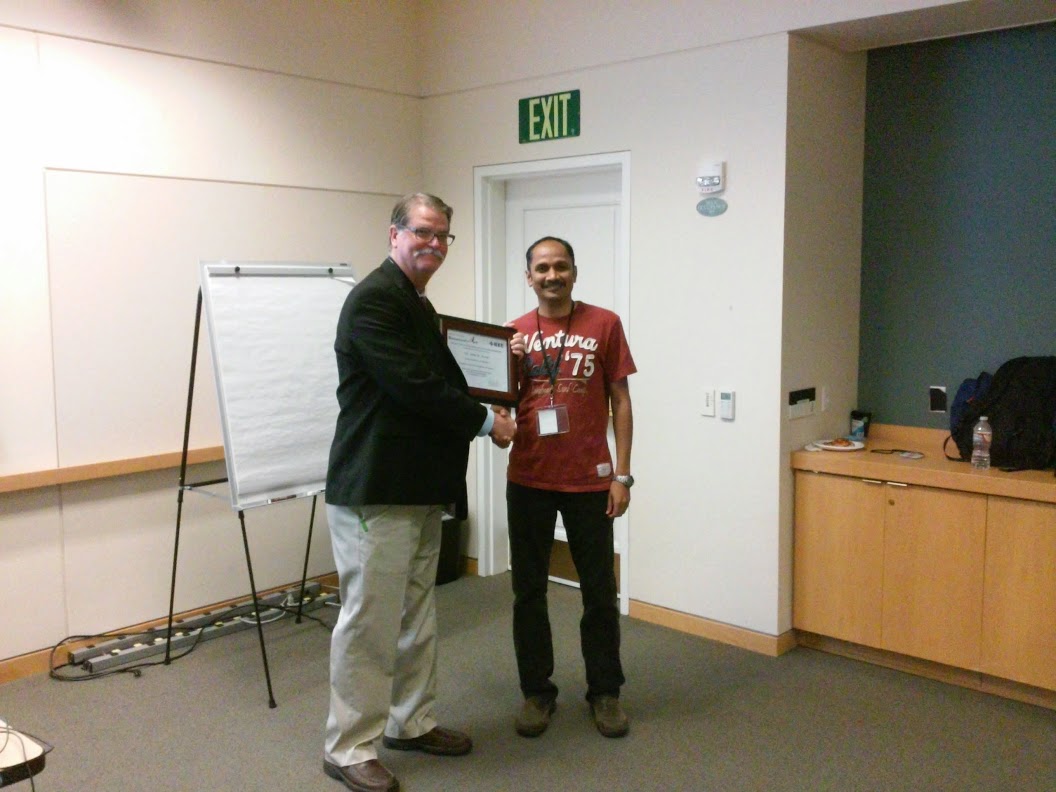 * from-left: John Boone, Radhakrishna Giduthuri
---
---
Subscribe to future announcements: link
---