Getting to Kabinett Wine Bar, Liverpool
The welcome reception is happening in Kabinett Wine Bar at 7pm on the 14th. The contact details are below.
Address: 2a Myrtle Street,
Liverpool
L7 7EB
Phone: 0151 378 2982
Map: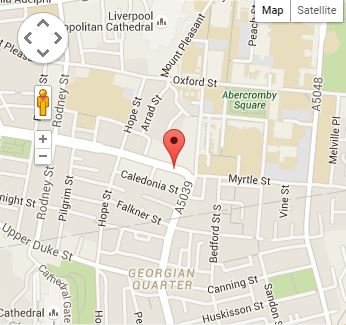 Getting to the Foresight Centre

This year's conference is being held at the Foresight Centre, a part of the University of Liverpool. Directions to the building can be found here.

Getting to Liverpool
The University is located in the centre of Liverpool. Liverpool is a vibrant city with a thriving culture, and can be accessed in a number of ways. The closest train station to the University is Liverpool Lime Street, which has connections across the country. For those wishing to fly, the closest airport is Liverpool John Lennon Airport though there are frequent trains from Manchester Airport into the city centre.
For detailed directions to the campus please visit the main university website.
We hope you will have an excellent stay in Liverpool for PGBiomed 2015.