2009 IEEE International Workshop on Safety, Security, and Rescue Robotics
University of Denver, Denver, Colorado, USA
November 3-6, 2009

---
News: Hotel registration deadline is October 6. Call the hotel directly.

News: Loveland and Arapahoe Basin ski resorts are opening this week! (Oct 9)

News: Registration problems with phone number: use 303-871-2481 or subset of yours that does not start with "1" or "0"

News: New Invited Talks added by Howie Choset and Mark Yim!

News: Huge snow fall Oct 28/29! Ski resorts are in good shape. My back yard looks like this: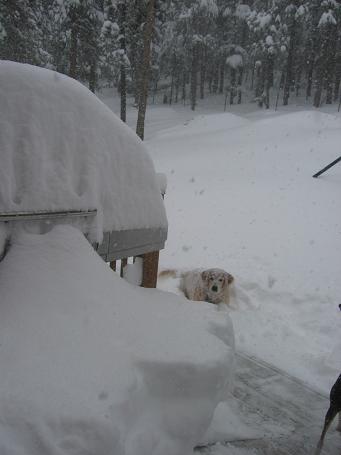 ---
Welcome to Denver! The SSRR is the main workshop of the IEEE Robotics and Automation Society, Technical Committee on Safety, Security, and Rescue Robotics. The University of Denver is proud to host this international event.

Denver is situated on the edge of the Rocky Mountains, a major transportation hub separating the mountains from the Great Plains. Boulder, 30 km to the northwest, sits nearly at the intersection of the Continental Divide (the string of snow-capped 4300m peaks that divide the nation's watershed) and the front range foothills, creating idyllic mountain vistas and accessible, cosmopolitan living. Known for its natural beauty, excellent skiing, and world-class rock climbing, the Denver metro area is a destination for travelers the world over.
---
The 2009 IEEE International Workshop on Safety, Security, and Rescue Robotics is dedicated to identifying and solving the key issues necessary to field capable robots across a variety of challenging applications. This seventh workshop in the series will address both the research challenges posed by search and rescue scenarios and the design of deployable robotic systems that satisfy user-defined requirements. It will create a unique opportunity for development and exchange of research ideas and technical solutions. As always, emergency responders and other expected users will be involved in presentations and discussions to ensure the practical relevance of technology developments for actual usage.

Topics for papers and demonstrations, include:
Robot performance requirements and technical solutions for applications of SSRR (urban search and rescue, CBRN hazard detection/mitigation, explosive ordinance disposal, physical security, surveillance, etc)
Locomotion for ground, aerial, aquatic, indoor, and collapsed structures
Perception for navigation, hazard detection, and victim identification
Mapping of complex environments (2-D, 3-D, GIS integration, etc)
Manipulation capabilities (hazards, payloads, obstacles, doors, etc)
Communications for reliable data transfer (tether management, radio, etc)
Intelligent behaviors to improve robot performance and survivability
Human-robot interfaces for improved remote situational awareness
Autonomous search and exploration
Multi-robot teams and mixed human-robot teams
Sensors and video analytics for surveillance and security
Chemical, Biological, Radiological, Nuclear and Explosive (CBRNE) detectors
Training methods and other personnel issues
Safety standards of robots and systems
Evaluation and performance metric of robotic systems
Emerging technologies (sensors, power sources, micro robots, etc)
Emergency management issues related to robotics
Mechanisms, Mechatronics, and Embedded Control
Journal Special Issue
Selected papers will be invited to a Special Issue of the Journal of Intelligent and Robotic Systems.
Workshop Site
The workshop will be held in Craig Hall on the University of Denver campus. Please refer to the local information page for travel information.
Important Dates
| | | |
| --- | --- | --- |
| July 2, 2009 | | Paper Submission Deadline Extended |
| August 15, 2009 | | Notification of Acceptance |
| September 30, 2009 | | Final Papers Due |
| November 3, 2009 | | Workshop Begins |

Prior Workshops
SSRR 2008 Tohoku University, Japan
---
ssrr09-program [at] du [dot] edu