Welcome to the IEEE New Zealand Central Section

The NZ Central Section has been serving IEEE members since 2005 and showing significant growth in membership through the introduction of targeted new Chapters, Affinity Groups, Student Branches and specially supported events. A more detailed history of the Section since its inception until the present day is available from here. The boundaries of NZ covered by our Section may be found on the following map.
Recently, we started the new Computational Intelligence Chapter, more details about this and our other Technical Chapters can be found in circulated notices and the link provided opposite.

The Central Section Committee for 2017 can be found through the following link, please feel to contact us with any enquiries.
Section Chapters
There are currently three chapters directly associated with our Section:
Joint Chapter in Signal Processing and Information Theory

Power and Energy Society Chapter

Computational Intelligence Chapter
Nationally Affiliated Chapters
In addition to the above chapters that are directly affiliated with their respective IEEE Societies, our Section is actively involved in National (New Zealand) Chapters affiliated with other major IEEE Societies including:
IEEE Communications Society

IEEE Instrumentation and Measurement Society

IEEE Robotics and Automation
Affinity Groups
We have an active group supporting our recent graduates:
Young Professionals - formerly known as GOLD (Graduates of the Last Decade) Group
We are in the process of forming a Women in Engineering (WIE) group, if you are interested please contact Bing Xue who is on our committee.
Student Branches
We have two Student Branches in our region and we encourage and support students to join these Branches from both Massey and Victoria universities. A highlight of the year is a joint presentation day featuring the research students at both universities describing their current research and networking with each other in a friendly and social atmosphere. Postgraduate and Undergraduate students are most welcome to participate in the events. To find out more, please follow this link to the Student Branch pages.
Massey University Student Branch
Victoria University Student Branch
The last Post-graduate Presentation Day event was held at Massey University on Monday 4th September 2017. Details of the event are available from a pdf file flier that can be obtained here. A photo album of the event will be available from the Student Branch pages. shortly.
Date: Monday 4th September, 2017
Time: 10:00am to 5:00pm
Venue: Presentation Lab (Riddet Complex RC2.143), Massey University, Palmerston North Campus.
Contact: Syed Shan Jaffry at s.jaffry@massey.ac.nz for more details.
Upcoming General and Technical Meetings, Conferences and Events
Celebrating IEEE Region 10's 50 Year Jubilee Event

Please join with us across New Zealand in celebrating IEEE Region 10's 50 year jubilee on Tuesday 3 October from 6pm - 9pm.

We shall have 3 guest speakers who will be reflecting on a range of contributions of the IEEE to NZ society over the last 50 years. The presentations will be held simultaneously in Auckland, Wellington and Christchurch, with speakers from all 3 venues.

Within the NZ Central Section, we have Dr Murray Milner presenting on "A Snapshot of Information and Communication Technology in New Zealand over the last 50 years"

The speakers and topics from the other venues are yet to be announced.

The Wellington venue is:

Lecture Theatre 3 - GBLT3
Old Government Buildings
15 Lambton Quay, Wellington.

Note that it will also be possible to connect to the live presentations (receive only) from any computer, however questions for the speakers will only be accepted from the 3 main venues. More details will be provided later on how to connect in.

For those attending at the Wellington venue, please RSVP at http://bit.ly/2iDqY3g.
Upcoming Region 10 Conferences and Events
The Region 10 flagship conferences/congress organized in our region this year are TENCON, TENSYMP and the R10-Humanitarian Technology Conference (R10-HTC). The conferences are technical events where the papers are presented and uploaded in IEEE Xplore digital library. These events also:
provide a platform to share and discuss your ideas through papers, exhibitions, plenary talks, tutorials, etc.
connect you to the renowned personalities in the respective field of Engineering & Technology.
upgrade your knowledge and skills in new and emerging technology and research.
provide opportunity to update with the new innovations and products through the exhibition, etc.
polish your interpersonal and professional skills with the guidance of leaders
boost the inspiration to become an IEEE volunteer for advancing the Technology for humanity and so on.
Some brief descriptions of these conferences/events are given below:
TENCON: It is one of the prestigious events of R10 which was started in 1980. In its 36 years of operation, this conference has been organized in many parts of Asia-Pacific with a great success. The scope of this conference is very wide covering all the fields of Engineering and Technology. In 2017, it is going to be held in Penang, Malaysia during Nov. 5-8, 2017 (http://ieeemy.org/tencon/).
TENSYMP was started in 2013 as TENCON (spring) and in 2014, it was renamed as TENSYMP which is normally organized in March-June every year. It is a theme (specialized) based conference. In 2017, it was held in Kochi, India during July 14-16, 2017 (http://tensymp2017.org/).
R10 Humanitarian Technology Conference (R10-HTC) is a cross disciplinary conference that focuses on development and application of technology for the benefit of humanity. It was started in 2013 and generally organized in the 4th quarter of the year. In 2017, it is going to be held in Dhaka, Bangladesh during December 21-23, 2017 (http://r10htc2017.com/).
Upcoming IEEE event in the Asia-Pacific Region of Interest to Members
The 4th IEEE World Forum on the Internet of Things (WF-IoT 2018) will be held in Singapore February 5th-8th, 2018 (http://wfiot2018.iot.ieee.org/). As the premier IEEE event on IoT, the World Forum brings together the latest developments in three spheres: (i) from the government sector and multi-national organizations, policies and solutions that affect IoT and its future; (ii) from business and industry, lessons learned from recent deployments, and strategies for the evolution of IoT by practitioners and business leaders; and (iii) from the research and academic community, the latest technological developments in the many fields and disciplines that drive the utility and vitality of IoT solutions and applications.

The theme for the conference is "Smart Cities and Smart Nations" chosen in recognition of Singapore's efforts in pioneering and putting into practice the principles behind the Smart City movement. The Conference features an outstanding Technical Program on the latest research relevant to IoT.

It also includes five Vertical and five Topical Areas aimed at industry and government participation in dealing with the practical issues behind IoT.

The five IoT Verticals are:
Smart Cities and Smart Nations
The use of IoT in Logistics
Law Enforcement, Emergency Response, and Humanitarian Technologies
Industrial IoT
IoT for Agriculture
The five IoT Topical Areas are:
Blockchains
Security and Privacy
Policy and Regulations
Best Practices, Standards, and Open Source
Artificial Intelligence, Autonomy, and Automation
The WF-IoT 2018 seeks original technical paper submissions on IoT Technologies and Applications. Full details are described in the extended CFP, which can be found here http://wfiot2018.iot.ieee.org/authors/call-for-papers/ and here. The suggested size of papers is four to six pages. Extended versions of selected papers may be considered for publication in the IEEE IoT Journal: http://iot-journal.weebly.com/ . Paper submissions are due: 30 September 2017. Detailed instructions for submissions and proposals can be found here: http://wfiot2018.iot.ieee.org/authors/ .
Items of Interest to Members:
Associate Editor Appointment
Bing Xue has been appointed as an Associate Editor for the IEEE Computational Intelligence Magazine (Impact Factor: 3.647), which is a major journal in Computational Intelligence. Her main role as an Associate Editor is to participate in the discussion of the major scope of this journal, identifying emergent areas and organising special issues, and coordinating the review process of related paper submissions. This good recognition of our Central Section member Bing's work and reputation in Computational Intelligence.


How your membership is working for you! - IEEE Benefits
IEEE members can access information on local events and activities by signing in to myIEEE, the members' personalized gateway to IEEE membership. In addition, members can also:
Access individual Society memberships and subscriptions
Connect with local IEEE Sections and volunteer leadership
Find upcoming conferences, meetings, and events.
Learn more about individual benefits
Read the latest news from IEEE, IEEE Spectrum, IEEE Standards News, and The Institute
Accelerate your plans! As a member, you'll be presented with new resources, valuable opportunities and many discounts that will help you advance your career in the right direction.
Through your IEEE membership, you can find colleagues who share your vision and commitment-those who are moving technology forward today.
Why not visit the membership benefits page to learn more about the many exciting opportunities available through your membership including discounts, insurance, and much more...
Collabratec Initiative

Job Seekers:
Look for job postings and other career opportunities in IEEE Collabratec. Visit the Opportunities section to:
Search job listings and filter by location, interest, and posting date.
Manage your saved job listings for quick reference and review.
There are over 2,100 jobs posted in IEEE Collabratec in technical areas such as:
Communications (signal processing), over 1,000 jobs posted
Energy, over 600 jobs posted
Information Technology, over 600 jobs posted
Nuclear and Plasma Sciences, over 300 jobs posted
Biomedical Engineering, over 300 jobs posted
Cybersecurity, over 100 jobs posted
Have Recruiters Find You:
Make yourself visible to recruiters who represent the top technology firms in their respective industries. Get started by enabling your Employment Preferences under the Settings tab in Opportunities. Identify your desired interest in areas such as:
Job type (Full-time, Part-time, Temporary, Internship)
Preferred amount of business travel
Willingness to relocate
Employer location (Country, State, City)
Annual salary
Upload your CV/Resume to further enhance your visibility to recruiters. Recruiters will be searching for potential candidates by using search tools that scan your CV/Resume for key word matches.



IEEE New Zealand Central Section Awards
IEEE Membership Recruitment Performance Award 2017
Each year Sections in the IEEE are set goals for membership recruitment and awards are given when Sections achieve these goals. IEEE Central Section has met its 2017 target and has been presented with the certificate below.

If you are not already a member of our Section, why not join us now and reap the many benefits of IEEE membership, including the ability to receive up to the minute research literature, join societies within the organisation that deal with topics in your areas of interest and attend special events featuring international experts visiting the region and presenting their research and establishing interactions and collaborations of mutual benefit.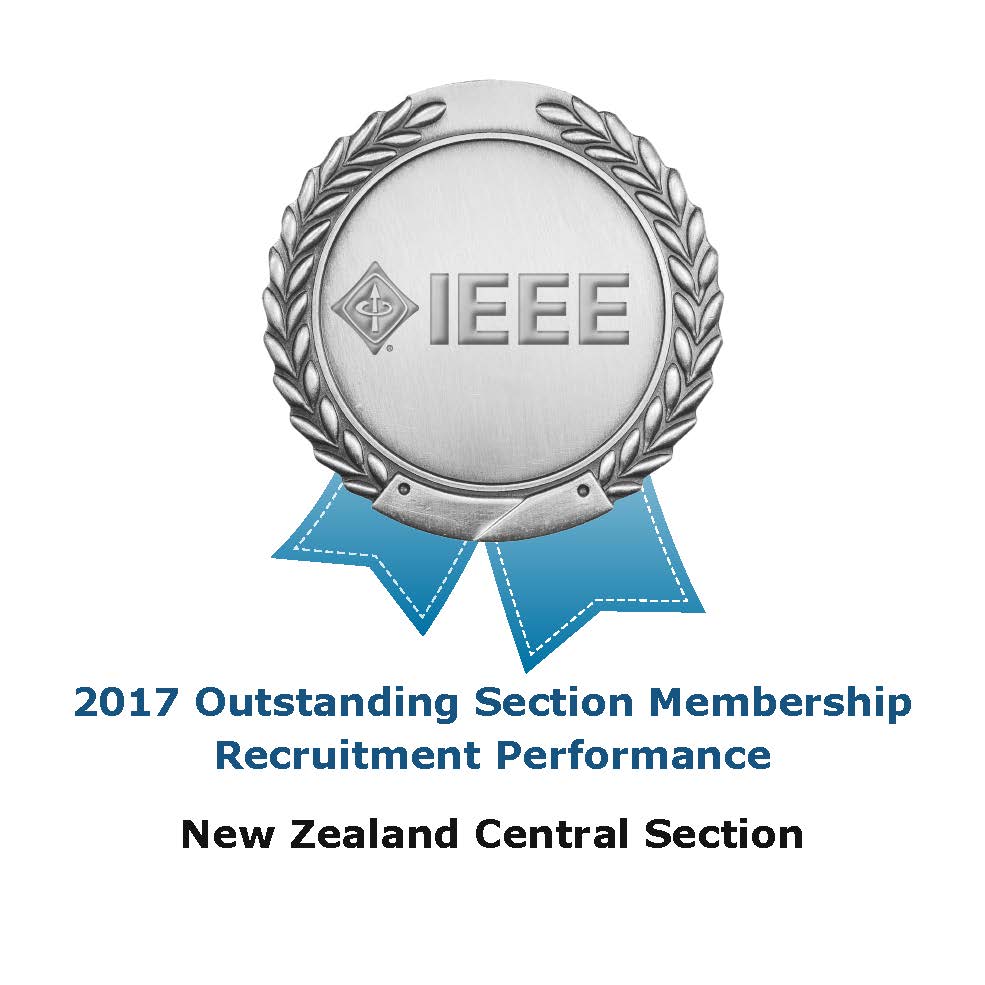 Distinguished Small Section Award 2014
The Region 10 Distinguished Section Award is given to recognize the excellent work of the Section in the previous year and therefore this year (2015) the awards were called the 2014 awards. The award is presented for three categories, namely Small, Medium and Large R10 Distinguished Sections.
The 2014 R10 Distinguished Sections are:
New Zealand Central Section (Small Section category)

Lahore Section (Medium Section category) and
Kerala Section (Large Section category)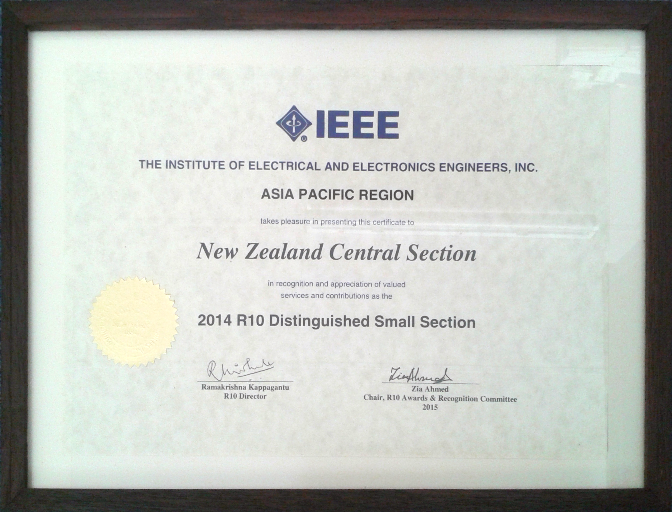 Congratulations from Region 10 to New Zealand Central, Lahore and Kerala Sections!
2015 Outstanding Membership Retention Award
The IEEE New Zealand Central Section has been recognised by the IEEE Membership Recruitment and Recovery Committee for achieving its membership development goals that were developed based on the Section's three year performance which recognises continued growth in our membership during that period.

Please help us grow our membership by suggesting that your associates join the IEEE to receive and enjoy the many benefits of participation in this world-wide engineering organisation!
Follow this link to renew your membership or direct a colleague to the IEEE membership website.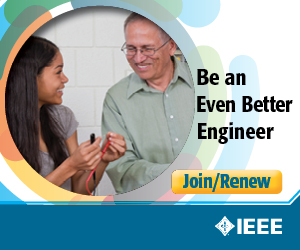 Region 10 Outstanding Volunteer Awards 2015
IEEE Region 10 recognizes and values the important role of members as volunteers to promote the IEEE objectives in the region. The following volunteers (listed in alphabetical order by first name) were acknowledged with the 2015 R10 Outstanding Volunteer Award:
Akinori Nishihara (Tokyo Section)
Cornelis Jan (Keith) Kikkert (South Australia Section)
Jianguo Huang (Xian Section) Lakshminarayana Merugu (Hyderabad Section)
Lance Fung (Western Australia Section)
Murray Milner (New Zealand Central Section)
Nirbhay Chaubey (Gujarat Section)
Stefan Mozar (New South Wales Section)
Wu Qun (Harbin Section)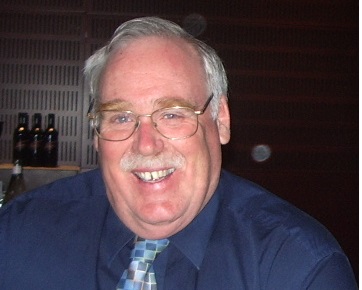 Murray Milner - Outstanding Volunteer Award 2015
Congratulations Murray Milner and the other winners! A presentation was made to Murray Milner by the current Chair of the Central Section, Donald Bailey, at the recent Joint Institutions Breakfast meeting (report given below). Donald Bailey reads a citation outlining significant achievements by Murray (below left) and presents the award (below right).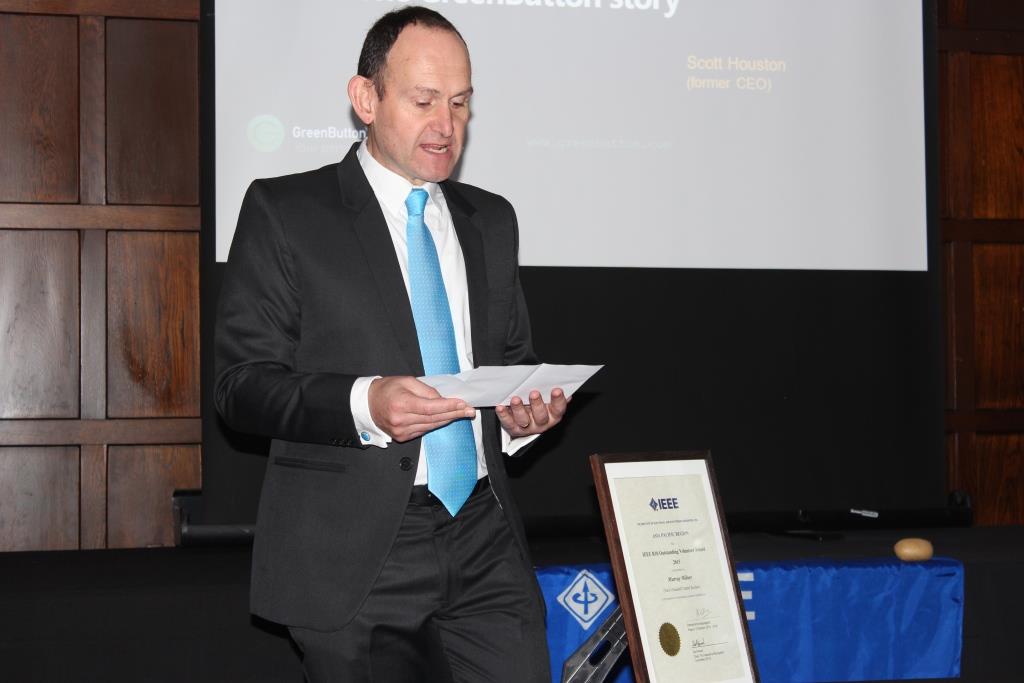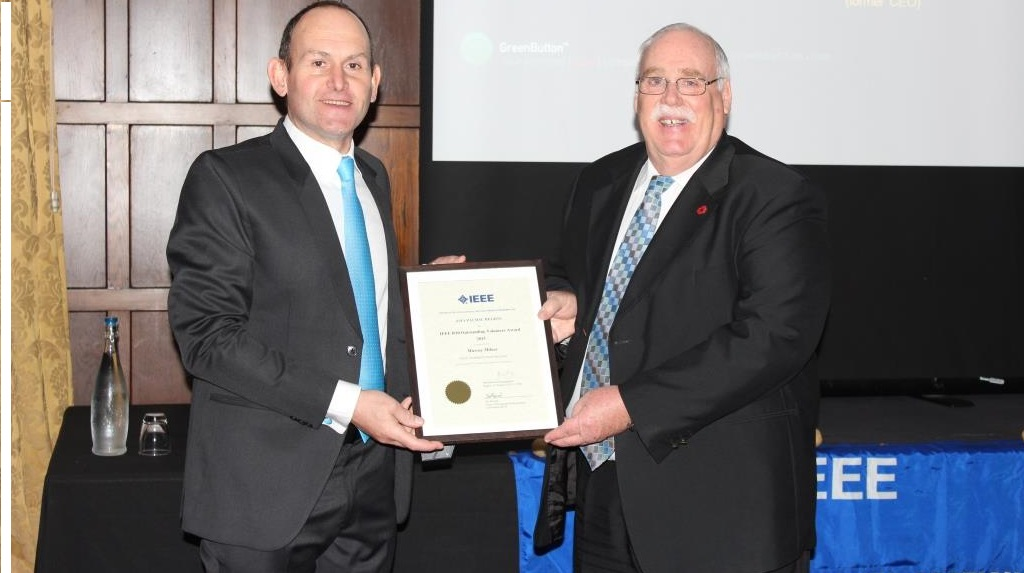 Recent Events
Please follow this link for more events that were held by or supported by our Section in 2016 and 2017.
Recent Conferences and Meetings
We are pleased to report that the last IEEE Instrumentation and Measurement Society workshop was held on the 20th and 21st of April at the School of Engineering and Computer Science, Victoria University of Wellington, Kelburn parade.

Details were:

Event: Two-Day Workshop on Smart Sensors, Measurements and Instrumentation for Health, Industry and Environment
Dates: April 20-21, 2017

Venue: LB118, Victoria University of Wellington, Kelburn campus

Flyer available from this link. A report on this event can be found by following this link.
IEEE New Zealand Signal Processing / Information Theory Chapter Event:

Title: Estimating power spectral density for acoustic signal enhancement - an effective approach for practical applications
Speaker Yusuke Hioka
Date: Monday, 10 April 2017
Time: 4 - 5pm
Venue:Ag Hort Building (AH2.83), Massey University, Palmerston North Campus
Full details were available through the following link.
Power and Energy Society Event:
Title: Power Distribution System Planning in Smart Grids with Photovoltaics
Speaker: Michael Emmanuel
Date: Tuesday 14th March
Time: 2.00 – 3.00 pm
Venue: CO350 – Cotton Building, Kelburn Campus
Full details were available through the following link.
The 2017 - 2nd Workshop on Recent Trends in Telecommunications Research (RTTR). This workshop was held at Massey University, Palmerston North on Feb 10th, 2017. Details were available from this flyer.
Nicolás Erdödy, organises a regular conference, Multicore World here in Wellington. The 6th conference is being held from February 20-22. Nicolás offered a discounted attendance fee for IEEE Central Section members, down 20% from $1,200 to $960 (ex GST).
Further details including an impressive list of speakers were available from their website: https://openparallel.com/multicore-world-2017/program-2017/. The event was well attended by approximately 60 delegates and was very successful. Some of the papers will be put online in due course
Joint Institutions Breakfast event featuring Scott Houston was held at the Wellesley Boutique Hotel, 2 Maginnity Street, Wellington.
The Annual General Meeting of the IEEE Central Section was held on 30th November at 5:30pm in the Wellesley Boutique Hotel, 2 Maginnity Street, Wellington.
ITNAC 2016 conference in Dunedin, 7-9 December 2016.
IEEE Distinguished Lecture for the IEEE Computational Intelligence Chapter by Jun Wang (Hong Kong)
The IEEE Computational Intelligence Chapter announced the visit of IEEE Distinguished Lecturer Chair Professor Jun Wang (Hong Kong) an IEEE Fellow and the delivery of a Distinguished Lecture in November 2016 as per the details given below:

Title: The State of the Art of Neurodynamic Optimization: Past, Present, and Prospects
Venue: CO350, Victoria University of Wellington, Kelburn Campus
Date: 23 November 2016
Time: 3:10-4:30pm
Cost: Free - All were welcome.

A brief report including an abstract of the talk and a bio of the speaker can be obtained from here.