Welcome to the IEEE New Zealand Central Section

The NZ Central Section has been serving IEEE members since 2005 and showing significant growth in membership through the introduction of targeted new Chapters, Affinity Groups, Student Branches and specially supported events. A more detailed history of the Section since its inception until the present day is available from here. The boundaries of NZ covered by our Section may be found on the following map.
Recently, we started the new Computational Intelligence Chapter, more details about this and our other Technical Chapters can be found in circulated notices and the link provided opposite.

The Central Section Committee for 2018 can be found through the following link, please feel to contact us with any enquiries.
Section Chapters
There are currently three chapters directly associated with our Section:
Joint Chapter in Signal Processing and Information Theory
Power and Energy Society Chapter
Computational Intelligence Chapter
Nationally Affiliated Chapters
In addition to the above chapters that are directly affiliated with their respective IEEE Societies, our Section is actively involved in National (New Zealand) Chapters affiliated with other major IEEE Societies including:
IEEE Communications Society
IEEE Instrumentation and Measurement Society
IEEE Robotics and Automation
See
the upcoming events
below to get the latest IMS workshop event to be held in September.
Affinity Groups
We have an active group supporting our recent graduates:
Young Professionals - formerly known as GOLD (Graduates of the Last Decade) Group
We are in the process of forming a Women in Engineering (WIE) group, if you are interested please contact Bing Xue who is on our committee.
Student Branches
We have two Student Branches in our region and we encourage and support students to join these Branches from both Massey and Victoria universities. A highlight of the year is a joint presentation day featuring the research students at both universities describing their current research and networking with each other in a friendly and social atmosphere. Postgraduate and Undergraduate students are most welcome to participate in the events. To find out more, please follow this link to the Student Branch pages.
Massey University Student Branch
Victoria University Student Branch
The last Post-graduate Presentation Day event was held at Victoria University on Wednesday 5th September 2018. Details of the event were available from a pdf file flier that can be obtained here. A photo album of the event will be available from the Student Branch pages in the near future.
Please go to the Recent Events Section to obtain a few representative images taken from the 2018 event.
Upcoming General and Technical Meetings, Conferences and Events
Joint Institutions Annual Breakfast Event 2018

All members and guests of the IEEE Central Section, IET Wellington Network and ENZ Wellington Branch are welcomed to a special annual event, hosted by all three institutions on the morning of 19th September 2018 in Central Wellington. The guest speaker for this event is Tony Ryall, Chair of Transpower, who will speak on the topic of "How Transpower is thinking about the future of the electricity industry in New Zealand".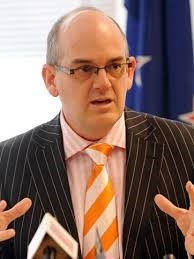 Title:
How Transpower is thinking about the future of the electricity industry in New Zealand
Presenter:
Tony Ryall, Chair, Transpower.
Date:
19 September 2018
Time:
7:15am for 7:30am start
Location:
Wellesley Boutique Hotel, 2 Maginnity Street, Wellington 6011
Details:
Cost: $15.00 for members of any of the three hosting institutions, $30.00 for any guests.
RSVP(Essential) :
To
murray.milner@xtra.co.nz
(Nmbers are limited, so first in first served for registrations.)
Further details, including a short biography are available from
here
.
IMS Workshop
We are pleased to announce that the annual 2-day workshop of the IEEE Instrumentation and Measurement Society (IMS) New Zealand Chapter will be held at
Massey University Palmerston North on 6-7 September 2018
. We invite you to participate in the workshop. The flyer and included registration form is
available from here
.
Registration/sponsorship provides workshop attendance, lunch, morning/afternoon teas and workshop dinner.
To register/sponsor please fill in the registration/sponsorship form and email it to Karen Pickering (
K.L.Pickering@massey.ac.nz
) by 27
th
August 2018.
FURTHER INFORMATION:
| | |
| --- | --- |
| Gourab Sen Gupta | Robin Dykstra |
| g.sengupta@massey.ac.nz | robin.dykstra@vuw.ac.nz |
The theme of the workshop is-
Smart Sensors, Measurements and Instrumentation for Health, Food, Agriculture, Environment and Security
Please encourage and support your students to attend. Student participation is free if they make a presentation.
We look forward to your participation.
IEEE New Zealand Wireless workshop
The IEEE New Zealand Wireless Workshop is a premier annual event that brings together industry professionals, engineers, researchers, academics, students, start-ups and policy makers to discuss technologies and issues of interest to the wireless community in New Zealand. The day consists of a series of presentations from participants, with ample opportunity for informal discussions and networking.
When: Friday 7th September 2018. 9 am - 5 pm
Location: WZ416 - AUT City Campus, Auckland, New Zealand
As always, we encourage expressions of interest from speakers in the industry, government and academia. Suitable topics for presentation include (but are not limited to): ongoing research; emerging technologies; product and system development; industrial experience and strategy; and spectrum policy. The workshop is intentionally informal, and no written abstracts are required, but these can be distributed to participants if provided.
Pre-Workshop Tutorial on Software Defined Radio: FPGA Prototyping with Over-the-Air Signals (further information at the link below)
Key Dates:
Workshop: Friday 7th September 2018
Expression of interest for presenters: By Friday 10th August 2018
RSVP for other attendees (

free

and lunch provided): By Friday 20th August 2018
There is no requirement to be an IEEE member and you are encouraged to bring your colleagues. Donations or sponsorships to help us fund this event are welcomed. For your expression of interest, RSVP, or any other enquiries, please email to
saeed.rehman@aut.ac.nz
A flyer has been distributed that you can download from this
location
.
Upcoming Region 10 Conferences and Events
The Region 10 flagship conferences/congresses organized in our region this year are TENCON, TENSYMP and the R10-Humanitarian Technology Conference (R10-HTC). The conferences are technical events where the papers are presented and uploaded in IEEE Xplore digital library. These events also:
provide a platform to share and discuss your ideas through papers, exhibitions, plenary talks, tutorials, etc.
connect you to the renowned personalities in the respective field of Engineering & Technology.
upgrade your knowledge and skills in new and emerging technology and research.
provide opportunity to update with the new innovations and products through the exhibition, etc.
polish your interpersonal and professional skills with the guidance of leaders
boost the inspiration to become an IEEE volunteer for advancing the Technology for humanity and so on.
Some brief descriptions of these conferences/events are given below:
TENCON: The 2018 IEEE Region 10 Conference (IEEE TENCON 2018) will be held in the Ramada Plaza Hotel, Jeju, Korea, from October 28 to 31, 2018. TENCON is a premier international technical conference of IEEE Region 10, which comprises 58 Sections, 6 councils, 26 subsections, 663 chapters, and 1,431 student branches in the Asia Pacific region.
The theme for TENCON 2018 is Intelligence Outbreak; researchers and engineers will be brought together from academia and industry, and they will freely expose their ideas and opinions on emerging issues in the field of electrical, electronics and computer engineering as well as information technologies.
Prospective authors are invited to submit full paper with four to six pages in double-column IEEE conference format via the conference website http://www.tencon2018.org .
TENSYMP was started in 2013 as TENCON (spring) and in 2014, it was renamed as TENSYMP which is normally organized in March-June every year. It is a theme (specialized) based conference. In 2017, it was held in Kochi, India during July 14-16, 2017 (http://tensymp2017.org/). In 2018 it is to be held in Sydney, Australia.
The new extended deadline for submission of papers to the Sydney based TENSYMP was the
26th March
. A flyer with the required details is available from here.
Items of Interest to Members:
Region 10 Newsletter - Latest Issue
The latest Region 10 Newsletter can be found here.
How your membership is working for you! - IEEE Benefits
IEEE members can access information on local events and activities by signing in to myIEEE, the members' personalized gateway to IEEE membership. In addition, members can also:
Access individual Society memberships and subscriptions
Connect with local IEEE Sections and volunteer leadership
Find upcoming conferences, meetings, and events.
Learn more about individual benefits
Read the latest news from IEEE, IEEE Spectrum, IEEE Standards News, and The Institute
Accelerate your plans! As a member, you'll be presented with new resources, valuable opportunities and many discounts that will help you advance your career in the right direction.
Through your IEEE membership, you can find colleagues who share your vision and commitment-those who are moving technology forward today.
Why not visit the membership benefits page to learn more about the many exciting opportunities available through your membership including discounts, insurance, and much more...
Collabratec Initiative
Job Seekers:
Look for job postings and other career opportunities in IEEE Collabratec. Visit the Opportunities section to:
Search job listings and filter by location, interest, and posting date.
Manage your saved job listings for quick reference and review.
There are over 2,100 jobs posted in IEEE Collabratec in technical areas such as: ,
Communications (signal processing), over 1,000 jobs posted
Energy, over 600 jobs posted
Information Technology, over 600 jobs posted
Nuclear and Plasma Sciences, over 300 jobs posted
Biomedical Engineering, over 300 jobs posted
Cybersecurity, over 100 jobs posted
Have Recruiters Find You:
Make yourself visible to recruiters who represent the top technology firms in their respective industries. Get started by enabling your Employment Preferences under the Settings tab in Opportunities. Identify your desired interest in areas such as:
Job type (Full-time, Part-time, Temporary, Internship)
Preferred amount of business travel
Willingness to relocate
Employer location (Country, State, City)
Annual salary
Upload your CV/Resume to further enhance your visibility to recruiters. Recruiters will be searching for potential candidates by using search tools that scan your CV/Resume for key word matches.

IEEE New Zealand Central Section Awards
IEEE Membership Recruitment Performance Award 2017
Each year Sections in the IEEE are set goals for membership recruitment and awards are given when Sections achieve these goals. IEEE Central Section has met its 2017 target and has been presented with the certificate below.

If you are not already a member of our Section, why not join us now and reap the many benefits of IEEE membership, including the ability to receive up to the minute research literature, join societies within the organisation that deal with topics in your areas of interest and attend special events featuring international experts visiting the region and presenting their research and establishing interactions and collaborations of mutual benefit.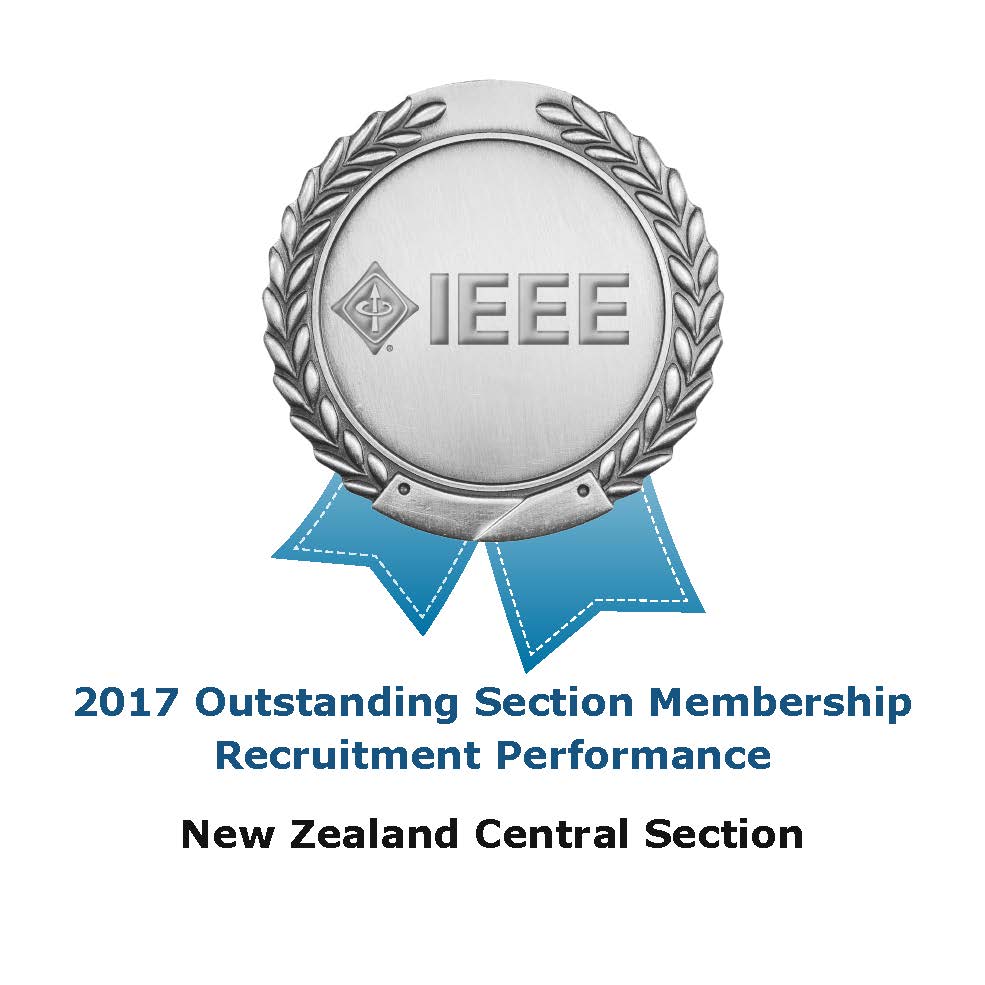 Please help us grow our membership by suggesting that your associates join the IEEE to receive and enjoy the many benefits of participation in this world-wide engineering organisation!
Follow this link to renew your membership or direct a colleague to the IEEE membership website.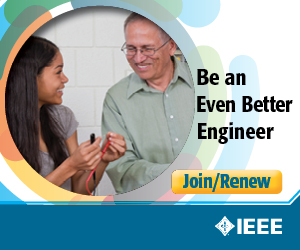 Recent Events
Please follow this link for more events that were held by or supported by our Section in 2016 and 2017.
IEEE Postgraduate Presentation Day - September 2018
Date: Wednesday, 5th of September, 2018
Time: 10:00AM - 5:00PM
Location: Room AM106, Alan McDiarmid Building, Kelburn Campus, Victoria University of Wellington

Description: As part of the IEEE New Zealand Central Section, the IEEE Student Branch at Victoria University of Wellington organised the annual postgraduate student presentation event for this year. This one day event showcased postgraduate research in one of the many IEEE fields of interest being undertaken at Victoria University of Wellington and Massey University.

Should there be any queries, please contact either Arif Ahmed or Chanjief Chandrakumar. A flier for the event was available from here. The following images reflect the event and include the winner and runner up presenters as well as a group photo of the participants.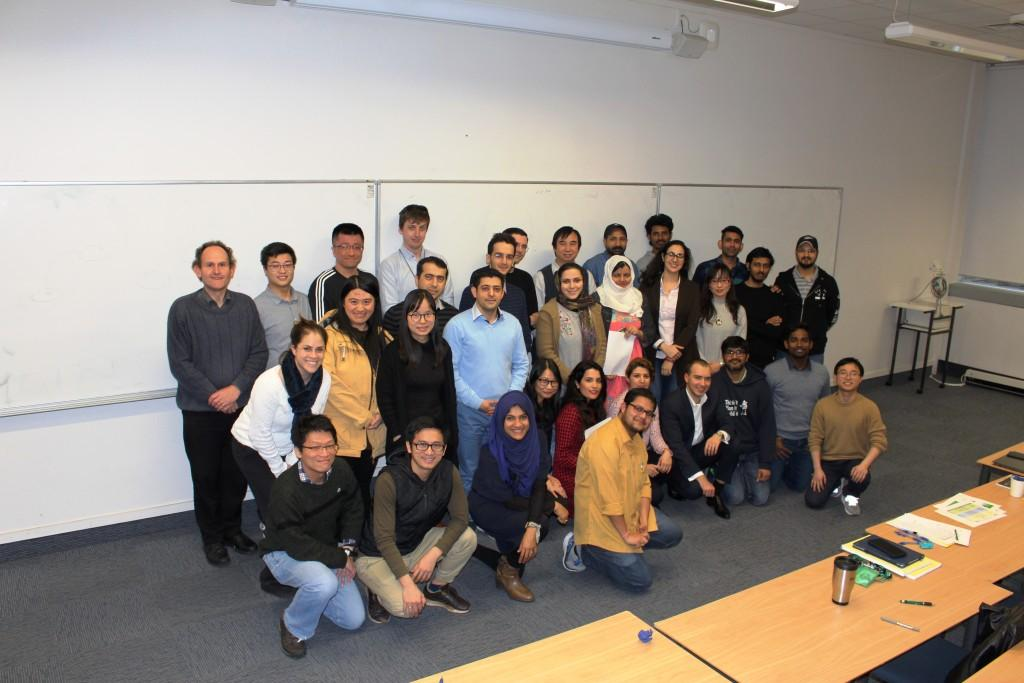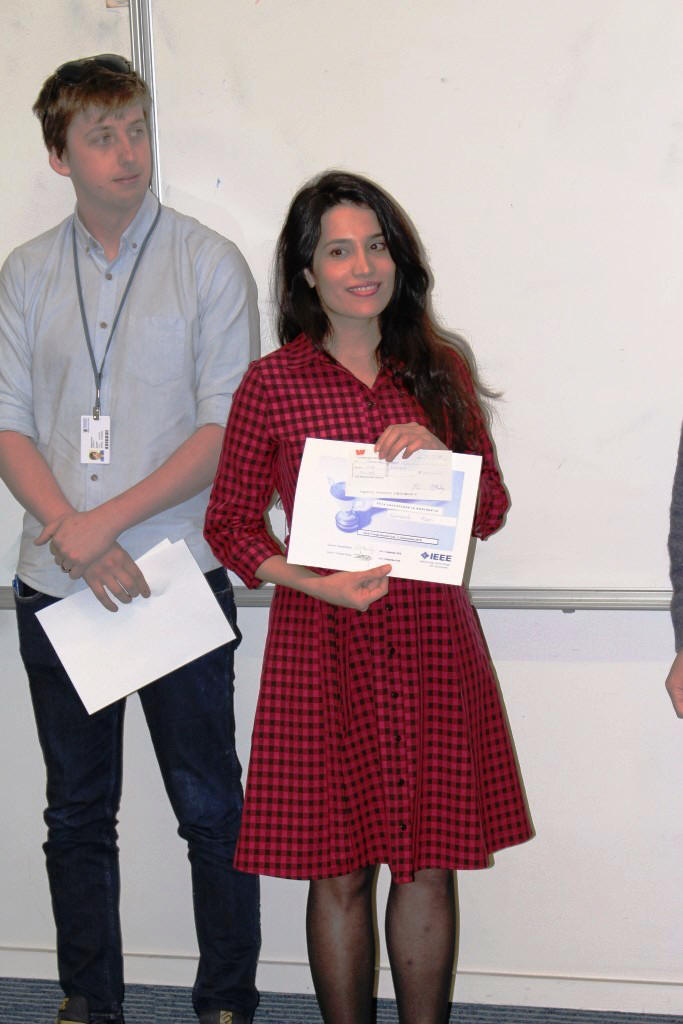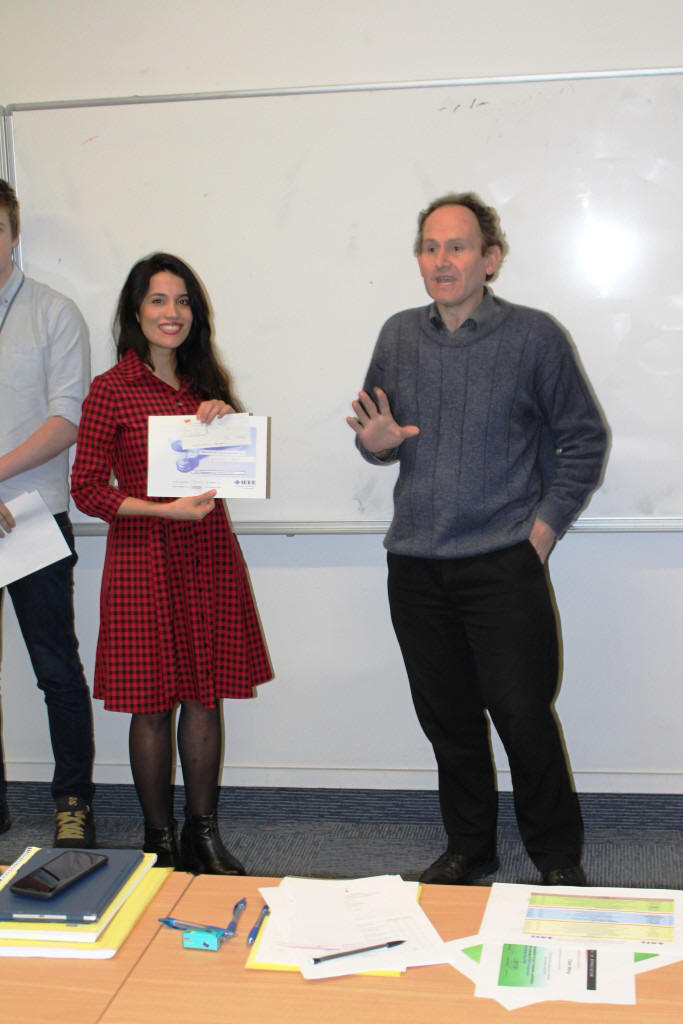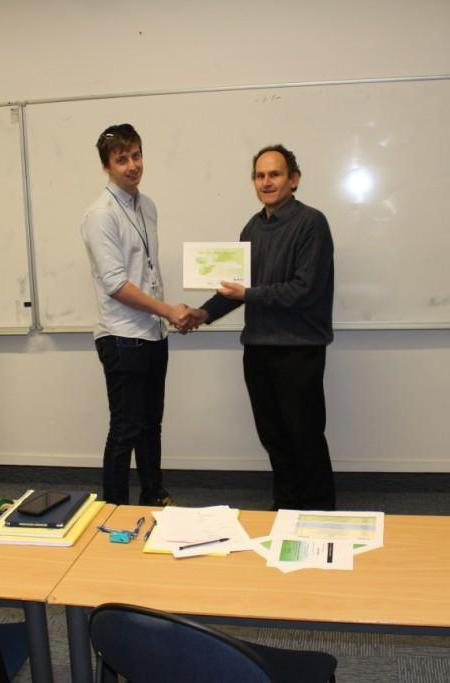 Young Professionals Career Planning Seminar Event
Date and time: FRIDAY 6 JULY at 5:30pm
Location: Alan MacDiarmid Building, combined rooms AM102 & AM104 , Kelburn Campus, Victoria University of Wellington
Title: "What I did while not being on holiday: what went to plan, and what didn't"
Speaker: Duncan Hall - Strategy and Planning Manager. He works in the Information Management Division of the Ministry of Foreign Affairs and Trade.

Description:
Duncan Hall will talk about various personal adventures in career planning and in having benefited from serendipitous opportunities. Contexts for these adventures range from the ancient epoch of expecting a 40-year employment career, to the contemporary gig economy. He'll highlight some lessons learned along the way, some frameworks he found useful for decision-making, and he'll highlight some helpful heuristics.

A flier with additional details is available from here.

Brief Report: On Friday 6th July, Duncan Hall gave a very inspiring presentation in front of a captivated audience of students and early career engineers. Some images from this event appear below: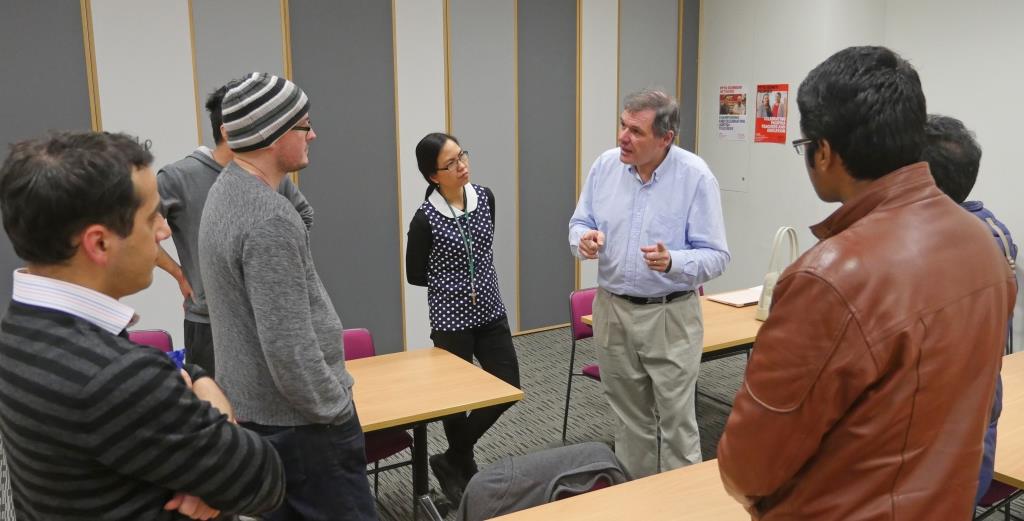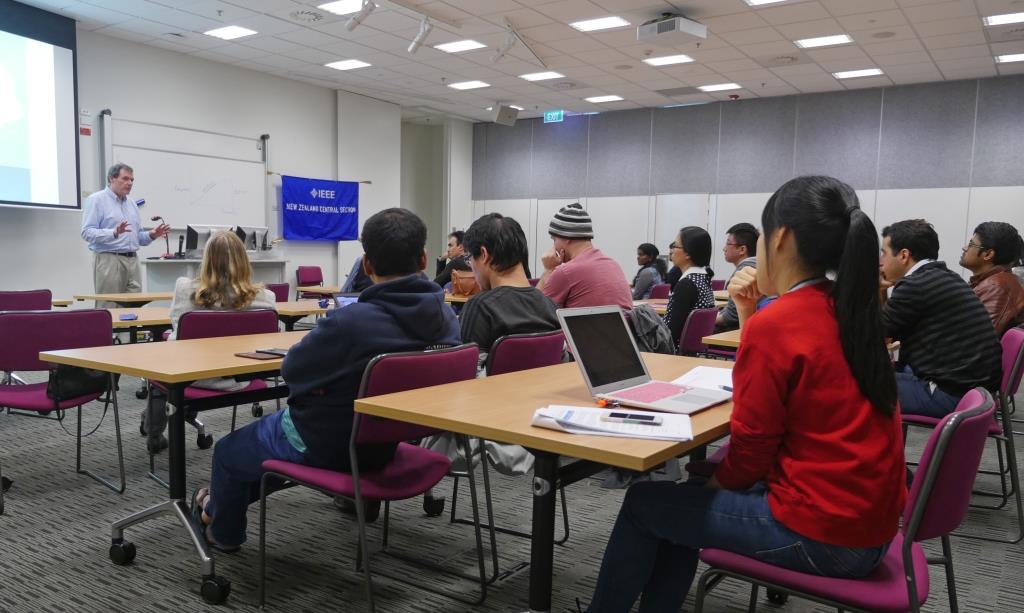 Duncan has kindly shared his presentation with us and it can be downloaded and viewed from here.
Joint IET & IEEE Lunchtime Event
Location: Beca offices, Level 7, Aorangi House, 85 Molesworth Street, Wellington

Date and time: 28th June, 1pm to 2pm
Title: The cutting edge of the UK power sector: Power network innovation in the UK
Speaker: Olivia Carpenter of Ricardo Energy & Environment

Description:
How energy systems worldwide are changing to meet the new demands of distributed energy technologies, electric cars, and new novel service offerings. The power sector has a vital role in enabling this change, requiring innovation and adaptation on a grand scale.

The UK power sector is no exception to this; it is recognised throughout the sector that the power system must innovate in order to continue to successfully operate and serve the needs of society. There is a delicate balance between the need for rapid change and decarbonisation, and the requirement to maintain a reliable, safe, and affordable service for customers.

About the speaker: Olivia Carpenter is a power engineer who specialises in new and renewable energy. As a Senior Technical Consultant for Ricardo Energy & Environment, her focus is power network and energy system innovation, working on a wide variety of projects both in the UK and in developing countries. She is also a member of the IET Energy Executive Board, and Chairman of IET Surrey local network.
Public Presentation by Dr Murray Milner
A special public presentation was given by Dr Murray Milner on the topic of a "Superfast Broadband - A Kiwi approach to building a Superfast Broadband Network"
Abstract
New Zealand has been on a journey to deliver Ultrafast Broadband (UFB) to as many premises as possible following a commitment by the Prime Minister leading into the 2008 elections. This resulted in the formation of Crown Fibre Holdings in 2009 and the launch of the UFB initiative in 2011.
The initial rollout was focussed on delivering Fibre to the Premise to 75% of urban premises and businesses by the end of 2019. This stage is now well advanced and will be completed ahead of schedule and below budget. In early 2017, the coverage was extended to 87% of New Zealand premises by 2022, including coverage of more than 340 additional towns. This was followed later in 2017 by the extension of broadband to 99% of New Zealand premises using wireless technologies delivering better than 50Mbps downstream by 2025. This latter initiative also includes extended mobile coverage to an additional 1000km of roads throughout New Zealand, eliminating a large number of recognised "blackspots".
The goal of the UFB initiative was to provide consistent 100Mbps downstream and 50Mbps upstream to 87% of premises as a base affordable product and to enable expansion over time to deliver Gigabit and higher speed services with minor incremental investment. In early 2018, Gigabit per second services are already consumed by more than 5% of New Zealand households, so "Superfast Broadband" is expected to rapidly emerge across New Zealand over the next decade.
The seminar will provide an overview of this journey to Superfast Broadband and show that New Zealand is becoming a global leader in the provision of broadband services for all of its people.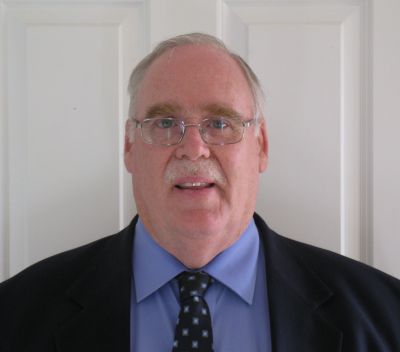 The talk was held in
Palmerston North on 9 May, 2018 at 6pm in the Palmerston North Boys High School
. A photo of the chair's introduction to the talk at this event is given below: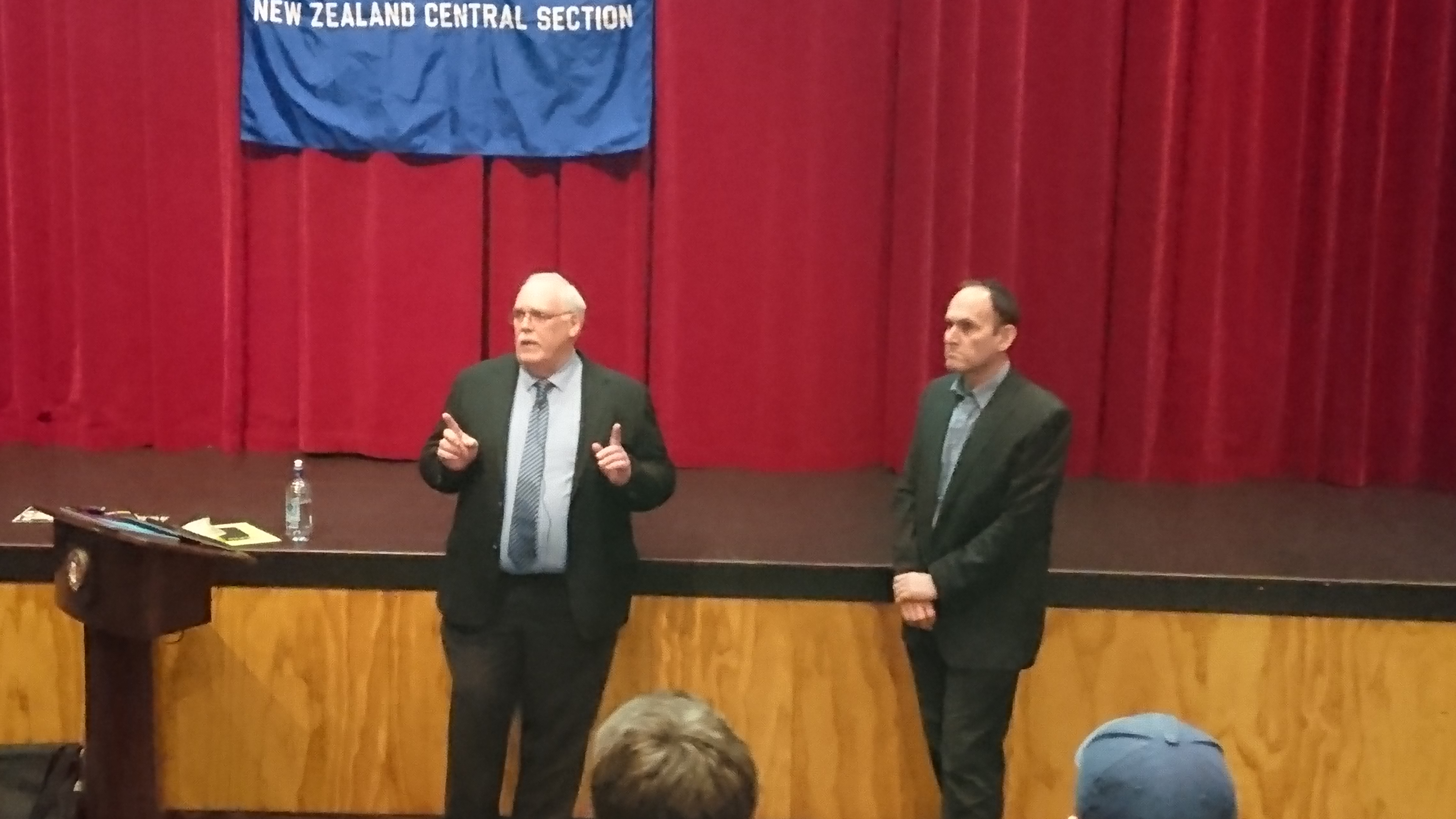 More details including a short biography can be found by downloading the
poster announcement.
A brief report is being compiled and details will be provided at a later date. The event was recorded on video and, following editing, may be available to members in the future. (Our thanks to Ken Mercer for organising this possibility.)
Massey / IEEE Workshop on Image Processing in VHDL on FPGAs
IEEE NZ Central Section and Massey University held a short course "Image Processing in VHDL on FPGAs".
The course took place in Palmerston North on 4-5 April. Further details were available from the attached flyer.

More details can be found from http://sprg.massey.ac.nz/course_FPGA.asp
Past IEEE event in the Asia-Pacific Region of Interest to Members
The 4th IEEE World Forum on the Internet of Things (WF-IoT 2018) was held in Singapore February 5th-8th, 2018 (http://wfiot2018.iot.ieee.org/). As the premier IEEE event on IoT, the World Forum brings together the latest developments in three spheres: (i) from the government sector and multi-national organizations, policies and solutions that affect IoT and its future; (ii) from business and industry, lessons learned from recent deployments, and strategies for the evolution of IoT by practitioners and business leaders; and (iii) from the research and academic community, the latest technological developments in the many fields and disciplines that drive the utility and vitality of IoT solutions and applications.

The theme for the conference is "Smart Cities and Smart Nations" chosen in recognition of Singapore's efforts in pioneering and putting into practice the principles behind the Smart City movement. The Conference features an outstanding Technical Program on the latest research relevant to IoT.

It also includes five Vertical and five Topical Areas aimed at industry and government participation in dealing with the practical issues behind IoT.

The five IoT Verticals are:
Smart Cities and Smart Nations
The use of IoT in Logistics
Law Enforcement, Emergency Response, and Humanitarian Technologies
Industrial IoT
IoT for Agriculture
The five IoT Topical Areas are:
Blockchains
Security and Privacy
Policy and Regulations
Best Practices, Standards, and Open Source
Artificial Intelligence, Autonomy, and Automation
The WF-IoT 2018 sought original technical paper submissions on IoT Technologies and Applications. Full details are described in the extended CFP, which can be found here http://wfiot2018.iot.ieee.org/authors/call-for-papers/ and here. The suggested size of papers is four to six pages. Extended versions of selected papers may be considered for publication in the IEEE IoT Journal: http://iot-journal.weebly.com/ . Paper submissions were due: 30 September 2017. Detailed instructions for submissions and proposals can be found here: http://wfiot2018.iot.ieee.org/authors/ .
Annual General Meeting 2017
The AGM for 2017 was held on Thursday 2nd November, 6:00 pm at the Zibibbo Restaurant, 25 Taranaki St, Wellington. Approximately 14 people attended the meeting and the agenda was outlined below. You will find the Chair's report by following this link. The Treasurer's interim draft financial report was distributed at the meeting and we shall provide members with access to the Treasurer's final report when it becomes available.
AGM Agenda:

5:30 pm meet and drinks
6:00 pm AGM
6:45 pm meal (approx cost $60)
Welcome


Chair's report


Treasurer's interim report
Election of officers for 2018
Resolution on electronic voting
Nominations for officers:


Secretary: Steven Le Moan
Treasurer: Yi Mei
Membership Development: Abhipray Paturkar

There were no further nominations received and so these nominations were accepted at the meeting and declared for 2017. Minutes of the AGM are available (in draft form) from our committee page or by following this link, but will only be validated at the next AGM.Images from the event are shown below:



7