Welcome to the IEEE New Zealand Central Section

The NZ Central Section has been serving IEEE members since 2005 and showing significant growth in membership through the introduction of targeted new Chapters, Affinity Groups, Student Branches and specially supported events. A more detailed history of the Section since its inception until the present day is available from here. The boundaries of NZ covered by our Section may be found on the following map.
Recently, we started the new Computational Intelligence Chapter, more details about this and our other Technical Chapters can be found in circulated notices and the link provided opposite.

The Central Section Committee for 2019 can be found through the following link, please feel to contact us with any enquiries.
Section Chapters
There are currently three chapters directly associated with our Section:
Joint Chapter in Signal Processing and Information Theory
Power and Energy Society Chapter
Computational Intelligence Chapter
Nationally Affiliated Chapters
In addition to the above chapters that are directly affiliated with their respective IEEE Societies, our Section is actively involved in National (New Zealand) Chapters affiliated with other major IEEE Societies including:
IEEE Communications Society
IEEE Instrumentation and Measurement Society
IEEE Robotics and Automation
Affinity Groups
We have an active group supporting our recent graduates:
Young Professionals - formerly known as GOLD (Graduates of the Last Decade) Group
We are in the process of forming a Women in Engineering (WIE) group, if you are interested please contact Bing Xue who is on our committee.
Student Branches
We have two Student Branches in our region and we encourage and support students to join these Branches from both Massey and Victoria universities. A highlight of the year is a joint presentation day featuring the research students at both universities describing their current research and networking with each other in a friendly and social atmosphere. Postgraduate and Undergraduate students are most welcome to participate in the events. To find out more, please follow this link to the Student Branch pages.
Massey University Student Branch
Victoria University Student Branch
The last Post-graduate Presentation Day event was held at Victoria University on Wednesday 5th September 2018. Details of the event were available from a pdf file flier that can be obtained here. A photo album of the event will be available from the Student Branch pages in the near future.
Please go to the Recent Events Section to obtain a few representative images taken from the 2018 event.
Recently, a joint IEEE Central Section and TechNoSoc was held at Massey University where newcomer engineering students were introduced to the activities and benefits of the IEEE and the Technological Society at the University. A brief report on this event is available from here.
Upcoming General and Technical Meetings, Conferences and Events
The International Telecommunication Networks and Applications Conference - ITNAC 2019 (27-29 November 2019)
This annual event is held every year either in Australia or New Zealand
(www.itnac.org.au
) and it is New Zealand's turn to host the event this year. It is to be held in
Auckland
and an early call for papers is available from this
preliminary flier
.
ITNAC 2019 seeks to address and capture highly innovative and state-of-the-art research from academia, the communications industry and standardization bodies that covers distributed, mobile, cognitive and cloud computing, modelling and simulation, computer and data communications, local and metropolitan networks, optical, wired and wireless telecommunication networks and applications.
Further information on topics of interest to the conference are provided within the flier.
Important Dates:
Paper submission: 15 August 2019
Notification of acceptance: 10 September 2019
Conference dates: 27 - 29 November 2019.
11th EAI International Conference on Ad Hoc Networks (ADHOCNETS 2019)
Details:
Queenstown, New Zealand, Nov. 18-21, 2019
http://www.adhocnets.org/

Paper submission deadline: June 1, 2019.
Overview:
The annual International Conference on Ad Hoc Networks (AdHocNets) focuses on ad hoc networking technologies and their applications. An ad hoc network is a wireless system, in which mobile or static nodes are connected using wireless links and cooperate to self-organize into a network without the requirement for any infrastructure such as access points or base stations. In recent years, ad hoc networks have been attracting an increased attention from the research and engineering communities. The distributed and multi-hop nature of ad hoc networking as well as the highly dynamic topology of an ad hoc network due to node mobility has introduced many formidable challenges such as scalability, quality of service, reliability and security, and energy constrained operations for the network. Ad hoc networking covers a variety of network paradigms including mobile ad hoc networks (MANETs), wireless sensor networks (WSNs), vehicular ad hoc networks (VANETs), airborne networks, underwater networks, underground networks, personal area networks, and home networks, etc. It promises a wide range of applications in civilian, commercial, and military areas.
The aim of the annual AdHocNets conference is to provide a forum that brings together researchers and engineers from academia, government laboratories as well as industry to meet, network, exchange ideas and present their recent research work, and discuss future directions on all aspects of ad hoc networks. Following the success of ADHOCNETS'09-18, the 11th edition of the event, ADHOCNETS 2019, will be held in Queenstown, New Zealand, on November 18-21, 2019. The conference will consist of keynote speeches, invited talks, and technical sessions.
Download the
original call for papers from this location
. The Cfp lists topics of relevance to the conference and information about the organisers.
Upcoming Region 10 Conferences and Events
TENCON 2019:
TENCON is the flagship premier international technical conference of IEEE Region 10. The Theme for TENCON 2019 is "Technology, Knowledge, and Society", and it will be held during 17th to 20th October, 2019 at Hotel Grand Hyatt, Bolgatty, Kochi, Kerala - one of the best destinations in India. This edition of TENCON is organized by IEEE Kerala Section (
https://ieeekerala.org/
).
Prospective authors are invited to submit full paper (maximum 5 pages only) and prospective organizers are invited to submit proposals for Workshops & Special Sessions, via the conference website
http://www.tencon2019.org
. More information about paper submission and guidelines for the organizers of Workshops and Special Sessions can be found at the conference website. The conference proceedings will be submitted to the IEEE Xplore® digital library for publication. Past editions of TENCON were indexed by Scopus and other indexing agencies. In addition, extended versions of selected papers will be considered for publication in journals indexed by SCI, SCI-E and Scopus.
Important dates
Paper submissions
Submission Deadline: April 20, 2019
Paper Notification date: July 20, 2019
Camera-Ready: August 30, 2019
Special sessions & Workshop proposals
Proposal deadline: March 15, 2019 Notification: March 30, 2019
Technical Program Committee Co-Chairs:
Lillykutty Jacob, National Institute of Techology Calicut
Vikram M Gadre, Indian Institute of Technology Bombay
N Venkatesh, Redpine Signals Inc. Hyderabad
E-mail:
papers@tencon2019.org
Watch this space for more upcoming news of conferences and events for 2019.
Items of Interest to Members:
News from the IEEE NZ Central Section committee
Dear IEEE NZ Central Section members,

We are proud to announce that our Section received the 2018 Outstanding Small Section Award from the IEEE. It is a most welcome recognition of our efforts and achievements in fostering technological excellence in our region, through the organisation of seminars, conferences and other networking events. This is an excellent opportunity for us to remind you that we will soon have our Annual General Meeting, and that you are all welcome to join. The AGM will take place in Wellington the last week of November (date and venue to be confirmed) and it will consist of a dinner buffet with a series of short talks relevant to our activities.

At this point, we also would like invite proposals and nominations for short talks (5-10 minutes), on any topic that pertain to our activities. It does not necessarily have to be an academic talk, it can be for instance a report for a recent scientific event you recently attended and that you would like to share with other members from the Section. If interested, please contact our secretary, Steven Le Moan (s.lemoan@massey.ac.nz), with a title and abstract by Tuesday 6 November.

Best regards,
Your Section Committee.
Region 10 Newsletter - Latest Issue
The latest Region 10 Newsletter can be found here.
How your membership is working for you! - IEEE Benefits
IEEE members can access information on local events and activities by signing in to myIEEE, the members' personalized gateway to IEEE membership. In addition, members can also:
Access individual Society memberships and subscriptions
Connect with local IEEE Sections and volunteer leadership
Find upcoming conferences, meetings, and events.
Learn more about individual benefits
Read the latest news from IEEE, IEEE Spectrum, IEEE Standards News, and The Institute
Accelerate your plans! As a member, you'll be presented with new resources, valuable opportunities and many discounts that will help you advance your career in the right direction.
Through your IEEE membership, you can find colleagues who share your vision and commitment-those who are moving technology forward today.
Why not visit the membership benefits page to learn more about the many exciting opportunities available through your membership including discounts, insurance, and much more...
Collabratec Initiative
Job Seekers:
Look for job postings and other career opportunities in IEEE Collabratec. Visit the Opportunities section to:
Search job listings and filter by location, interest, and posting date.
Manage your saved job listings for quick reference and review.
There are over 2,100 jobs posted in IEEE Collabratec in technical areas such as: ,
Communications (signal processing), over 1,000 jobs posted
Energy, over 600 jobs posted
Information Technology, over 600 jobs posted
Nuclear and Plasma Sciences, over 300 jobs posted
Biomedical Engineering, over 300 jobs posted
Cybersecurity, over 100 jobs posted
Have Recruiters Find You:
Make yourself visible to recruiters who represent the top technology firms in their respective industries. Get started by enabling your Employment Preferences under the Settings tab in Opportunities. Identify your desired interest in areas such as:
Job type (Full-time, Part-time, Temporary, Internship)
Preferred amount of business travel
Willingness to relocate
Employer location (Country, State, City)
Annual salary
Upload your CV/Resume to further enhance your visibility to recruiters. Recruiters will be searching for potential candidates by using search tools that scan your CV/Resume for key word matches.

IEEE New Zealand Central Section Awards
IEEE Membership Recruitment Performance Award 2017
Each year Sections in the IEEE are set goals for membership recruitment and awards are given when Sections achieve these goals. IEEE Central Section has met its 2017 target and has been presented with the certificate below.

If you are not already a member of our Section, why not join us now and reap the many benefits of IEEE membership, including the ability to receive up to the minute research literature, join societies within the organisation that deal with topics in your areas of interest and attend special events featuring international experts visiting the region and presenting their research and establishing interactions and collaborations of mutual benefit.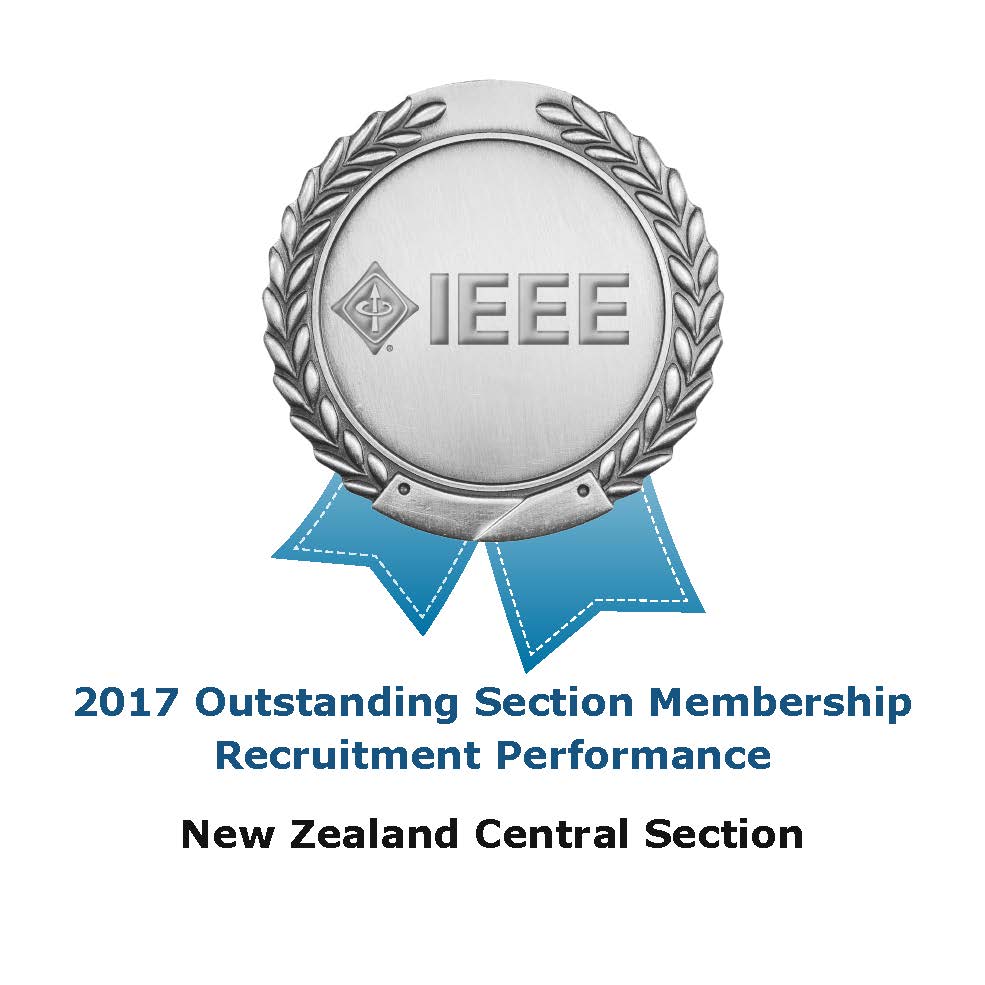 Please help us grow our membership by suggesting that your associates join the IEEE to receive and enjoy the many benefits of participation in this world-wide engineering organisation!
Follow this link to renew your membership or direct a colleague to the IEEE membership website.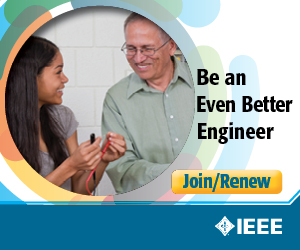 Recent Events
Please follow this link for more events that were held by or supported by our Section in 2016 - 2018
Multicore World conference 12 - 14 February 2019
About Multicore World

You were invited to participate in the 8th Multicore World, the most important high-tech conference in the Southern Hemisphere - held yearly in Wellington, and offers a 10% discount available to IEEE members until 1 February.

Known by the speakers as "the Davos of Tech", Multicore World 2019 will be 12, 13, 14 February and feature global leaders in a limited audience event that provides the knowledge and strategies to future-proof your technological innovation.

Don't just imagine the future: discuss it together with who is designing and building it!

Speakers were from Intel, Arm, Facebook, Oracle, Broadcom as well as from the major US National Labs (Oak Ridge, Los Alamos, Argonne, PNNL) and from Japan, Singapore, Netherlands, UK, and more converge every year at Multicore World to discuss at peer-level about next-gen computing and its applications to all fields.

Visit multicore.world for full information about speakers, abstracts, schedule, tickets and venue.

Available from here was a flyer for the event.
Region 10 Events