Welcome to the IEEE New Zealand Central Section

The NZ Central Section has been serving IEEE members since 2005 and showing significant growth in membership through the introduction of targeted new Chapters, Affinity Groups, Student Branches and specially supported events. A more detailed history of the Section since its inception until the present day is available from here. The boundaries of NZ covered by our Section may be found on the following map.
Recently, we started the new Computational Intelligence Chapter, more details about this and our other Technical Chapters can be found in circulated notices and the link provided opposite.

The Central Section Committee for 2021 can be found through the following link, please feel free to contact us with any enquiries.
Section Chapters
There are currently three chapters directly associated with our Section:
Joint Chapter in Signal Processing and Information Theory
Power and Energy Society Chapter
Computational Intelligence Chapter
Nationally Affiliated Chapters
In addition to the above chapters that are directly affiliated with their respective IEEE Societies, our Section is actively involved in National (New Zealand) Chapters affiliated with other major IEEE Societies including:
IEEE Communications Society
IEEE Instrumentation and Measurement Society
IEEE Robotics and Automation
Affinity Groups
We have active groups supporting our diverse memberships:
Young Professionals - formerly known as GOLD (Graduates of the Last Decade) Group
Women in Engineering Group
We are very excited to announce that approval has been granted by the IEEE for the formation of a Women in Engineering (WIE) group in our Section, if you are interested in joining us, please contact Kanwal Zaidi or Bing Xue who are on our committee. A separate webpage can be accessed for the affinity group via the upper left menu of this webpage or use this link: Women in Engineering. There was a t-shirt design competition hosted by AWIS (Association for Women in Sciences) for women in STEM (Science Technology Engineering and Maths) that was held recently (see our WIE webpage for details) and we are excited to announce that our group leader, Kanwal has been declared the winner with her design. Congratulations to Kanwal! Go to the WIE webpage (Women in Engineering) for all the details and see the winning design.
Student Branches
We have two Student Branches in our region and we encourage and support students to join these Branches from both Massey University and Victoria University of Wellington. A highlight of the year is a joint presentation day featuring the research students at both universities describing their current research and networking with each other in a friendly and social atmosphere. Postgraduate and Undergraduate students are most welcome to participate in the events. To find out more, please follow this link to the Student Branch pages.
Massey University Student Branch
Victoria University of Wellington Student Branch
In 2019, a joint IEEE Central Section and TechNoSoc was held at Massey University where newcomer engineering students were introduced to the activities and benefits of the IEEE and the Technological Society at the University. A brief report on this event is available from here.

That post-graduate event was held at Massey University on Monday 26th August 2019, There were prizes for best presentation and a chance to hone their presentation skills in a non-threatening environment of their peers. Good practice for international conferences where their research was aired! Details of the event including our regular photo album can be viewed from here. Please "Allow Blocked Content" for this site if pop-up images are not permitted by your browser and the photos do not load.
Winners of last year's event were:
Chanjief Chandrakumar
Muhammad Rehan
Soheil Mohseni
A full report was prepared from this event and is available
from here
.
The Post-graduate Presentation Day event for 2020 was held at Victoria University of Wellington on Saturday 29th August 2020. For details of the 2020 event, please follow this link to the Student Branch pages..
How your membership works for you! - IEEE Benefits
IEEE members can access information on local events and activities by signing in to
myIEEE
, the members' personalized gateway to IEEE membership. In addition, members can also:
Access individual Society memberships and subscriptions
Connect with local IEEE Sections and volunteer leadership
Find upcoming conferences, meetings, and events.
Learn more about individual benefits
Read the latest news from IEEE, IEEE Spectrum, IEEE Standards News, and The Institute
Accelerate your plans! As a member, you'll be presented with new resources, valuable opportunities and many discounts that will help you advance your career in the right direction.
Through your IEEE membership, you can find colleagues who share your vision and commitment-those who are moving technology forward today.
Why not visit the membership benefits page to learn more about the many exciting opportunities available through your membership including discounts, insurance, and much more...
Upcoming General and Technical Meetings, Conferences and Events
Watch this space for more upcoming events.
Items of Interest to Members:
Recent report from the chairman of the IEEE Joint NZ North, South, Central ComSoc Chapter
2021 IEEE Community Workshop: We had a successful community workshop at IQRA academy (YMCA Complex, Rocket Park, Mt Albert Auckland) on Saturday 20 February 2021. About 60 people attended the event mostly students and their parents. This workshop provided an overview of IEEE resources for students and offered an interactive session on some aspects of emerging communication technologies for humanity. Organising Chair A/Professor Sarkar opened the workshop by introducing IEEE mission and vision and role it plays for the professional development of the members of the wider community. The potential benefits of joining IEEE were highlighted. Dr Farhaan Mirza (Auckland University of Technology) gave an interesting lecture 'Revitalizing and preserving languages using technology' followed by interactive Quizzes.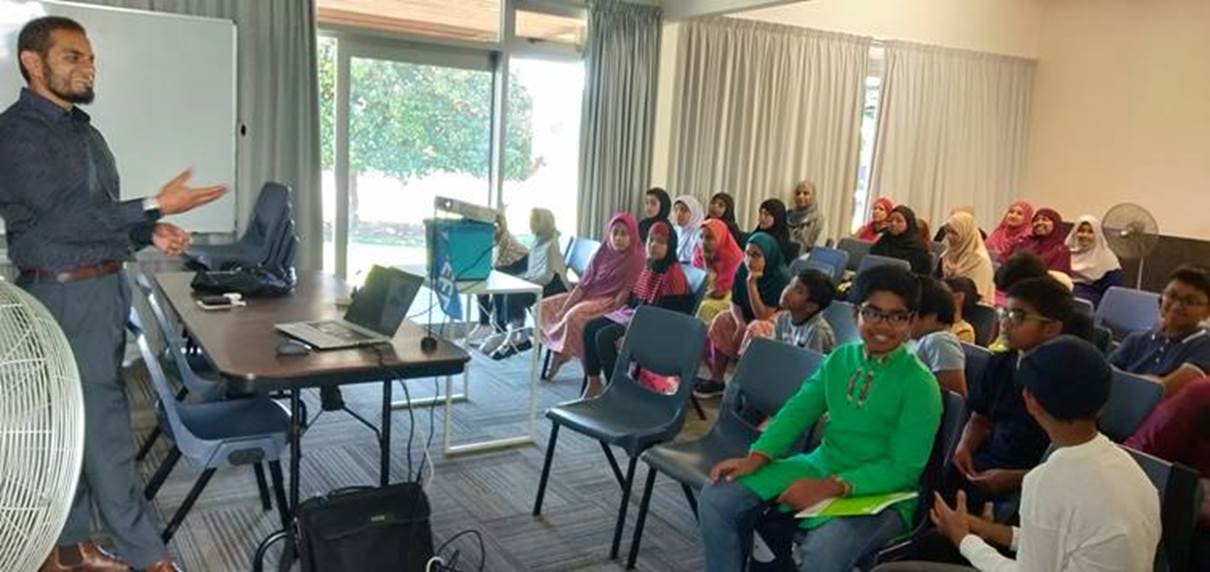 2021 Recruiting new Members: We managed to recruit 24 new ComSoc members mostly PhD students from New Zealand Universities who will contribute to the welfare of the members of the society. This campaign was supported by ComSoc special grant of US$300 that we received through contestable grant application last year.
Nurul I Sarkar, PhD, SMIEEE (ComSoc), Fellow ITU-UUM
Chairman, IEEE Joint NZ North, South, Central ComSoc Chapter
Associate Professor
Department of Computer Science, IT and Software Engineering
School of Engineering, Computer and Mathematical Sciences (D-75)
Auckland University of Technology
Level 1, AUT Tower, 2-14 Wakefield St, Auckland 1010, New Zealand
Address for correspondence:
Private Bag 92006, Auckland 1142, New Zealand.

Rules for Technical Co-sponsorship of Conferences
A recent decision has been taken by the IEEE concerning techical co-sponsorship fees for conference Co-sponsorships following problems concerning quality of conferences in this category. A notice has been circulated to Section and Council Chairs by Mr Michael Ong who is currently the R10 Conference Quality and Management Committee Chair. The fee that will now have to be charged for such co-sponsorship for any conferences occurring after 31st December 2020 is outlined below:

This TCS fee will apply to technically co-sponsored conferences in which there is no IEEE financial interest.

The new TCS fee structure is as follows:
• US$ 1,450 per event
• US$ 22 for each paper submitted to IEEE Xplore®

IEEE Industry Engagement Competition
This competition is designed to help IEEE discover and share multiple forms of industry engagement, being led by activities and initiatives from various sections around the world.

Ten sections will be shortlisted for the finals and three sections will each be awarded a cash prize of $2000 for future industry engagement activities.

IEEE Industry Engagement Committee strongly encourages each winning section submitter to present their winning submission on the Ignite Stage at Sections Congress 2020 in Ottawa, Canada.

Our Section has been active in industry engagement and we have subsequently prepared a report to submit to the competition written by Sridhar Pulikanti, who is our Industry Coordinator on the IEEE New Zealand Central Section Committee, and this report is available for viewing by download via the following link.
Recognition Award Received
The Section Committeee is proud to announce an award of Recognition to our membership officer Abhipray ("Abhi") Paturkar for his work in 2019 for recruitment to the IEEE New Zealand Central Section. Well done Abhi!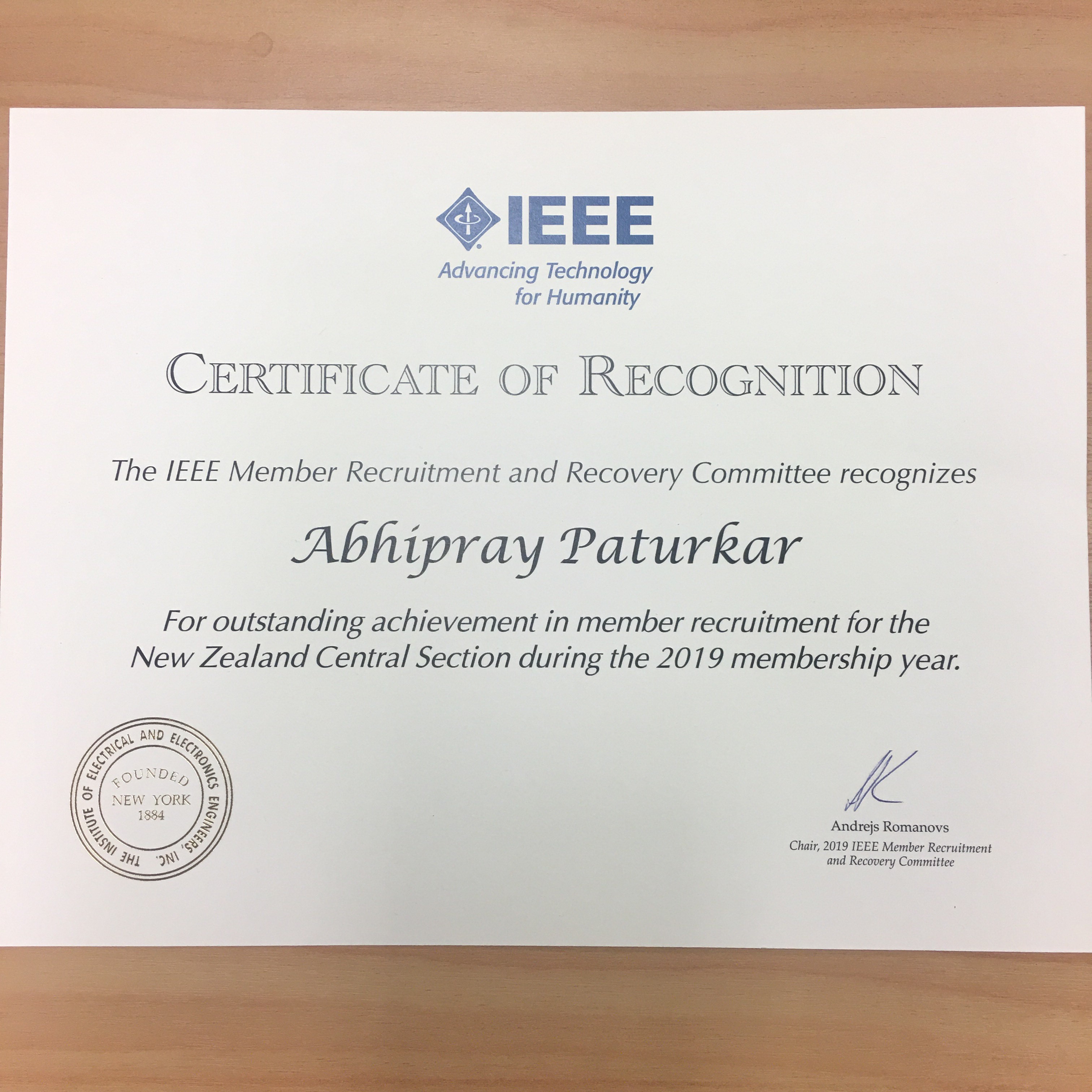 News from the IEEE NZ Central Section Committee
Collabratec Initiative
Job Seekers:
Look for job postings and other career opportunities in IEEE Collabratec. Visit the Opportunities section to:
Search job listings and filter by location, interest, and posting date.
Manage your saved job listings for quick reference and review.
There are over 2,100 jobs posted in IEEE Collabratec in technical areas such as: ,
Communications (signal processing), over 1,000 jobs posted
Energy, over 600 jobs posted
Information Technology, over 600 jobs posted
Nuclear and Plasma Sciences, over 300 jobs posted
Biomedical Engineering, over 300 jobs posted
Cybersecurity, over 100 jobs posted
Have Recruiters Find You:
Make yourself visible to recruiters who represent the top technology firms in their respective industries. Get started by enabling your Employment Preferences under the Settings tab in Opportunities. Identify your desired interest in areas such as:
Job type (Full-time, Part-time, Temporary, Internship)
Preferred amount of business travel
Willingness to relocate
Employer location (Country, State, City)
Annual salary
Upload your CV/Resume to further enhance your visibility to recruiters. Recruiters will be searching for potential candidates by using search tools that scan your CV/Resume for key word matches.

Please help us grow our membership by suggesting that your associates join the IEEE to receive and enjoy the many benefits of participation in this world-wide engineering organisation!
Follow this link to renew your membership or direct a colleague to the IEEE membership website.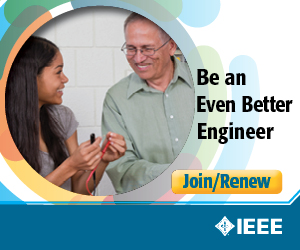 Recent Events
Please follow this link for more events that were held by or supported by our Section in 2020.
First IEEE NZCS meeting for 2021: BBQ at Milner Consulting Limited
Following on from the survey held prior to Christmas, it has been determined that the preferred details for our New Year BBQ are:
Date and Time:

Saturday 30 January, commencing around 1pm.

Venue:

21 Rangatira Road, Tawa, Wellington 5028.
All Section members and their partners were welcome. For catering purposes, please register your participation with Murray Milner at wemurray.milner@xtra.co.nz. Including any dietary preferences. We are looking forward to a sunny day so that we can enjoy good company, excellent food and beverages and perhaps a game of petanque.
Upcoming Region 10 Conferences and Events
Watch this space for more upcoming news of conferences and events for 2020. Please note that, due to current NZ government restrictions on conferences and related public events, such activities cannot be run until such time as the Covid-19 pandemic crisis has been resolved. Hence this website will not carry news of any such events until the regulations have been relaxed.
Annual General Meeting 2020 - Was RESCHEDULED
Dear NZ Central Section members, our Section's annual AGM meeting for 2020 that was temporarily postponed is now rescheduled as a virtual event. The new details were given below:

Venue: Virtual meeting via Skype.
Date: Thursday December 17th, 2020
RSVP: Please contact our secretary, Steven Le Moan (s.lemoan@massey.ac.nz), to obtain attendance details for the virtual meeting.
Time: 4 - 5pm according to the following plan:
Agenda:
Welcome
Chair's report
Treasurer's interim report
NZ Council Chair: Donald Bailey
Treasurer: Yi Mei
Election of officers for 2021
Note: The nominations for new officer positions for 2021 received to date, are as follows:

Chair: Yi Mei
Treasurer: Donald Bailey
Secretary: Murray Milner
By default, Murray Milner will also hold the position of Immediate Past Chair.

Other positions held by members of the committee for the 2020 year will roll over into the 2021 year.

We are still looking for candidates for the following positions:
Vice Chair
Under-study for our current Webmaster
These candidates will be sought after the AGM. Thanks for your support.
For your information, the Chair's report for the AGM is available from here.
The Treasurer's report is also available , please view it here.
Young Professionals Event: Transitioning from Academia to Industry
The IEEE New Zealand Central Section Young Professionals group were excited to hold an event "Transitioning from Academia to Industry" on Tuesday 17 November, 6:00 – 7:00 pm, which explored the necessary skills and strategies to smoothly move out of an academic (university) environment and into a career within the industry. Professionals with years of experience working in the industry shared how to transit to an industry role successfully, and what industry is looking for when hiring new employers. Following the panel discussion, free pizza was provided for networking and further discussions.

TENCON 2020 - OSAKA, JAPAN
The 2020 IEEE Region 10 Conference (TENCON) will be held at the Osaka International Convention Center, Osaka, Japan on 16-19 November, 2020. TENCON is a premier international technical conference of IEEE Region 10, which comprises 58 sections, 6 councils, 34 subsections in the Asia Pacific region. The theme for TENCON2020 is "Advancing Technologies for Sustainable Development Goals to Transform Our World".

TENCON2020 is expected to bring together researchers, educators, students, practitioners, technocrats, and policymakers from across academia, government, industry and nongovernmental organizations to discuss, share and promote current works and recent accomplishments across all aspects of electrical, electronic and computer engineering, as well as information technology. Distinguished people will be invited to deliver keynote speeches and invited talks on trends and significant advances in the emerging technologies.
Full details can be obtained from the TENCON website https://www.tencon2020.net/.
ITNAC 2020 - MELBOURNE, AUSTRALIA
The IEEE Central Section, as part of the IEEE Communication Society in New Zealand, annually supports the international conference now known as ITNAC. Last year it was held in Auckland at the AUT University premises. This year the conference returns to Australia and will be held in Melbourne with assistance from RMIT University. A call for papers has recently been published and students and researchers working in the networking field of telecommunications are encouraged to submit papers to this important conference. Student support funds are available to presenters from NZ for worthy accepted papers from several local sources. Please carefully note the deadlines in the attached flyer when preparing your submissions. The next NZ version of this conference is expected to be in 2022.
2nd IEEE Communications Society (ComSoc) Distinguished Lecturer (DL) Virtual Lecture
Members are invited to attend the following IEEE Communications Society (ComSoc) Distinguished Lecturer (DL) Virtual Lecture organised by the IEEE Joint NZ North, South, and Central ComSoc Chapter.

Speaker: Professor Arumugam Nallanathan, (Queen Mary University of London), UK.
Title: Artificial Intelligence in Massive IoT Networks
Date: Wednesday 28 October 2020
Time: Starting 10 am (NZ time)

Join Zoom Meeting https://zoom.us/j/96313444416?pwd=VS9ydnd5UDNUMUZEYmtwZC9LNUxNdz09
Meeting ID: 963 1344 4416
Registration: Free

Participants can register as proof of their attendance via the link below:
Link to Registration (Free): https://events.vtools.ieee.org/event/register/240283

Please contact Associate Professor Nurul I Sarkar at (nurul.sarkar@aut.ac.nz ) for more details.

Abstract:
Narrow Band-Internet of Things (NB-IoT) is an emerging cellular-based radio access technology, which offers a range of flexible configurations for different coverage enhancement (CE) groups to provide reliable uplink connections for massive IoT devices with diverse data traffic. To optimize the number of served IoT devices, the uplink resource configurations need to be adjusted in real-time according to the dynamic traffic, this brings the challenge of how to select the configurations at the Evolved Node B (eNB) in the multiple CE groups scenario with high-dimension and interdependency. To tackle this challenge, multi-agent reinforcement learning (RL) is proposed as a promising solution, where the RL agent (i.e., implemented at the eNB) automatically updates the uplink resource configuration by interacting with the environment (i.e., the communication procedures in NB-IoT). In this talk, Professor Nallanathan will explain how the machine learning techniques such as deep learning, artificial neural networks (ANN) can be used dynamically to solve the numerous challenges in the Internet of Things (IoT).





Biography:
Arumugam Nallanathan (S'97–M'00–SM'05–F'17) is Professor of Wireless Communications and Head of the Communication Systems Research (CSR) group in the School of Electronic Engineering and Computer Science at Queen Mary University of London since September 2017. He was with the Department of Informatics at King's College London from December 2007 to August 2017, where he was Professor of Wireless Communications from April 2013 to August 2017 and a Visiting Professor from September 2017. He was an Assistant Professor in the Department of Electrical and Computer Engineering, National University of Singapore from August 2000 to December 2007. His research interests include Artificial Intelligence for Wireless Systems, 5G and beyond Wireless Networks, Internet of Things (IoT) and Molecular Communications. He published nearly 500 technical papers (including more than 200 IEEE journal papers) in scientific journals and international conferences. He is a co-recipient of the Best Paper Awards presented at the IEEE International Conference on Communications 2016 (ICC'2016), IEEE Global Communications Conference 2017 (GLOBECOM'2017) and IEEE Vehicular Technology Conference 2017 (VTC'2017).

He is an Editor for IEEE Transactions on Communications and a Senior Editor for IEEE Wireless Communications Letters. He was an Editor for IEEE Transactions on Wireless Communications (2006-2011), IEEE Transactions on Vehicular Technology (2006-2017) and IEEE Signal Processing Letters. He served as the Chair for the Signal Processing and Communication Electronics Technical Committee of IEEE Communications Society and Technical Program Chair and member of Technical Program Committees in numerous IEEE conferences. He received the IEEE Communications Society SPCE outstanding service award 2012 and IEEE Communications Society RCC outstanding service award 2014. He has been selected as a Web of Science (ISI) Highly Cited Researcher in 2016 and as AI 2000 Internet of Things Most Influential Scholar in 2020.

The Annual Joint IEEE, IET and Engineering New Zealand Institution's Breakfast Event, 14 October, 2020
This annual joint event between the engineering institutions (IEEE, IET and Engineering New Zealand) is always worth attending as speakers are carefully chosen to reflect the interests of our respective memberships. Once again, we trust that our speaker and topic will be of great interest to our members.

All members and guests of the IEEE Central Section, IET Wellington Network and ENZ Wellington Branch are welcomed to this special event, hosted by all three institutions on the morning of 14 October 2020 in Central Wellington. The guest speaker for this event is Andrew Rushworth, Managing Director of Zero Emission Vehicles Limited who will address Engineering and Innovation for New Zealand in a Changing Global Context as it relates to the expansion of commercial electric vehicles in the New Zealand market.
It will be recognised that this event is being held in unusual times. With COVID-19 present in the environment members safety is our priority, so we have worked closely with the venue to ensure that appropriate safeguarding and hygiene measures are being followed. Please do not attend this event if you feel unwell, are displaying any symptoms of the coronavirus or believe you may have been in contact with someone with the virus. The event is being organised in compliance with NZ COVID-19 Level 2 Alert conditions, with spacing and sanitising appropriate to this level. If the Level increases above 2 then the event will be cancelled. If you have any questions, please contact the event organiser as provided below for details.
Date : Wednesday 14 October, 2020.
Time : 7:15am for 7:30am start on 14 October, 2020.
Location : Wellesley Boutique Hotel, 2 Maginnity Street, Wellington 6011
Presenter :Andrew Rushworth, Managing Director of Zero Emission Vehicles Limited
Title: "Engineering and Innovation for New Zealand in a Changing Global Context"
Cost: $15.00 for members of any of the three hosting institutions, $30.00 for any guests.
RSVP: Essential to murray.milner@xtra.co.nz (numbers are limited so first in first served for registrations)

A flyer for this event is also available from here.
Abstract:
Andrew will describe some of his experience with innovation and engineering related to the introduction of new technology into the New Zealand market. This will focus on his particular interest in the technical and commercial development of commercial electric vehicles but will cover a wider range of experience with strategic collaboration related to R&D and market development both in New Zealand and offshore.

Based on his recent experience, he will indicate some changes that he is seeing in the global market which will impact on New Zealand. Supply chain changes driven by both negative reactions to globalisation and more recently the COVID-19 pandemic is starting to impact on the way we need to do business in New Zealand. These affects are impacting on both the introduction of new technology into the New Zealand market and the ability for New Zealand businesses to export technology into international markets. Cooperation and collaboration between all parties involved in research, product development and market development are becoming critical for success. Within this mix, the role of sound governance and the nature of inputs from Government is becoming crucial.

All these factors will be touched on by Andrew in his presentation, based on many years of experience in working in this field involving the intersection of engineering, innovation, market development and strategic collaboration.
Introducing Our Speaker
Andrew has over 30 years developing and marketing technology for international markets. During this period, he has led the strategic design, development, and marketing of new technology projects for multiple global corporations. He founded and led an entrepreneurial technology development business undertaking complex automation and information projects and designing innovative new products. Over the course of his global career, he has established extensive business networks nationally and internationally.

Andrew has extensive knowledge of markets around the globe for the introduction of new, often disruptive, technology initiatives. These include everything from contactless payment systems in South Africa to intelligent digital video monitoring systems in Malaysia to automated fuel additive dosing in Mexico. He has built up deep expertise in how innovation is created and the critical role of investment in its commercialisation across a wide range of markets and industries.
Andrew is typically involved at a strategic level where his combined technical and market knowledge provide, along with his leadership, the greatest benefit. In 2005-2009, he was brought on to Indian-based multinational Larsen & Toubro to revitalise a non-performing business unit, which he achieved through the introduction of both product and process, which included training and mentoring key engineers from India in New Zealand.
Since 2010 Andrew has been the Managing Director of Zero Emission Vehicles Limited (ZEV), a consortium of Manawatu-based companies bringing together a spectrum of engineering disciplines to design and build electric heavy vehicles. With ZEV, Andrew was responsible for the first fully battery-electric truck deployed into commercial operation in New Zealand in 2013 and is now overseeing further domestic launches as well as ZEV's first foray overseas with electric vehicles for the Australian mining industry.

IEEE Communications Society (ComSoc) Distinguished Lecturer (DL) Virtual Lecture
Members were invited to attend the following IEEE Communications Society (ComSoc) Distinguished Lecturer (DL) Virtual Lecture organised by the IEEE Joint NZ North, South, and Central ComSoc Chapter.

Speaker: Professor Mohammed Atiquzzaman (University of Oklahoma), USA
Title: Connecting Space Assets to the Internet: Challenges and Solutions
Date: Wednesday 16 September 2020
Time: Starting at 5pm (NZ time)

Join Zoom Meeting https://zoom.us/j/93960609556?pwd=R0JiYTdtS0kvalRDcDM5M2t3YkVuQT09
Meeting ID: 939 6060 9556
Passcode: 985015
Registration: Free

(Participants should have registered as proof of their attendance.)
Please contact Associate Professor Nurul I Sarkar at (nurul.sarkar@aut.ac.nz ) for more details.

Abstract:
Data communications between Earth and spacecrafts, such as satellites, have traditionally been carried out through dedicated links. Shared link using Internet Protocol-based communication offers number of advantages over dedicated links. The movement of spacecrafts however gives rise to mobility management issues.
This talk will discuss various mobility management solutions for extending the Internet connection to spacecrafts. The talk with provide an overview of the network-layer based solution being developed by the Internet Engineering Task Force and compare with the transport-layer based solution that have been developed at University of Oklahoma in conjunction with the National Aeronautics and Space Administration. Network in motion is an extension of the host mobility protocols for managing the mobility of networks which are in motion, such as those in airplanes and trains. The application of networks in motion will be illustrated for both terrestrial and space environments.




Biography:
Dr Mohammed Atiquzzaman obtained his M.S. and Ph.D. in Electrical Engineering and Electronics from the University of Manchester (UK) in 1984 and 1987, respectively. He currently holds the Edith J Kinney Gaylord Presidential professorship in the School of Computer Science at the University of Oklahoma. Dr. Atiquzzaman is the Editor-in-Chief of Journal of Networks and Computer Applications, the founding Editor-in-Chief of Vehicular Communications, and serves/served on the editorial boards of many journals including IEEE Communications Magazine, Real Time Imaging Journal, International Journal of Communication Networks and Distributed Systems and Journal of Sensor Networks and International Journal of Communication Systems. He co-chaired the IEEE High Performance Switching and Routing Symposium (2003, 2011), IEEE Globecom and ICC (2014, 2012, 2010, 2009, 2007, 2006), IEEE VTC (2013) and the SPIE Quality of Service over Next Generation Data Networks conferences (2001, 2002, 2003). He was the panels co-chair of INFOCOM'05 and is/has been in the program committee of many conferences such as INFOCOM, Globecom, ICCCN, ICCIT, Local Computer Networks, and serves on the review panels at the National Science Foundation. Dr. Atiquzzaman received IEEE Communication Society's Fred W. Ellersick Prize, IEEE Distinguished Technical Achievement Award, IEEE Satellite Communications Technical Contribution Award, and NASA Group Achievement Award for "outstanding work to further NASA Glenn Research Center's effort in the area of Advanced Communications/Air Traffic Management's Fiber Optic Signal Distribution for Aeronautical Communications" project. He is the co-author of the book "Performance of TCP/IP over ATM networks" and has over 350 refereed publications, available at www.cs.ou.edu/~atiq .

His current research interests are in the areas of transport protocols, wireless and mobile networks, ad hoc networks, satellite networks, power-aware networking, and optical communications. His research has been funded by National Science Foundation (NSF), National Aeronautics and Space Administration (NASA), U.S. Air Force, Cisco, Honeywell, Oklahoma Department of Transportation and Oklahoma Highway Safety Office.
Post Graduate Symposium Event 2020
Annually, we hold a special Post Graduate Symposium event which alternates in location between the Massey and Victoria University campuses in order to showcase the research activities of our post-graduate students in our two universities located within the New Zealand Central Section region. This year it is the turn of Victoria University of Wellington to host the Symposium and, as a result of COVID-19 and other factors which have affected the semester break times at the universities, it has been decided to hold the event on a weekend day to enable all students and potential visitors to attend the Symposium. The organisers are calling for submissions from those communities to prepare presentations and contribute to this important event. The call for papers and other information is available in the following flyer and you are urged to begin preparations as soon as possible, noting the deadline given below and also provided in the flyer. Cash prizes are awarded for excellence in presentation and food and drink is also provided to registered participants.

Event :Post Graduate Symposium 2020
Date: Saturday 29 August 2020
Time: 9:00am-6:00pm
Location: AM 102 and 104, Alan MacDiarmid Building
Victoria University of Wellington (Kelburn Campus)
Gate 7, Kelburn Parade