Welcome
Call for support
The New Zealand Central Section is very excited to advise that it has obtained approval to form a Women in Engineering Affinity Group which has the aim of identifying issues of importance and interest for women in the engineering field and wish to network with like-minded engineers and share experiences. If you are interested, please contact the WIE coordinator, Kanwal Zaidi, at the following email address as we would love to hear from you and to learn of your experiences!
K.Zaidi@massey.ac.nz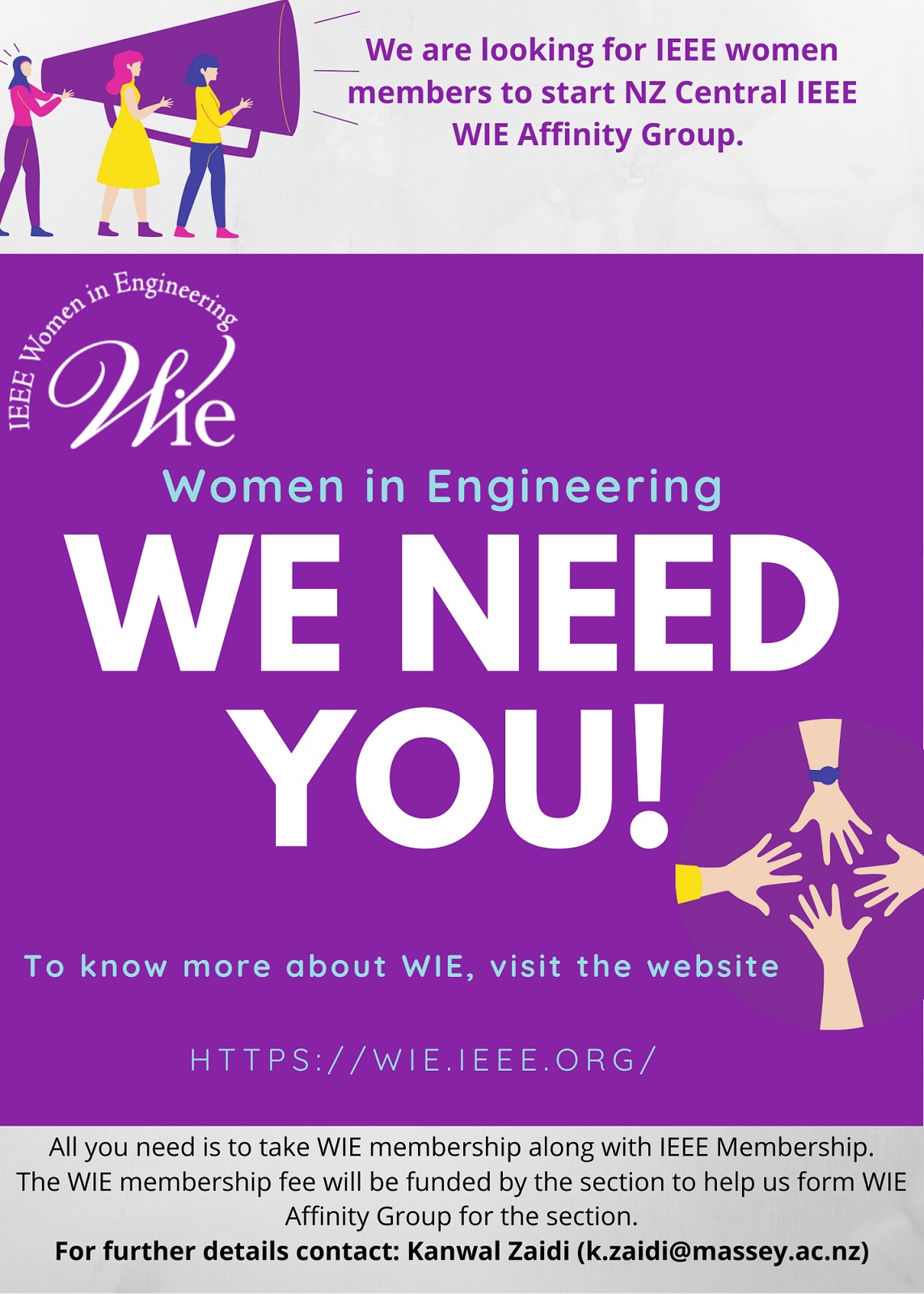 Items of interest for WIE members
T-Shirt Competition - Voting Now Closed!
There is a t-shirt design competition hosted by AWIS (Association for Women in Sciences) for women in STEM (Science Technology Engineering and Maths).
You can vote for your favourite t-shirt design here:
https://docs.google.com/forms/d/e/1FAIpQLSfKPJj5OePO4iOWk9QM1I1r7BFHYc7aifXwVKiFUedAOISp0Q/viewform
The great entry from our WIE coordinator, Kanwal, was: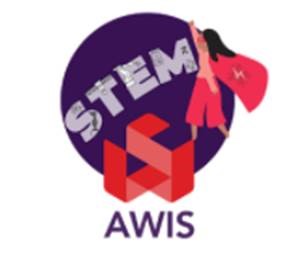 No more votes!! Kanwal has been announced as the WINNER!!!! Congratulations to her, and for her winning design!!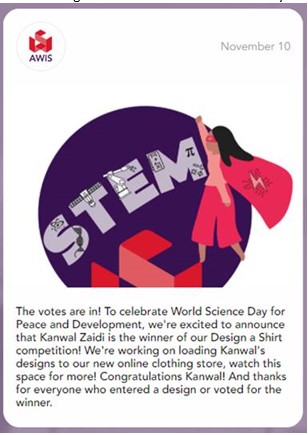 TV Channels online for IEEE members
The IEEE runs a series of online TV channels which contain items of interest to ALL IEEE members and a special channel is dedicated to showing things related to women in the engineering field. Check it out at: https://ieeetv.ieee.org/channels/wie . Happy viewing!
Latest News
Make a difference Together Virtual Series - Monday 25th October
We have organised a virtual event in collaboration with IEEE NSW section on 25th October from 2 - 3:30 pm NZ time. Dr. Melanie Ooi, assistant dean (research) from the University of Waikato will be joining us to give a talk on "IMS Insights Into Intelligent System Deployment". The event flyer is attached for further details.

Please register for this event so that you may be provided with the relevant ZOOM link.
Registration: Link: https://events.vtools.ieee.org/m/284951

Event is jointly organized by IEEE NSW WIE and IEEE NZ Central Section WIE Affinity Groups
Contact: k.zaidi@massey.ac.nz, or naila.mukhtar@ieee.org for further information.
IEEE Women in Engineering (WIE) International Leadership Conference (ILC) 2020
IEEE Women in Engineering (WIE) International Leadership Conference (ILC) 2020 Virtual Series: Leading through Change

We hope that our global IEEE WIE ILC community is staying safe and healthy during these times. While we were looking forward to meeting in San Diego this year, IEEE WIE ILC is pivoting to a virtual series, planned with our attendees in mind. The IEEE WIE ILC Virtual Series will take place throughout June 2020, offering 1-hour sessions, live panel discussions, virtual networking opportunities, and an on-demand library for you to browse when is convenient for you.The current circumstances have led to more challenges, both professionally and personally, for the women in tech community, and strong leadership is needed now more than ever. As a result, we've updated the theme of the Virtual Series to "Leading through Change." Our speakers have adapted their content to make sure it's relevant and worth you taking the time out of your already hectic schedules.

Plus, the IEEE WIE ILC Virtual Series is free to attend! Registration is now open and we encourage you to sign up early and share with anyone you think can benefit from attending.It can now be found on IEEEtv for those of you who missed it!
ITNAC 2020 to Feature a Women in Technology Workshop
ITNAC remains the leading annual telecommunications and networking conference in Australia with the lowest registration fee and 10 student travel assistance grants.

ITNAC 2020 goes online! Attendees that are unable to come to Melbourne due to travel restrictions will be able to participate in all sessions online. All accepted papers will be presented following the new IEEE guidelines for an online conference.

Technical co-sponsorship from IEEE Computer Society. Women In Technology worshop.
Link to the workshop is https://itnac.org.au/2020/workshops


Women in Technology workshop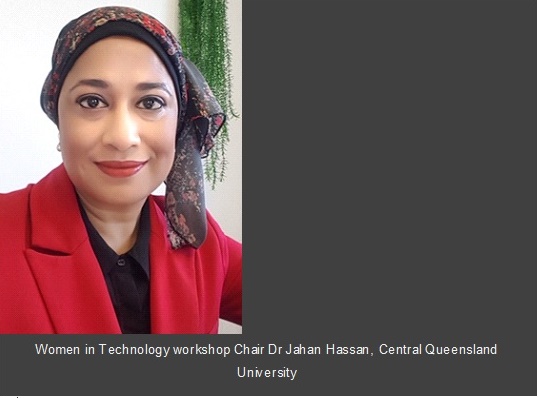 Open for conference attendees and one day registration.

The workshop provides an excellent opportunity for technology professionals to come together and share individual experiences on the journey, struggles, what worked and what did not, inclusion and positive reinforcement.

The workshop includes a panel discussion on "Empowering female professionals for success in a technology related role."

Keynotes and panelists will be announced shortly.
Meeting on-line with NSW WIE Affinity Group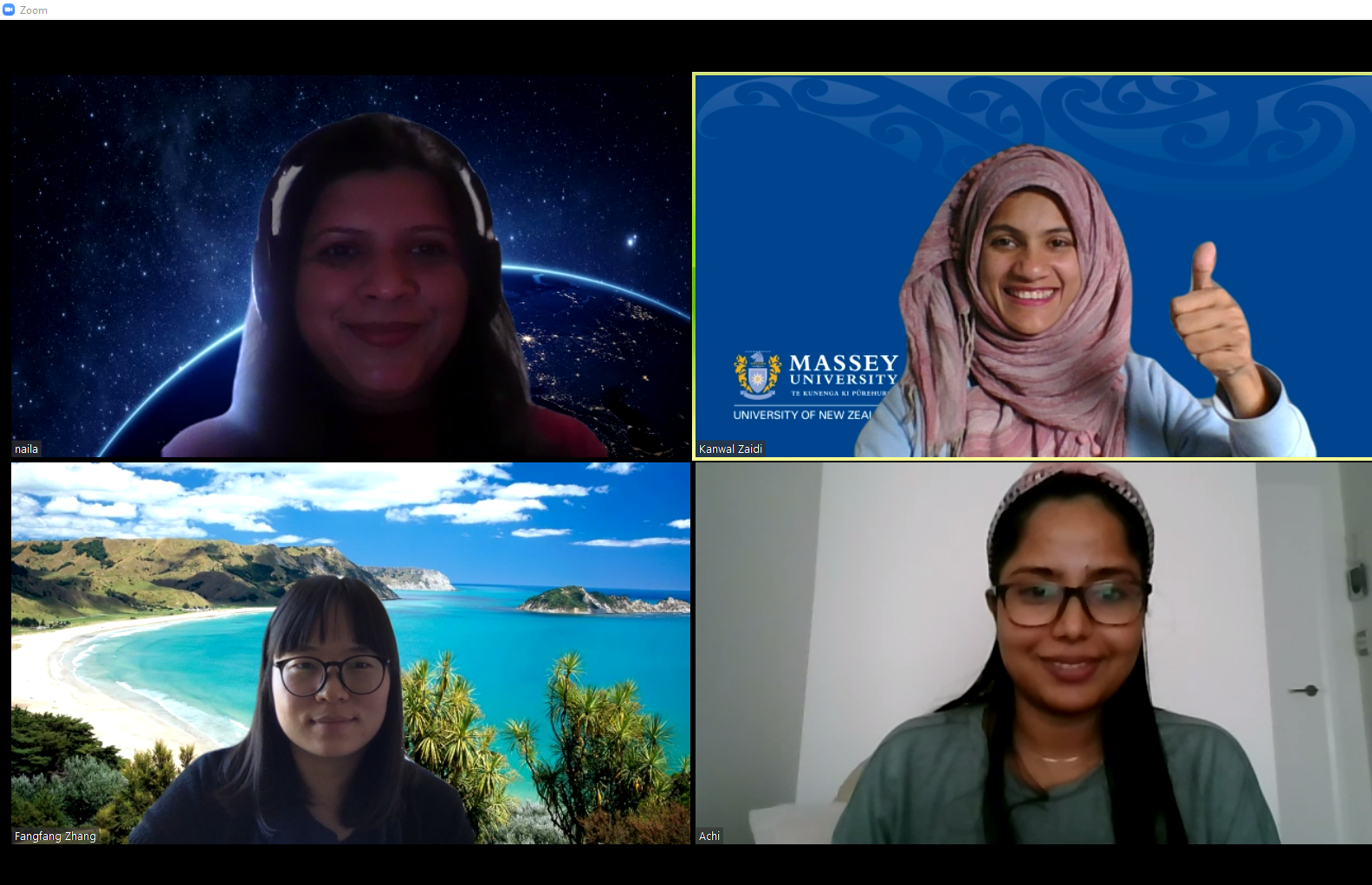 Snapshot of ZOOM meeting participants.
We recently hosted an online WIE session in collaboration with NSW section. We had five participants in total (three from IEEE NZ Central section and two from NSW section). The idea of this session was to talk about the general issues women are facing while working from home in Covid 19 lockdown. The discussion took place for almost an hour where the participants highlighted their research, the impact of the current situation on their studies and work, potential challenges, and the ways to overcome those challenges. It was our first joint session and we also discussed how this collaboration could go forward. We also came to know that we can start our NZ Central based WIE Affinity group if we manage to get ten WIE members in the section. This affinity group would help us to connect with more societies and other affinity groups. IEEE also provides some grants for new WIE student members through the WIE Affinity group.

In Australia, every section has a WIE Affinity Group and we feel it is important to establish one for our section too. NSW section runs an interesting 'success stories' theme where they publish motivational stories for female engineering students and engineering professionals to encourage other women in the field. Since Kanwal Zaidi successfully defended her PhD within three years just a day before this meeting, She got an invitation from the NSW section to write her story for their website.

Below you will see a sample of her story to give you an idea of the sort of stories that we would encourage.
Unfortunately, some members of NSW section joined Zoom room at 1pm Australian time. They didn't notice the meeting time in the invitation flyer was Auckland time, though this was mentioned in the flyer. As this was a learning experience, we shall be publishing local time only when we host this session next time.

Kanwal is happy to share this first experience which went really well and we received very positive vibes concerning future event collaboration.
My Story - Kanwal Zaidi
| | |
| --- | --- |
| | |
Kanwal received her PhD degree as a postgraduate student at Massey University in 2020 and this had been supervised by Dr Faraz Hasan
and Dr Xiang Gui. Her thesis was entitled "Effective Relaying Mechanisms in Future Device to Device Communication". She was part of the College of Sciences - Telecommunication and Network Engineering Research Group. She is now a postdoctoral researcher and tutor at Massey University.

Her brief biograpy is taken from her website and reads as follows:

"Kanwal Zaidi is a multidisciplinary researcher, a career enthusiast and a wonderful person. She started her career as a Lecturer in the Department of Biomedical Engineering at NED University of Engineering and Technology, Karachi Pakistan, where she taught programming languages and digital logic design. She also assisted in forming the Gait Lab in the department. But wait! before that she enjoyed three months at Ufone GSM, Pakistan as Customer Service Executive. Yes! she shone as a CSR too because of her excellent communication skills. Coming back to the story, after spending a few years at NED university, she moved to Oman (after marrying the love of her life) where she worked as a lecturer in Faculty of Computing Sciences, Gulf College (affiliation of Staffordshire University, UK). She also worked in the development of Virtual Learning Gateway (Moodle) for Gulf College. In addition to her teaching responsibilities, she supervised undergraduate projects based web and mobile application development. She then joined the Centre of Quality Enhancement to work closely with the teaching and learning team for aligning the teaching standards on the principle of UK Professional Standard Framework. She gained certification of associate fellow from Higher Education Academy, UK to excel her teaching skills, her fellowship is underway (you know its hard to manage PhD and other certifications). Not to forget , Kanwal has been granted Massey University Doctoral Scholarship in October 2016 and she is due to appear in her PhD oral examination at 20th April (Yes!! she submitted her PhD thesis with in three years-with publications in top notch journals). You know where did the half a year go? she was on leave to take care of her beautiful baby boy :). Kanwal has secured Massey University Conference Presentation Grant for consecutive three years during her PhD (Tbh, she is a travel enthusiast and loves to explore new places). Kanwal also polished her professional career by working as a Data Analyst in Information Technology Services, Massey University for one and a half year (you know she wants to do so much in life!). Now, she is working as a tutor in Computer Science and Information Technology group at Massey University, where she is engaged in undergraduate teaching (Teaching is in her blood). She enjoys delving into new fields of research and following the results of her investigations into the uncharted scientific territory (because she has understood that an academic must be brilliant in research :) )."
Your Story here?
Hope that you like these stories! Send your contributions to Kanwal:

K.Zaidi@massey.ac.nz
Your COVID-19 story here?
We would love to hear your COVID-19 stories here. Send your contributions to Kanwal:

K.Zaidi@massey.ac.nz