Fatherhood Statements
Women in Engineering Newsletter
Father's Day 2006
Sunday 3rd September
---
Ideas for Father's Day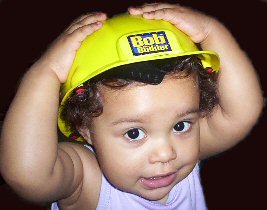 See if you can spend some quality time with Dad on Father's Day. Here are some suggestions from the WIE committee:
Seeing Your Dad
Ø Lunch and a stroll. Try one of the boat harbours – Fremantle, Hillarys
Ø Sport. Watch a game of footy (any code) with him. Get him out to see you or the grandkids playing sport or take him for a round of golf (weather permitting J )
Ø Most Dads have an unfinished project or two around the house. Make some time to jointly attack one these projects and move it past a sticking point.
Ø If there's no projects, go out and buy some challenging Ready to Assemble furniture!
Ø Music and media. Find some live music around town, or CDs and DVDs. Check out his old vinyl and buy some CD versions. Try Led Zeppelin, Pink Floyd, Dire Straits or the Eagles. DVDs: as with Mums, it's anything from the ABC shop – try some Michael Palin Himalaya, have a "history of comedy" lesson with The Goodies or The Young Ones.
Ø There's some great concerts coming up for those who remember the 70's – Billy Joel, Eric Clapton and/or Elton John would be appreciated by many Dads.
Away from Dad
Ø Communicate! Give him a call, send her an email – make sure to take some time about it and let him know what you're up to. Don't just talk to Mum!
Ø Favour. Ask a friend/family member living near Dad to help deliver a gift for you if you're out of time. (See above suggestions)
Missing Your Dad
Ø Create. Write about some of your favourite memories of your father. Find and scan related photos. Share these stories with your children and/or loved ones.
Ø Communicate. Talk to family members who will also be missing Dad at this time. Spend time with your Mum and maybe do some jobs that she needs done around the house.
Ø Take your kids to do something you enjoyed doing with your Dad. Visit where he grew up, went to school and/or worked. This can be done online or using books if a visit isn't practical.
---