Wednesday October 19, 2005
Topic: Renewable Energy in New Jersey: Technology, Policy and Economics
Speaker: Dr. Peter Jansonn
Are you happy with gas prices? Ever wonder why we are going to Mars instead of actively pursuing a Manhattan Project on alternative energy? Well, perhaps there's hope. New Jersey public policy has vaulted our State into leadership in photovoltaic technologies through rebates and market pricing mechanisms. The readiness of Photovoltaic (PV) and Wind Technologies for commercial exploitation in the State will be presented and the impact of New Jersey Clean Energy Program incentives on the economic paybacks of these green electricity technologies will be discussed. This talk will describe how each technology works, the NJ resources for wind and PV and the ways they are currently being implemented in residential and commercial applications. These technologies are now approaching economic paybacks of less than 5 years.
Dr. Peter Jansonn, our featured speaker, is an associate professor for electrical engineering at Rowan University. He received a BSCE from MIT, worked for Atlantic City Electric for nearly 20 years and then earned an MScEE from Rowan and a Ph.D. from University of Cambridge. He has over 20 years experience in the energy, engineering and consulting businesses and has interests in numerous research areas including: renewable energy, innovation in electricity and industrial sustainability etc.
---
Wednesday September 21, 2005
Topic: The Next Generation Air Traffic System: The Concept and Planned Spring Demo
Speaker: Adam Greco
Please join the Southern New Jersey Professional Societies for a delicious dinner and thought provoking presentation about the Next Generation Air Traffic System (NGATS), and the exciting demo that will be conducted by the Technical Center for the Air Traffic Organization. Adam Greco, the presenter and NGATS Demo Project Manager, is an Account Manager for the Integrated Engineering Service at the Technical Center. He previously served as an Air Traffic Controller, Supervisor, Air Traffic Manager and branch and project manager for numerous efforts including large-scale ATC simulations and most recently the highly visible and successful Small Aircraft Transportation System (SATS) Demo at Danville, Virginia. His interpretation of the NGATS concept and the ideas and plans that he has formulated for the Spring '06 NGATS Demo are imaginative and stimulating. This concept represents the Agency's plans for the Air Traffic System of 2025. It involves substantial changes from today's system and includes substantial engineering, technical and CHI challenges. Come learn about this multi-billion dollar project and the planned demo. Provide any feedback you may have to Adam about the Demo and ways to enhance it.
---
Wednesday, May 25, 2005

TOPIC: Design of a Rough Terrain Autonomous Vehicle
SPEAKER: Mark Adkins, Stephen Saudargas, Brett Ziller, et. al.
A "home made" vehicle that tracks over rough terrain and follows a prescribed course on its own! Chassis, software, digital compass, GPS, ultrasonic sensors and all the rest designed, built and integrated by this College of New Jersey student team for their first time entrance into the (13th) Annual Intelligent Ground Vehicle Competition to be held on June 11 - 13th at a Midwest location. Would you trust this vehicle or a similar one to one day safely navigate and carry you through our nations highways or over rough terrain? Come join us in hearing how this team designed and built their vehicle and how technology of this type may be in our future.
---
Wednesday, April 20, 2005

TOPIC: Joint Program Development Office (JPDO)
SPEAKER: Karl Grundmann, Director of Communications, JPDO
The newly formed interagency Joint Program Development Office )JPDO) has become the focal point for all development activities associated with the Next Generation Air Transportation System (NGATS) and many programs and processes associated with the evolution of today's National Airspace System (NAS) to meet the challenges of the future. The William J. Hughes Technical Center has been designated as the location that will serve as the focal point for JPDO research and development. Most of the Technical Center's activities will be aligned to support JPDO initiatives. The JPDO is jointly managed by FAA and NASA, with guidance provided by a steering committee consisting of seven government organizations including the White House Office of Science and Technology Policy (OSTP). The collective R&D budgets of the JPDO constituents exceeds a billion dollars. Mr. Karl Grundmann, our featured speaker is a NASA employee who has held various FAA positions and is currently the JPDO Communications Director and a member of the JPDO team led by Mr. Charles Keegan.
---
Wednesday, March 23, 2005

TOPIC: Electromagnetic Compatibility and Electrostatic Discharge Issues in Modern Electronic Equipment: Diary of a Real Ghostbuster
SPEAKER: Dr. Louis F. DeChiaro, Richard Stockton College of NJ
Modern electronic equipment must be able to operate in the presence of other systems without emitting enough stray RF energy to cause interference. The FCC has established strict limits on these emissions, and meeting them can sometimes present a major challenge to systems design teams. In addition, the same equipment must be capable of operating successfully in environments that may contain a variety of threats, among them localized electrostatic discharge events that can disrupt certain types of systems. We shall discuss a number of field experiences in both of these areas, summarize the basic physics and electronic engineering principles that underlie the phenomena, and describe the design lessons (at both the circuit board and the systems design levels) learned from hard experience.
---
Wednesday, February 23, 2005
TOPIC: Can the U.S. Solve the Challenges of a Globally Competitive Engineering Marketplace
SPEAKER: Dr. Dianne Dorland, Dean of Engineering, Rowan University
Why are we (the U.S.) at a competitive disadvantage when our markets are targeted? Can we overcome state sponsored takeovers of our key industries? What are the issues and how do we respond? Are U.S. Engineering careers in jeopardy from lower paid foreign competition? Jobs are being outsourced, how do we stop it? Is our education system directed to meeting these challenges?
Join the Southern New Jersey Sections of the IEEE and AIAA for a fascinating presentation by Dr. Dorland and begin to understand the real world challenges we face as professional engineers.
---
Wednesday January 19, 2005

TOPIC: Managing the Software Release Process for Real Time ATC Systems
SPEAKERS: Daniel McGovern, Manager, Display Systems In Service Management Team and Jeanne Bridel, Chief Engineer Display Systems
Ever wonder about the processes and methodologies that are used to maintain and enhance the complex, real time processing systems that drive the FAA's Enroute Air Traffic Control Display Systems? Please join the Southern New Jersey Professional Societies for a delicious dinner and informative presentation by Dan McGovern and Jeanne Bridel on how they provide the timely and quality software that is consistently delivered within estimated resources. Their presentation will address software development, system integration, test, deployment and field support philosophies and methodologies along with a detailed discussion on the activity based cost model used by the DSR in service management to effectively plan the cost and schedule for their annual system releases.
---
Thursday Sept. 23, 2004

Multisensor Data Fusion using Artificial Neural Networks
Dr. Shreekanth Mandayam, Rowan University
Join the Southern New Jersey Professional Societies for delicious dinner and an interesting presentation by Dr. Mandayam on Multisensor Data Fusion. Emergent measurement technologies often call for a network of sensors monitoring a diverse set of physical quantities, whose simultaneous interpretation is required for ascertaining system health. This presentation will feature an artificial neural network approach which addresses the data fusion problem. Please join us to learn about this fascinating application of technology.
---
Wednesday May 19th 2004
Intrusion Technology
Dan Morfitt, Hi-Tec Systems
Join the Southern New Jersey Professional Societies in Mays Landing where Dan Morfitt will speak on the latest technology used in Intrusion Testing. Putting it simply, Intrusion Testing is a fun way of finding vulnerabilities and then fixing them. The idea is to create a perfect detection system and then finding ways to defeat it. A good example is the TSA's "Exit Lane Project" with motor vehicles. Come and hear Mr. Morfitt entertain us with the possibilities of this new futuristic technology.
---
Wednesday April 28th 2004
Eclipses, Transits and Occultations:
How Scientists Can Learn More About
Something When it Disappears

Dr. Frank P. Maloney, Villanova University
Join the Southern New Jersey Professional Societies in Mays Landing where Dr. Frank Maloney will speak of the wealth of detail that is revealed when astronomical objects cover, or are covered by, other objects in space. Called eclipses, transits, and occultations, these usually rare phenomena have permitted the discovery of stars, asteroids, and planets, and their rings, moons, and atmospheres, as well as the determination of fundamental constants like the speed of light and the astronomical unit.
---
Wednesday March 24th 2004
Topic: Columbia and Challenger: What Do These Two Disasters Tell Us
Michael Stanford, PhD, AIAA Associate Fellow
Join us for dinner in Mays Landing where Dr. Stanford will discuss the report of the Columbia Accident Investigation Board (CAIB) and similarities to the Challenger Disaster. Lessons learned from these two disaster can serve as a warning for all engineers and scientists involved in complex aerospace technologies embedded in large bureaucracies. His personal experience based upon 14 years inside NASA will be explored as well as the consequences to individuals and careers when identified problems with system performance are not forced into the limelight.

---
Fiber Optical Sensors for Health Monitoring
of Civil and Aerospace Structures
Dr. Hong-Liang Cui, Stevens Institute of Technology
Wed, Feb 18th 2004
Join us for dinner in Mays Landing where Dr. Cui will give a presentation on research with Fiber Optic Sensors to monitor the health of airframes and engines using fiber Bragg gratings (FBG) based acoustic emission sensors. This technology enables a variety of monitoring techniques such as: crack development in airframe structures, seismic monitoring for remote surveillance, chemical and gas sensors and monitoring load and stress levels on suspension bridges.
---
Dinner Meeting on Wednesday, Jan 21st 2004
Severe Weather Hazards to Aviation
Speaker: Steve Maciejewski, BCI

Join the Southern Jersey Professional Societies for dinner in Mays Landing where Mr. Steve Maciejewski will give a presentation on the weather phenomena which affect aviation activity and safety. He will discuss tornadoes, windshear, microburst, lightning, clear air turbulence and explain why and how these weather systems form. He will also discuss how new NAS systems such as ITWS detect and identify these weather events.
---
Slide Presentation (Powerpoint) or (pdf)
Dinner Meeting on Wednesday, Oct. 15, 2003

TOPIC: Software Quality Attributes
SPEAKER: Dr. Mario Barbacci, Carnegie Mellon University
Join the Southern New Jersey Professional Societies for dinner in Mays Landing where Dr. Mario Barbacci of the IEEE Computer Society's Distinguished Visitors Program will give a presentation describing processes for conducting software architecture trade-off and risk analysis. Software attributes can interact or conflict - improving one attribute often comes at the expense of one or more of the others. The talk will focus on emerging methods developed by the Software Engineering Institute (SEI) at Carnegie Mellon to identify and mitigate these risks.
Dr. Mario Barbacci is a Senior Member of the staff at the Software Engineering Institute (SEI) at Carnegie Mellon University. He was one of the founders of the SEI where he has served in several technical and managerial positions.
---
Dinner Meeting on Wednesday, Sept. 24, 2003

TOPIC: The eXtreme Sun: Affects of Solar Aging on Climate and Life on Earth
SPEAKER: Dr. Edward F. Guinan, Villanova University
Join the Southern New Jersey Professional Societies for an extremely interesting presentation describing how our Sun has evolved over the eons, its significant impact on the evolution of the Earth's climate and the consequences those changes have had for life on Earth.
Dr. Guinan is an internationally respected Astronomer who has published more than 400 papers on topics including 'Using Binary Stars to Test Gravity Theory', Solar-type Stars, Extra-solar Planets, X-ray and UV studies of the Sun.
---
Dinner Meeting: Wednesday, May 28, 2003
Topic: Planetary Exploration to Jupiter, Saturn, Uranus, Neptune and Beyond
Speaker
: Dr. William W.Ward, MIT

Join the Southern New Jersey Professional Societies for dinner at the MAYS LANDING COUNTRY CLUB where Dr. Ward will give a presentation featuring dramatic pictures of the outer planets as they were transmitted back to Earth by Pioneers-10 and 11, and Voyagers-1 and 2. The outcome of these space missions is the culmination of one of the major scientific and engineering enterprises of our time. Beyond the science and technology, learn how every area of human activity stands in intimate relationship to these missions.

---
Dinner Meeting: Wednesday, April 16, 2003
Topic: Phased Array Radar: A New Future for Weather
Speaker: Dr. Jim Melody, BCI

Join the Southern Jersey Professional Societies for dinner in Somers Point where Dr. Jim Melody will give a presentation on the tri-agency partnership of the FAA, DOD, and NOAA. Hear the story of how this team has joined forces to research and test the current military Phased Array Radar technology and integrate it with new and existing FAA weather systems to provide faster, more accurate weather information and to save lives by providing additional warning time for the most hazardous weather.
---
Dinner Meeting: Wednesday, March 26, 2003
Topic: Navigation and Man: A Historical Perspective
Speakers: Marvin May, Chief Scientist, Penn State Applied Research
Laboratory

IEEE and AIAA are joining with the Institute of Navigation to provide an exceptional presentation this month. Marvin May, Chief Scientist at Pennsylvania State University's Applied Research Laboratory, will give an entertaining and informative presentation on the history of navigation. The topic spans the development of navigation from the earliest celestial navigation techniques to the latest GPS navigation systems. It addresses the impact of navigation in today's civil and military environment and discusses prospects for future application.
---
Dinner Meeting: Wednesday, January 22, 2003
Distinguished AIAA Speaker Program
Topic: Building the International Space Station: How and why the world's nations are uniting in space.
Speaker: Jack Bacon, NASA Johnson Space Center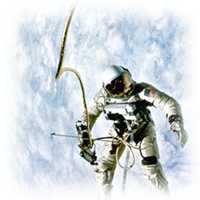 Sixteen nations have already started to assemble in earth orbit several million parts weighing hundreds of tons to make a space station larger than a football field and twenty stories tall. Only partially complete, it is already the largest and most capable spacecraft ever put into the sky. The speaker has worked on design and operation of the Space Station. He was lead integrator of the joint U.S./ Russia ZARYA module which connects and adapts all systems of the international space station. His presentation will provide a history of the space station and the basic technical approaches to the design.
The speaker received his bachelor's degree from the California Institute of Technology in 1976, and his M.S. and PhD in 1978 and 1984 from the University of Rochester.