Venue
The venue of the IEEE Joint Ultrasonics, Ferroelectrics and Frequency Control Symposium was Prague Congress Centre close to the historical centre of Prague, Czech Republic.
The street address of the venue is 5. kvetna 65, 140 21 Prague 4, Czech Republic.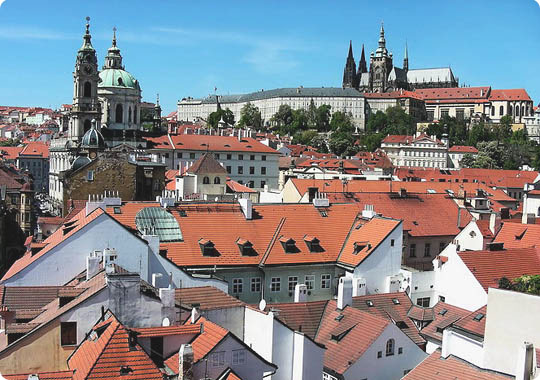 City of Prague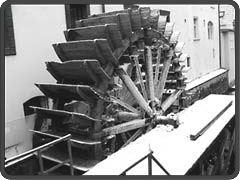 Prague, the capital of the Czech Republic, is well known for its historical monuments, classical architecture and rich cultural heritage that continues today in many theaters, concert halls, opera houses and galleries. Come and discover this wonderful city and walk in the footsteps not only of Franz Kafka and Antonin Dvorak but also of Tycho de Brahe, Johannes Kepler, Bernard Bolzano, Christian Doppler, Albert Einstein, Jaroslav Heyrovsky, Vladimir Prelog and others.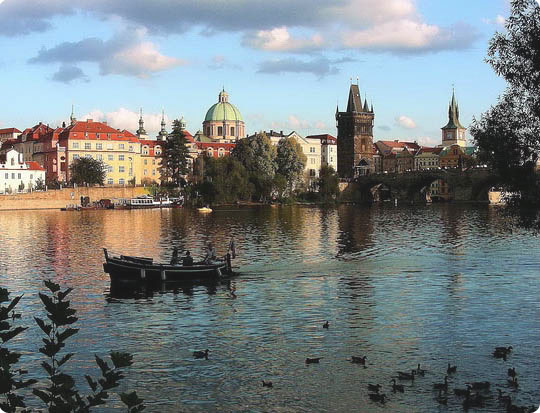 Prague has 1.3 million inhabitants living on approximately 500 square kilometers. The historical city center is a designated UNESCO World Cultural and Natural Heritage area which stretches over more than 8 square kilometers. Charles University in Prague, founded in 1348, is the oldest university in Central Europe.
The dominant feature of the city is Prague Castle with its gothic St. Vitus Cathedral. The castle, formerly the seat of Czech kings since 1087, became the seat of the president in 1918. The Lesser Town below the castle boasts a profusion of intimate corners and character restaurants blended with splendid aristocratic palaces and charming gardens. The 14th century Charles Bridge, the most remarkable promenade site in Prague, connects Lesser Town with the Old Town, amazing network of twisting medieval lanes. The Old Town City Hall in the Old Town Square houses the oldest working Astronomical Clock in the world (1410), chosen as our Symposium logo. At every hour, a presentation of four figures and statues of 12 Apostles starts. Between the Old Town Square and the river bank, remains of unique 13th century Jewish Town offer mysterious spiritual atmosphere.
Due to hilly landscape over double-bent river valley, the elevated sites such as the Castle or the Prague Congress Centre offer magnificent views over the city's "one hundred spires".
Getting to Prague
Vaclav Havel Airport Prague handles flights of most European carriers, including low-cost ones, as well as some overseas flights. To find the most appropriate flight without the need of visiting individual carrier websites, you may try a global travel search site at https://www.skyscanner.net/.
Czech Airlines as the official carrier for UFFC 2013 offers a 10% discount in Economy Class and a 15% discount in Business Class for all attendees and accompanying persons of the Symposium. The discount applies to flights within one week prior and after the Event. Detailed information can be found on the Czech Airlines Event website.
Transport from Prague Airport to the Conference venue
The airport is located approx. 30 minutes by car from the city centre, the travelling time extends during rush hours. There is a good connection by public transport buses and taxis, no train or underground connection is available.
Public transport
Bus 119: Prague Airport (Letiste Ruzyne) → Dejvicka (end stop of the bus and Metro line A terminal), then take Metro: Dejvicka → Muzeum (5 stations), then change the line and take Metro C: Muzeum → Vysehrad (2 stations). The journey takes less than 1 hour including the changes and waiting times. The bus stop is situated directly in front of the airport terminal.
Prague public transport is fast, efficient and frequent. Metro and most daily trams and buses operate every day from 5 AM till midnight. Night trams and buses (line numbers beginning with 5) operate throughout the night. Similar to most capitals, the concentration of picpockets is elevated, be aware in the historical centre as well as on your route from/to the airport.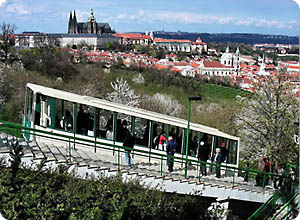 Tickets:
Basic fare of 32 CZK (approx. 1.30 EUR) entitles the holder to use all means of public transport (Metro, trams, buses and cable car to the Petrin hill) for up to 90 minutes including unlimited number of changes. The ticket must be validated using a yellow box inside the first bus or tram, or while first entering designated area in Metro. After validation, just keep the ticket with you.
Tickets can be purchased at:
Public Transport counters in Arrivals Halls of Terminals 1 & 2 (from 7 AM till 10 PM). Recommended option.
Ticket machine situated at the airport bus stop (CZK coins required). Press the button corresponding to the basic fare of 32 CZK, insert coins and the ticket will be printed for you.
From a bus driver (petty cash required). Please note that a ticket purchased from a bus driver costs 40 CZK and the passenger should pay by coins or nominally small banknotes. For cashpoint withdrawals, we therefore recommend setting an amount not ending with thousands CZK (200 CZK is a typical monetary quantum a cashpoint can dispense).
In the city, tickets can be purchased at newsagents, tobacconists, hotel receptions, ticket machines in Metro entrance areas etc.
When entering the bus, remember to validate the ticket.
Airport express
The fast bus line operates daily from 5 AM till 10 PM in regular intervals 30 minutes. The route is Prague Airport → Dejvicka (Metro A) → Masarykovo Nadrazi railway station (Metro B) → Hlavni Nadrazi (Prague Main Railway Station, Metro C). The fare is 50 CZK or 30 CZK if travelling just between the airport and Dejvicka Metro terminal.
From the terminal stop, Hlavni nadrazi, you can continue by Metro directly to the conference venue (Vysehrad, 2 stations). A cheaper 26 CZK ticket can be used for this route.
From Dejvicka Metro terminal, you can use Metro as described under Public transport.
Taxi (AAA, Radiocab)
The journey from the airport to Kongresove centrum takes at least half an hour and should cost around 600 CZK. The taxi rank of both official airport companies (AAA radiotaxi and Radiocab) is situated directly in front of the airport terminal. For the journey back, we strongly recommend ordering a taxi from your hotel reception rather than finding a cab in the street.
Resources
Transport from railway stations to the Conference venue
All principal railway stations are situated along Metro stations. There are only 3 Metro lines in Prague (A, B, C) so it is not difficult to reach Vysehrad station (line C).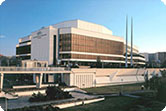 If you decide to take a taxi, we strongly recommend ordering one rather than finding a cab in the street. For AAA radiotaxi, just call 14014 and wait 5–10 minutes until your taxi (yellow colour) picks you up.
Conference venue
Prague Congress Centre is a large building located just a few steps from the Vysehrad Metro station. The entrance to the building will be clearly signposted.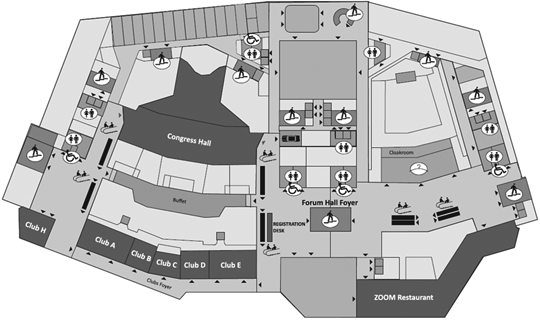 First floor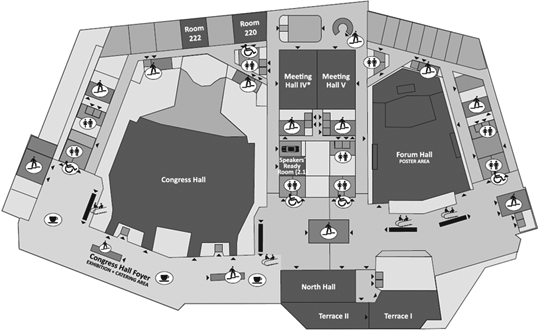 Second floor
Photographs courtesy of fungus2. More Prague photos are available in our gallery.