About the Foundation Members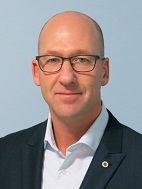 Keith B Brown,Ph.D, P.Eng., SMIEEE
Ontario Power Generation
Pickering, Ontario, Canada

Keith Brown has spent the past eight years working for Ontario Power Generation's Nuclear Division. His current position is in Operations at the Pickering Nuclear Generating Station. Previous to his current position he was a Senior Engineer involved in Inspections and Specialized Maintenance of Ontario's Nuclear Generating Facilities. Prior to joining OPG in 2006, Keith was the principal engineer for Canadian Dewatering, LP based out of Alberta. He has also has the unique and rewarding experience of having served 15 years with the Canadian Armed Forces; retiring from active duty in 2003.

Dr. Brown holds degrees in mathematics and physics, advanced degrees in electrical and computer engineering (MSc'99, PhD'03), and a diploma in business management (with distinction), all from the University of Alberta. He has published a number of technical documents and maintains a keen interest in the application and development of advanced technologies. Keith is a Senior Member of the Institute of Electrical and Electronics Engineers, a Member of the American Society of Mechanical Engineers, and a licensed professional engineer in both Alberta and Ontario.

In his spare time he volunteers for a number of causes, in particular IEEE Canada, where he has been an active volunteer for over 10 years most recently serving as IEEE Canada President and as a Director of the Engineering Institute of Canada from 2012-2013. Keith joined the IEEE Canadian Foundation Board in 2014.