(Page updated 2004-May-11)
DeCew Falls Engineering Milestone
The IEEE has determined that the 66-2/3 Hz two-phase DeCew Falls Generating Station, and the 56 km long 22,500 Volt high voltage transmission line to Hamilton is of pioneering significance to the field of Electrical Engineering. On May 2nd, 2004 at 2:00pm the Hamilton Section unveiled a plaque to honour this achievement.
Thanks to Ron Potts, Dave Hepburn, Ed Shadeed, Ted Winch, and the life members that made this milestone possible. For more information please see
Life member page
.
Pictures of the Decew Falls Generating Plant
Click on picture for enlarged view.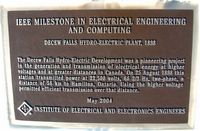 Picture of the IEEE Plaque

DeCew Falls original building

DeCew Falls 1 with original building to left

East end of the original building with the output ports still visible

The entrance way to the plant showing the original building

Original Dedication from 1898

Signs from Previous Celebrations of the 100th Anniversary

Plaque placed by Hydro to celebrate the 100th anniversary of DeCew Falls
(To be relocated adjacent to the IEEE plaque)

Proposed location for both the Hydro and IEEE Plaques

No. 4 generator

Note the cavitation of the turbine blades

Hand operated crane and view down the new generator hall

None of the original generators are in service, but others of the original design built in 1905 and 1911 are still running

Chain-fall Hoist built in 1896

Up the River…

Down the River…

DeCew Falls 2 GS Sluices and Building

Across the Bridge from No. 2

Ron Potts (dark suit) negotiating where to place the plaque
Pictures by Eric Harrison.