August, 2010
Welcome
Women in Engineering (WiE) is an affinity group of the IEEE, with currently 220 WiE Affinity Groups worldwide in more than 43 countries. The mission of the IEEE WiE is to inspire, engage, encourage, and empower women worldwide.
WiE South Africa Section
The IEEE WiE in South Africa has 75 registered members and two affinity student groups at the University of Cape Town and the University of Pretoria.
In line with the IEEE Women in Engineering mission, the IEEE WiE in South Africa has commenced the STAR program in one school from a previously disadvantaged background in Gauteng (Pretoria). The WiE now seeks to extend the STAR project further for one year and to a second school.
Join us and be part of dynamic team making a difference in South African engeering. Being a IEEE volunteer can be a gratifying and memorable experience. Whether your "other" skills are suited for organizing events, financial reporting, or even motivational speaking, career talks, and technical presentations, the WiE, IEEE South Africa Section needs your expertise as an IEEE WiE volunteer. IEEE WiE volunteer positions are open to male IEEE members as well.
---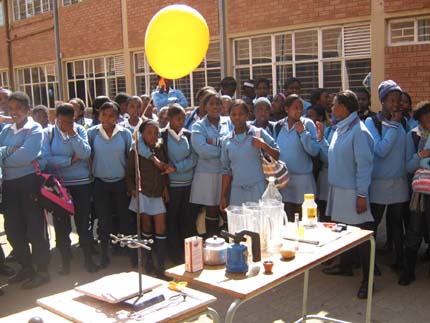 Section of learners keenly concentrating on a Science experiment demonstration.