Passing of Jim Howard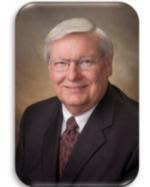 It is with great sadness that I report to you the passing of Jim Howard, on April 5, 2020. Jim was a dedicated volunteer in our Region and throughout IEEE. Jim served on the IEEE Board of Directors in 2002-2003 (Region 3 Director) and in 2012 (IEEE-USA President). He served as a VP for both AESS and PES. From the list below, you can see the extent of Jim's service to the IEEE. This is not even a complete list, it was the most recent info I found -- but I know that Jim's service never stopped. He continued serving as the Florida West Coast Section treasurer, a Mentor in Region 3, was active on our Strategic Operations committee telecons, and was general Chair of SoutheastCon 2018
Jim impacted and inspired many people across our Region and throughout IEEE. He had a strong belief in and a gift for mentoring young professionals, and helping them grow into strong leaders.
Region 3 has been greatly impacted by the efforts of Jim over his many years of service, and he will be sorely missed.
If you would like to make a donation to the IEEE Foundation in memory of Jim, please visit: https://www.ieeefoundation.org/how-to-give/tribute-giving
SoutheastCon 2021 will be held March 10-14, 2021 - Atlanta Peachtree Plaza Hotel

Westin Atlanta Peachtree Plaza Hotel
Atlanta Peachtree Plaza Hotel
March 10-14, 2021

https://attend.ieee.org/southeastcon-2021/
SoutheastCon is the annual IEEE Region 3 Technical, Professional, and Student Conference. It brings together Computer Scientists, Electrical, and Computer Engineering professionals, faculty and students to share the latest information through technical sessions, tutorials, and exhibits. It is the most influential conference in Region 3 for promoting awareness of the technical contributions made by our profession to the advancement of engineering science and to the community. As usual, attendance and technical program participation from areas outside IEEE Region 3 are encouraged and welcomed.
What's Happening in Region 3