24 October 2021 - IEEEXtreme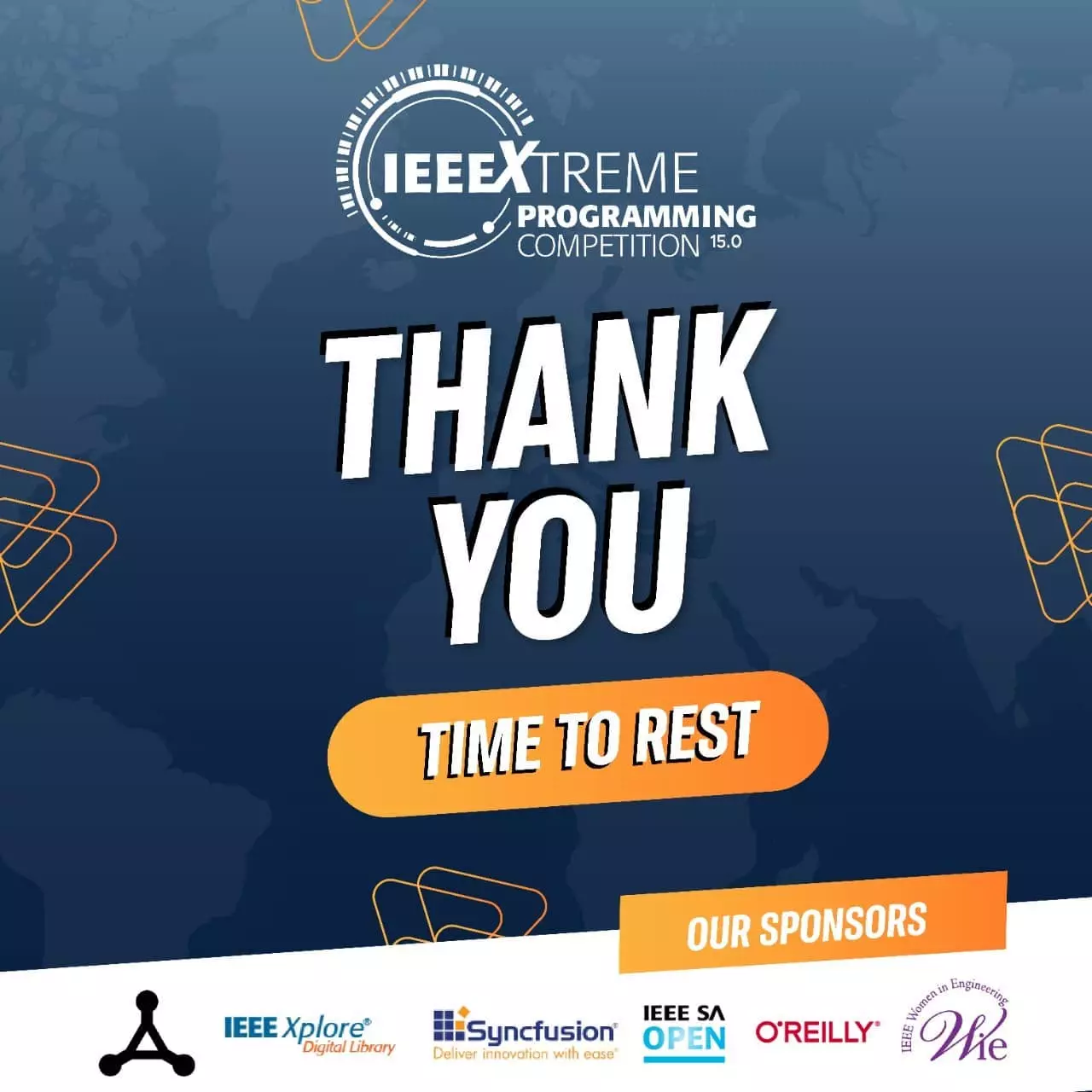 IEEEXtreme is a global, virtual challenge in which teams of IEEE Student Members compete in a 24-hour time span against each other to solve a set of programming problems.
01 October 2021 - IEEE Committee 2022 Nomination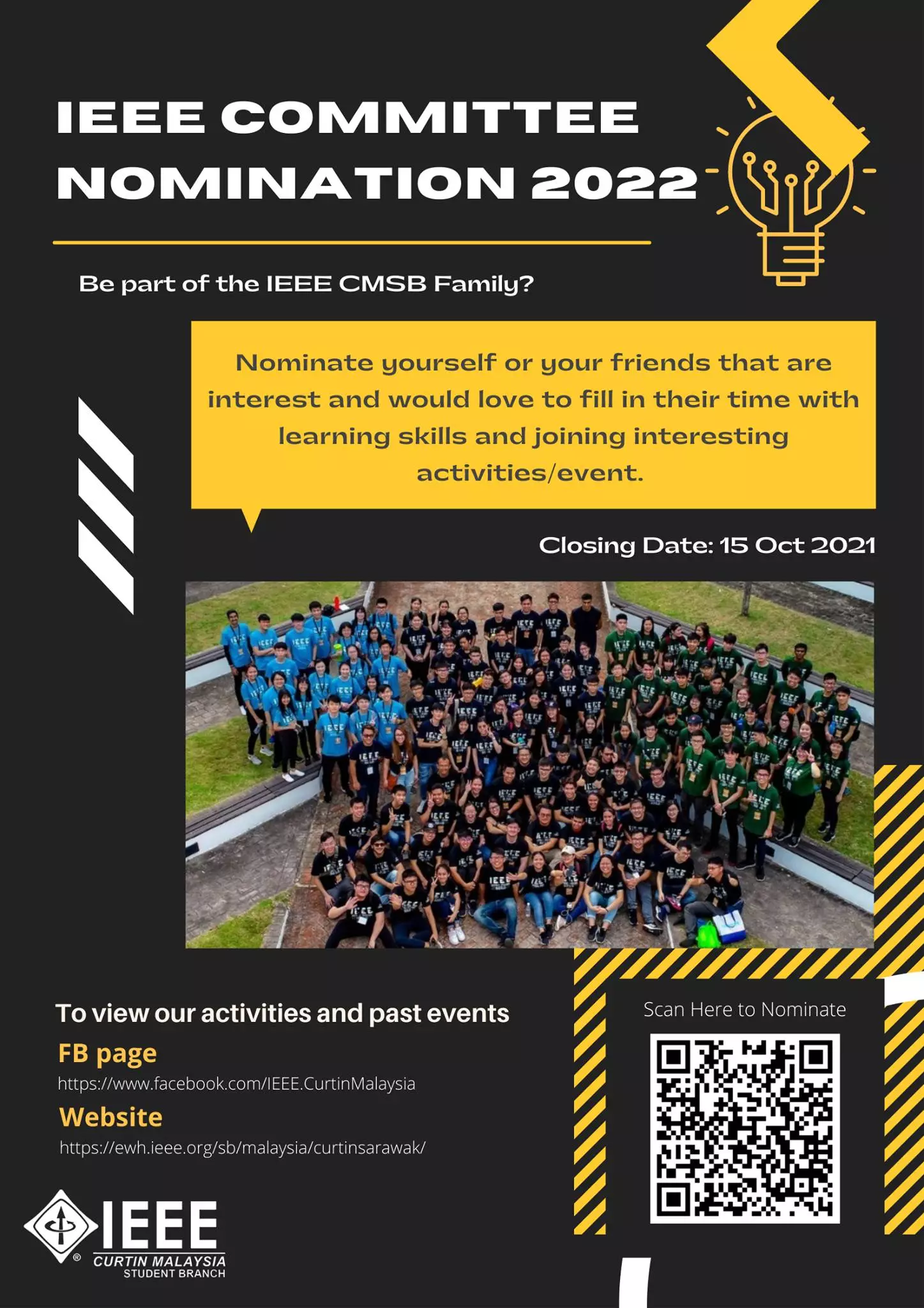 Our IEEE Committee members nomination for year 2021! Best wishes to all!
01 October 2021 - IEEE Day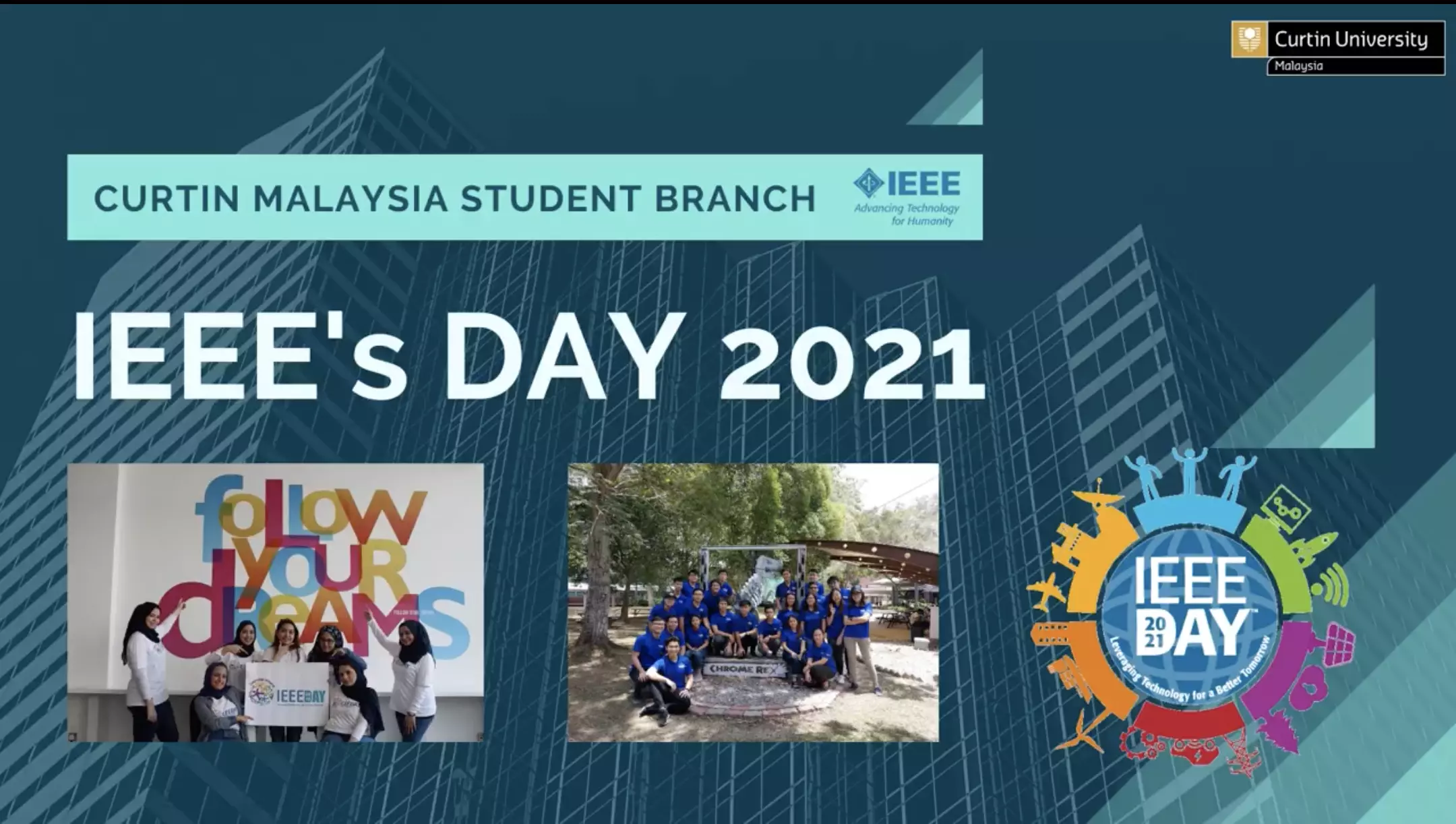 This year, IEEE Curtin Malaysia will be celebrating IEEE Day with a photo contest. We are inviting all Curtin students and Curtin Alumni to participate in this event by sharing their memorable photos or the captured moments they had with IEEE during any past events.
26 Sept-04 Oct 2021 - IEEE STEM Virtual Fair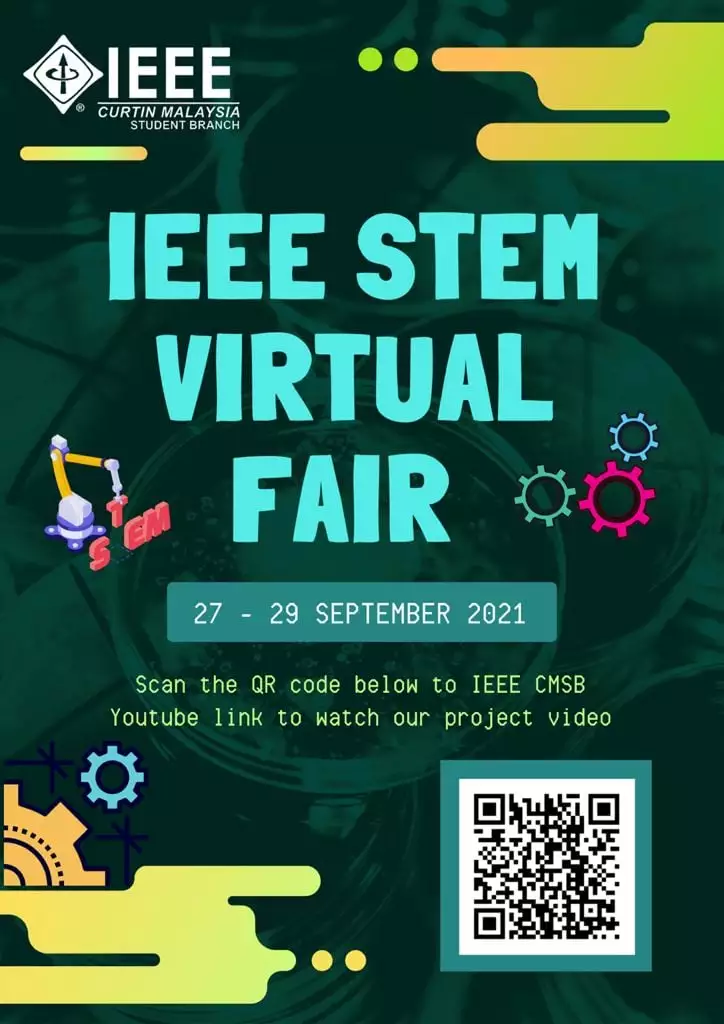 Due to the impact of pandemic, IEEE CMSB conducted the STEM Virtual Fair online.
04-08 September 2021 - PPD STEM Fair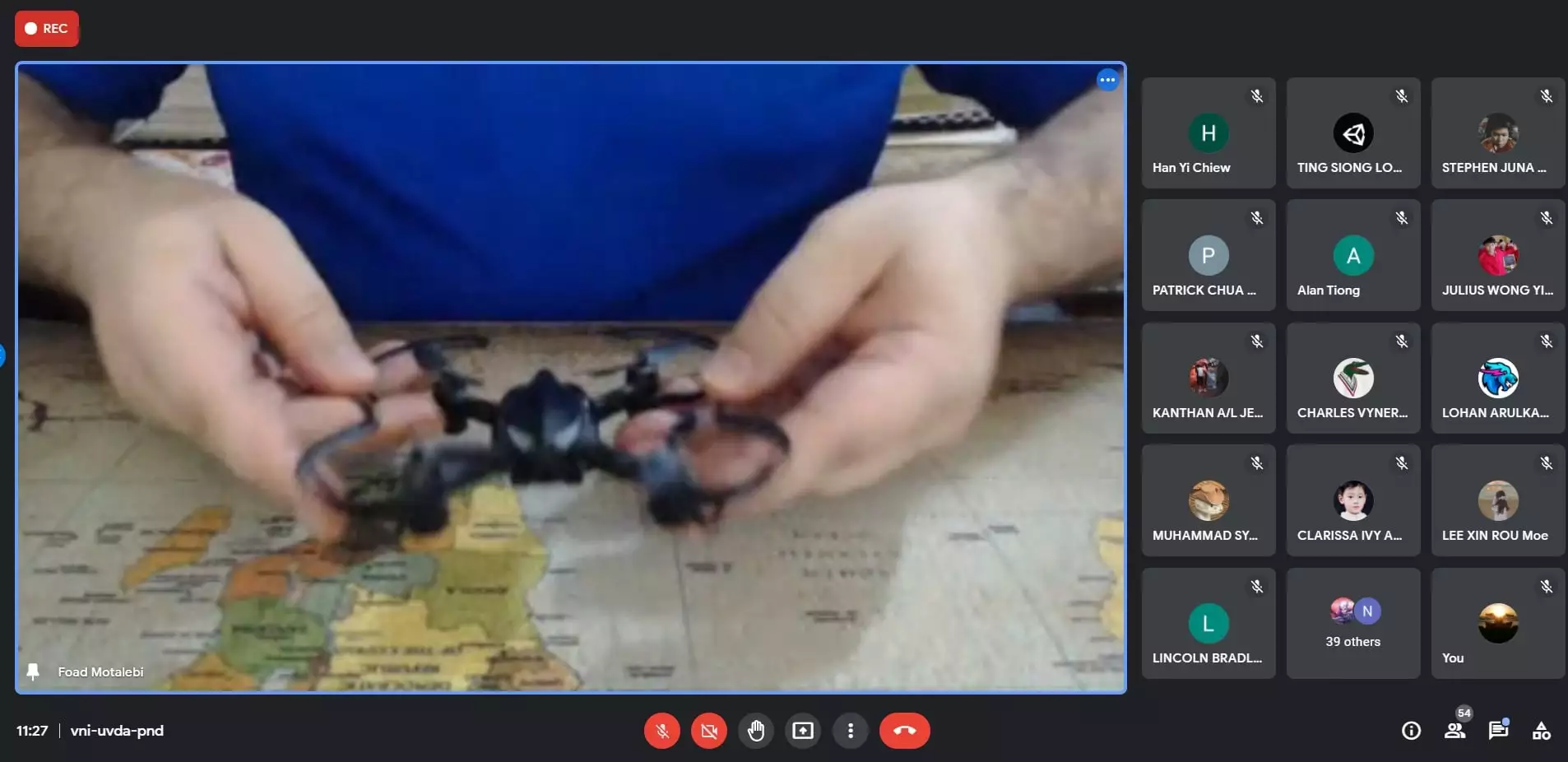 IEEE CMSB were collaborated with PPD Miri to held an event called Coding Workshop and Competition -- Virtual STEM Playground 2021. During the event, we teach secondary school's students in Miri about Programming in python, Arduino and also CoDrone.
14 August 2021 - AR Workshop
The workshop gives the chance for the participants to explore more in Augmented Reality.
07 August 2021 - Technical sharing – Farbeat solution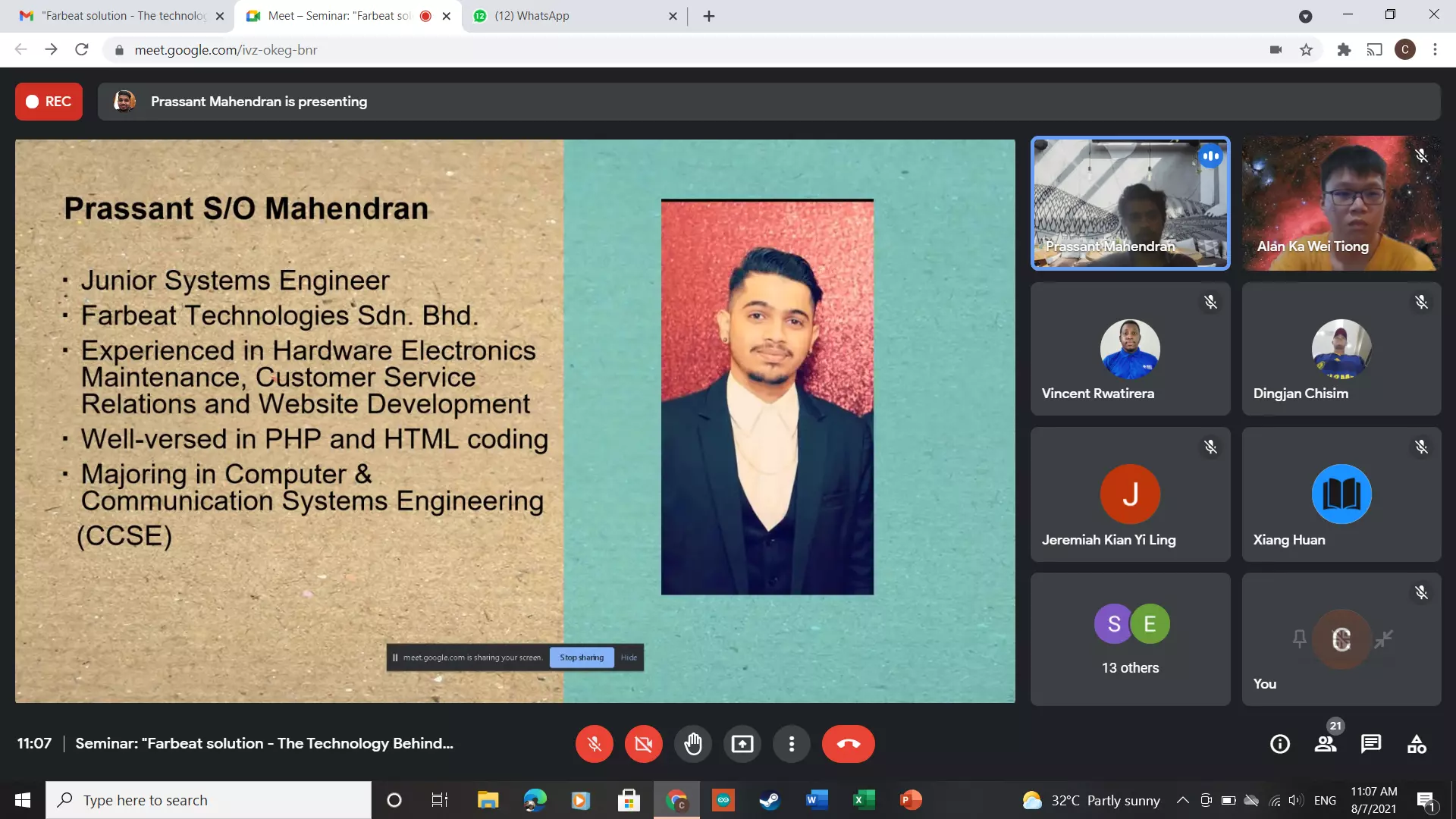 A sharing from Mr. Prassant Mahendran regarding the technology behind Farbeat Technology Sdn. Bhd. during his internship at Farbeat Solutions.
24 July 2021 - STEM Sharing Session 2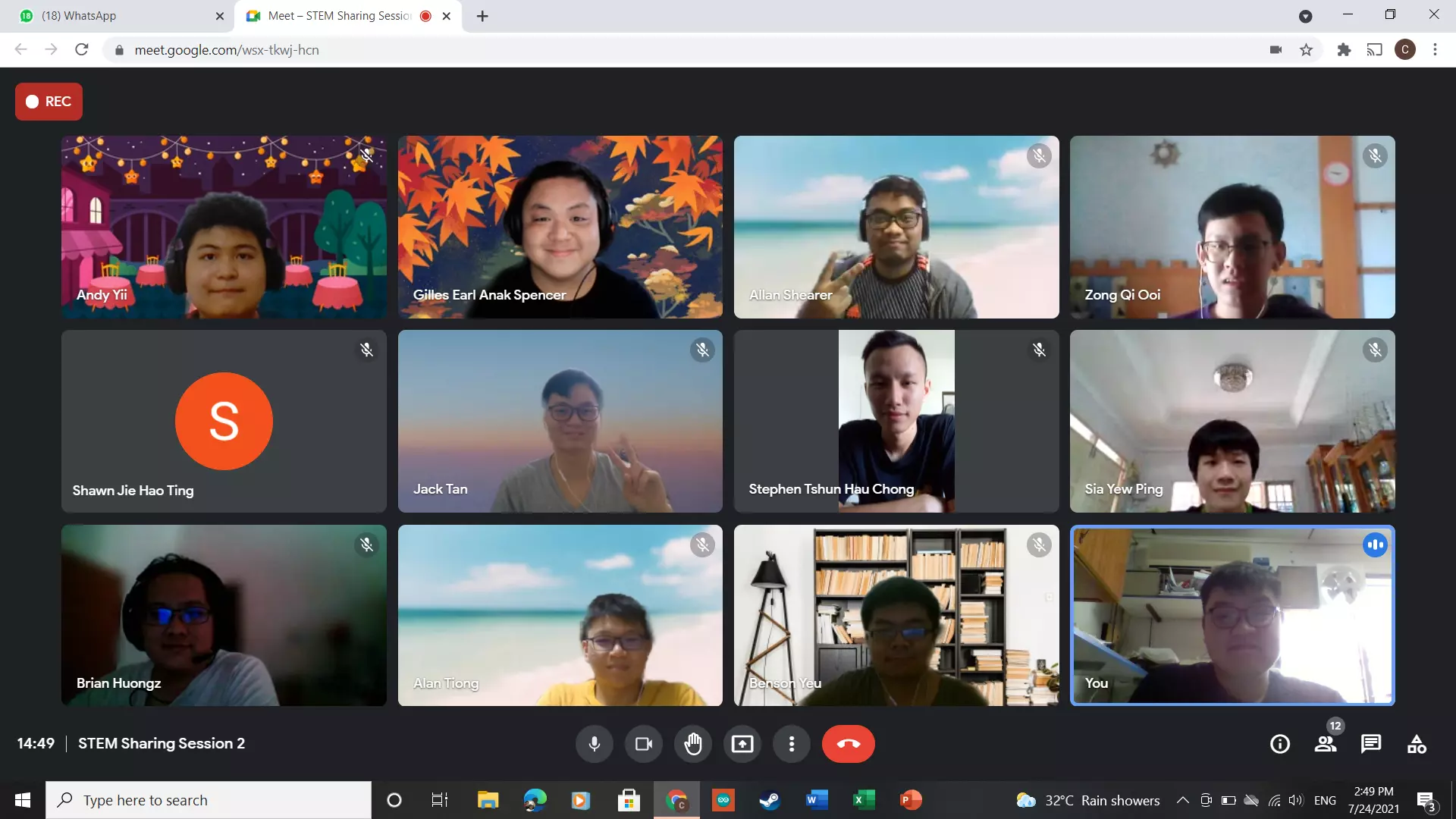 A session for the members to update their progress during the preparation for STEM Virtual Fair.
18 July 2021 - The Startup Story – Farbeat Technologies Sdn. Bhd.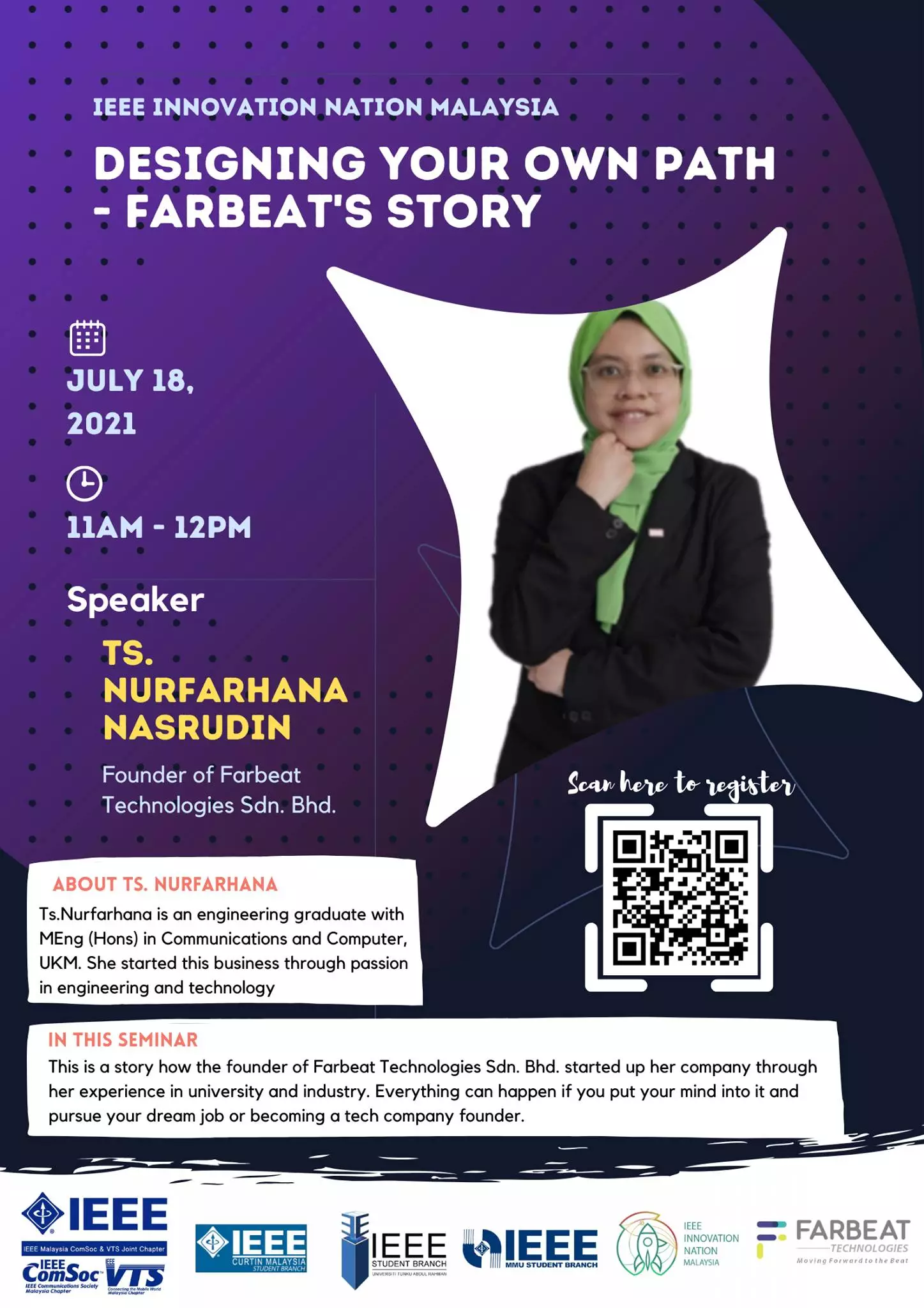 A talk given by the CEO & Founder of the Farbeat Technology Sdn. Bhd. - Ts. Nurfarhana Nasrudin about the start-up story of the company and the importance of entrepreneurship among the fresh graduates and university students.
17 July 2021 - Third committee meeting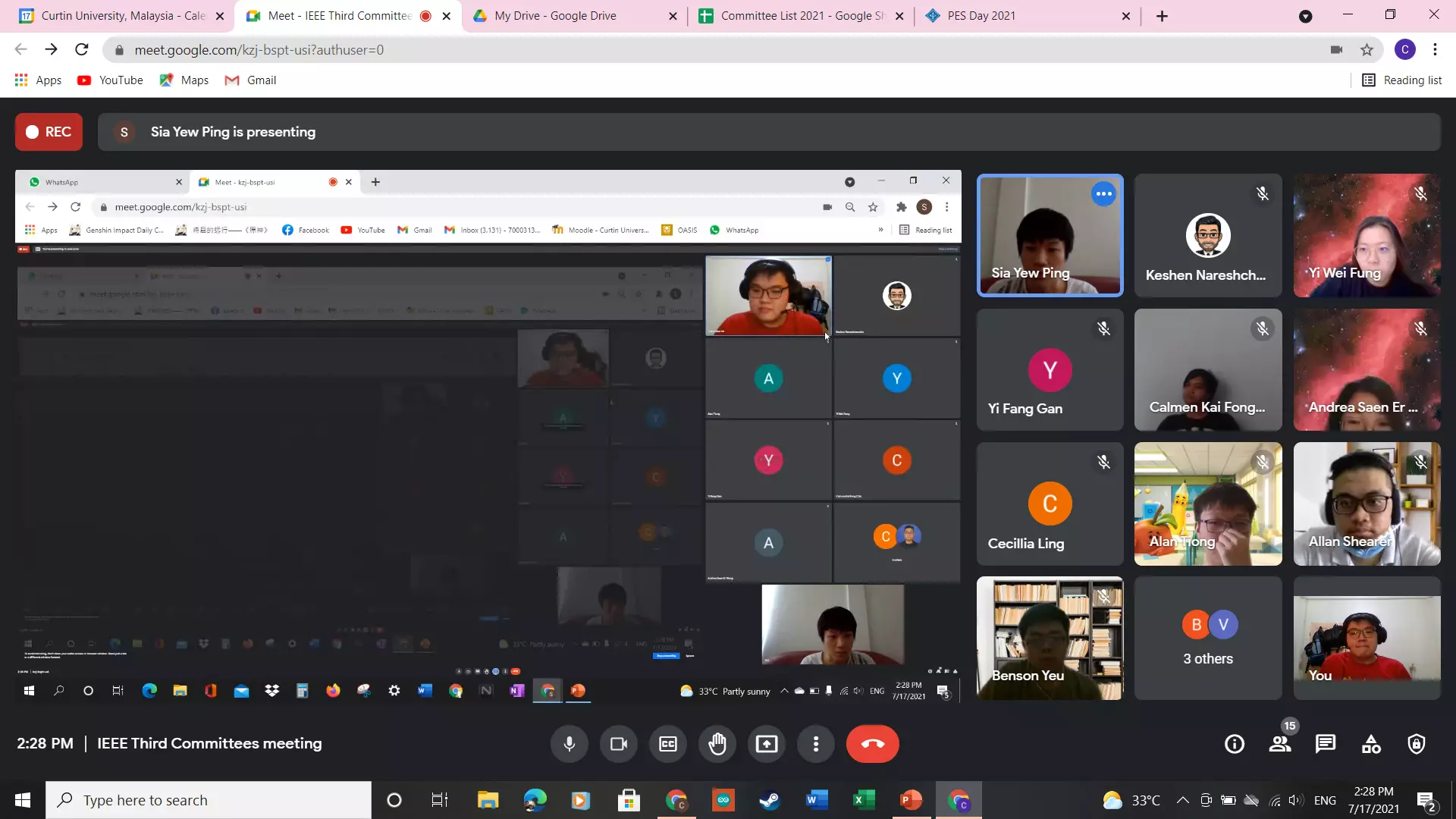 Third committee meeting in the year to get updated from the members regarding their latest status and future planning.
07-12 May 2021 - GECOST 2021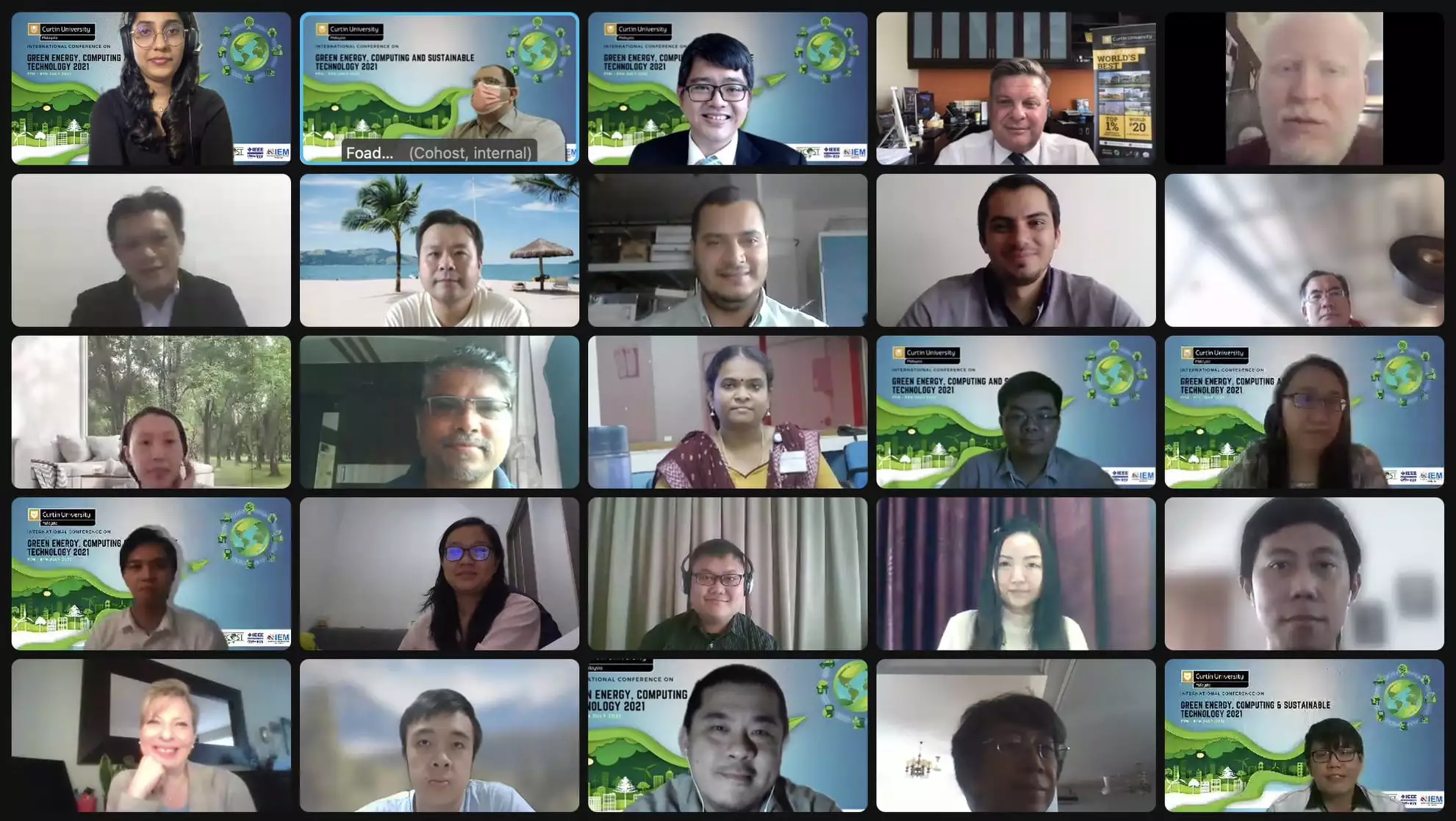 IEEE International Conference on Green Energy, Computing, and Sustainable Technology (GECOST) 2021 hosted by the Department of Electrical and Computer Engineering, Curtin Malaysia is the second major IEEE-sponsored event held by Curtin Malaysia in collaboration with IEEE Malaysia Comsoc & VTS Joint Chapter and the IEM Miri Branch.
28 June 2021 - Speak Up Borneo 9.0
IEEE had collaborated with AIESEC in Curtin to work on their Speak Up Borneo 9.0 Project. In this project, IEEE CMSB plays a role as a learning partner to provide solar tracker by using tinker cade workshop.
22 May 2021 - AI and computer vision workshop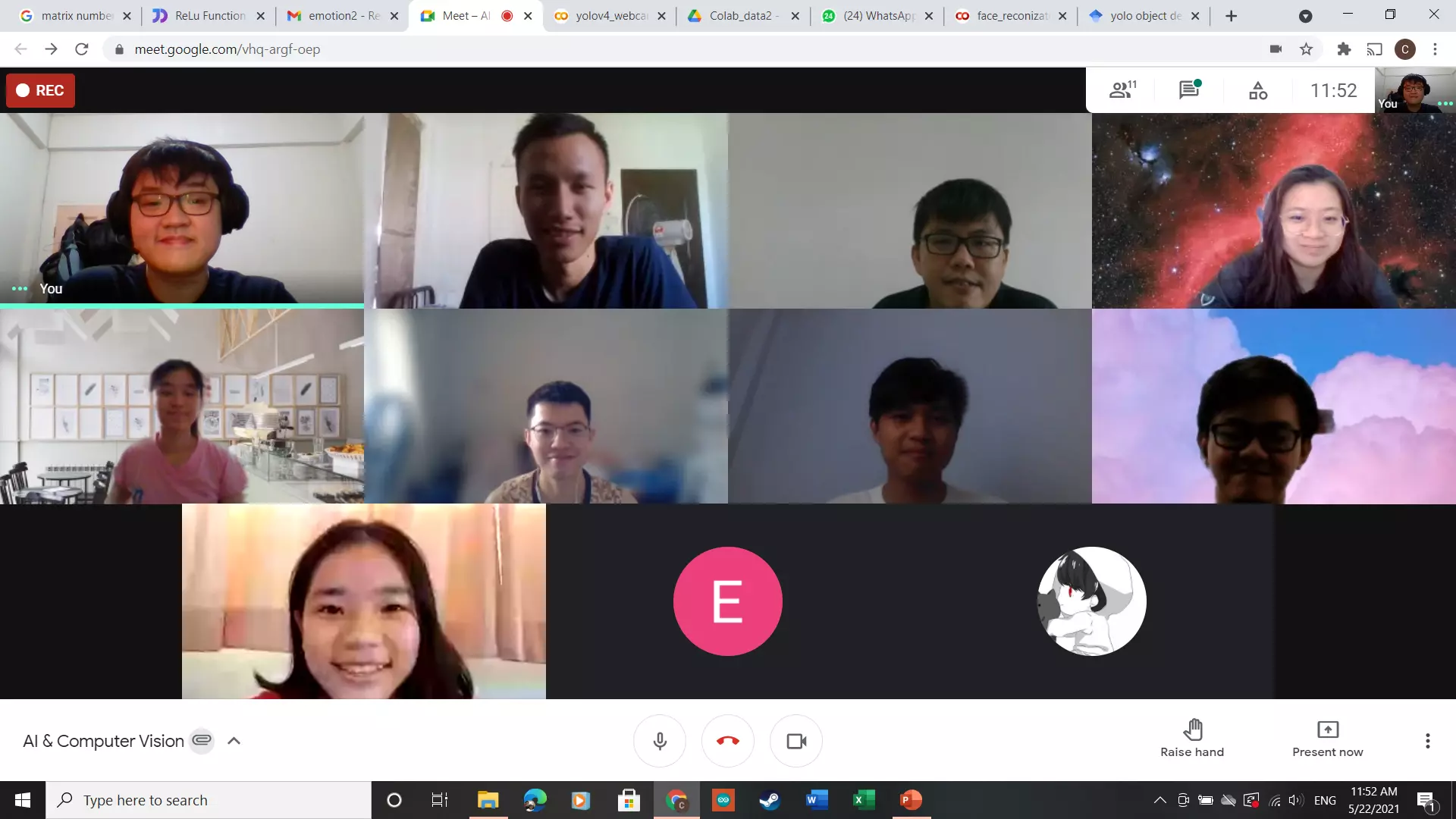 The participants learn the applications of computer vision includes security such in face recognition, and also crucial for this time, controlling COVID-19
08 May 2021 - Python workshop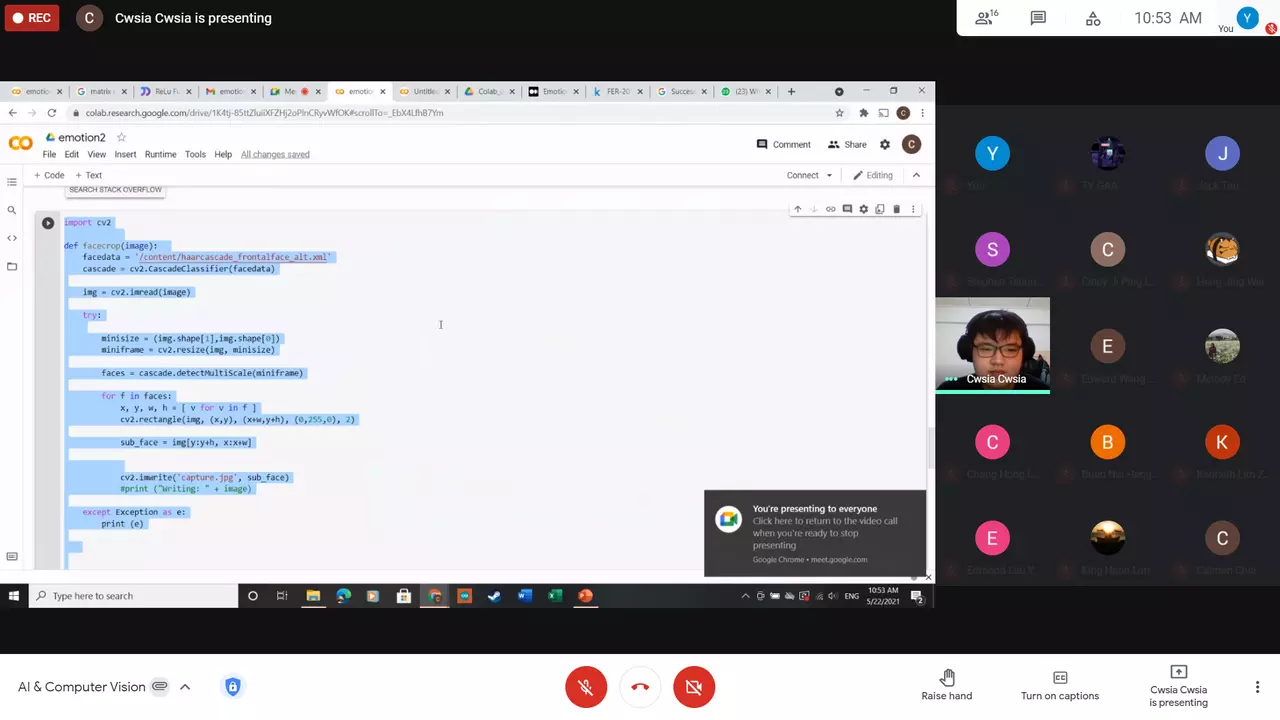 The participants will learn about the fundamentals of Python.
24 April 2021 - Java workshop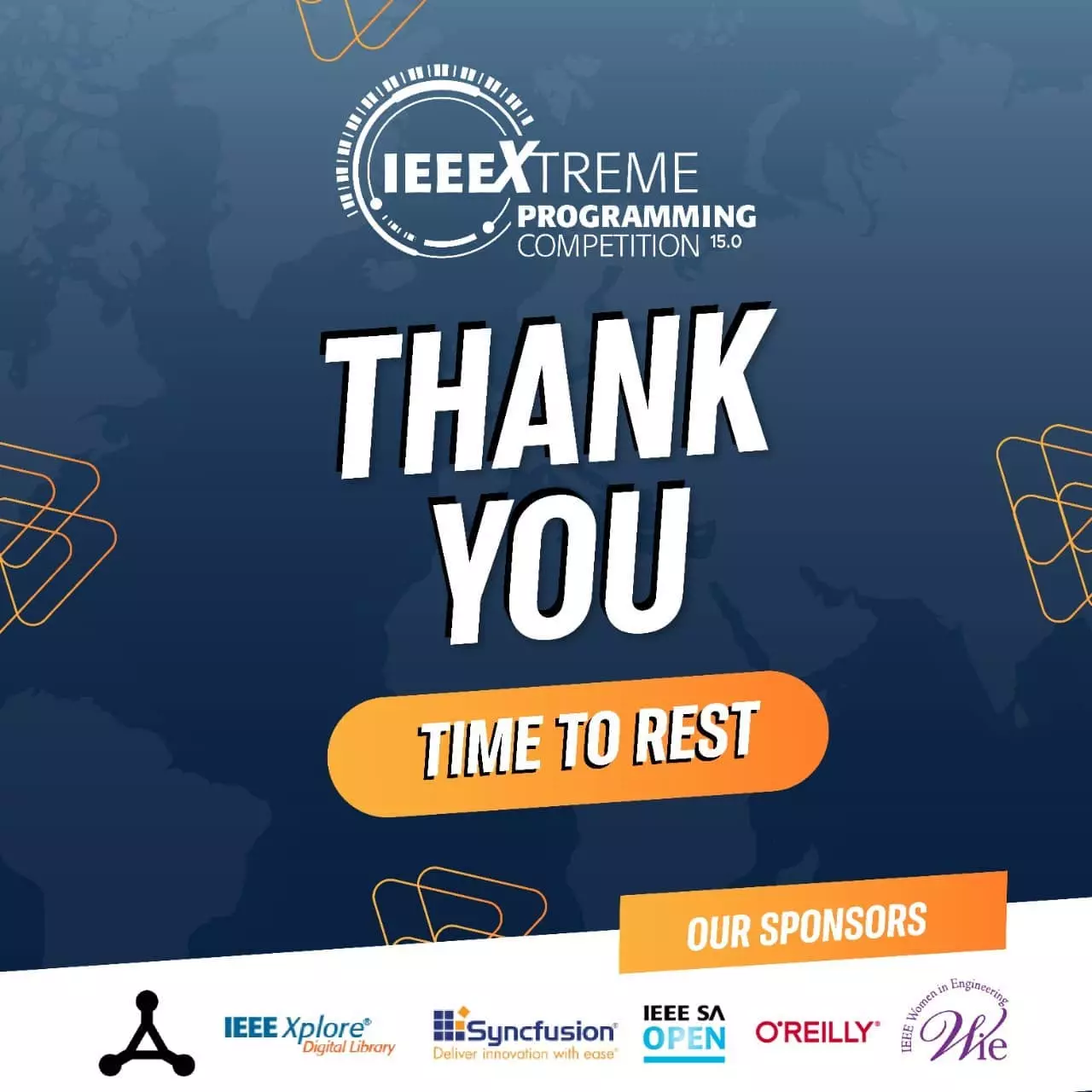 Introduction of Java given by Mr Foad Motalebi.
19 April 2021 - PES Day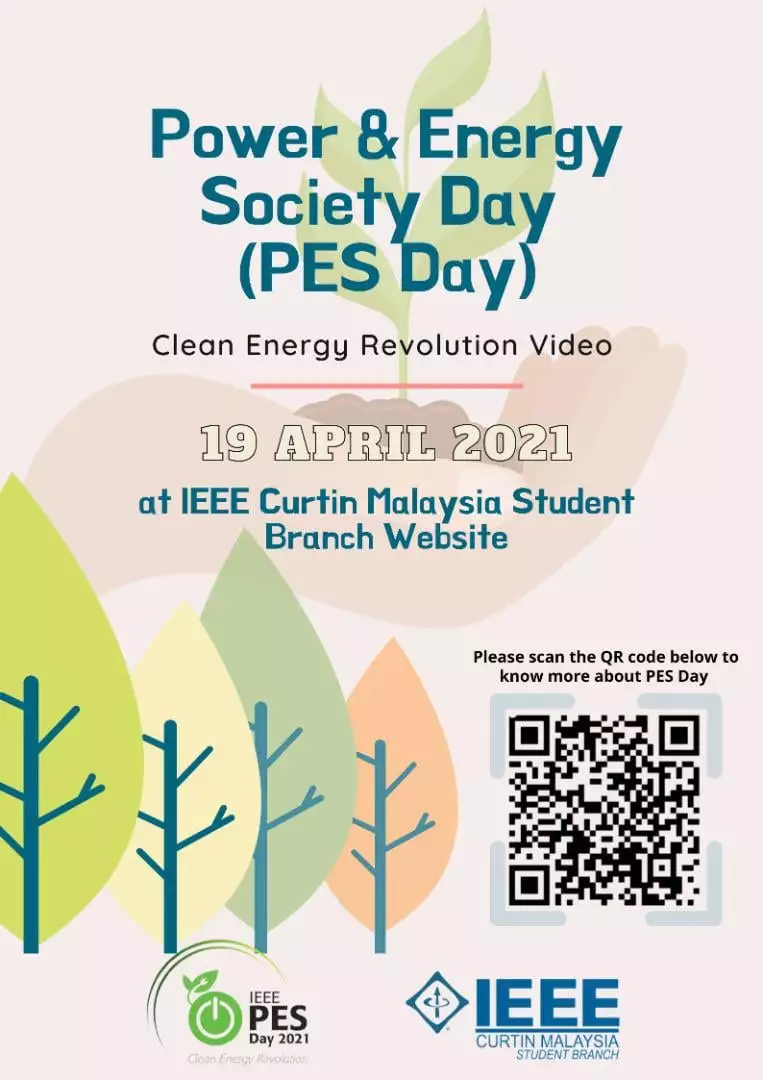 The theme of PES day 2021 is renewable energy sharing.
10 April 2021 - Second Committees Meeting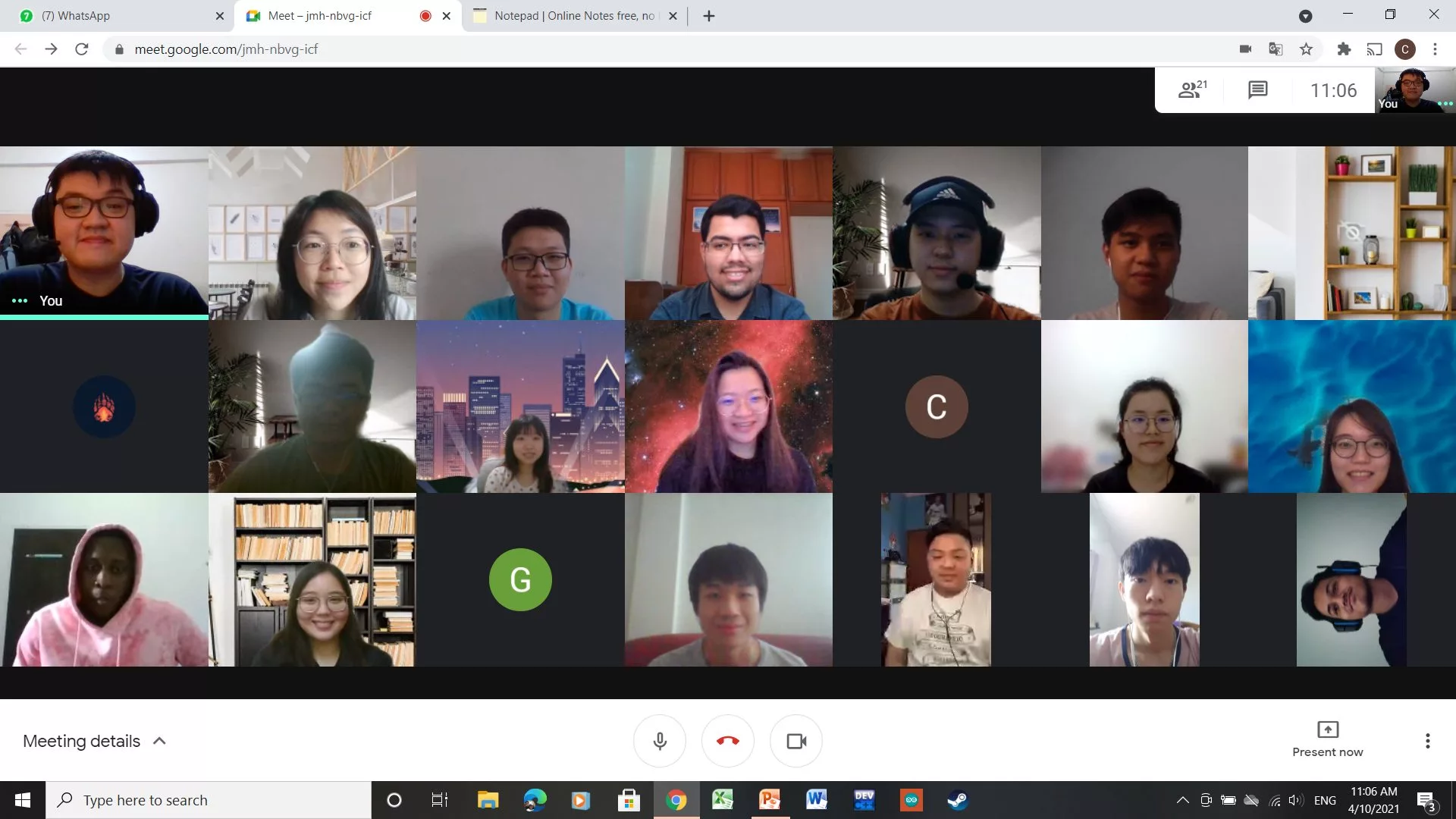 Second committee meeting to get update from the members.
20 March 2021 - Arduino Start Workshop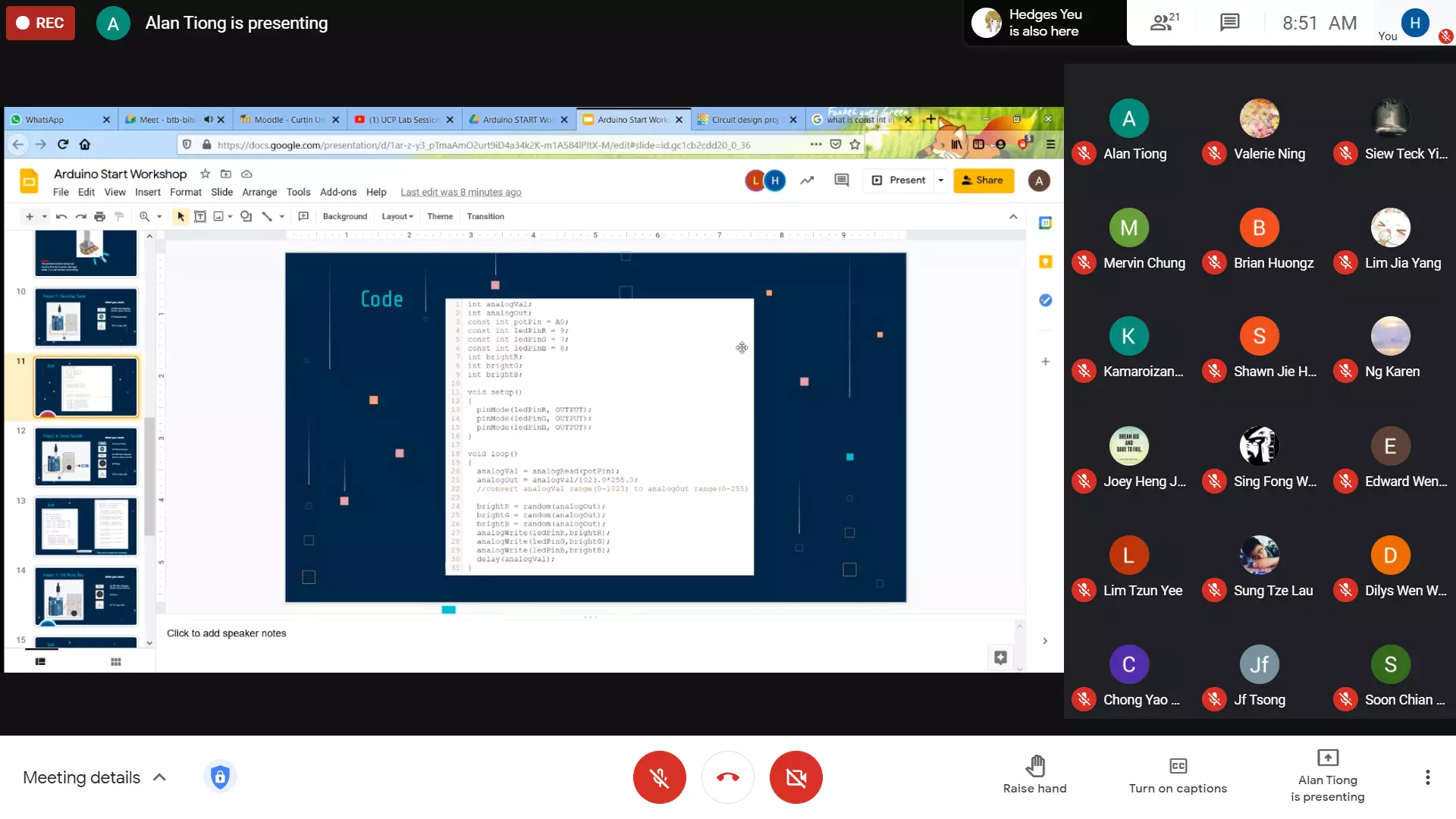 An basic introduction to Arduino and other electronics components. The workshop is running through online using Tinkercad.
11 March 2021 - Essentials of Electromagnetic Compatibility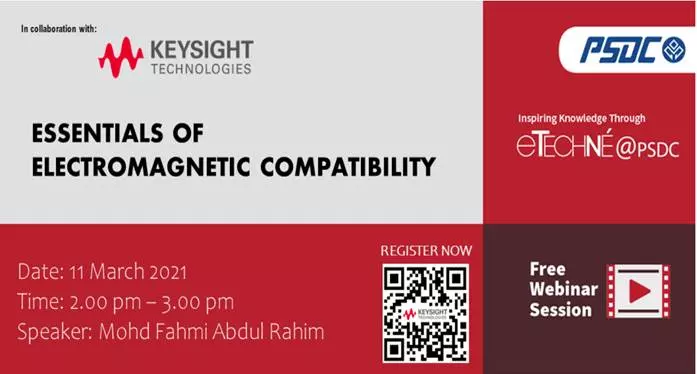 A free webinar by Mohd Fahmi Abdul Rahimis from Keysight Technologies regarding the essentials of electromagnetic compatibility.
23 January 2021 - 1st Committee Meeting of 2021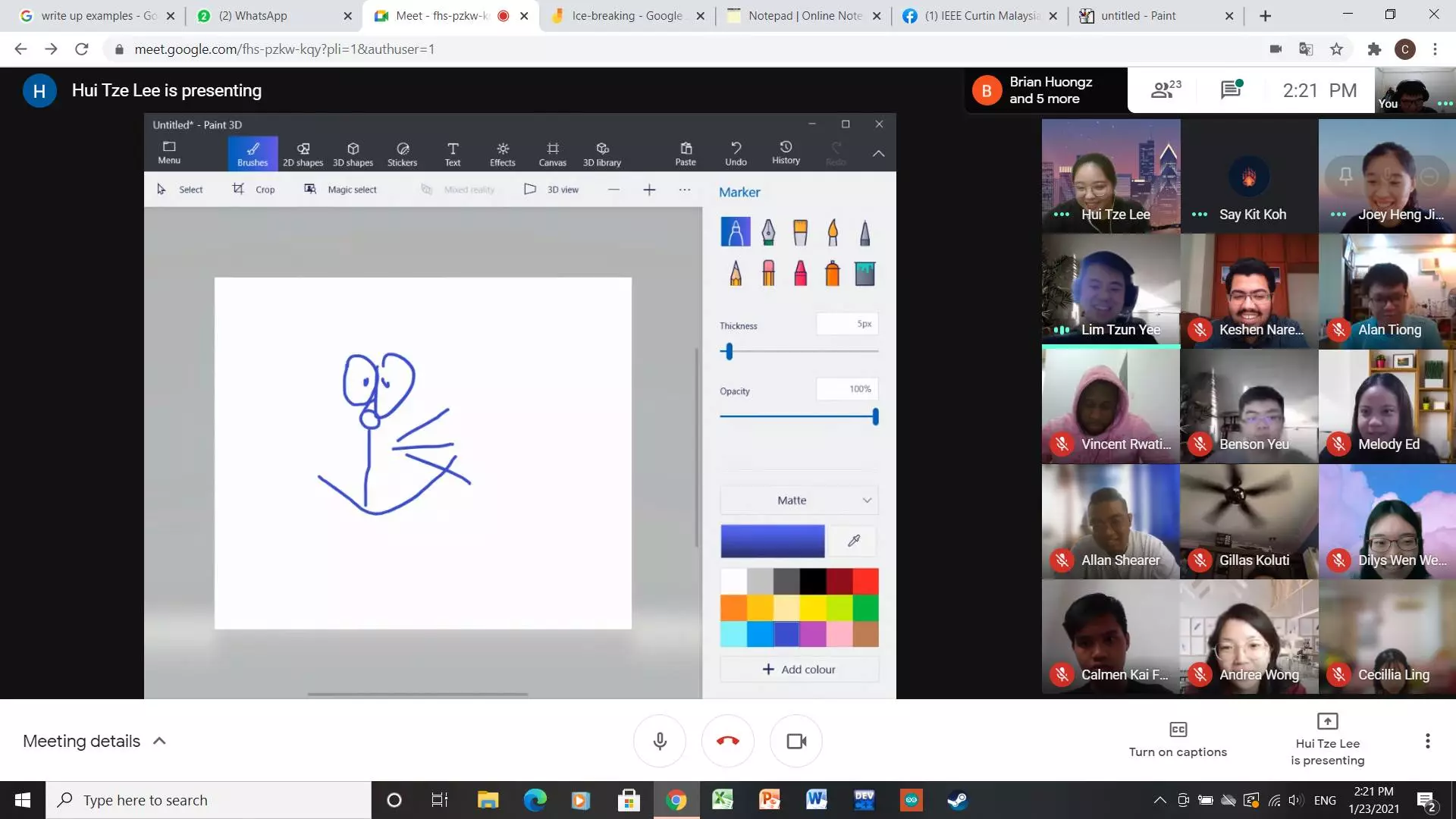 An IEEE CMSB committees meeting to share each department's current and future project progress.
29 November 2020 - IEEE Annual Dinner 2020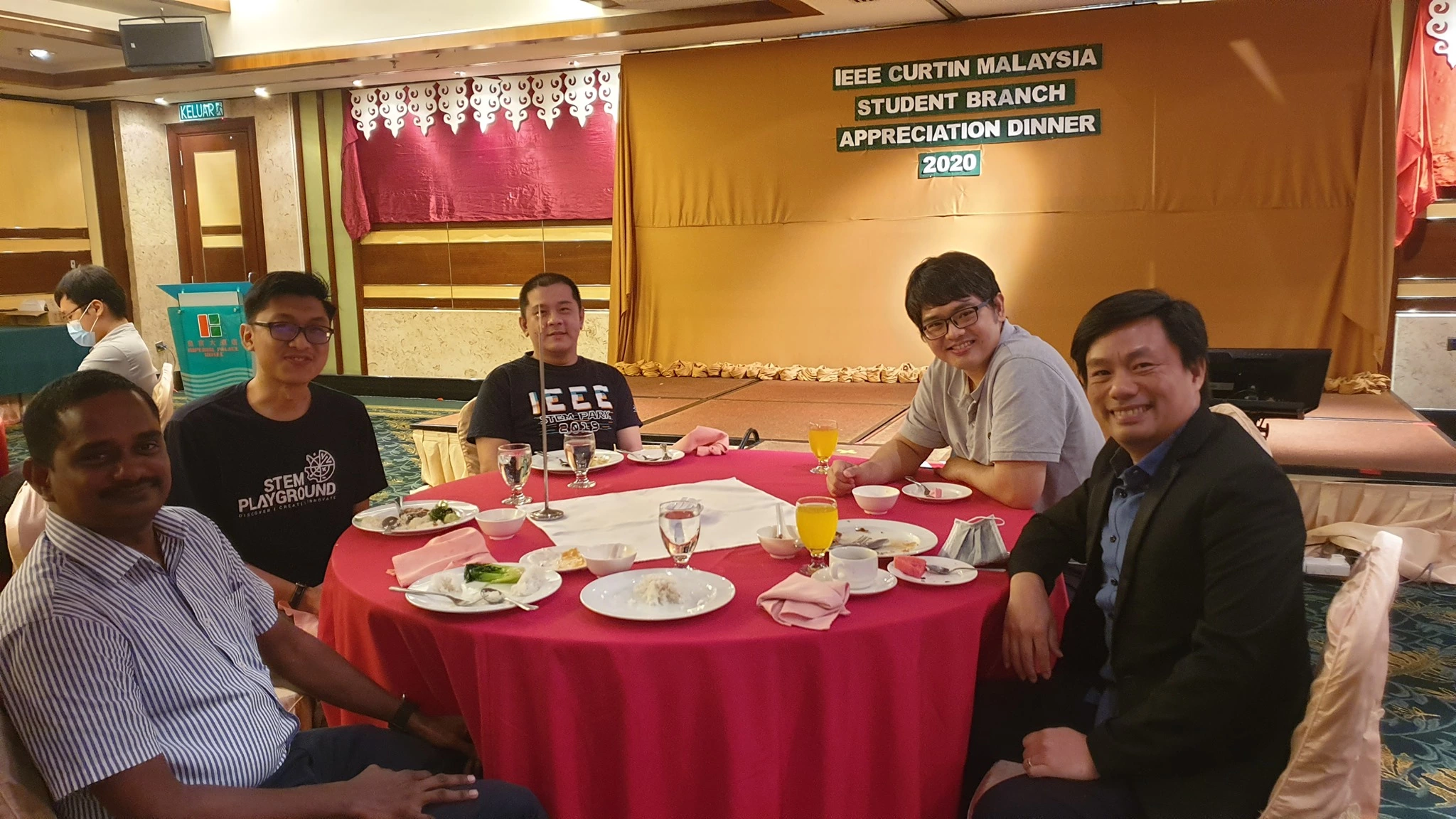 Annual Dinner to thanks the effort from the committee member and advisor of the year.
10 November 2020 - IEEE CMSB Virtual Handover Meeting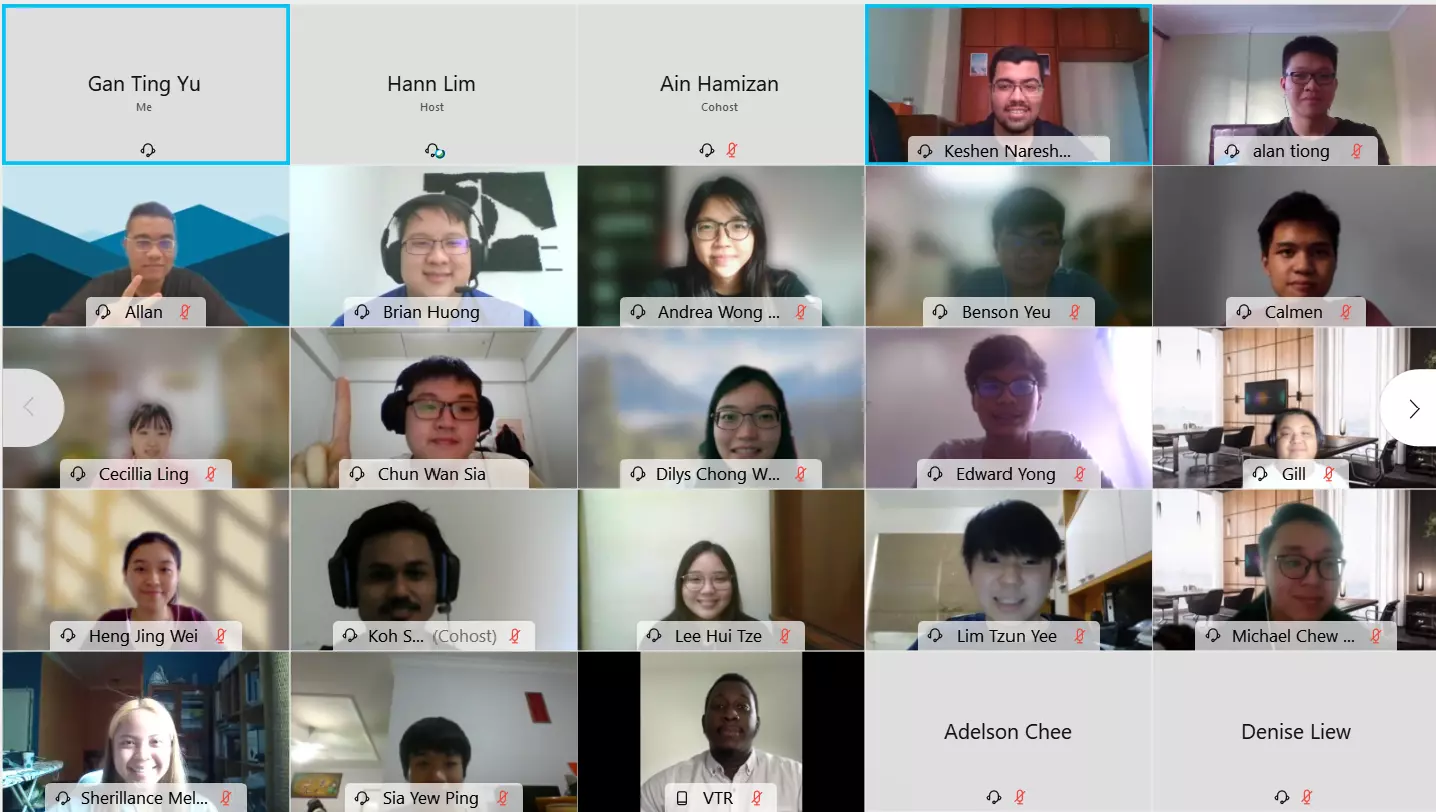 Appreciate IEEE CMSB 2020 committee members's effort and welcome our new IEEE CMSB 2021 committee members
3 November 2020 - Embrace a growth mindset - Industrial talk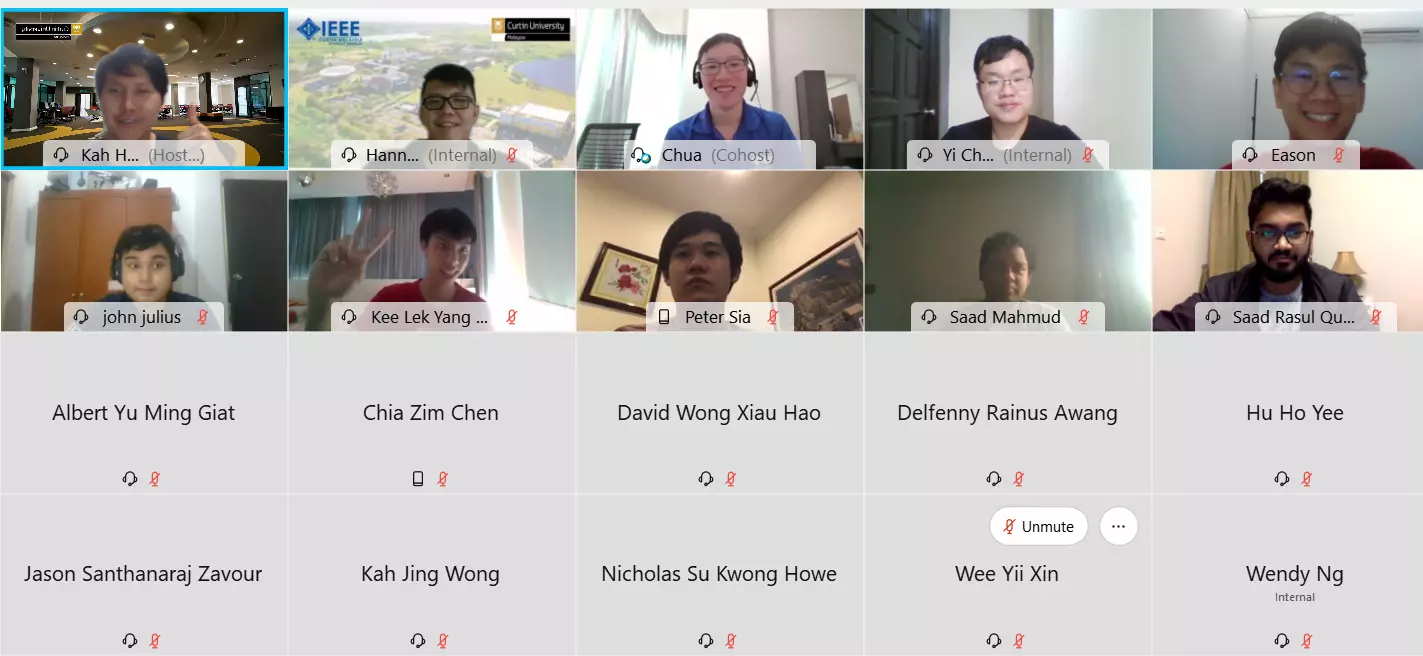 An industrial talk by Curtin Alumnus, Dr Chua shares his academic journey into industry and his valuable life learning, also how students' current coursework can relate and be applicable in industry, and how students can equip themselves now in preparation for the industry.
20 October 2020 - Preparing Students with Industry - Industrial talk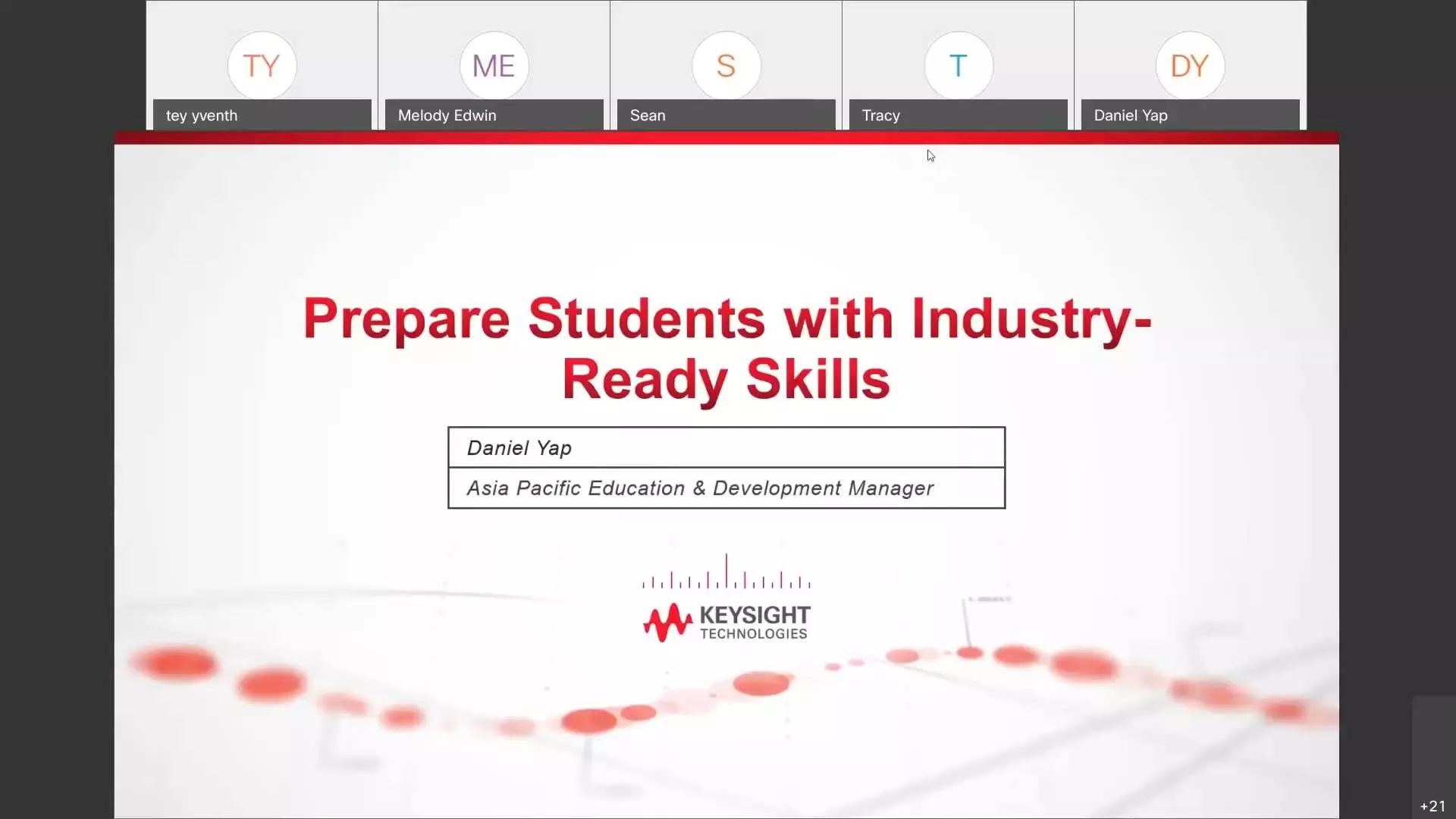 An industrial talk by Daniel Yap to help the students to get prepared with their future career.
27 October 2020 - Radio Live Interview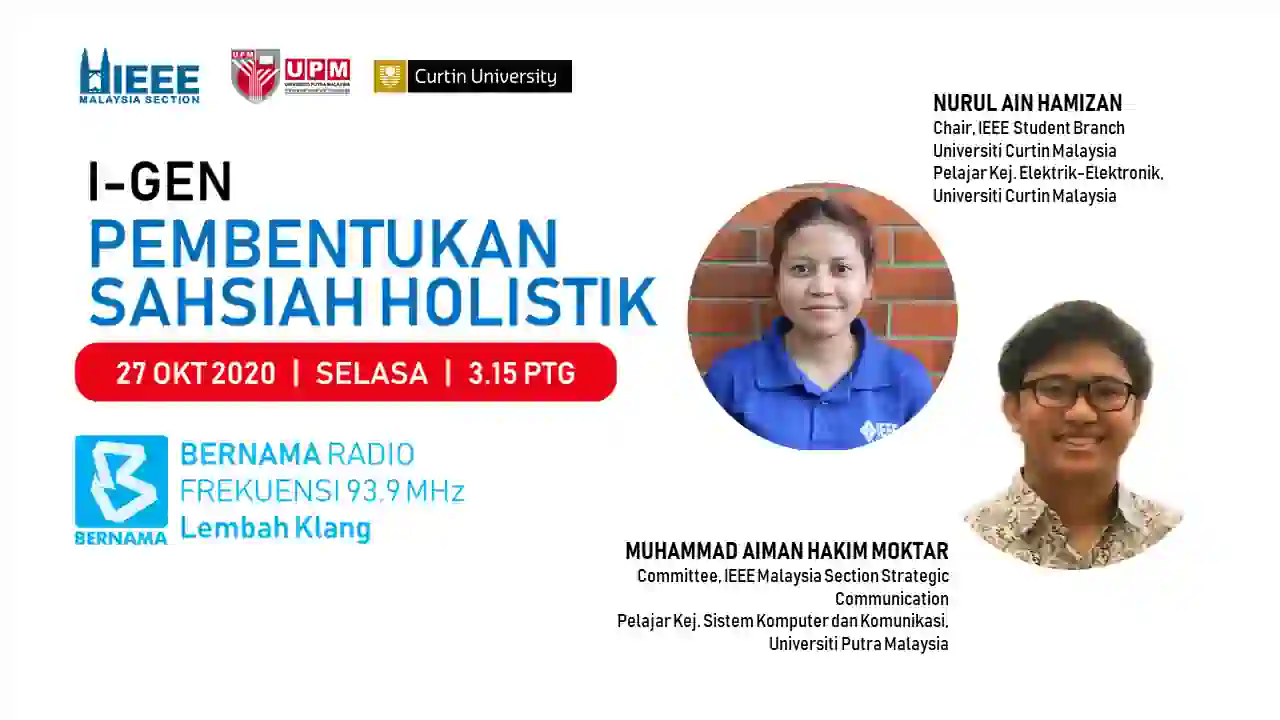 Radio live interview with our IEEE CMSB president, Nurul Ain Hamizan together with Committee of IEEE Malaysia Section Strategic Communication, Muhammad Aiman Hakim Moktar about "Holistic Character Development" on Bernama Radio FBLive!
24 October 2020 - IEEEXtreme14.0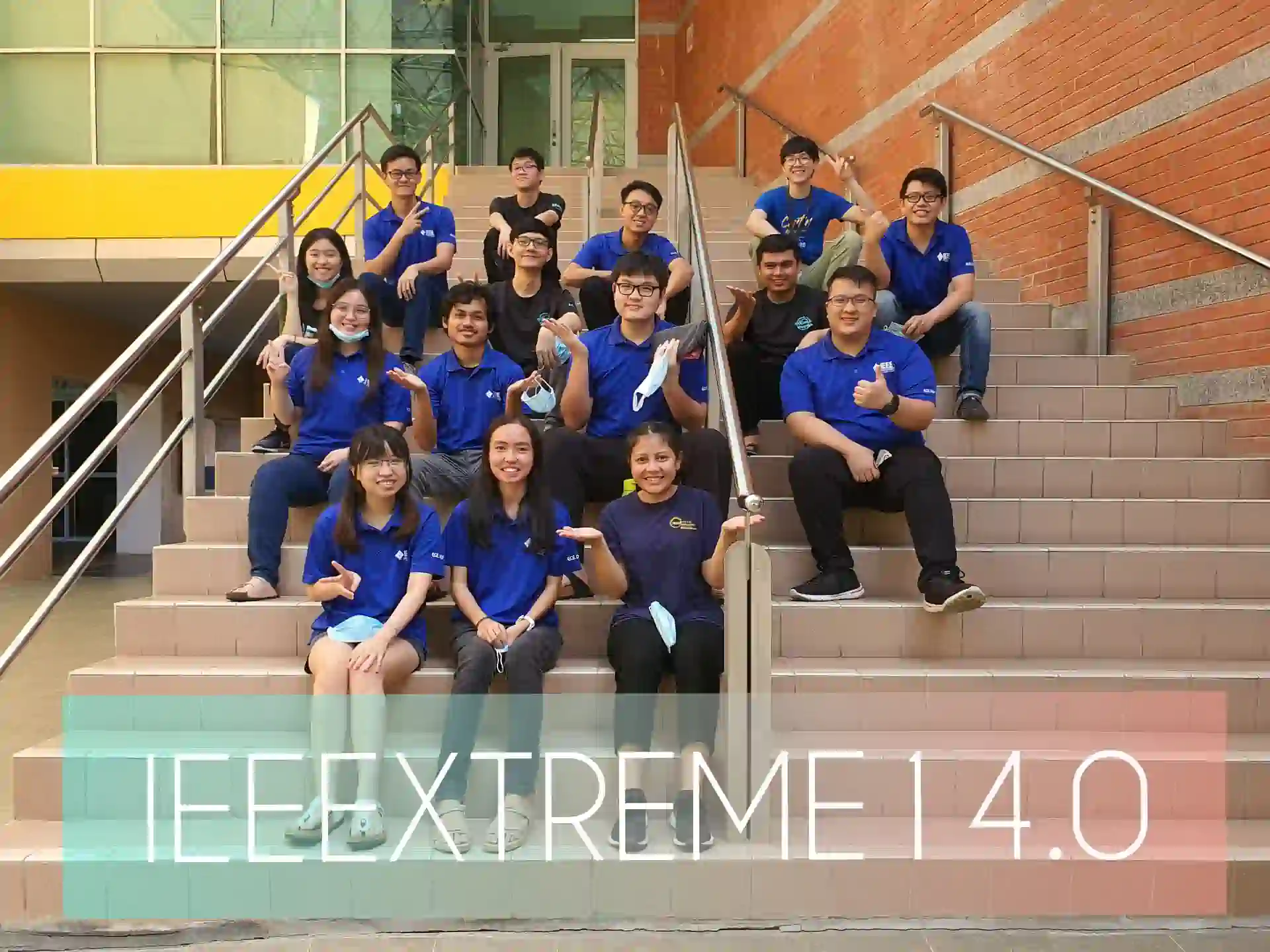 An yearly 24-hour global online coding competition. In which, participants are required to be in a team of 3 and will be given a set of coding questions which is required to solve as much as possible within 24-hours.
18 October 2020 - Virtual Industrial 4.0 Hackathon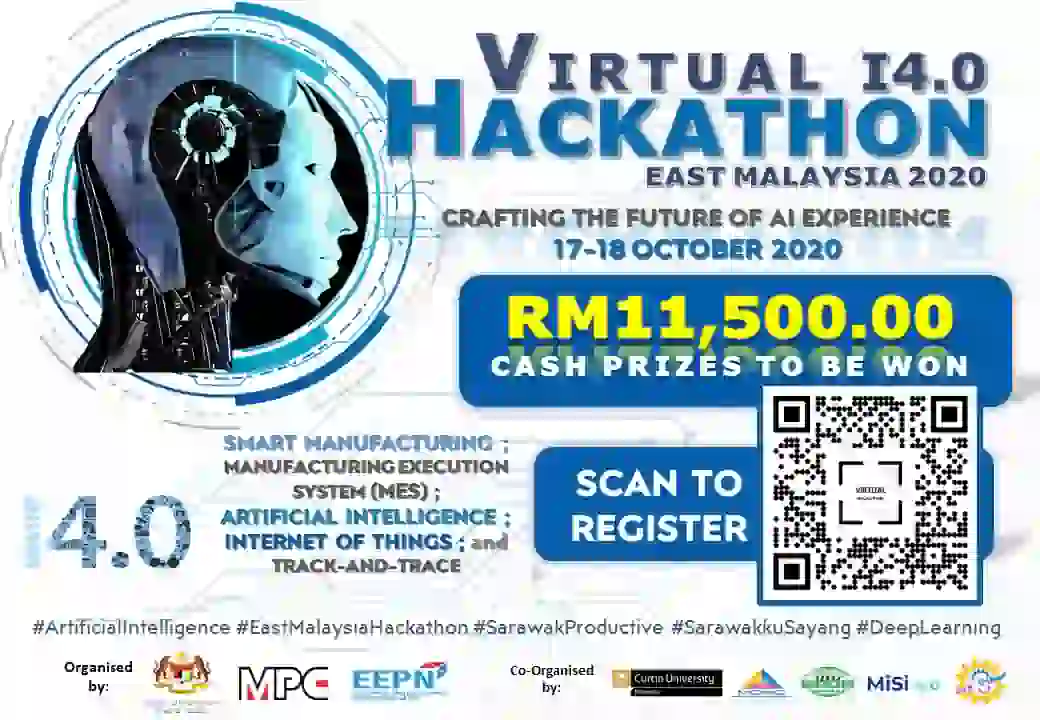 Mainly participated by our IEEE CMSB Technical Helper 2020. The competition requires participants to solve real life cases of problem faced by different industry with Ai and openVino Tool kits solution.
1 October 2020 - IEEE Committee 2021 Nomination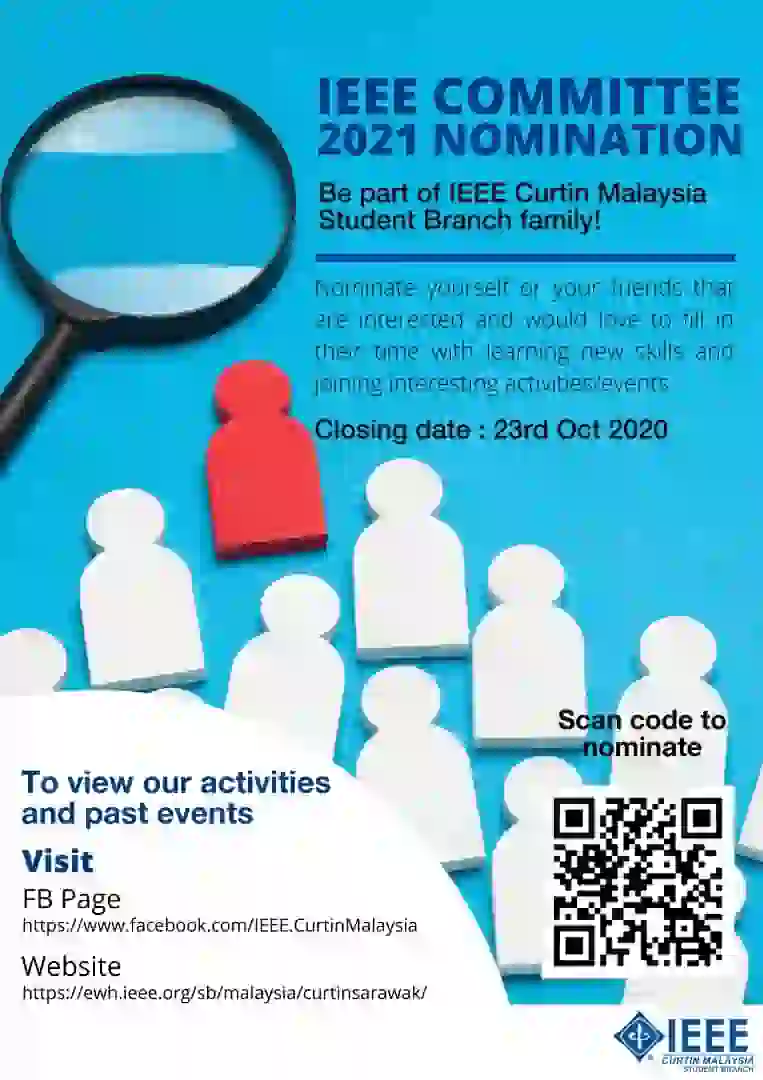 Our IEEE Committee members nomination for year 2021! Best wishes to year 2021 committee members!
28 September 2020 - STEM Playground Virtual Fair 2020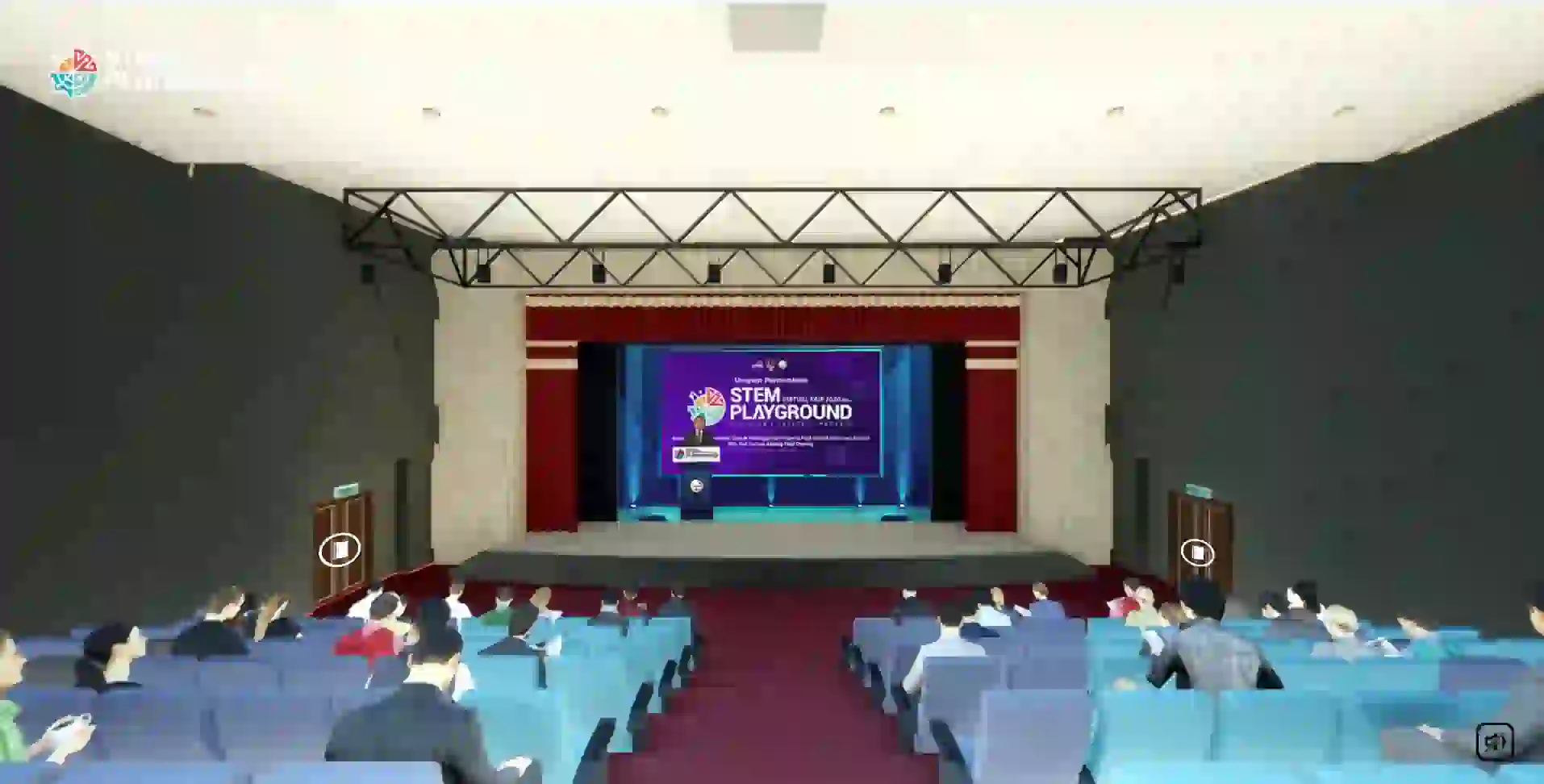 Due to Covid-19, this year's STEM Playground has gone online too! Using 3DVista 360 degree virtual tour technology, this year's STEM Playground will sure to bring you a brand new virtual experience.
5 September 2020 - IEEE Technical Team 2020 Meet & Greet Session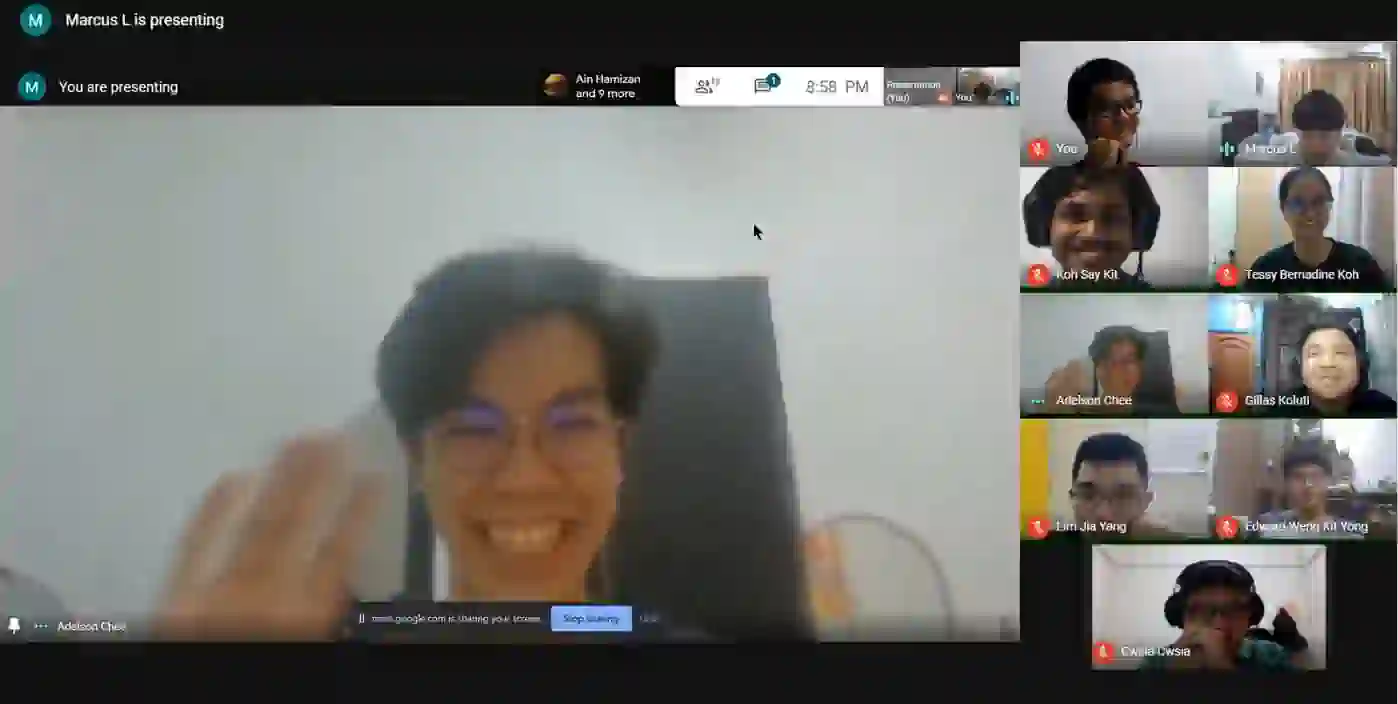 An meet and greet session for our new semester's IEEE Technical Helper Team!
23~24 July 2020 - TEGAS Video Shooting for Virtual STEM Playground 2020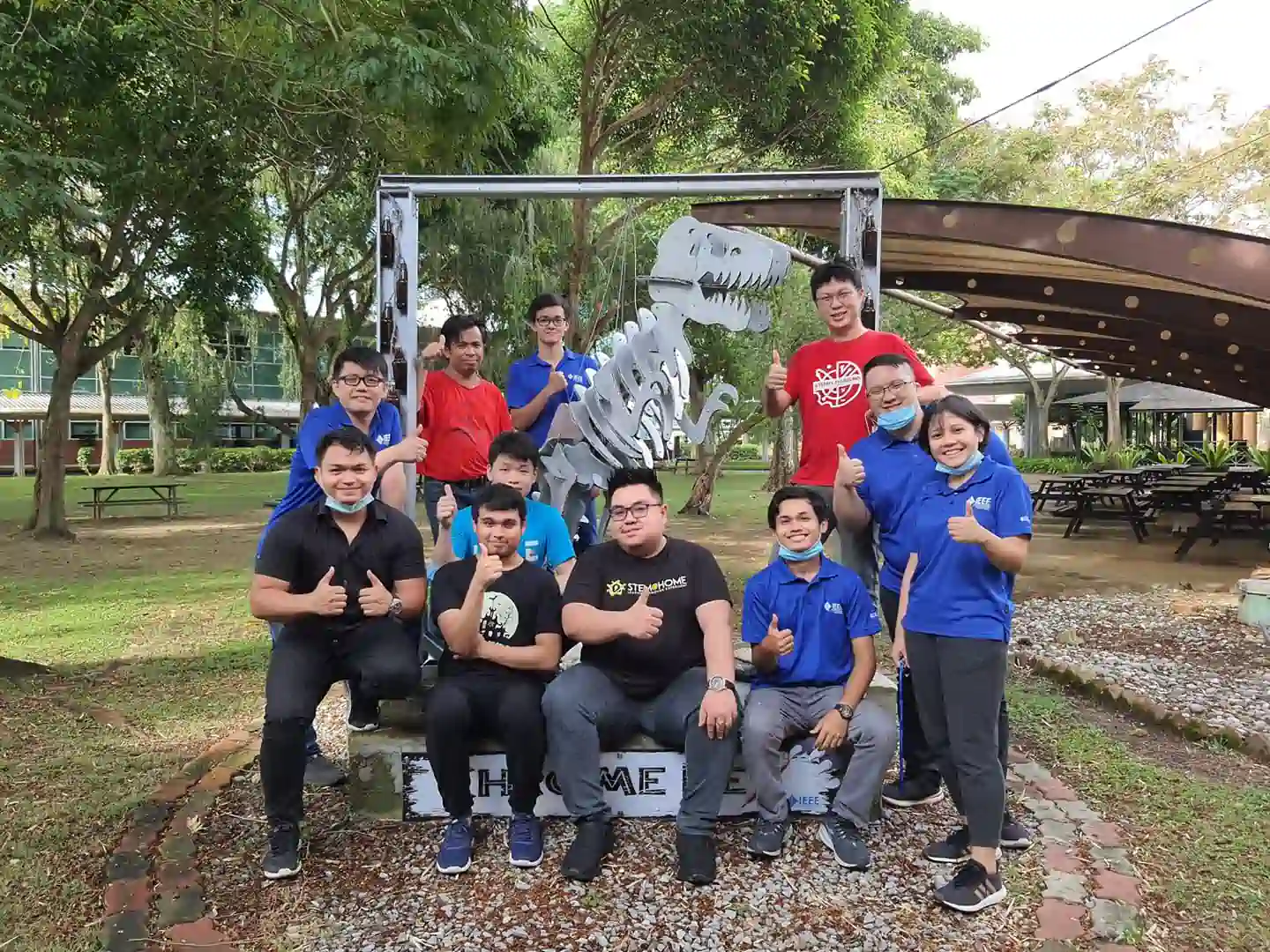 Cooperation with TEGAS team to record the project videos of IEEE CMSB and 3d surrounding for this year's Virtual STEM Playground!
1 August 2020 - IEEE Innovation Nation Malaysia 2020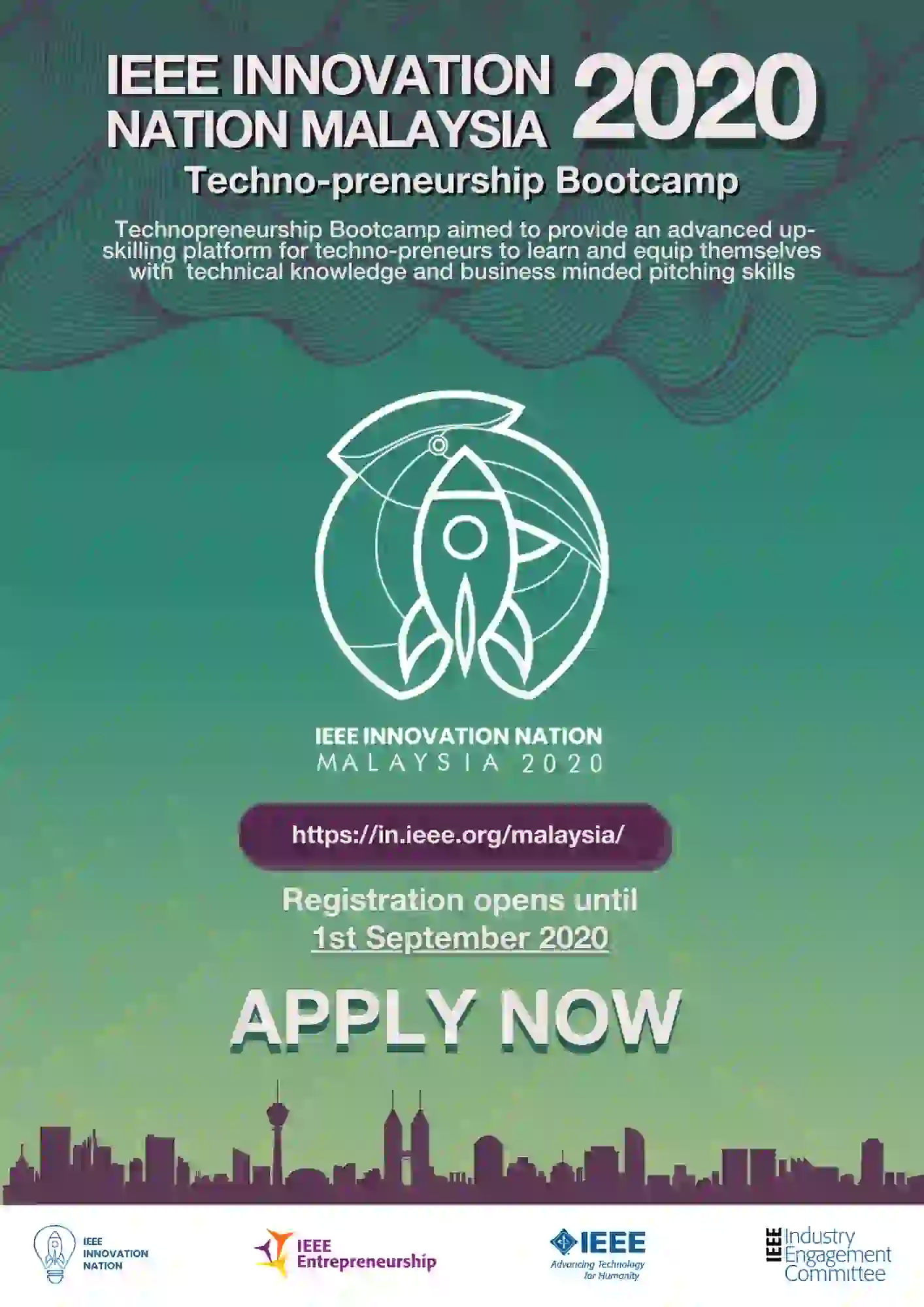 An Techno-preneurship Bootcamp, which provides the platform and aims to upskill participants technical knowledge and business minded pitching skills.
15 July 2020 - HPC-AI Competition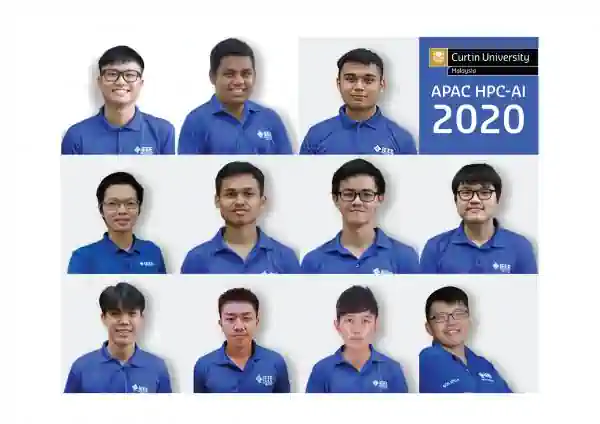 Our Curtin team participating the 3rd annual APAC HPC-AI (Asia Pacific High Performance Computing-Artificial Intelligence) which starts from 20 May to 15 October 2020.
6 July 2020 - 2nd Virtual Committee Meeting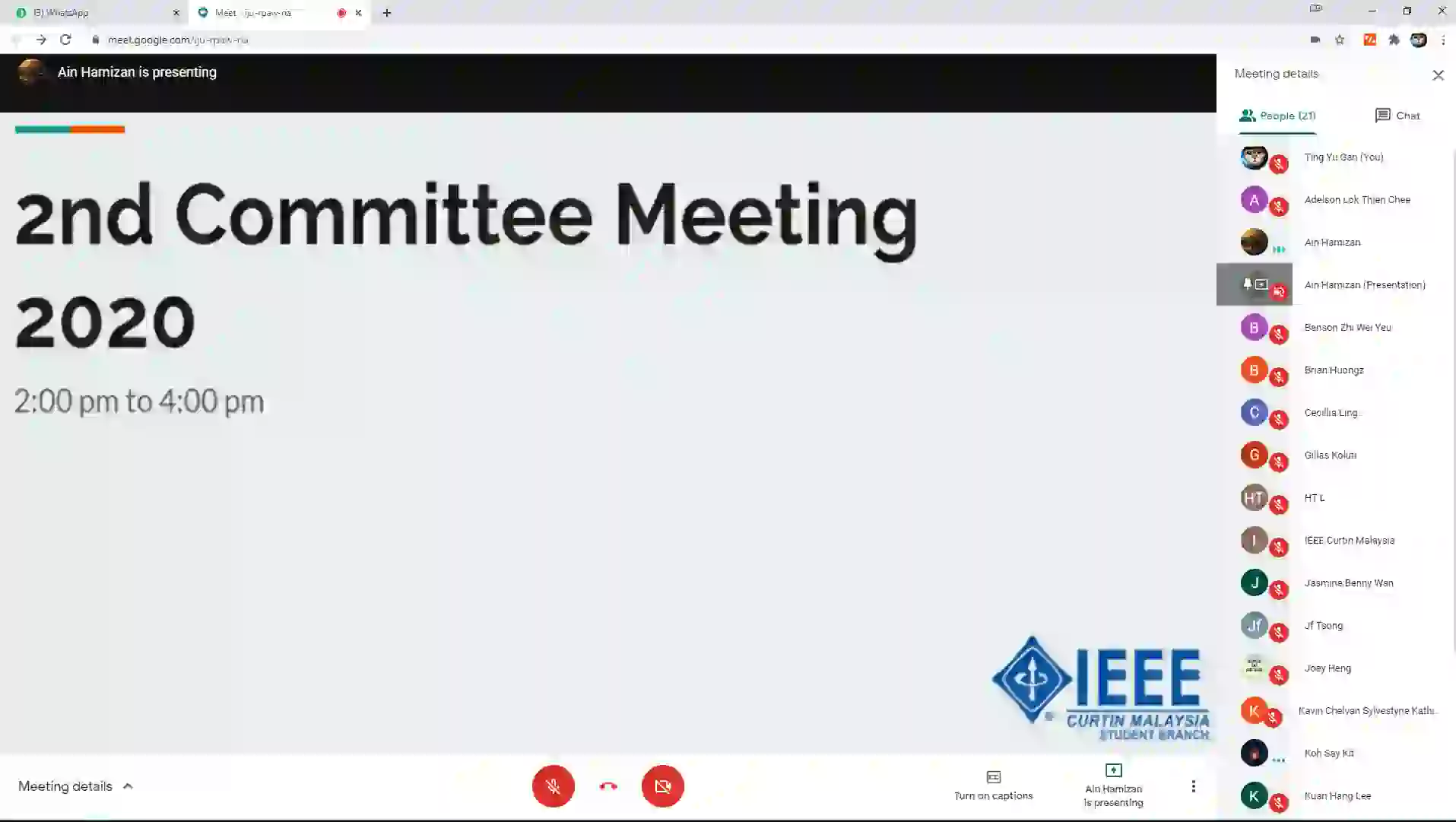 Our second committee meeting for each committee members to get updated about each team's latest status and future projects.
1 July 2020 - Solar Soccer Field Week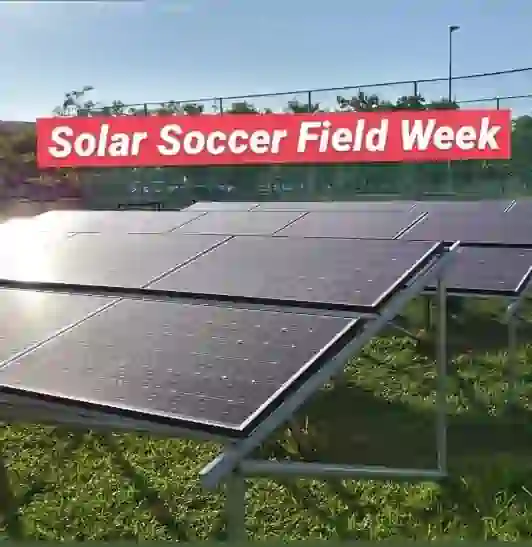 Together with the help from IEEE CMSB technical helper 2020 and Curtin Campus Services, the continuation of our Solar Soccer Field project in Curtin University soccer field to light up the soccer field at night. Actual duration is more than a week and it was fun!
27 March 2020 - 3D Printed Face Mask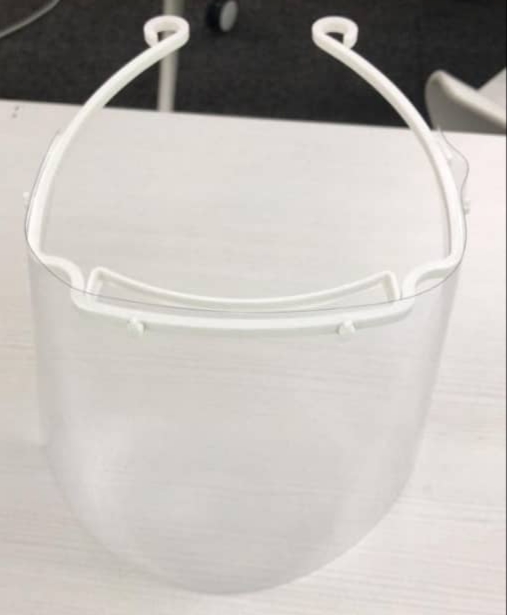 To prevent further spreading of COVID-19, IEEE CMSB has joined the local community of 3D maker to send 5000 units of 3D printed mask for medical front liners in Sarawak hospitals.
14 March 2020 - IEEE Committee Team Building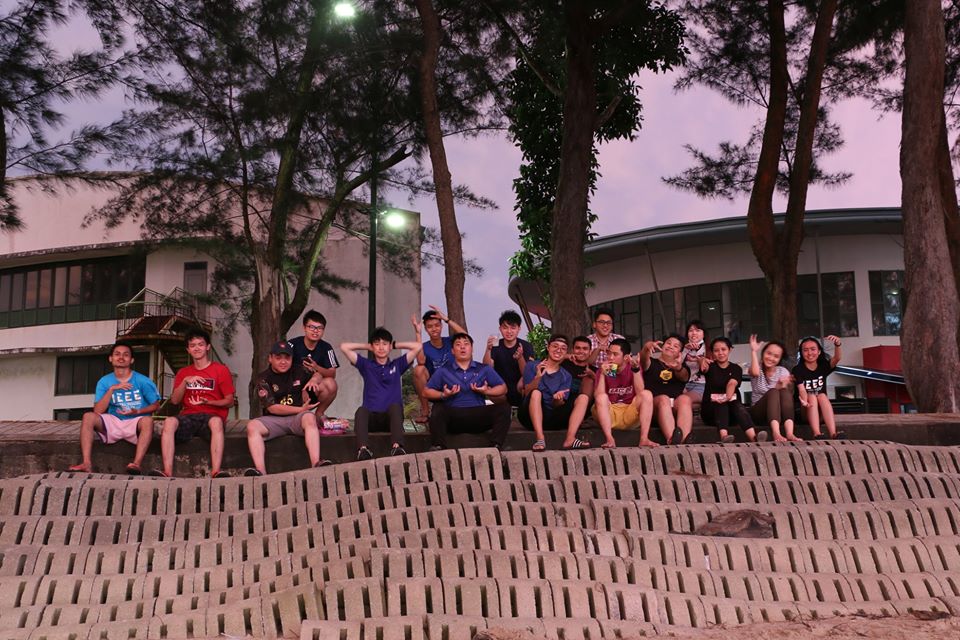 An relaxing & fun committee team building event at Tanjung Beach.
12 March 2020 - Industrial Talk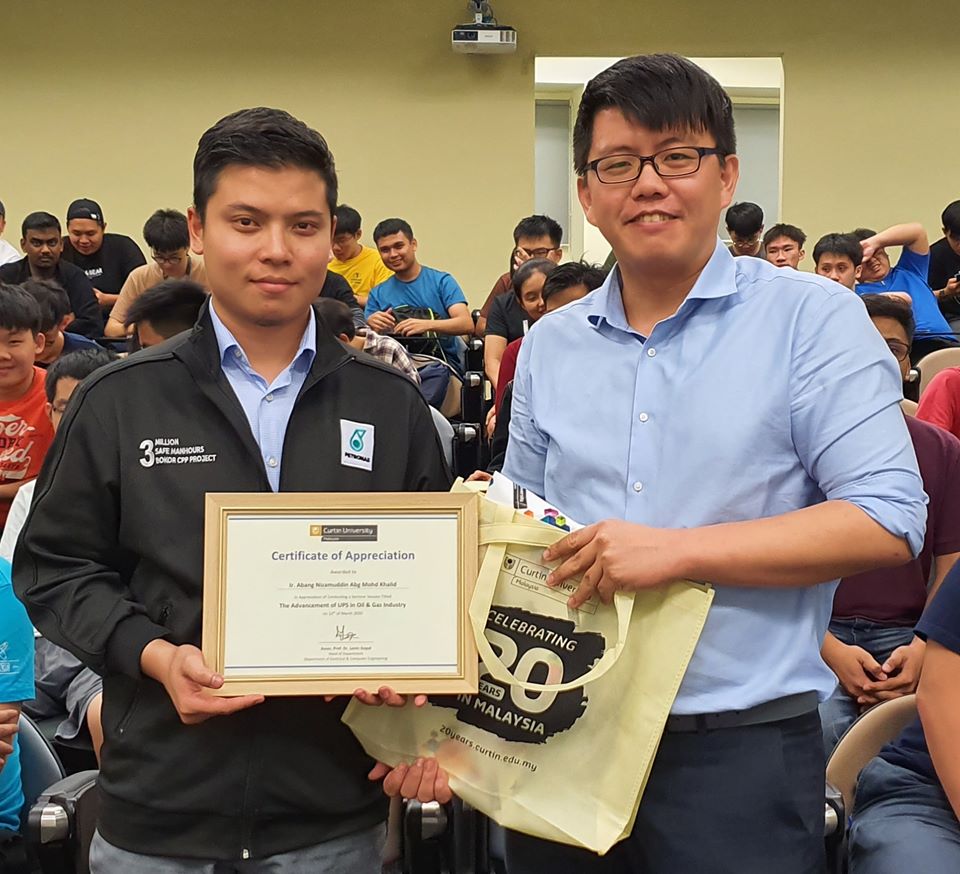 An industrial talk regarding "The Advancement of UPS in Oil & Gas Inddustry" by Mr.Ir Abang Nizamuddin Abg M Khalid.
9 March 2020 - 1st Committee Meeting of year 2020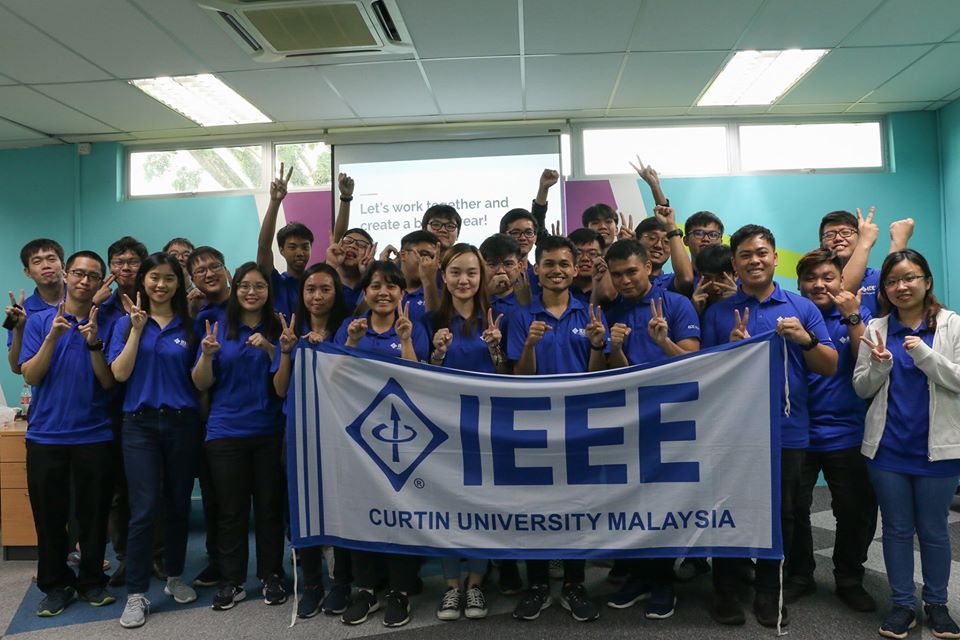 An IEEE CMSB committees meeting to share each department's current and future project progress.
5 March 2020 - Industrial Automation Talk by Ulteach Engineering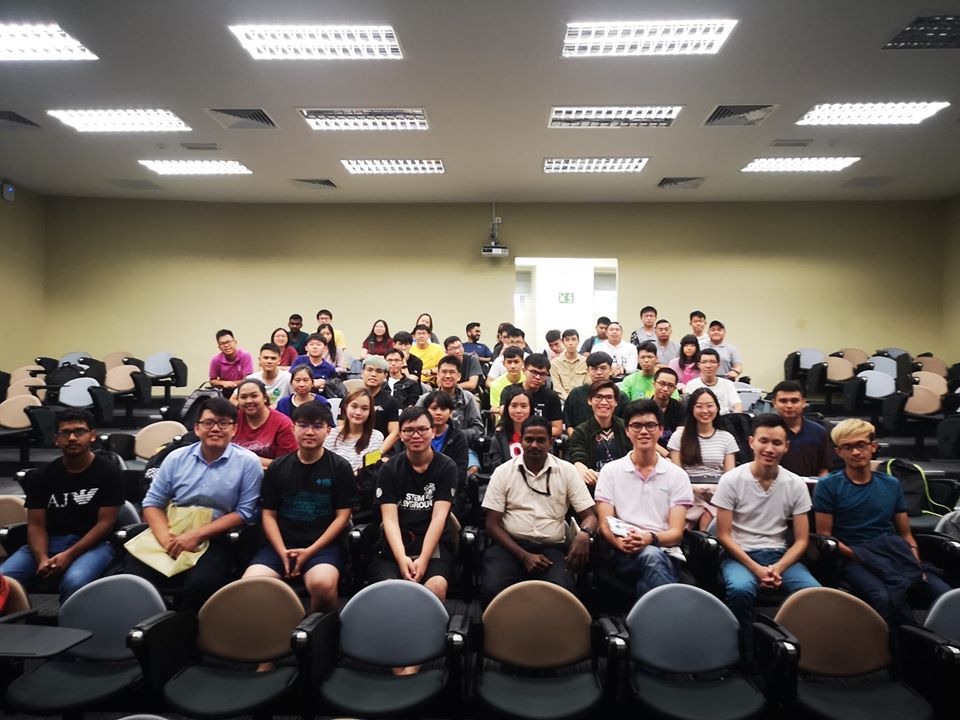 An industrial talk led by Mr.Wang Zhi Xian to introduce participants about automation basics hardware, software and control methodology.
1 March 2020 - IoT & Mobile App Workshops in Kuching
Participated by Tay Chuan Zhi, Kavin Chelvan Sylvestyne Kathiravan and Kee Kia Wei. The workshops are organized as part of the Innovate Sarawak Design Challenge. participants have learned about http, MQTT, SQL, InfluxdB, data visualization and mobile app development in the workshops.
29 Feb 2020 - Digital Training Workshop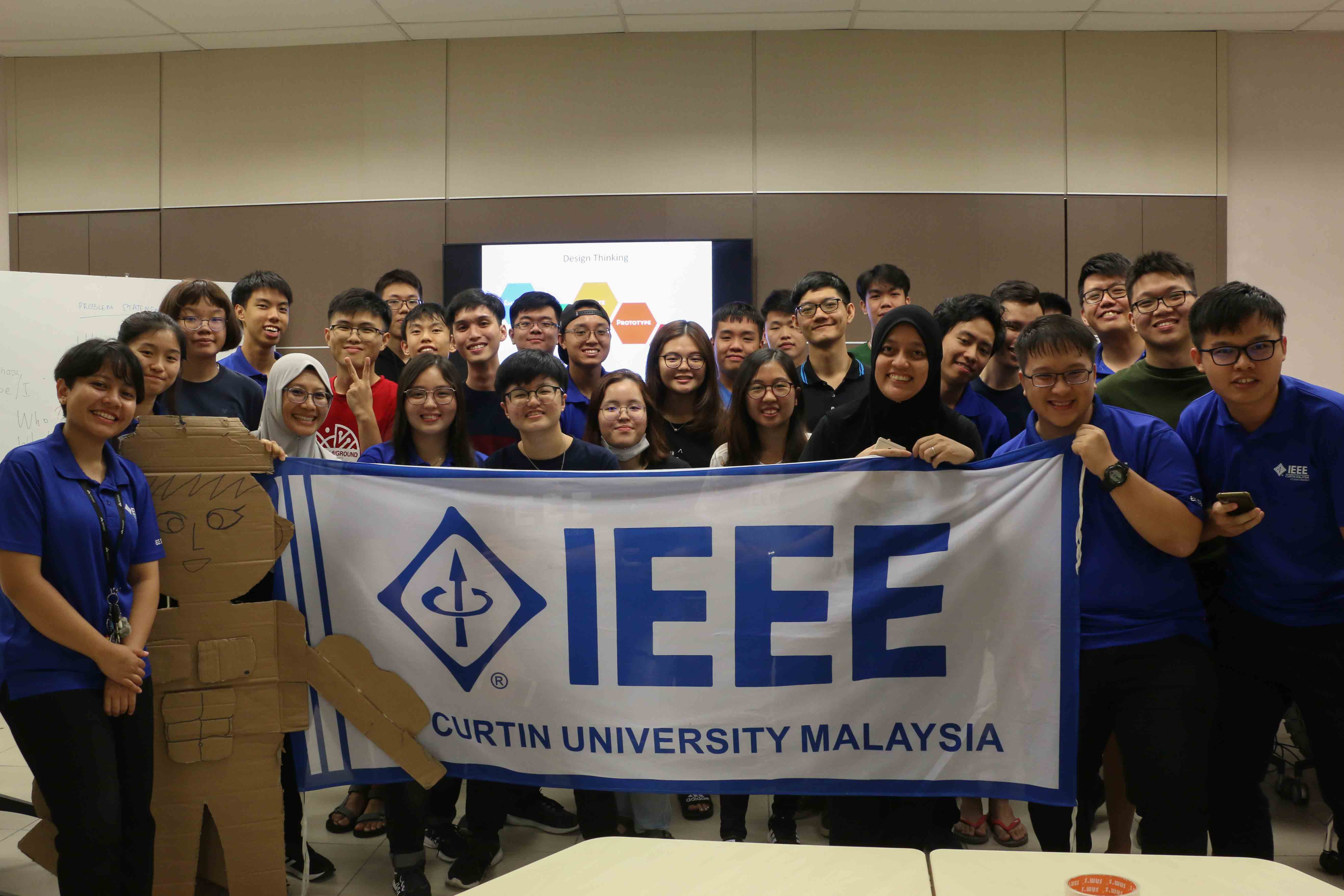 An workshop led by Ms.Haslina to teach participants about surveying problems, building and presenting prototype.
29 Feb 2020 - ARDUINO Start Workshop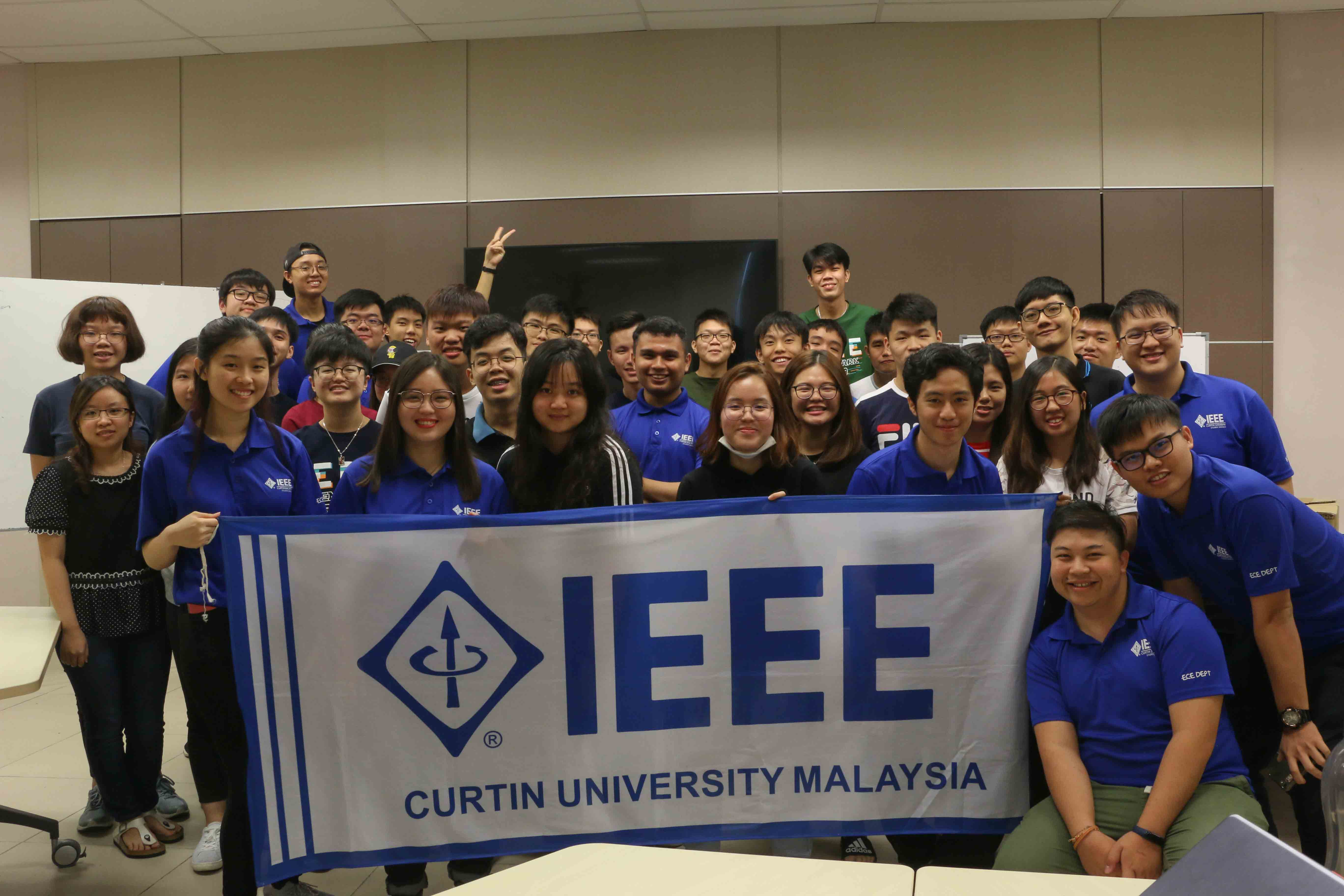 First IEEE CMSB workshop of year 2020! An basic introduction to Arduino and other electronics components.
7 Sept 2019 - Code Drone Workshop by Mr Foad
IEEE CMSB organized a Code Drone workshop. In this workshop, participants got to learn the fundamentals of the CoDrone and Arduino programming, as well as the chance to fly the drone.
24 August 2019 - Arduino Start Workshop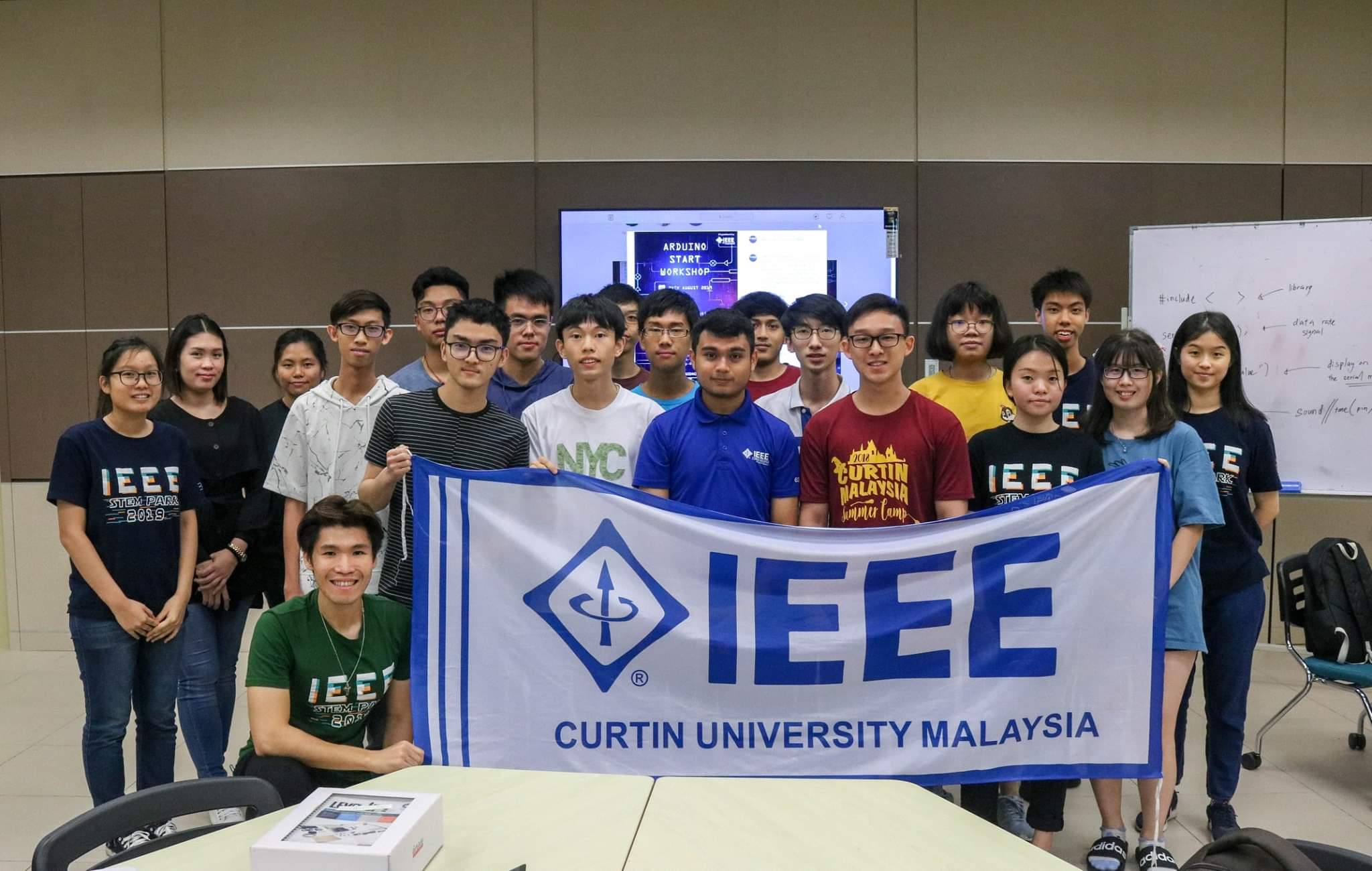 Recently, IEEE hosted it's first workshop of the semester called Arduino START Workshop. Participants got to learn Arduino programming based on the codes provided along with the kit used during the workshop.
22 August 2019 - IEEE SEM2 2019 welcoming party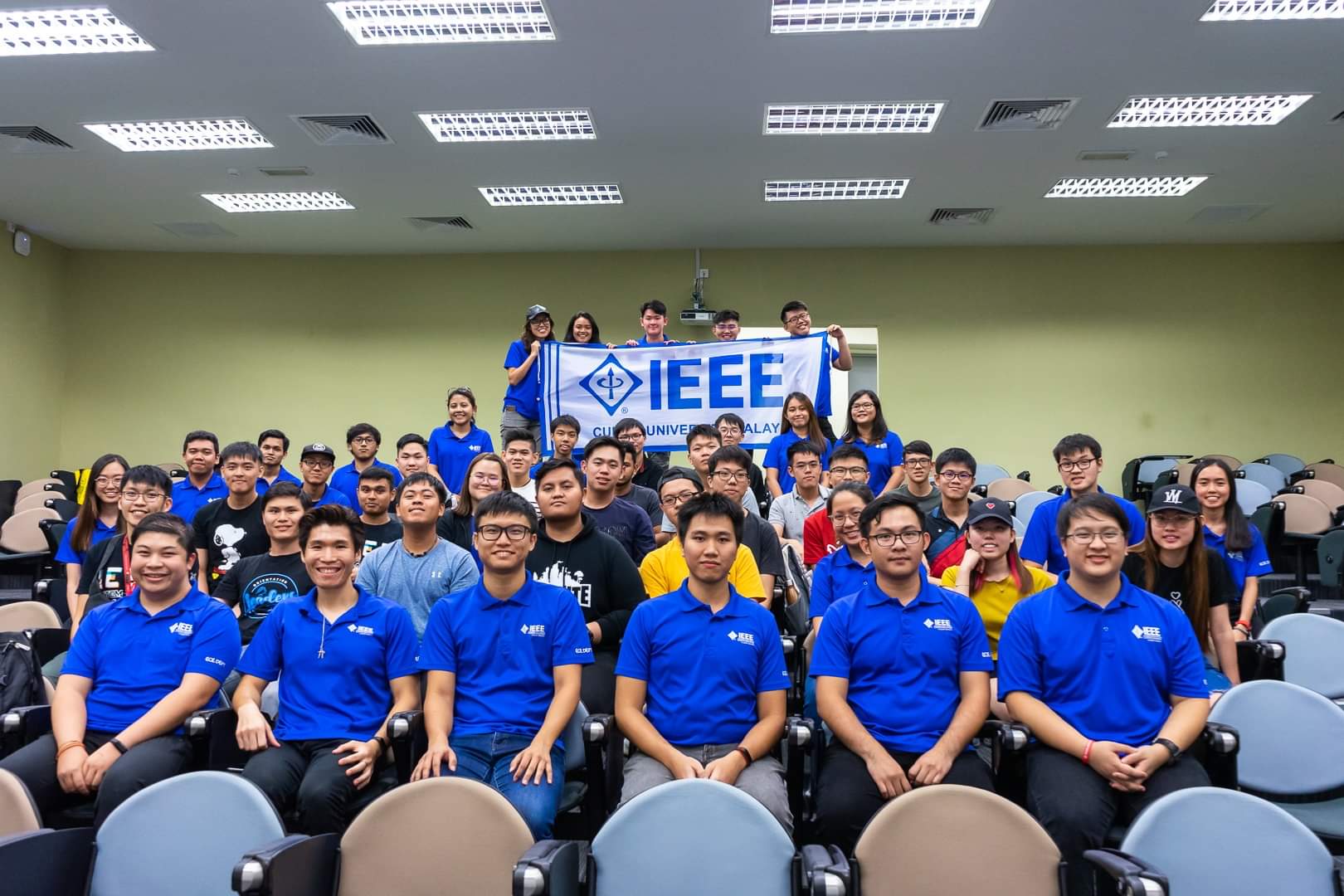 IEEE CMSB hosted a welcoming party to welcome and bond with the new members through activities. We would like to thank all the participants for joining us and making this event successful and memorable.
3-4 August 2019 - STEM Playground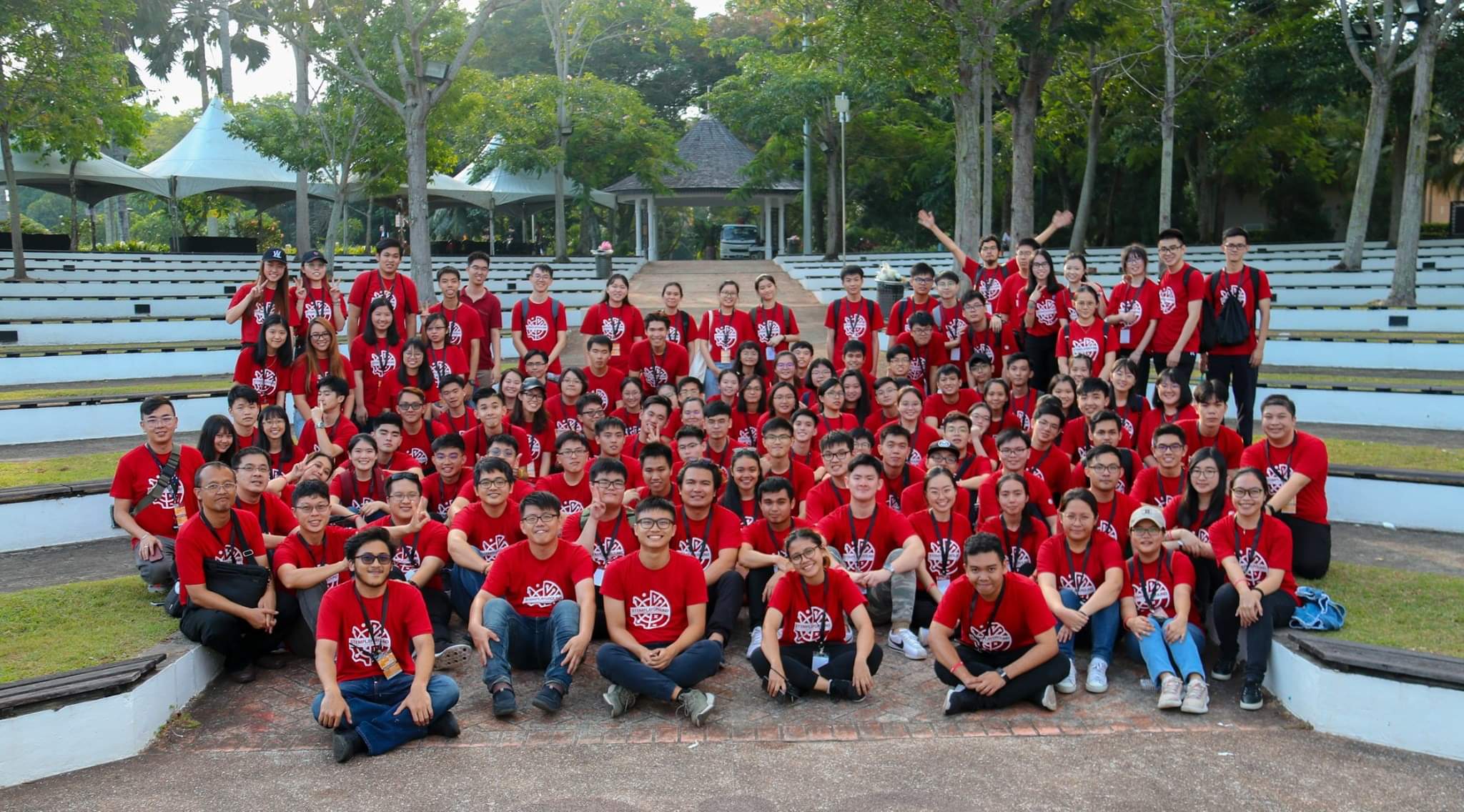 CMSB organized STEM Playground Miri at Miri City Fan. The 2 days event acts as a platform of various project showcase by different collaborators and as a plave where everyone can enjoy while learning.
30 June 2019 - Intel Workshop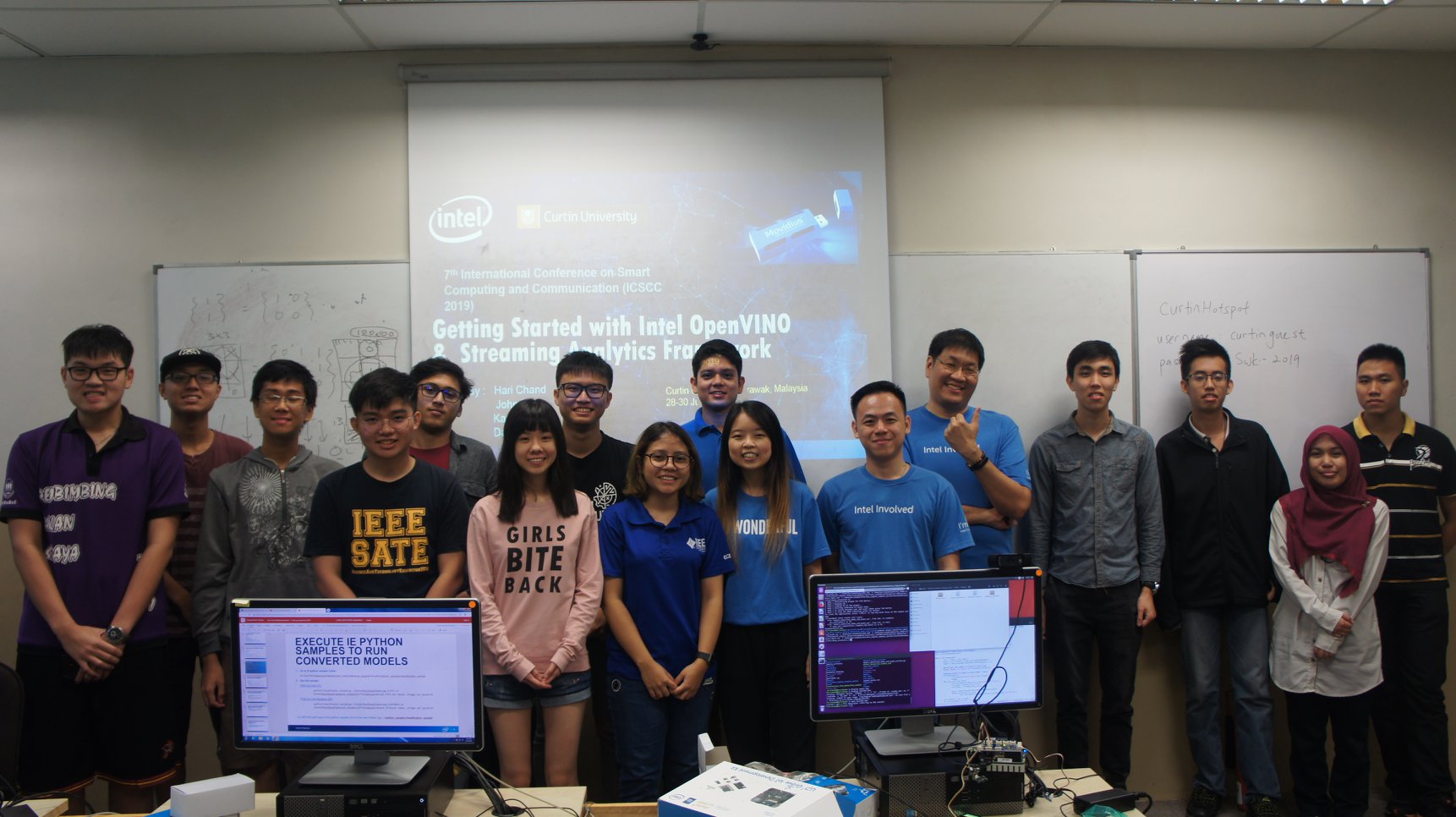 Intel Workshop was held on the 30th of June in Curtin. The workshop was organized to teach the participants on using OpenVino, Up-Squared Board, and OpenCV, while preparing the participants for the upcoming Intel Track Challenge during STEM Park.
27-30 June 2019 - ICSCC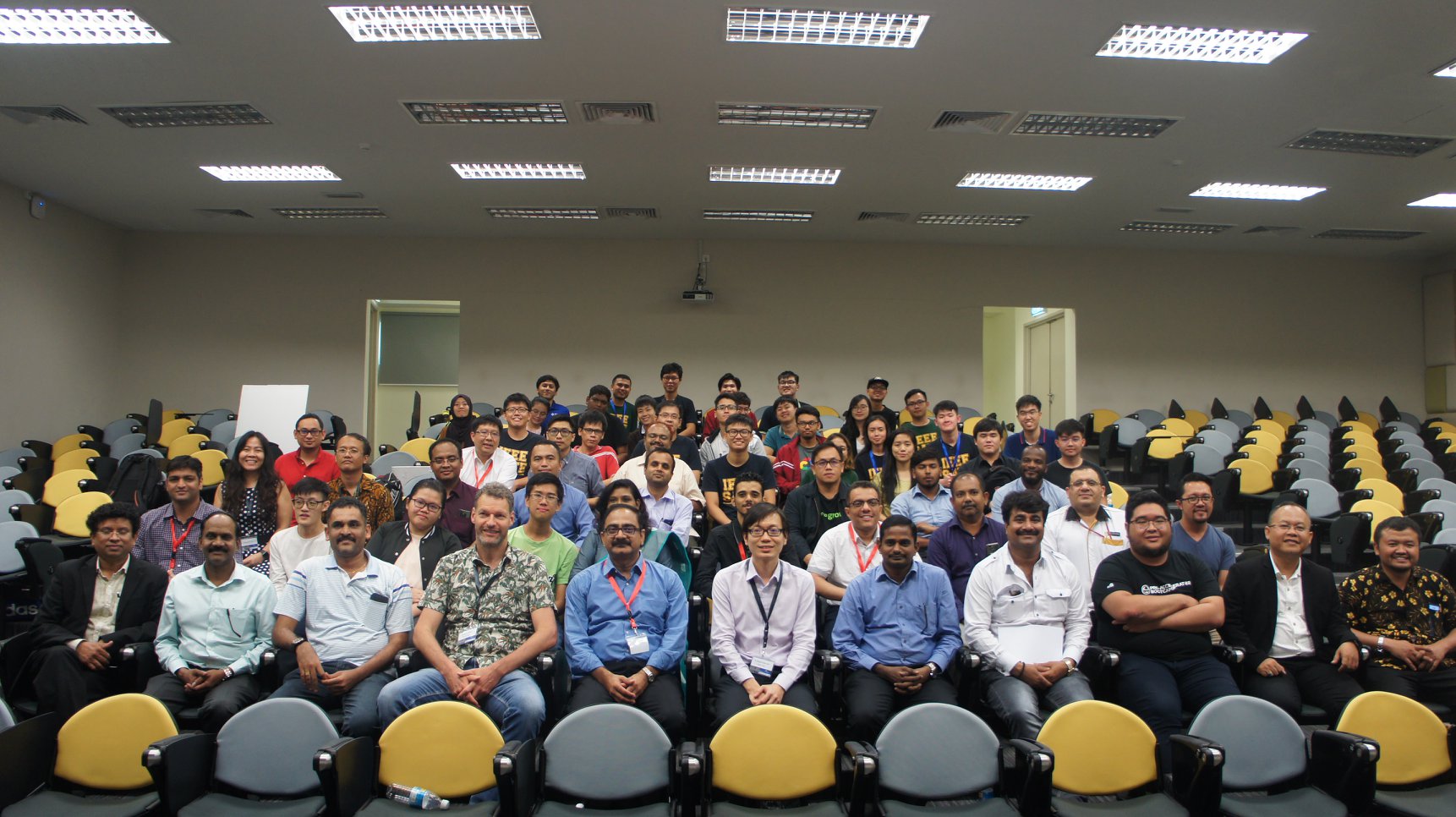 The 7th International Conference on Smart Computing & Communications was held recently in Curtin Malaysia.
27-29 June 2019 - HACKWKND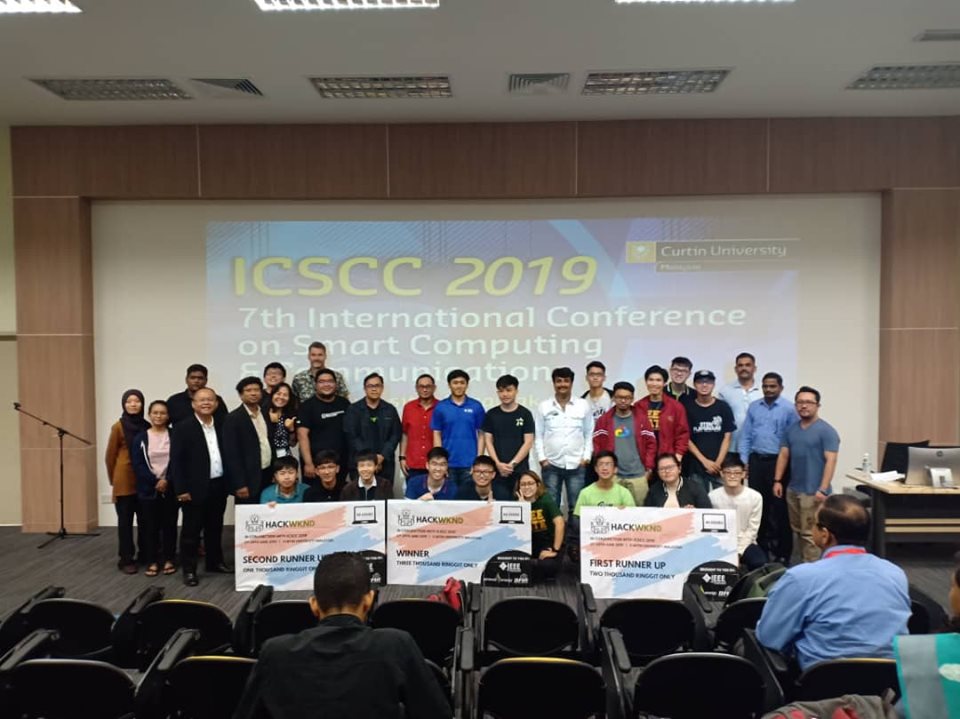 Hackwknd was held recently in conjunction with ICSCC 2019, in Curtin Malaysia. The competition required participants to solve the given problem within 48 hours, where the theme for the recent Hackwknd is 'Smart City'.
23 May 2019 - Seminar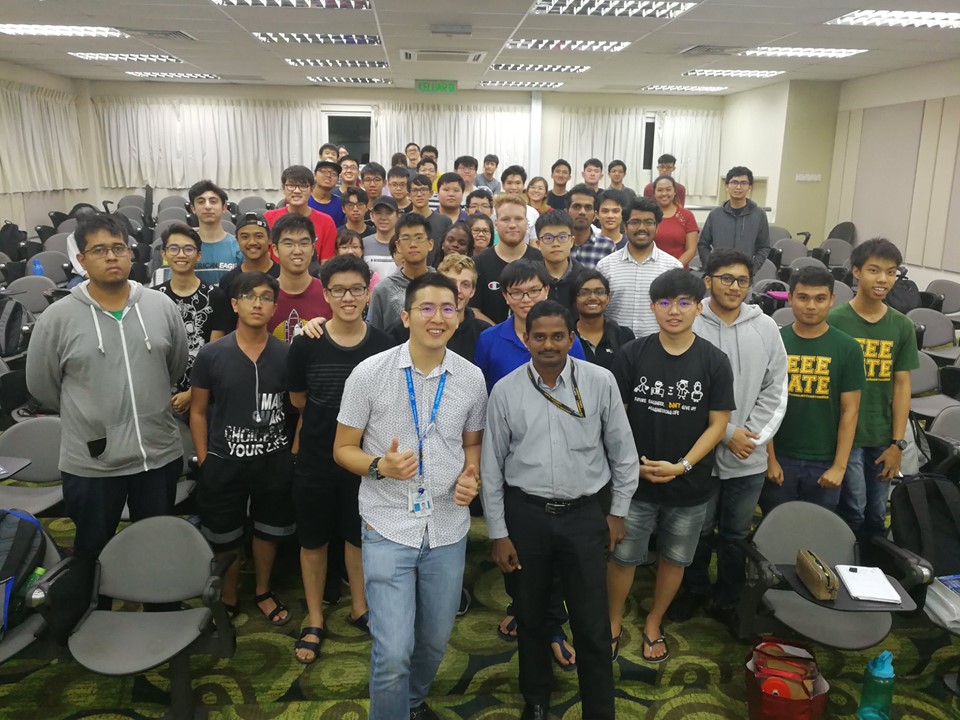 Intel Insight and Tips to Score Your Career.
18 May 2019 - Programming Workshop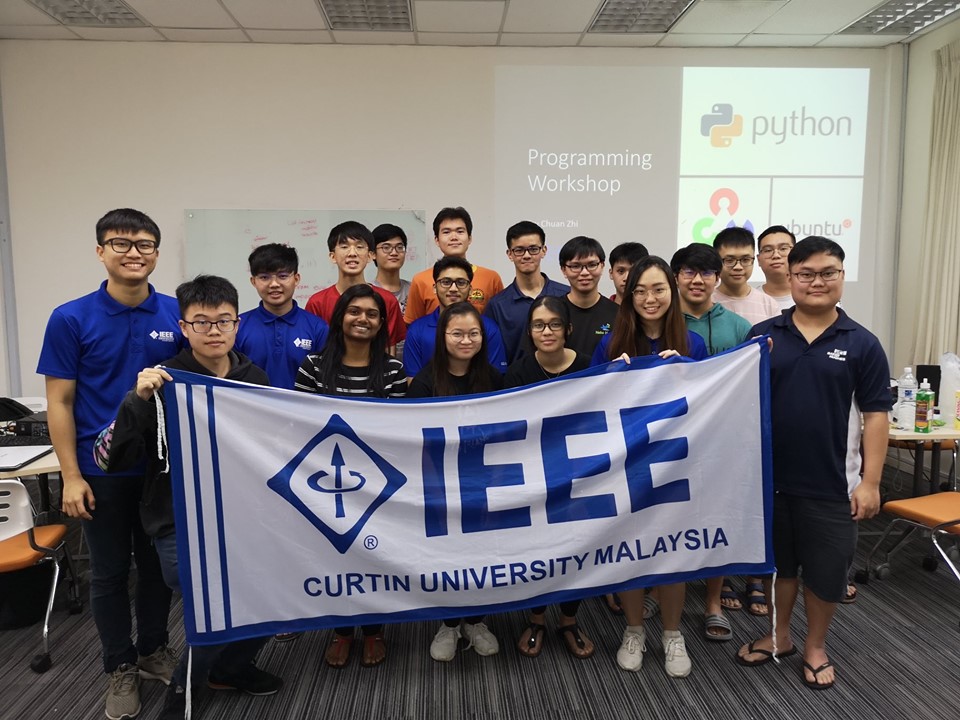 IEEE organised an Programming Workshop covering Python and OpenCV on a Linux platform. Our speaker, Tay Chuan Zhi, taught the basics of Python and image processing using OpenCV.
16 May 2019 - Seminar on Automation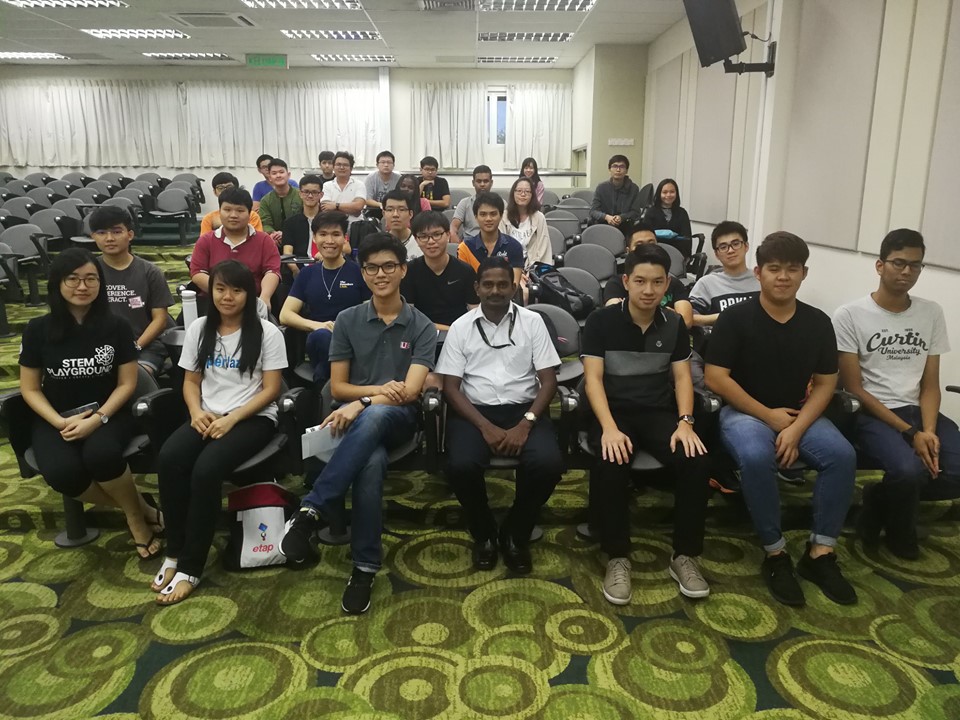 a seminar entitled 'Automation' was presented by Wang Zhi Xian, a Curtin Graduate from Electronics & Communication Engineering who also works as an Automation engineer for Ultech Engineering Sdn Bhd. Here are some photos taken during the seminar.
9 May 2019 - Seminar - Analogue to Digital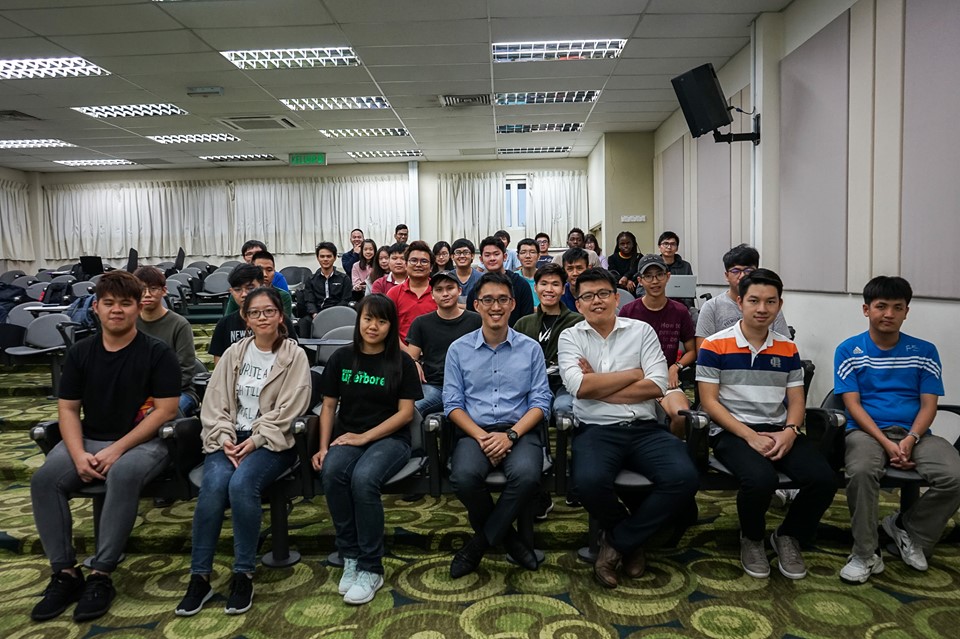 a seminar entitled 'Analogue to Digital: What has changed over the year' by Mr Brandon Tan Tian Shyong was held in LTBS 1.
28-28 April 2019 - Light Up Miri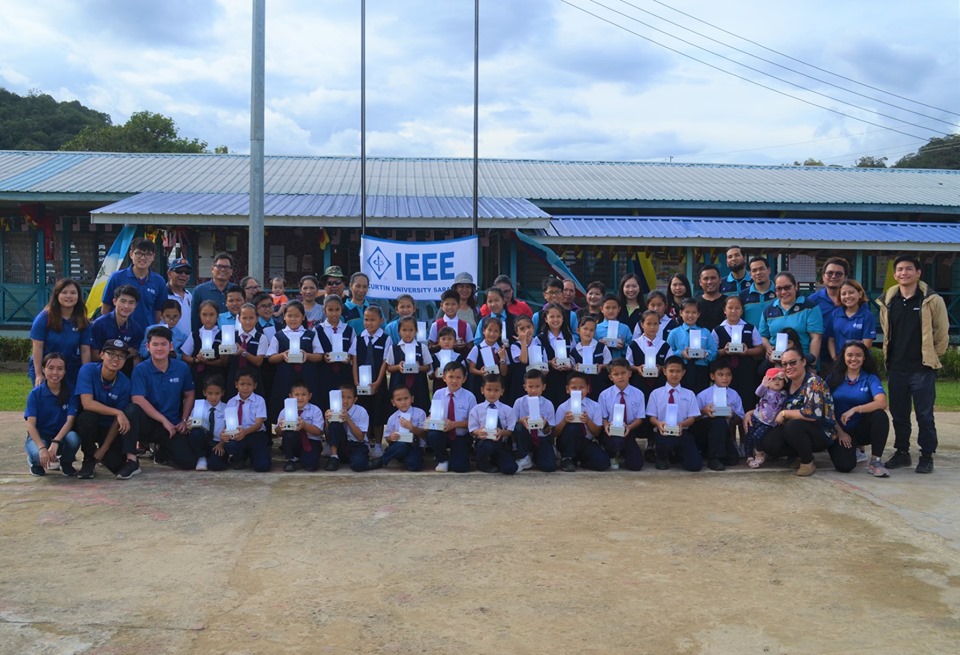 IEEE collaborated with DTLJ to deliver solar powered lamps to schools located in the Bario Community located in the Kelabit Highlands. The project aimed to help children in schools study during the night time as they do not have access to reliable sources of light at night.
22-24 April 2019 - Kuching Site Visit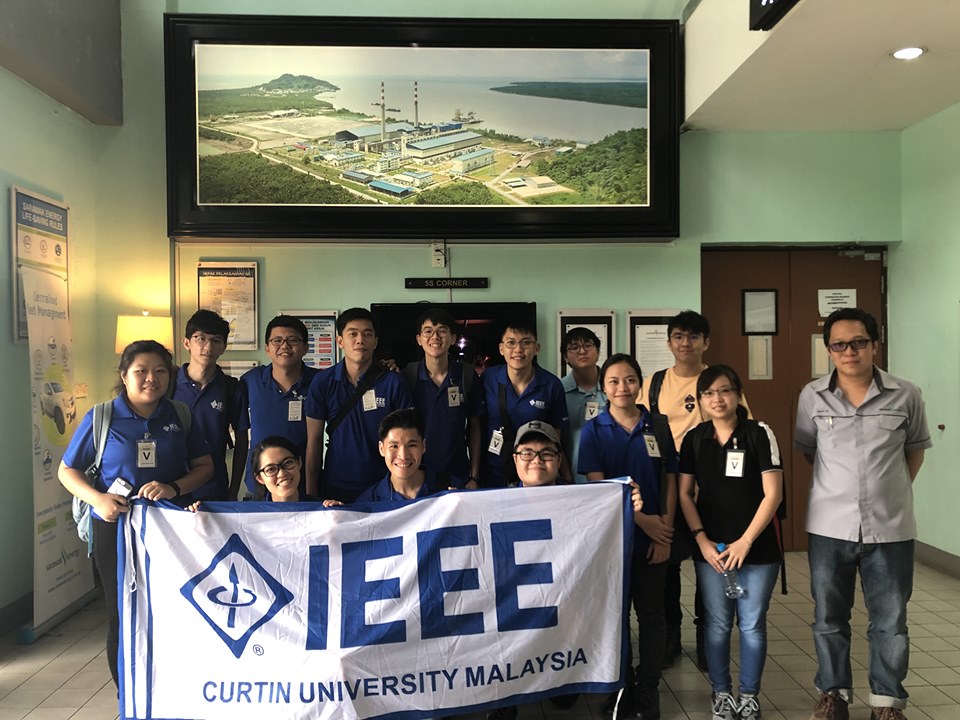 IEEE held a site visit over the tuition free week to Kuching. Participants visited Sejingkat Power Plant & Sarawak Energy, as well as SACOFA Network Operation Centre & Telecommunication Tower. Leisure activities included a visit to the Sarawak Cultural Village and a paintball session at Waxers Paintball Park.
13 April 2019 - Drone Workshop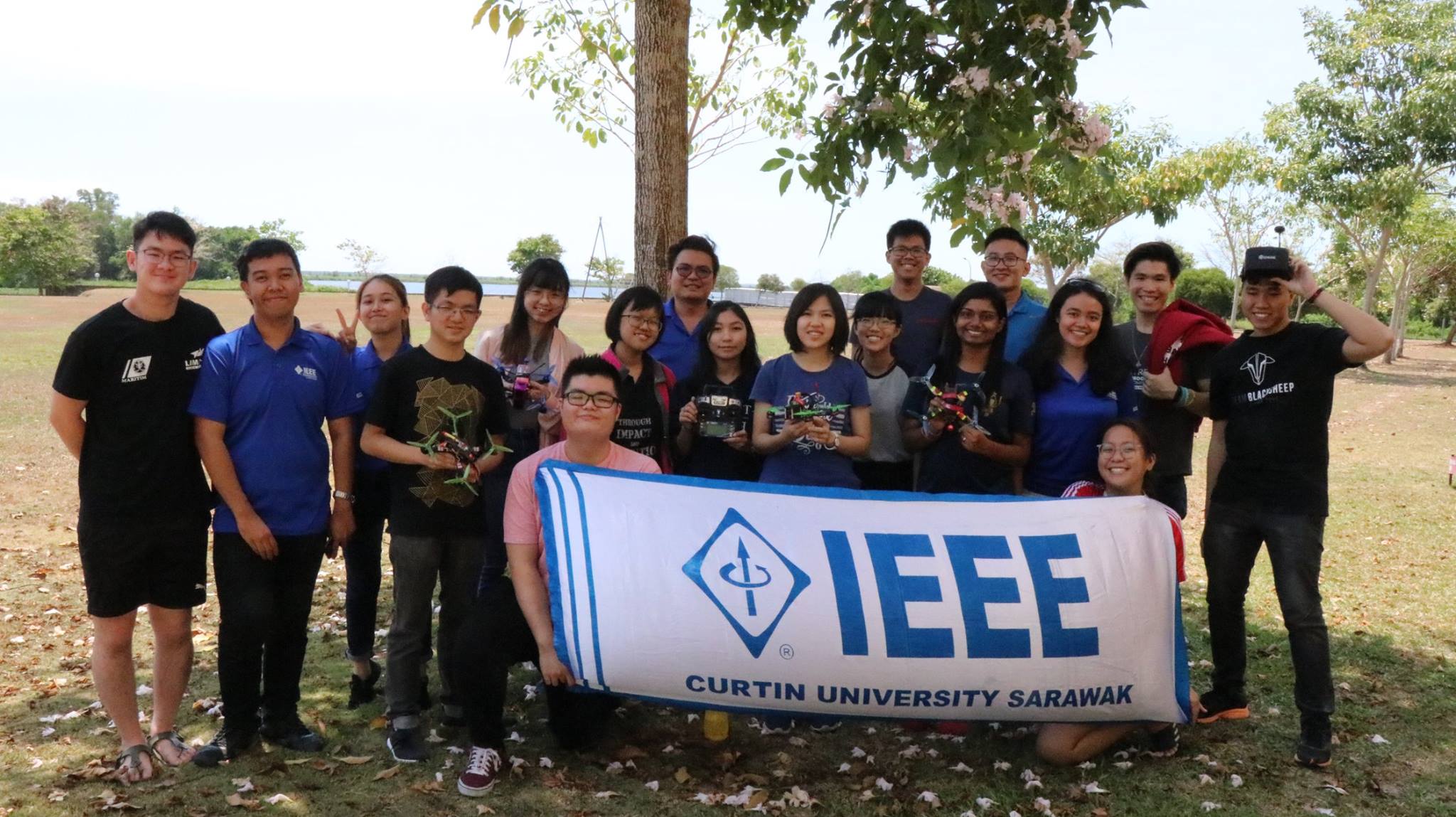 IEEE CMSB organized a Drone Workshop to expose participants with drone flying skills and knowledge in the fundamentals of drone components.
11 April 2019 - Talk by Ir Wong Siong Ung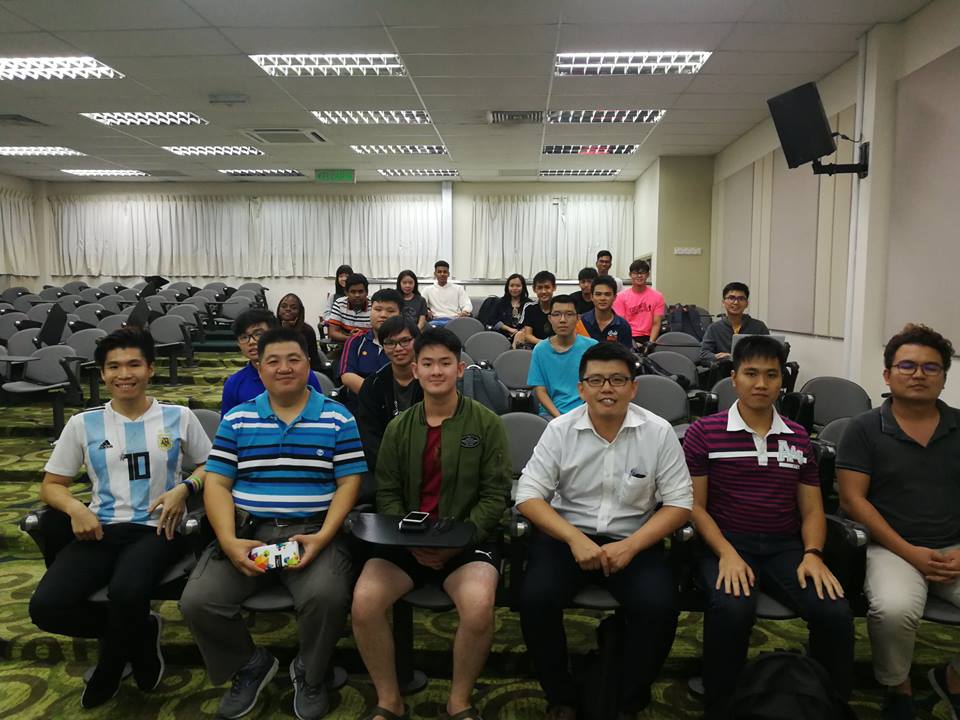 A talk given by speaker, Ir. Wong Siong Ung regarding Main Switch Boards and its operation.
6-7 April 2019 – YIC Bootcamp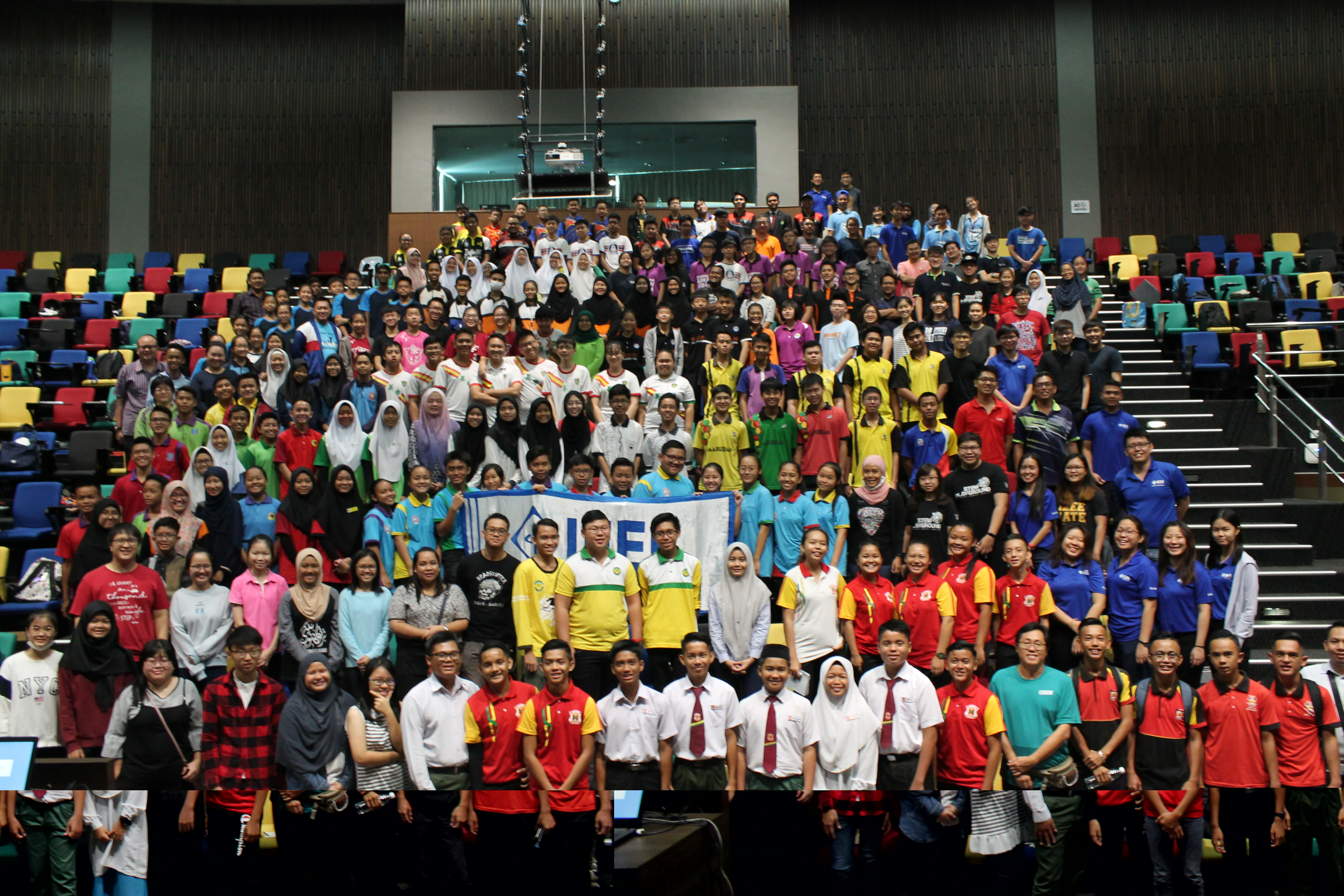 Our Community Outreach Team organized an event to allow mentors to meet their secondary school students and prepare them for YIC.
4 April 2019 – Welcoming Party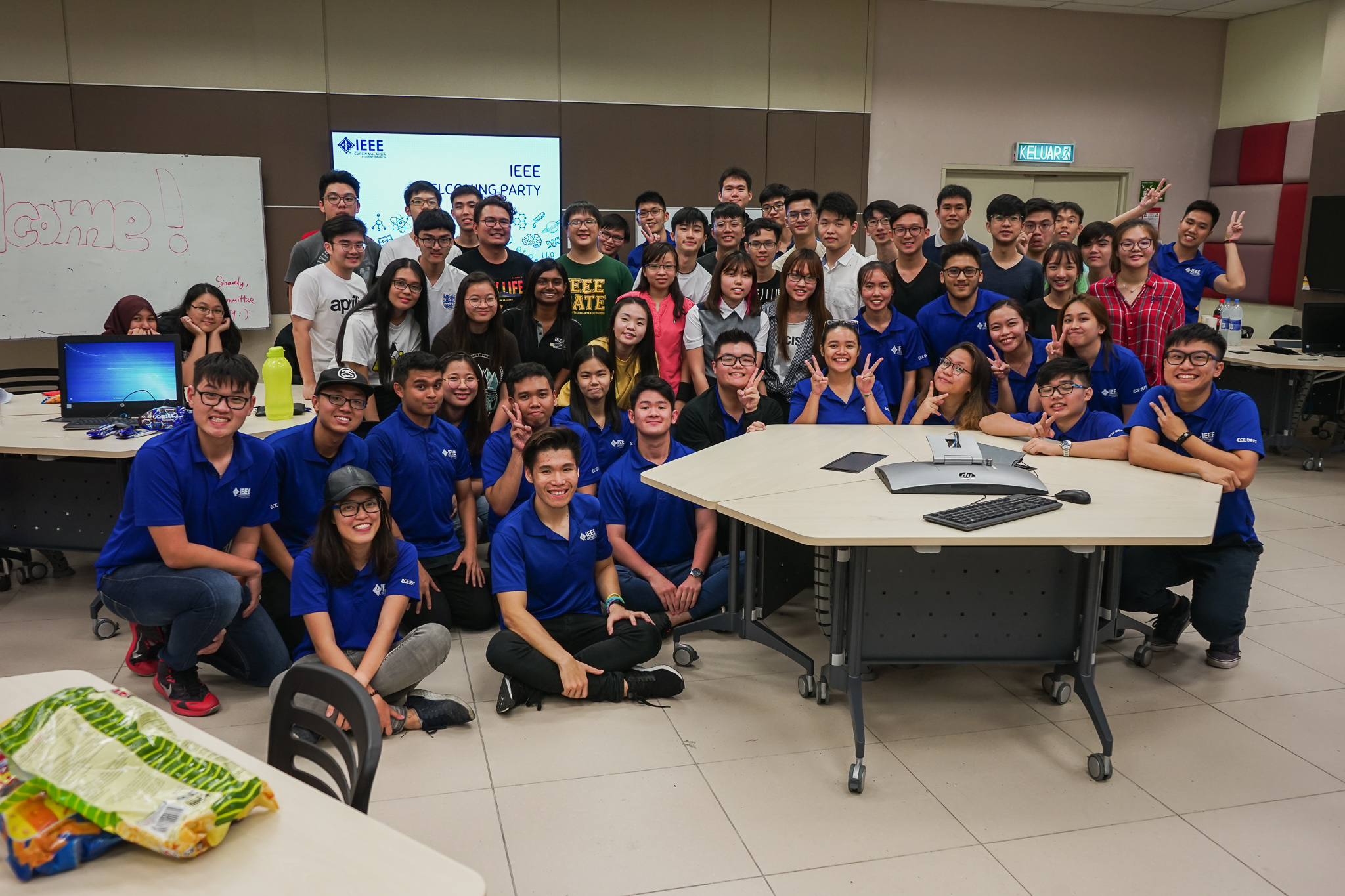 IEEE CMSB welcomes its new members to the family through various games.
25 March 2019 – Mukah & Bintulu Site Visit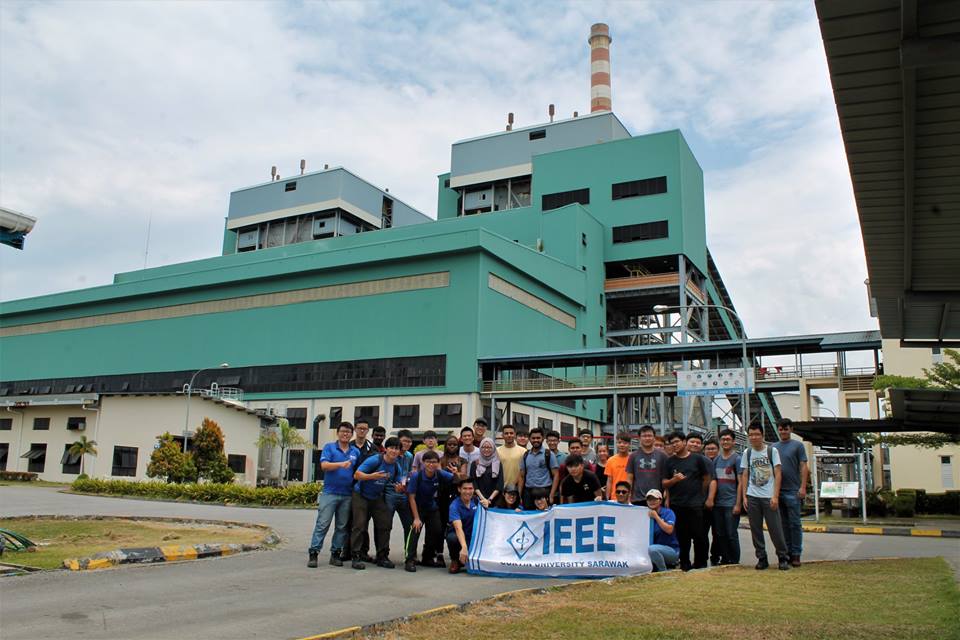 First industrial visit this year! IEEE organized a site visit to Mukah Power Plant and Bintulu Operation Co-ordination Centre (BOCC).
23 March 2019 – Team Building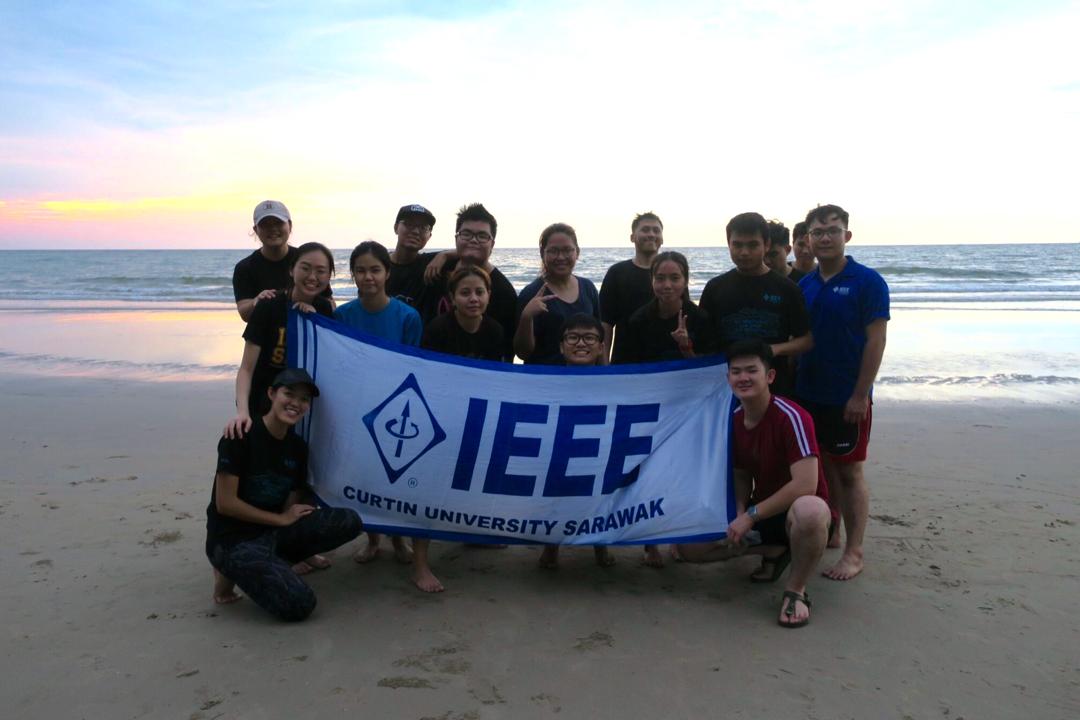 Bonding time between the committees! Games and potluck dinner at Tanjung Lobang Beach, Miri.
23 March 2019 – TTT Marudi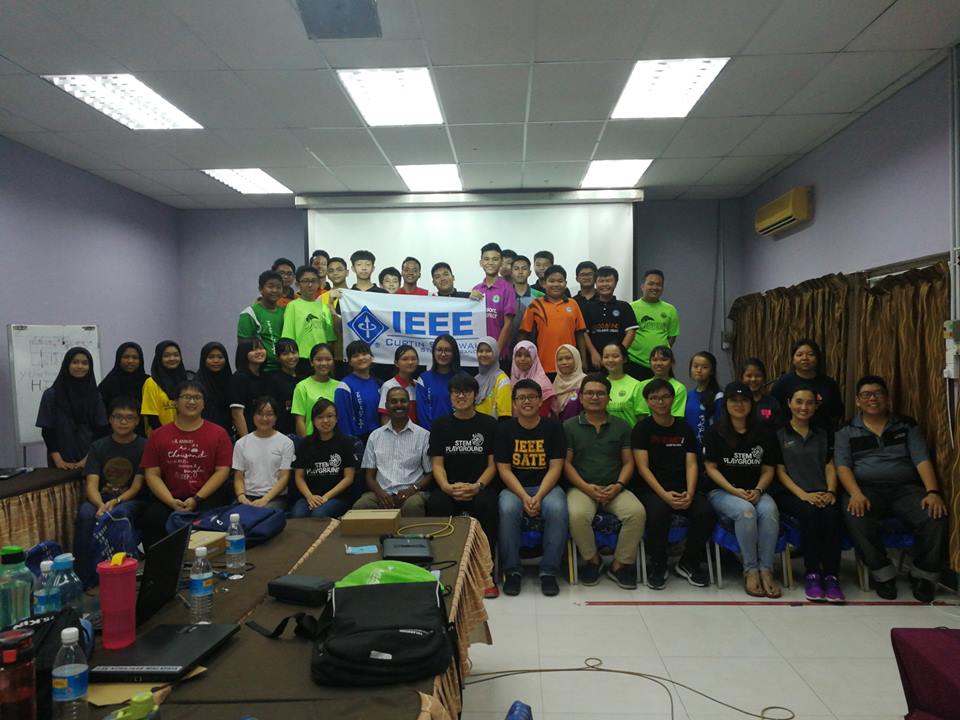 Our Community Outreach Team reaches out to Marudi, Baram District for a 2D1N bootcamp to educate rural schools on Arduino, problem identification and pitching.
23 March 2019 – MATLAB Workshop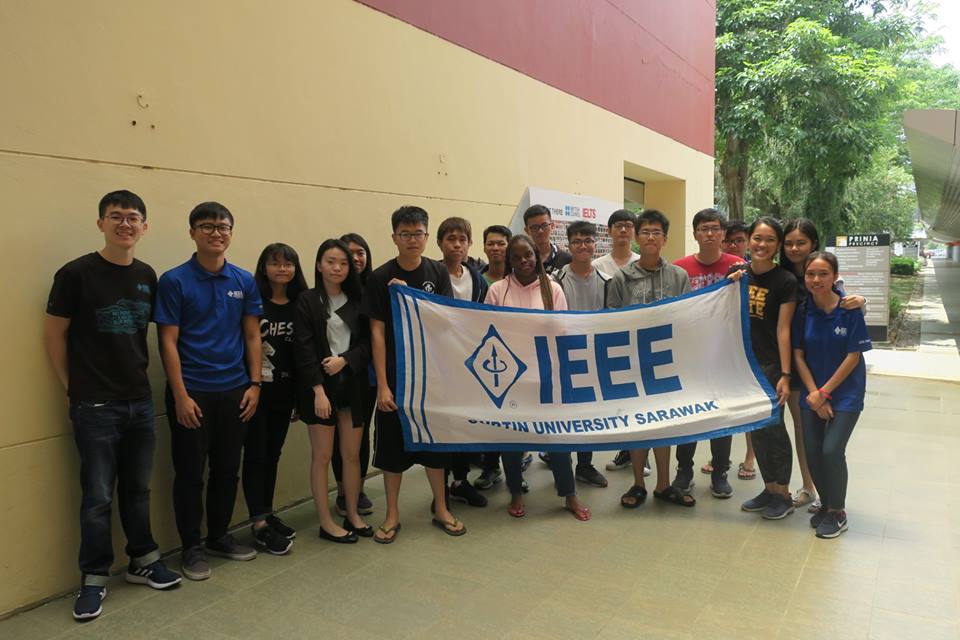 Another workshop organized by IEEE to provide participants, especially E&E students with basic knowledge of using MATLAB in problem solving and analysis conducted by Dr. Raymond.
8-10 March 2019 – TTT Chumbaka YIC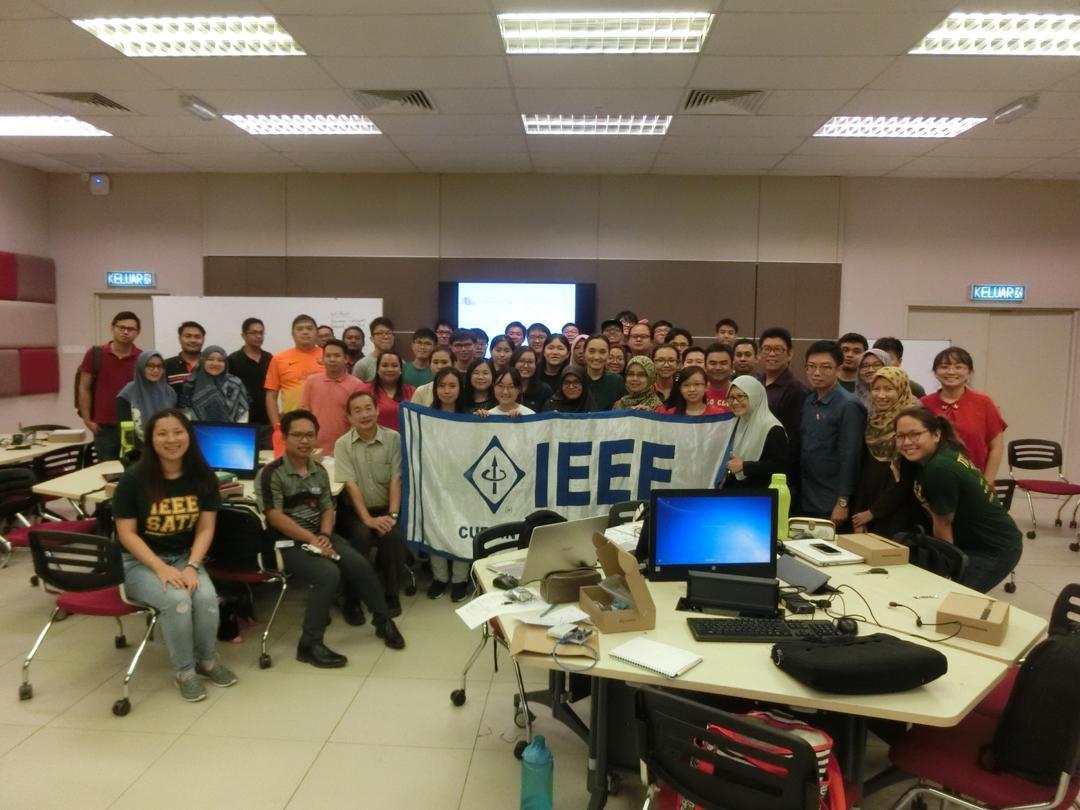 An event organized by our Community Outreach (CO) Team to train mentors in assisting high school students on their design thinking, problem solving, prototyping and pitching.
2 March 2019 - ARDUINO START Workshop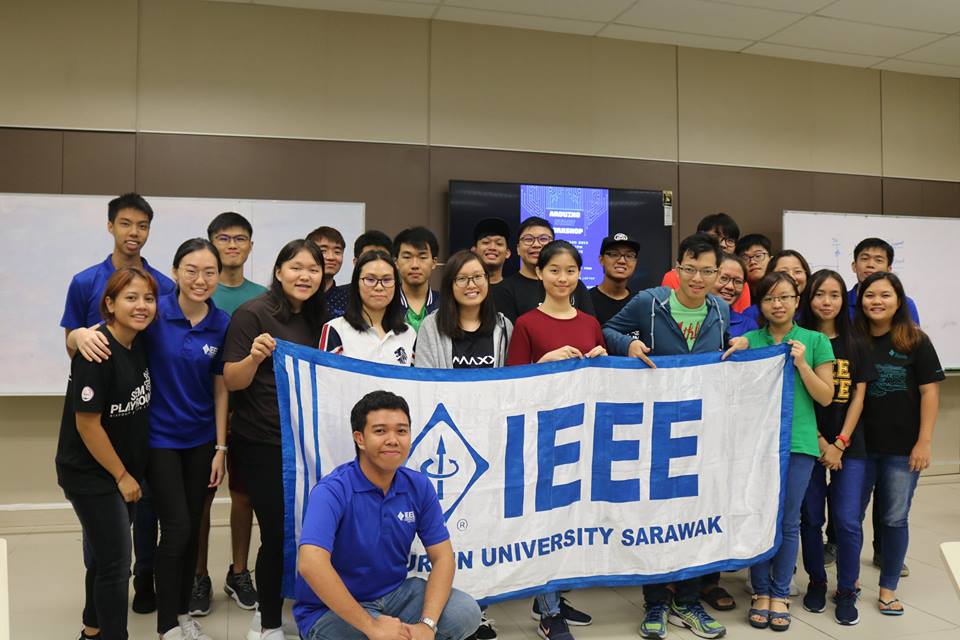 First IEEE CMSB workshop of the year! Arduino START Workshop enhances and builds up participants' programming and technical skills.