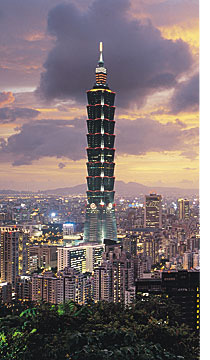 Time
Taiwan is 8 hours ahead of Greenwich Mean Time (GMT).
Electricity
Taiwan uses electric current of 110 volts at 60 cycles, appliances from Europe, Australia or South-East Asia will need an adaptor or transformer. Many buildings have sockets with 220 volts especially for the use of air
conditioners.
Language
The official language of Taiwan is Mandarin Chinese, and English is widely spoken in Taipei.
Currency and Banks
The Country's currency is the New Taiwan dollar (NT$). Several foreign currencies can be exchanged at hotels, airports and government-designated banks. Major credit cards are widely accepted, and traveler's checks may be accepted by tourist-oriented shops and at most international tourist hotels and banks. Banks open from 9:00 AM to 3:30 PM, Monday to Friday and closed at weekend and public holidays.
Climate
Taiwan enjoys a subtropical climate with warm weather all year round. The average temperature is around 25-19 degrees Celsius (66-77 degrees Fahrenheit) in November in Taipei.
Tipping
Tipping is not customary in most of places in Taiwan since a 10% service charge is automatically added to meals.
International Airlines
There are three international airports in Taiwan: Taiwan Taoyuan International Airport (TPE, located about 40km from Taipei City), Kaohsiung International Airport (KHH, located about 350km from Taipei City), and Taipei Song Shan Airport (TSA, located in Taipei City).
Transport between Taiwan Taoyuan International Airport (TPE) and Taipei:
Taxis queue outside the Arrival Halls of both terminals. Airport Taxis charge according to the meter plus a 50% surcharge (highway tolls not included). Typical fare to Taipei is around NT$1,200.
Four bus companies now provide frequent service between TTY International Airport and important destinations around Taipei everyday in every 30 to 40 minutes. Costs are approximately NT$110-140 (US$4-5), takes about 60 to 90 minutes. The bus station is on the southwest side of the Arrival Passenger Reception Area in Terminal I, and on the northeast side of the Arrival Passenger Reception Area on the first floor in Terminal II. For more information, please click here.