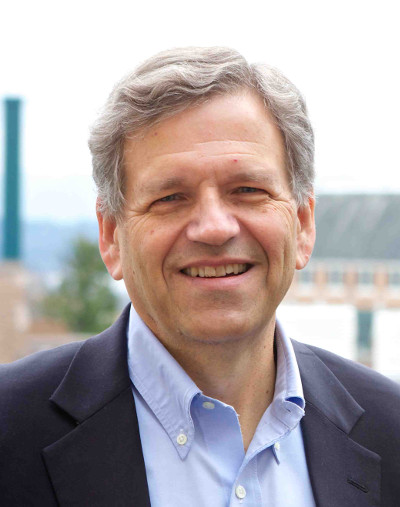 Can Integrated Ultrasound/Photoacoustic Systems Deliver on the Promise of Molecular Medicine?
View Abstract &raquo
Matthew O'Donnell
Professor of Bioengineering at University of Washington
Dr. O'Donnell has worked at General Electric CRD, the University of Michigan, where he was Chair of the BME Department from 1999-2006, and the University of Washington (UW), where he was the Frank and Julie Jungers Dean of Engineering from 2006-2012. He is now Professor of Bioengineering at UW. His most recent research has focused on elasticity imaging, optoacoustic arrays, photoacoustic contrast agents, thermal strain imaging, and catheter-based devices. He is a fellow of the IEEE and AIMBE and is a member of the Washington State Academy of Sciences and the National Academy of Engineering.
Three-Dimensional Echocardiography
Roberto Lang, M.D., Professor of Medicine at The University of Chicago, USA

Strain-derived Cardiac Assessment
Jan D'hooge, Associate Professor in the Department of Cardiovascular Disease of the Medical Faculty at the Catholic University of Leuven, Belgium

Update on Contrast Ultrasound: Diagnostic and Therapeutic Applications
Steven Feinstein, M.D., Professor of Medicine at Rush University Medical Center, USA

Biogenic Nanostructures as Reporters for Ultrasound Imaging
Mikhail G. Shapiro, Professor of Chemical Engineering at California Institute of Technology, USA

Augmented Trans-esophageal Ultrasound for Guidance of Cardiac Interventions
Terry Peters, Professor of Biomedical Engineering at Robarts Research Institute, UK

Histotripsy: Recent Advances
Charles A. Cain, Professor of Biomedical Engineering at University of Michigan, USA

Ultrasound for Molecular Imaging and Guided Drug Delivery
Juergen K. Willman, Professor of Radiology at Stanford University, USA

GPU Enabled Ultrasound Imaging Innovations
Alfred C. H. Yu, Professor of Electrical Engineering at The University of Hong Kong, Hong Kong

Optical Coherence Tomography: The Optical Analogue to Ultrasound Imaging
Stephen A. Boppart, Professor of Engineering at University of Illinois, USA

Structural Health Monitoring
Jennifer Michaels, Professor of Engineering at Georgia Institute of Technology, USA

Interaction of Microbubbles and Microdroplets with Ultrasound
Michel Versluis, Professor Physical and Medical Acoustics Physics of Fluids Group at University of Twente, Netherlands

High Temperature Piezoelectric Transducers
Makiko Kobayashi, Professor of Engineering at Kumamoto University, Japan

Biosensing using Contactless Quartz Resonators
Hirotsugu Ogi, Professor of Engineering at Osaka University, Japan

Ultrahigh Frequency Ultrasound and Its applications to Cellular Bioengineering
K. Kirk Shung, Professor of Biomedical Engineering at University of Southern California, USA

Recent Advances in Nonlinear Modeling of Bulk Acoustic Wave Resonators
David Feld, Dong Shim, Siamak Fouladi, Farhad Bayatpur, AVAGO Technologies, USA

Acoustic Filters Based on Thin Single Crystal LiNbO3 Films: Status and Prospects
Alexandre Reinhardt, Research Engineer at CEA-Leti, France

Group 4: Microacoustics: SAW, FBAR, MEMS
Power Durable Electrode Metallization: Material Choice, Failure Mode, and Characterization
Ryoichi Takayama, Panasonic Corporation, Japan

Co-doped AlN Thin Films for Wideband FBAR Applications
Tsuyoshi Yokoyama, Taiyo-Yuden Company, Japan

Bulk Acoustic Wave Gyroscope
Farokh Ayazi, Professor of Engineering at Georgia Institute of Technology, USA

The Evolution and Applications of High Frequency Ultrasound Transducers
Stuart Foster, Professor of Medical Biophysics at Sunnybrook Health Sciences Centre, Canada

MUSIC: Monolithic UltraSound Integrated Circuits
Arman Hajati, Manager of Ultrasound Technologies at Fujifilm Dimatix, USA

Piezoelectric Ceramics in Ultrasound - 3203HD and Beyond
Gerald Stranford, Thomas Vencill, David Williams, Lillian Gutierrez, and Bruce Johnson, CTS Electronic Components, USA

New Piezoelectric and Ultrasonic Applications for Piezobioelectrics
Yohachi (John) Yamashita, Professor of Engineering at Toyama Prefectural University, Japan