Welcome!
---
Thankyou to everyone for making PGBIOMED09 such a success - photos from our time in Oxford can be found here . We hope to see you again next year for PGBIOMED10!
---
The organizing committee are pleased to announce the 5th IEEE EMBS UK & Republic of Ireland Postgraduate Conference on Biomedical Engineering and Medical Physics in conjunction with the Healthcare Technologies Network of the IET. Following on from previous successful conferences, PGBIOMED'09 will be taking place at Magdalen College at the University of Oxford from 12th-14th July 2009.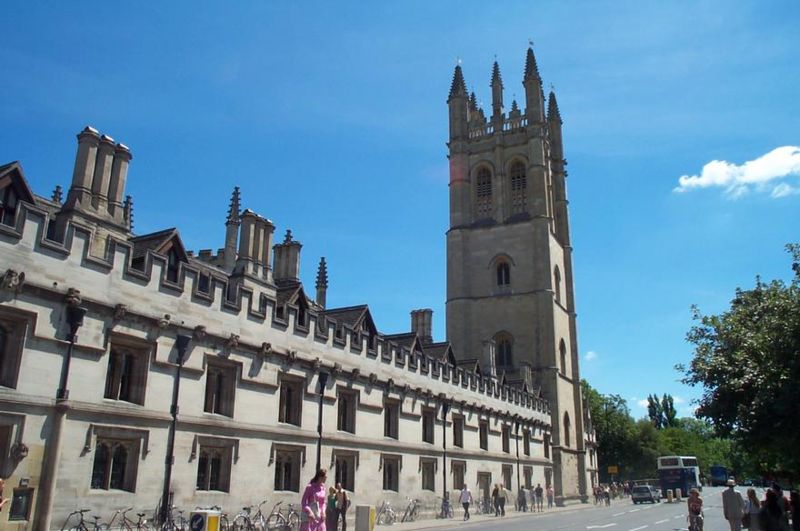 Magdalen College, Oxford
The very first postgraduate conference on biomedical engineering and medical physics to be held in the UK and RI took place in 2001. This was followed by another three conferences, at Aston University Birmingham in 2003 and at University of Southampton in 2005, and University of Reading in 2006. Building on this success we are pleased to be able to hold a similar event again this year. This meeting will consider the scope of biomedical engineering and medical physics being studied in the UK and RI and will explore different aspects of these subjects. Specific themes for this conference include:
Biomedical Signal Processing
Biomedical Imaging & Image Processing
Bioinstrumentation; Sensors; Micro, Nano & Wearable Technologies
Bioinformatics & Computational Biology; Systems Biology; Modelling
Cardiovascular & Respiratory Systems Engineering
Neural Engineering; Neuromuscular Systems; Rehabilitation Engineering
Molecular & Cellular Biomechanics; Tissue Engineering; Biomaterials
Bio-Robotics; Surgical Planning & Orthopaedic Biomechanics
Therapeutic & Diagnostics Systems, Devices & Technologies
Healthcare Information Systems; Telemedicine
Technology Commercialization; Education, Industry and Society
Guest speakers from academia and industry will kick off the proceedings on each day. As a conference organised for the students by the students, there is a valuable opportunity for students to present oral and poster presentations about their work within the field of biomedical engineering and medical physics in a friendly environment. There is also a competition for the best paper in both oral and poster presentations. Fees have been kept deliberately as low as possible in order to make the conference affordable to postgraduate students.
Keynote Speakers
PGBIOMED09 is pleased to welcome Prof. Ron Summers and Dr. Richard Scott as our keynote speakers for this year
Prof. Ron Summers - will be speaking on "From Disruption to Innovation", and is Professor of Information Engineering where he is Executive Director of the Systems Programmes within the Department of Electronic and Electrical Engineering. He is a past-Vice President of the IEEE Engineering in Medicine and Biology Society, and immediate Past-President of the Institute of Measurement and Control. Ron is a Director of two spin-out companies that deliver solutions to the health technologies market; although it is his experience with his company that has failed that enables him to provide anecdotes for his talk in this event.
Dr. Richard Scott - Having taken a first degree in Electronic Engineering, which included an industrial placement in the Division of Anaesthesia at the Clinical Research Centre, Harrow, Richard started work in 1984 as an Electronics Design Engineer in the Medical Physics Department at the Royal United Hospital, Bath. Richard subsequently gained a Masters Degree in Medical Electronics and Physics and undertook a part-time PhD researching into the mechanics of the respiratory system whilst working through the ranks of the Medical Physics profession.
In 1995 Richard moved to his current post at King's Mill Hospital, Nottinghamshire as a Consultant Medical Physicist and Head of the Medical Equipment Management Department. Richard's expertise is in biomedical signal processing, medical devices and their management and he is involved in the development of national and international standards for medical devices. Working in a busy District General Hospital Richard has considerable experience of the NHS and its management.
An active member of the IET, he is past chair of the Healthcare Technologies Professional Network and a current member of the Executive Team. Registered with the Health Professions Council as a Clinical Scientist Richard is keen to see the Medical Physics and Clinical Engineering profession continue to develop and is currently an advisor to NHS East Midlands and contributing to the Department of Health Modernising Scientific Careers programme.
For more information, please look at the Event Programme
Important Dates
Submission of paper (2 pages A4 max): 27th February 2009
Notification of paper acceptance: 18th May 2009
Final Submission and registration: 29th May 2009
Conference welcome reception: 12th July 2009, 7pm
Sponsors and Supporting Organisations







The IET
The IEEE
EMBS - UK & Republic of Ireland Chapter