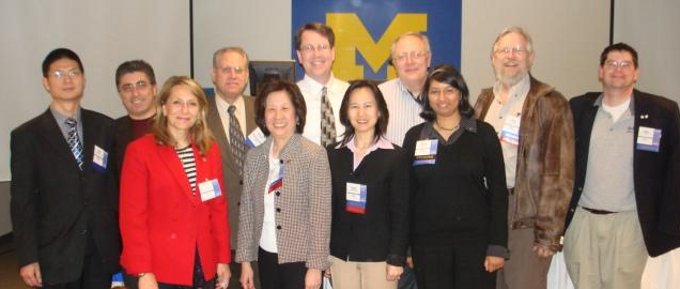 Our conferences are the product of many hours of planning and preparation by our volunteer members.
As a volunteer, you get a chance to work directly with some of the best engineers in the area. Our conference volunteers include professional members, retired members and life members, and graduate and undergraduate student members.
Please note that volunteers do not obtain any discount. Everyone attending the conference pays to attend. The IEEE Section covers the registration for the speakers.
Our conferences are not "fund raiser" events. We put on these events as a benefit for IEEE members.
As a volunteer, you can use your skills, and learn new skills, to help produce events. You will gain first-hand experience in learning and practicing skills such as:
Project Management
Leadership
Planning
Organizing and Prioritzing
Communicating
Working as a Team
Finacial Management and Budgeting
Examples of some volunteer jobs include:
Planning Committee You will help plan the conference event, solicit technical speakers, market and advertize, or other jobs where you can use your skills.
On-Site Registration You will give pre-registered attendees their credentials, and help those that are not yet registered to register. Registration volunteers also help assemble meeting badges and ribbons.
Set Up You will help place signs at the session rooms.
Communications You will help coordinate activities between the volunteers in different areas.
The planning committee communicates using the Section IEEE Online Community. Much of the conference planning information is available there, and you can find the agendas and minutes of past planning meetings for your reference. Use your IEEE member login name to login.
The commitee for the Fall 2012 Section Conference:
Dr. Yi Lu Murphey, Conference Chair and Section Vice Chair
Steven Romanoski, Conference Co-Chair
Rajeev Verma, Poster Chair
Kimball Williams, Section Chair
Lora Schulwitz, Ph.D., GOLD Activities
Scott Lytle, Registration and Webmaster
Robert Neff, Director of Marketing
Mohamad Berri, Ph.D., Director of Membership
Adel Marzougui, Ph.D., Director of Professional Activities
Praveen Kumar, Assistant Treasurer
Randy Boone
Tejas Chhaya
Jeff Dulzo
Weidong Xiang
Mark Ciechanowski, P.E., Associate Webmaster
If you would like to volunteer at the conference, or have other questions about volunteering, please send an email with the subject "IEEE Fall 2012 Section Conference Volunteer" to Dr. Yi Lu Murphey ( ), Conference Chair and Section Vice Chair. Please include your member number, email address, and your volunteer job preferences.