2003 Events
---
Upgrade to Senior Member Night
Senior Member Status Night
Next meeting:
2003-Sept-09 Burlington, 9:00pm - 10:00pm (after the meeting)
contact
j.harris@ieee.org
Have you ever considered upgrading to IEEE Senior Member status? It is free.
The two problems for me were:
1. Getting discouraged by the paperwork,
2. Finding Senior Members to act as references.
The requirements for elevated status are:
1. 10 years since graduation, or equivalent,
2. 5 years of significant engineering performance,
3. Reference letters from Senior Member or Fellow grade IEEE members.
The IEEE Hamilton Section is hosting a meeting which eliminates the two problems I had. You bring a resume showing five years engineering experience (an old one will do, if you don't keep an up-to-date one in your desk drawer or are retired) and the section will bring the forms and the Senior Members to act as references.
Date: Held Occasionally, or On Request
Time: 7:00 PM to 8:00 PM
Location: To be determined
Pop, coffee and cookies provided.
To request a night, or volunteer to host one, please contact Membership Development Chair Pedro
prebellon@ieee.org
---
Non Technical Meeting
Initiatives Canada - Using Tax Credits To Keep More of What You Earn
Date: Tuesday, 2003 September 09
Time: 7:30 p.m. - 9:00 p.m.
Cost: None
Location:
Park Bible Church
1500 Kerns Road, Burlington, ON
(Off North Service Road, West of Brant Street)
Limit: All are welcome
Dr. A. Sasha Marusich
, President of
Initiatives Canada Corporation
will show you how you can keep more of what you earn. By participating in a charitable donation program, you can realize a significant cash advantage over and above the cost of goods donated through the program. If you would like to find out more about how you can pay less tax and keep more of your income.
If you have contributed to an RESP or purchased a Labour Spnsored Mutual Fund, you know that the government gives tax credits. If your alumni association has called asking for contributions to "be matched by the government", you know that increasing charitable donations is something in which the government is currently interested. Initiatives Canada Corporation offers individuals an opportunity to participate in a program to donate various items to charities in Canada and around the world. In return, the individual will receive a tax credit for the donation.
Please note that this is session is being provided to our members for informational and educational purposes only. The IEEE Hamilton Section does not endorse participation in the Initiatives Canada Corporation program.
Directions
to Park Bible Church
Mapquest
map
to Park Bible Church.
Announcement and Agenda
The information meeting is over. Calculate the tax savings you want to generate using an Excell spreadsheet
tax_icc.xls
Contact John
j.harris@ieee.org
to complete the paperwork.
---
Conference
CCECE
Theme: "Technology Driving Innovation"
Date: May 2-5, 2004
Location:
Sheraton Fallsview
Niagara Falls
Ontario, Canada

The 17th Canadian Conference of Electrical and Computer Engineering will be held in Niagara Falls in May 2004. This conference, organized by local IEEE sections, provides a forum for Canada's best emerging Engineering talent and industrial leaders to present, participate, sponsor and network between partners in Canada's High Technology Frontier.
University and Industry - Partners in Success
All Are Welcome!
http://ieee.ca/ccece04
For more information contact Janet
janet_b@gennum.com
---
Students and Employers
McMaster Wine and Cheese
Date: September 18, 2003
Time: 6:30 p.m.
Cost:
Location: McMaster Student Center
Limit: Employer representatives welcome
The McMaster IEEE Student Branch has a full slate of activities - the first of which is our annual Industry Wine and Cheese, scheduled to take place at 6:30pm on September 18th in the McMaster Student Center. This event provides an opportunity for employers and graduating students to network, giving the students a leg up in finding employment after graduation. Anyone who is interested in attending is welcome to contact the Student Branch Chair, Randy Glenn.
For more information contact Randy Glenn
chair@ieeesb.eng.mcmaster.ca
---
Youth Outreach
High School Presentation
Here's a sample of the type of presentation we can make to local school students.
This one was given at Iroquois Ridge High School by Pedro and Deb on Thursday March 6, 2003.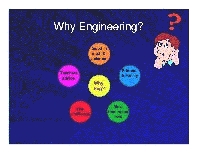 For more information contact Vice-chair Pedro
prebellon@ieee.org
---
Technical Meeting
Bluetooth
Learn about the latest in low power RF communication.
Date: Tuesday 2003 April 29
Time: 7:30 p.m.
Cost: None
Location:
Gennum Corporation
970 Fraser Drive
Burlington, ON
(exit QEW at Walker's line to Harvester Rd, left on Harvester left again onto Fraser Drive)

Limit: All are welcome
Our guest speaker will be Senior Product Manager, Kamal Ali. Kamal is responsible for the development and marketing of Bluetooth products at Gennum Corporation. Before joining Gennum, Kamal was a Principle Engineer at COM DEV, in Cambridge Ontario, involved in the development of satellite-based communication processors. This presentation will provide an overview of Bluetooth technology including typical applications, the certification process and Gennum's Bluetooth module as well as hardware set-ups to demonstrate a typical Bluetooth data and voice "link".
For more information contact Janet
janet_b@gennum.com
---
Non Technical Meeting
Financial Planning
Investing 101 - It Ain't Complicated
The RRSP season is over, it is time to think about proactive financial planning.
Date: Tuesday, 2003 May 13
Time: 7:00 p.m. - 9:00 p.m.
Cost: None
Location:
Park Bible Church
1500, Kerns Road
Burlington, ON
(Off North Service Road, West of Brant Street)

Limit: All are welcome
Featuring
Brian C.M. Hutson
, BSc(Hons), CFP, TEP, Financial Advisor with Kingsgate Wealth Management Services.
Brian currently manages several million dollars of his clients' money. He enjoys his work and is especially diligent in taking care of his clients. Brian has also produced several financial planning CDs for public education. He is a regular columnist providing basic financial education and advice over the airwaves on CFMU since 1994.
KingsGate is a privately owned Canadian corporation that provides wealth management services to individuals and corporate investors. These fully integrated solutions address their investment, retirement, education, estate and tax planning objectives.
Please note that this is session is being provided to our members for informational and educational purposes only. This is not a sales presentation!!
Directions
to Park Bible Church
Announcement and Agenda
For more information contact Scott
s.lowell@ieee.org
---
Workshop
Workshop on "Database for Engineers"
A short 1/2 day course on practical set-up and implemetation of databases. It's time to think of programming as a collection of stored real time data instead of as a sequential set of operations.
The purpose of this 1/2 day workshop is to get you thinking beyond the normal traditional constraints of engineering programming and remove some of the mystique of working with large database systems.
Date: Saturday, 2003 June 07
Time: 9:00 AM to 12:00 noon
Cost: $50.00 ($35.00 for Hamilton Section members)
Location:
Zenon Training Room
Oakville, ON

Limit: Attendance limited to 20
This course is suitable for both shop floor engineers and management engineers. A commercial SQL software will be used as basis of the course and a 120-day licensed version included. Links to equivalent open source software will be provided.
Register by 2003 May 15
Make cheques payable to "IEEE Hamilton Section" and mail to Eric Harrison
Zenon Environmental Inc.
3239 Dundas Street West
Oakville, ON L6M 4B2
Event broucher with ageda
.
For more information contact Eric
eric.harrison@ieee.org
---
Social Evening
Dinner Meeting
The plan is to have a nice sit-down roast beef dinner with a distinguished speaker on trends in electronic technology. Date:
Thursday, 2003 October 02
To be re-scheduled to non Election night.
Cost: approximately $20.00
Location: McMaster (details to be arranged)
Speaker: Charles Salameh
Topic: Convergence - The way data and information are changing and blending.
For more information contact James
james.mcananama@ieee.org
---
Local Event (non IEEE) 2003 January 16
Engineering and Society
The following information was supplied by Carm Vespi at McMaster.
Dr. Doug Barber is an IEEE Senior Member.
On Thursday, January 16, 2003, from 5:00 p.m. to 9:00 p.m., the Engineering & Society Program is hosting its annual Industry Night, "Thinking Outside the Box: Engineering for a Complex World". We invite you to explore with us why engineers need to think about people, culture, the environment and other challenging issues. Our speakers will examine why engineers have skills to solve some of the most complex problems.
HIGHLIGHTS
The keynote speaker will be Dr. Doug Barber, P.Eng., founder and past president of Burlington-based Gennum Corporation, and McMaster's Distinguished Engineer in Residence. An electrical engineer by training, Dr. Barber will be speaking about how engineers offer a unique skill set for problem solving, and what we need to do to capitalize on these skills. The evening will also include presentations of student work and a full explanation of the program and what its students have to offer. A brief overview of the evening's events is attached. Most importantly, this event is an opportunity to meet Engineering & Society students, and find out about the diverse skills offered by graduates of this unique program.
RESERVATIONS
If you're interested in finding out more, we would be delighted to have you or someone from your organization as our guest. For more information or to RSVP, please contact Jane Mah, the Society Program administrative assistant, at (905) 525-9140, ext. 27679, or by e-mail to jane@mcmaster.ca.
EVENING AGENDA
4:15 Registration, coffee & refreshments
5:00 Opening remarks
5:30 Keynote speaker Dr. Doug Barber, P.Eng., Past-President of Gennum Corporation
6:00 Dinner
6:30 Society Program Overview Prof. Bob Hudspith, P.Eng., Director, Engineering & Society Program
7:00 Final Year Inquiry Presentation 5th Year Engineering & Society Students
7:20 Panel discussion: Five panelists from professional engineering "Working in the complex world"
9:00 Concluding remarks
Meeting Notice
---
2003 January 16
Casino Social Evening
CANCELLED - We couldn't fill the bus.
Location: Casino Niagara
When: Thursday, 16 January, 2003
Cost: $15.00 (includes bus ride)
Speaker: Casino Representative
Attempting to have a representative from the Casino speak to us about how electronics has changed the gaming industry followed by time in the Casino itself.
Bus to be arranged, pick-ups in Hamilton and Burlington, cost $15.00.
Meeting Notice
---
Local Event (non IEEE)
McMaster University's Faculty of Engineering Presents
The Nineteenth Annual, J.W. Hodgins Memorial Lecture, 2003
Carol Stephenson
President & Chief Executive Officer, Lucent Technologies Canada
"After the Bust: Rebuilding the Trust"
Tuesday, March 11, 2003
7:30 p.m.
McMaster Information Technology Building
Lecture Hall - Room 137
R.S.V.P. by calling (905) 525-9140 x. 27926 or e-mail: T. Milson
milsont@mcmaster.ca
For more information see
click here
.
---
Local Event (non IEEE)
Science Fair
The 43rd annual Bay Area Science and Engineering Fair (BASEF) is being held at McMaster University in the Burridge Gymnasium from April 2 to 5. This event will showcase science and technology projects completed by students in Grade 7 - OAC from Hamilton, Halton, Brant and Haldimand-Norfolk.
Volunteer judges needed for Bay Area Science and Engineering Fair.
As of Feb 18, they had an urgent need for volunteer judges on Thursday, April 3 and volunteers for student activity day on Friday, April 4.
Call for Judges in pdf format
BASEF2003CallforJudgesV1.pdf
For more information see
http://basef.mcmaster.ca/2003
---
2003 July 13-17
Power Engineering Society Conference
For those of you that enjoyed the talk on power deregulation, the annual meeting for power engineering is being held in Toronto.
The IEEE Power Engineering Society General Meeting/conference will be held in Toronto, Sheraton Centre hotel, for the period July 13 - 17th, 2003. This power engineering conference will bring together participating power engineers and academics from around the world. The aim of the conference is to provide, share, and discuss various issues and developments in the fields of electrical power engineering.
For further information, please visit
www.ieee.org/pesgm/toronto2003.com
Hamilton Section contact Pedro
prebellon@ieee.org
---
2003 Tentative
Women in Engineering
Location: McMaster University (Room to be arranged)
When: Planned for late 2003
Speaker: Monique Frize
Monique Frize will join us from Ottawa where she is a Biomedical Engineer and a professor of electrical and computer engineering at Carleton University and the University of Ottawa.
Dr. Frize's research is concentrated on using artificial intelligence to assist physicians by improving the information which decisions are based on.
Dr. Frize has been awarded several awards including the YWCA Women of Distinction Award for Life Achievement and the 6th Annual Meritas-Tabaret Award for career achievement from the Alumni Association of the University of Ottawa.
For more information contact Deborah
chair@ieeesb.mcmaster.ca
---
Tour of Hydro Plant
Tour of Sir Adam Beck Generating Station
Two simultaneous tours are being planned
Bring your own safety boots and go behind the scene.
No safety shoes. Get the usual tour. Bring your spouse and kids.
For more information contact Ron
r.potts@ieee.org
---
Worldwide Video Contest
The following information was provided by IEEE:
Subject: NASA/CNU/IEEE Brochure
The NASA Center for Distance Learning, Christopher Newport University and the IEEE are sponsoring a worldwide video competition open to all grade levels. It is designed to build awareness of science, technology, engineering, and mathematics (STEM). It is organized to bring teachers and students together.
Please see the attached brochure
Vinny_Brochure.pdf
for more details.
If you have any questions, please contact me.
Thank you.
Celeste M. Torres
Special Projects Assistant
IEEE Educational Activities
445 Hoes Lane
Piscataway, NJ 08854, USA
Email:
c.torres@ieee.org
Phone: 1 732 981 3425
Fax: 1 732 981 1686
Web:
http://www.ieee.org/organizations/eab/
---
Meeting
Annual General Meeting
Vote for your executive. Then hear an interesting speaker from Ontario Power Generation. (OPG used to be called Ontario Hydro) Charles Edey will talk about windmills and alternative energy.
Date: Monday 2003 November 03
Time: 7:30 P.M.
Cost: None
Location: McMaster University, Information Technology Building, Room ITB-201
Limit: All are welcome
Speaker: Charles Edey, Senior Business Development Officer, Ontario Power Generation
Charles Edey, is the Senior Business Development officer in Business Development Division of Ontario Power Generation. Ontario Power Generation (OPG) is the new company set up following the break up of Ontario Hydro in 1999 to manage Hydro's generation assets.
Chuck is responsible for adding new green power supply to OPG's generation portfolio through new Wind Generation build programs. In this role he is responsible for the development of Wind Energy Generation for OPG including Siting, Land Acquisition Agreements and Partnerships and development contracts.
Mr. Edey has over 23 years of experience in the energy business with OPG and the former Ontario Hydro. He has worked on both the production and the contract sides of the business. He also spent time as the utility manger of the Bruce Energy Centre a sustainable energy park. He has extensive expertise in project management, contracts for power purchases and other strategic initiatives affecting electrical utility planning and operations.
He was first educated in Sudbury in Industrial Instrumentation Engineering and is a Licensed Electrician, trained in Wind Site Assessment (WAsP) and Project Management.
At OPG, Chuck has participated in developing and implementing a sustainable energy development strategy with particular emphasis on renewables such as wind generation.
He started as the Hydro Rep for the first commercial Turbine in Ontario in 1995, he has been continuing to be instrumental in providing leadership in the development and promotion of opportunities for the use of renewable energy technologies. He was the project manager of the Pickering Wind Project and Ontario's first Commercial wind farm, Huron Wind. He is currently working on several new initiatives in Wind Industry.
For more information contact Janet
janet_b@gennum.com