Educations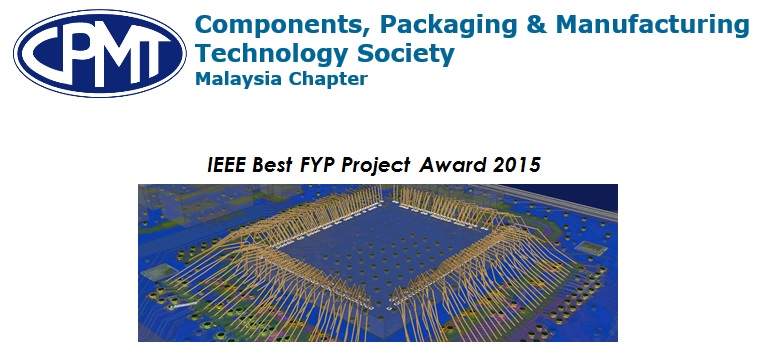 IEEE BEST FYP PROJECT AWARDS 2015
CPMT Malaysia is organizing a recognition award for final year students completing their Final Year Project (FYP) in various fields related to Electronics Engineering.
The award objective is to encourage potential students to push themselves beyond boundaries in order for them to excel in their field of endeavour
Participating Universities
1. Universiti Malaya
2. Universiti Sains Malaysia
3. Universiti Teknologi Malaysia
4. Curtin Universiti Malaysia
Calling for potential candidates pursuing FYP in aforementioned fields & universities to participate.
Date: March until September 2015
EDUCATION TALK
"I Have Never Registered Even Though I Have Worked as an Engineer for Years – Is It Really Necessary?"
by Adj. Prof Cheang Kok Meng (former Executive Director, Institution of Engineers Malaysia
Date: 18th March 2015
Venue: Universiti Kebangsaan Malaysia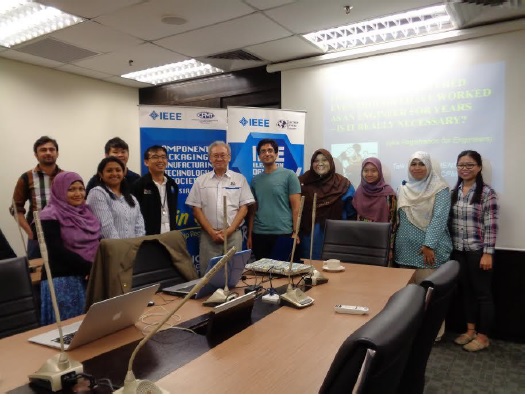 About the Talk
On the 18th March 2015, Adj. Professor Cheang presented a talk entitled "I Have Never Registered Even Though I Have Worked as an Engineer for Years – Is It Really Necessary?" in UKM. The talk was co-organized by IEEE CPMT Malaysia, IEEE EDS Malaysia and Institute of Microengineering and Nanoelectronics, UKM. This talk dealt on many issues of common interest to engineering students in Malaysia such as the differences between the roles of the Board of Engineers Malaysia (BEM) and the Institution of Engineers Malaysia (IEM), as well as the requirements and procedures for achieving Professional Engineer status, with reference to recent amendments to the Registration of Engineers Act. A brief overview of regional and international registrations were also be covered by Adj. Prof Cheang. The one-hour talk extended to almost two hours because of various questions raised by the attendees. More talks of similar interests and values will be organized for IEEE members and students alike in the near future.
INDUSTRY-ACADEMIA FORUM
"Industry-Academia Forum" by CREST Malaysia & CPMT Malaysia
Date: 25th March 2015
Key Discussions from the Forum
Clusters Focus: Advance Materials & Packaging under Domain Areas of the followings
Semiconductor Device Packaging - Multi-chip Packaging (TUV, TSV
Cheaper Epoxy/Materials for mass market Optoelectronics
Compound semiconductor engineering (III-V)
Nano-materials and structures for interconnects, circuitry and thermal management
Materials for 3D printing, inkjet printing

About the Talk
The industry-academia forum is a platform initiated by CREST Malaysia to promote collaboration between industry partners and academia. The first forum was held on the 25th March with good participation from more than 25 academic researchers and industry experts in Malaysia in the area of advanced materials & packaging. The area of discussion included current technology trends and needs; research interests in the associated key technology areas and research expertise needs. The forum also intends to provide an opportunity to identify potential researchers from universities whom are interested to collaborate in these key research areas with industry partners. The CPMT Malaysia chapter was invited to collaborate and also facilitate the discussion session, focusing on the "Advanced Materials and Packaging" cluster. The participants were divided into 4 sub-teams and discussed on "Density, Power, Performance and Cost", which are the key focus areas for advanced packaging which are heavily studied by the worldwide electronic community. Fruitful outputs were achieved from this initial discussion and the team also identified some potential steps to follow up, which included a revision on potential focus areas with suggestions from CPMT key members. Further engagement will be followed up with CREST team soon.
ENGAGING THE STUDENT MEMBERS: KBU INNOVATION DAY 11th JUNE 2015
CPMT Malaysia is organizing a recognition award in conjunction of KBU INNOVATION DAY on the 11th June 2015 in KBU Campus

Various KBU Award Winners with IEEE Rep, Principal and School of Engineering and Computing Head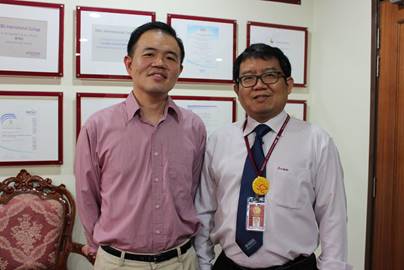 Wee Teck (CPMT rep) with Dr Chee (KBU Principal) on right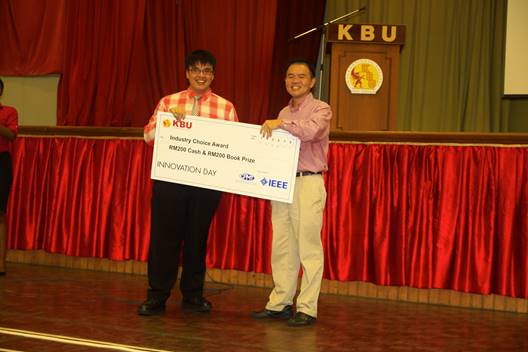 Wee Teck (CPMT rep) presenting Best Industry Award to Desmond Siah Zhao Qiang for the project : Development of Indoor Positioning Application for Android Smartphone.
IEEE CPMT Malaysia Awards Coverage
Awards Ceremony from IEEE CPMT Malaysia for Curtin University Sarawak for Final Year Projects recognition was publicized in three national newspapers in Malaysia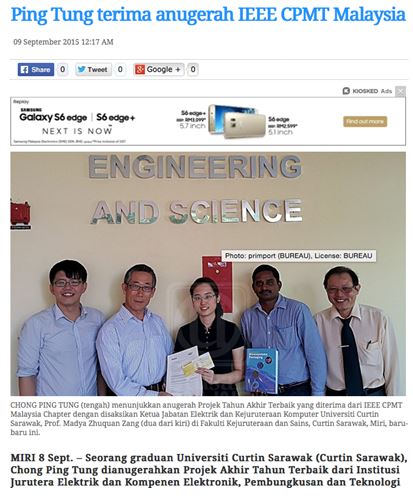 Chong Ping Tung receives the BEST FYP Award from IEEE CPMT Malaysia in Utusan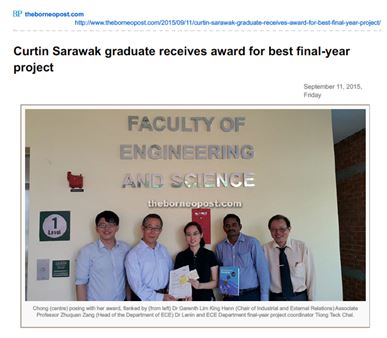 Chong Ping Tung receives the BEST FYP Award from IEEE CPMT Malaysia in The Borneo Post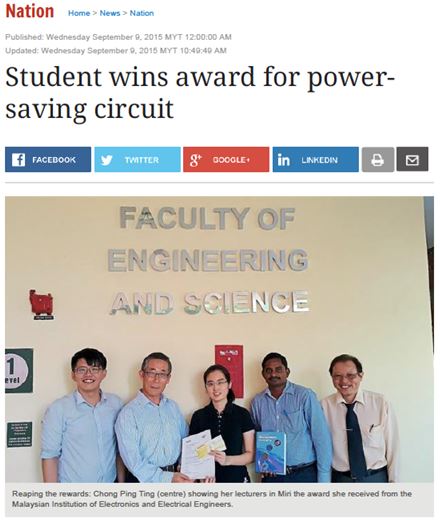 Chong Ping Tung receives the BEST FYP Award from IEEE CPMT Malaysia in The Star
CONTACT US
Interested candidates & talk organisers promotion, kindly liaise to
The Secretariat,
CPMT Malaysia Chapter