IEEE Orlando Section Monthly - Vol. 48, No. 9 - October 2015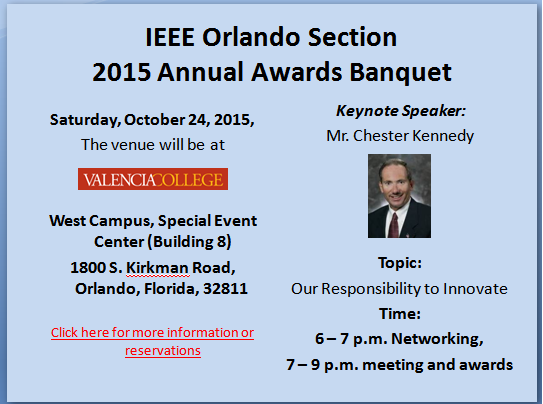 Section/Society Chapter/Affinity Group Events
Section News
Reports/Newsletters
IEEE Conferences/Annual Meetings/Courses
Other IEEE News/Events
---
Date: Tuesday, October 13th, 2015
Time: 6:30 - 7:00 pm - Social and Dinner; 7:00 - 8:00 pm Executive Committee Meeting
Place: Red Lobster Restaurant, 3552 E. Colonial Drive, Orlando, FL 32803.
Cost: Meeting attendance is free to all IEEE members and Non-IEEE members.
RSVP: Stanley Buchanan, stanbuchanan@IEEE.org, tel. 407-256-3329
Website: www.ieee.org/orlando
---
Date: Saturday, October 24th, 2015
Time: 6:00 - 7:00 p.m. Networking; 7:00 - 9:00 p.m. Meeting and Awards
Place: Valencia College – West Campus, Special Event Center (Building 8) 1800 S. Kirkman Road, Orlando, Florida, 32811
Parking: Free Lot F or G.
Campus Direction: please visit https://valenciacollege.edu/map/public-safety.cfm Community Meeting Room at the Fashion Square Mall, Orlando, FL 32802
Campus Map: click here for map

Keynote Speaker: Mr. Chester Kennedy (Abstract and Bio)
Topic: Our Responsibility to Innovate
Cost: The fees for attendance will be as follows:
IEEE Member and Guest: $15.00/person
IEEE Student Member and Guest: $15.00/person
IEEE Life Member and Guest: $15.00/person
Awards Winner and Guest : Free
Student Scholarship Winner Free
RSVP: Deadline for all reservations is C.O.B. October 20, 2015. Please confirm your intent to attend to: ravi.shrees@gmail.com
Menu: The Buffet menu will include Fresh Greens, starch, desert, coffee, tea, and vegetable and main course choice of Garlic Herb Crusted Chicken or Hawaiian Meatballs
Website: www.ieee.org/orlando
---
The Orlando Section invites members who may be qualified for senior member elevation to start the senior member elevation process. Senior members will be available for references on Saturday, October 10, 2015 from 1 p.m. to 2 p.m. at the Orlando Public Library Palm Meeting Room, 101 E. Central Blvd., Orlando, FL 32801. Members who begin the elevation process on Saturday, October 10, are eligible for a drawing for a $25 American Express gift card.

click here for more information about the elevation drive and senior membership elevation. Members interested in the elevation process should RSVP by e-mailing Joe Juisai at Joe.Juisai@IEEE.org.
---
The Orlando Section Nominations Committee is currently seeking candidates for section secretary. Interested individuals should e-mail the nominations committee at joe@juisai.name, shepburn19@cfl.rr.com, or scott.a.clary@lmco.com to schedule an information session and interview. More information about the section secretary position can be found at https://www.ewh.ieee.org/r3/orlando/Procedures.html Section 3.1.3. For additional information please e-mail Joe Juisai at Joe.Juisai@IEEE.org.
---
Do you know what the IEEE Member Discounts program does for IEEE members? Here are some important facts about this program:
More than 70,000 IEEE members use at least one of the benefits in the Member Discounts program.
Member Discounts products and services are supported by contracts between IEEE and providers, vetted by the professional staff and volunteers.**
Member Discounts help to support the personal and professional needs of IEEE members throughout their careers, and are portable when they change employers.
Not all Member Discounts insurance plans and product discounts are available in every country; however, members can find many benefits available in a number of countries, with more being added each year. In fact, the insurance program now spans 84 countries!
Member Discounts are promoted at no cost to any member and more than $5.3 million in annual non-dues revenue from these programs benefit members worldwide.
Discover what IEEE Member Discounts can offer you. The Member Discounts portfolio consists of insurance products and programs for the home, office and travel, all at excellent group rates and reduced pricing. Visit IEEE Member Discounts to see what's available in your location and enjoy the savings.
** We can assist with developing local benefits, too. Contact L.Koblin@ieee.org for more information.
---
You have received this mailing because you are a member of
IEEE Orlando Section
.
To unsubscribe from section/chapter eNotices, please log into eNotice subscription form.
If you need assistance with your eNotice subscription, please visit: https://supportcenter.ieee.org/.
---