Conference Venue: The Parliament Palace
| | |
| --- | --- |
| Right in the historical and geographical centre of Bucharest stands an impressive building that strikes the eye by its particular style. It is the Palace of the Romanian Parliament, a "giant" built during the "golden age". The Guiness Book of World Records lists the building in second place according to its 330,000 sq.m. surface, that is after the Pentagon building. The Palace measures 270 m by 240 m, 86 m high, and 92 m under ground. It has 1,100 rooms, 2 underground parking garages, with four additional underground levels currently available and in use, with another four in different stages of completion. | |
The structure combines elements and motifs from multiple sources, in an eclectic neoclassical architectural style. The building is constructed entirely of materials of Romanian origin.

Address: Palatul Parlamentului, str. Izvor, nr. 2-4, Sector 5, Bucureşti

View the location with Salut Bucuresti or APMNIR

The city: Bucharest


Bucharest is the capital city and industrial and commercial centre of Romania. It is located in the southeast of the country and lies on the banks of the Dambovita River. It is laden with historical charm from the streets of the Old City Center, to the grand architecture of the Royal Palace and the lush green of Cismigiu Park. In the period between the two World Wars, the city's elegant architecture and the sophistication of its elite earned Bucharest the nickname Paris of the East or Little Paris.

The city also claims a large number of museums, art galleries, exquisite Orthodox churches and unique architectural sites.
Host organizations


With more than 180 years of existence, University POLITEHNICA of Bucharest represents one of the fundamental and prestigious institutions of Romanian higher education, being the main source for the technical specialists of Romania.

University POLITEHNICA of Bucharest is located on a very large surface, being surrounded by green spaces that offer to it the status of park. The university is located very close to the city centre as well as to the railway station, having very good connections to Metro, Bus and Tram stations.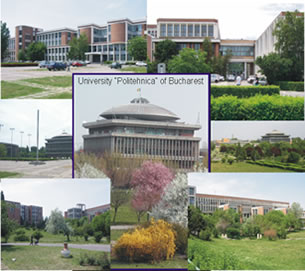 Transelectrica is the main industry partner of the Power Engineering Faculty, from University "Politehnica" of Bucharest, along years it supporting a very large number of activities from student scholarships, student trips, practice stages to co-organization of conferences and meetings, including IEEE activities. Furthermore, a very large number of engineers employed within Transelectrica and its subsidiaries (Dispatching Centers, OPCOM, SMART and Teletrans) are graduating students of the Power Engineering Faculty from the UPB.