IEEE Orlando Section Monthly - Vol. 51, No. 11 - December 2018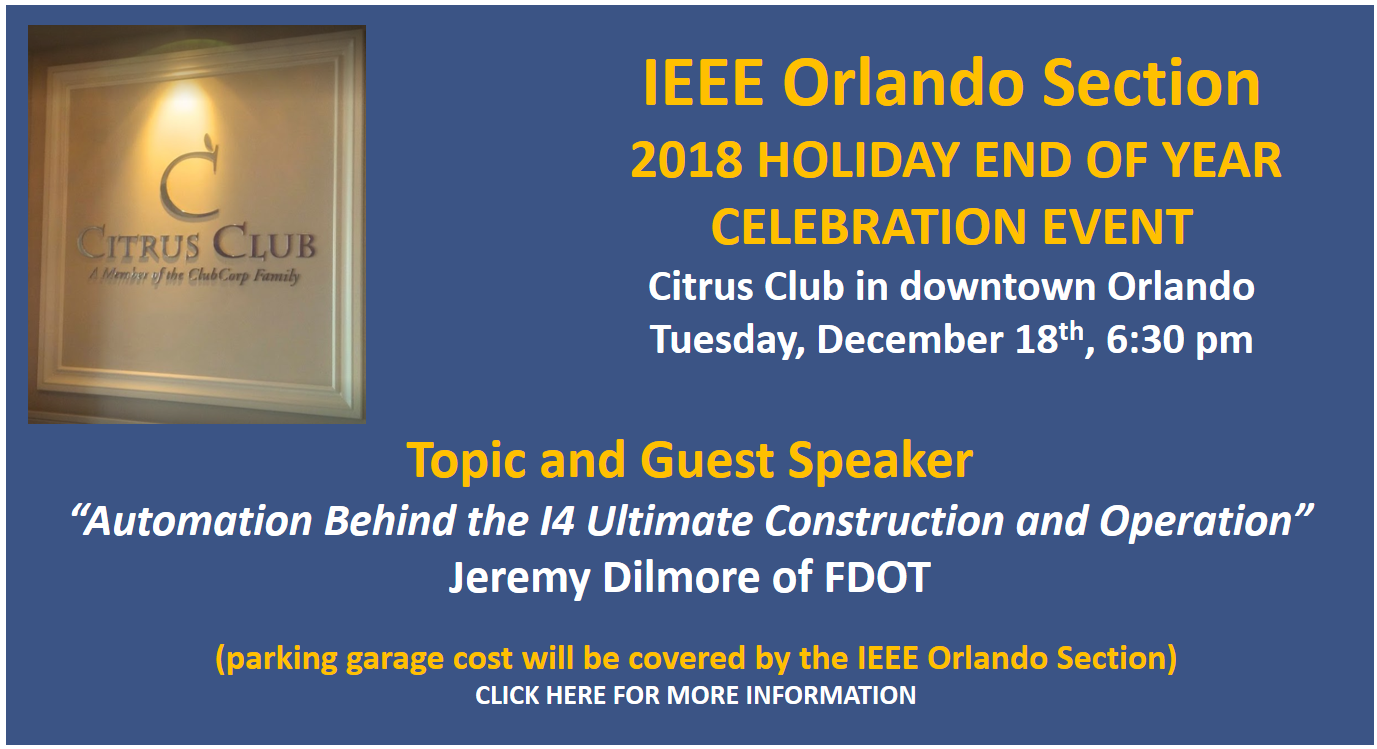 Section/Society Chapter/Affinity Group Events
Section News
Member Recognition
Reports/Newsletters
Employment Opportunities
Local Job Openings

Forensic Electrical Engineer Expert Witness
Security Design Leader - Justice Facilities
Robotics Part Time Faculty Member Position Available at Valencia College
IEEE Conferences/Annual Meetings/Courses/Sponsored Events
Other IEEE News/Events
---
Come help the IEEE Orlando Section celebrate another amazing year learning and connecting with each other! We plan to enjoy a presentation from one of our Technology and Engineering Management Society (TEMS) members at the Citrus Club whilst enjoying a delicious meal and a beautiful view of Downtown Orlando.
Topic: " Automation Behind the I4 Ultimate Construction and Operation
Guest Speaker: Jeremy Dilmore of FDOT
Abstract: Mr. Dilmore, who is the ITS Manager for the FDOT in District 5, will be discussing and presenting simulations on the automation being used to construct and then operate I4 Ultimate. Traffic flow monitoring, traffic control, toll system, safety systems, and all of the computer and electrical technology that go into a modern urban highway system will be highlighted. Post boards and other props will be available to encourage discussion and understanding.
Date: Tuesday, December 18th, 2018
Time: 6:30 pm - 7:00 pm: Social and Refreshments; 7:00 pm - 9:00 pm: General Meeting
Place: The Citrus Club, Minneola Room, 255 S Orange Ave #1800, Orlando, FL 32801
Parking: The parking garage cost will be covered by the IEEE Orlando Section. Please bring the parking garage ticket to be validated at the Citrus Club.
Cost: It is a completely free event
RSVP: https://events.vtools.ieee.org/tego_/event/manage/181758 - We only have 32 spots available at the Citrus Club
Website: www.ieee.org/orlando
A non-profit organization, IEEE is the world's largest professional association for the advancement of technology.
---
Welcome to the 2018 IEEE Orlando Section Annual Election! We would like to take this opportunity to personally express our sincere appreciation for you being an IEEE member!

Our duty and responsibility is to ensure that your voting rights are protected and you are confident that your vote is accurately cast and tabulated. We will utilize the vTools.Voting system for our elections. Please log in to vote in the election.

Voting started on 20 November 10:30 PM and will close at 17 December 11:59 PM.

Please select one candidate for each position or specify a write-in candidate.

Candidate Names and Details (biography, reasons for running, etc.):

IEEE Orlando Section Chair, 2019 - Joe Juisai : Joe Juisai is an IEEE senior member and a previous section chair of the Orlando Section in 2005. He has been active in the Section since 2001 has held all elected Section officer positions in the past. He also was the treasurer of the Florida Council in 2007, the Membership Development Chair from 2013 until 2017, and he's currently the Communications and Signal Processing Society Joint Orlando Chapter chair since 2018. Joe's goal for 2019 as chair is to ensure that the section partners with the society chapters to fulfill the mission of IEEE here in the Orlando section. In addition, he wishes to partner with our Student Branches to provide the needed support our local students require, and to grow the section membership.

IEEE Orlando Section Vice Chair, 2019 - Christopher Nergard : Chris Nergard is a Systems Engineer at Lockheed Martin Missile and Fire Control. He has been a member of IEEE since his freshman year at the University of Central Florida, and served as its chair for four years (2011-2015) while earning a Bachelor's degree in Computer Engineering and a Master's degree in Electrical Engineering, while at the same time working at Tesseract Sensors, designing and building fiber optic sensors. He participated in IEEE SoutheastCon every year placing top ten in the hardware, technical paper, and ethics competition, along with winning the Exemplary Student Branch Award. Since May 2018, he has been serving as Vice Chair for the IEEE Orlando Section.

IEEE Orlando Section Treasurer , 2019 - Warren Macchi: Warren Macchi is the current IEEE Orlando Section Secretary, Treasurer, and Computer Society Chapter Chair. As a member of the ExCom he has been an active participant in managing the on-going events and activities of the Orlando Section. He is also the founder and President of Abamis IT Solutions, a local Software Development company in the University of Central Florida area that provides computer technology solutions for mobile, cloud, gaming, and simulation applications. Warren has been an Orlando citizen since 1989, studied at Valencia Community College and received a Bachelors and Master's degree in Computer Science from UCF in 1999. In 1994 he received a National Science Foundation Fellowship for his Research Experience for Undergraduates work at UCF. He has been a member of SISO during his early work in Modeling, Simulation, and Training activities and participated in IEEE and SISO international standardization activities. He became an IEEE Senior Member on July 2016.

IEEE Orlando Section Secretary, 2019 - Varadraj "Raj" Prabhu Gurupur : Varadraj Gurupur is currently employed with the Department of Health Management and Informatics at the University of Central Florida. He was previously employed with the School of Medicine, University of Alabama at Birmingham (UAB), Birmingham, Alabama as a Data Manager for their Alzheimer's Disease Research Center, and later as an Information Systems Specialist. During his tenure as the Data Manager he perceived that many areas of dementia treatment could be improved using software tools that can not only automate manual testing but also increase the accuracy of the results. His main area of research is improving information systems for health and biomedical informatics. Varadraj has developed innovative prototypes that present new methodologies that can be used in the development of these information systems.

Please don't hesitate to contact us at j.medina@ieee.org if you have a question, comment, or complaint regarding your voting experience.

Thank you for voting - your vote counts!

IEEE Orlando Section Election Committee

To place your vote, go to https://voting.vtools.ieee.org. You will need your IEEE web account to vote. If you don't have an IEEE web account, go to https://www.ieee.org/web/accounts. A web-based tutorial on how to vote is available at https://sites.ieee.org/vtools/documents/2013/10/3-voter-instructions-tutorial-pdf.pdf

To unsubscribe from the mailings regarding 2018 IEEE Orlando Section Annual Election please click here. Please note that this will not unsubscribe you from the e-mails regarding future elections.
---
The IEEE Orlando Section congratulates our new Senior Members:


Paul Boykin
Santiago Lentijo
Tarek Mhamdi
Guojun Qi
The last A&A Senior Panel meeting was held on October 2018 in Rome, Italy
For details on how to apply for IEEE Senior Member grade and view the review panel meeting dates, visit the IEEE Senior Member homepage.
For Senior Member inquiries, contact:
senior-member@ieee.org
Helpful Senior Member web links:
---
The Orlando Section is looking to host the SoutheastCon 2022 in Orlando, FL in early 2022. Four years away but the planning needs to start now. Up first is the application to Region 3 where we need to identify Orlando section members to fulfill key roles in the event. Roles include Conference Treasurer and Publication Chair along with vice chairs for Conference Treasurer, Conference Information, Conference Publications, and Conference Technical Program. The planning committee is also being established. Please contact Varadraj Prabhu by May 10th if you are interested in supporting the SoutheastCon 2022 in Orlando, FL.
---
The Orlando Section is currently seeking volunteers for Chapter Officers and Committee Officers. Interested individuals should e-mail the Section Chair Deb Hall at, dhall@valenciacollege.edu to schedule an information session and interview.
---
Do you know what the IEEE Member Discounts program does for IEEE members? Here are some important facts about this program:
More than 70,000 IEEE members use at least one of the benefits in the Member Discounts program.
Member Discounts products and services are supported by contracts between IEEE and providers, vetted by the professional staff and volunteers.**
Member Discounts help to support the personal and professional needs of IEEE members throughout their careers, and are portable when they change employers.
Not all Member Discounts insurance plans and product discounts are available in every country; however, members can find many benefits available in a number of countries, with more being added each year. In fact, the insurance program now spans 84 countries!
Member Discounts are promoted at no cost to any member and more than $5.3 million in annual non-dues revenue from these programs benefit members worldwide.
Discover what IEEE Member Discounts can offer you. The Member Discounts portfolio consists of insurance products and programs for the home, office and travel, all at excellent group rates and reduced pricing. Visit IEEE Member Discounts to see what's available in your location and enjoy the savings.
** We can assist with developing local benefits, too. Contact L.Koblin@ieee.org for more information.
---
You have received this mailing because you are a member of
IEEE Orlando Section
.
To unsubscribe from section/chapter eNotices, please log into eNotice subscription form.
If you need assistance with your eNotice subscription, please visit: https://supportcenter.ieee.org/.
---