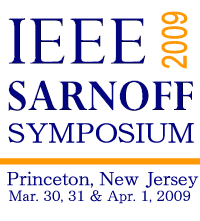 2009 IEEE Sarnoff Symposium
Mar. 30, 31 & Apr. 1, 2009, Nassau Inn in Princeton, NJ, USA
Sponsored by:

Letters of Invitation
Individuals requiring letters of invitation to obtain travel visas must be conference chairs or authors to receive an invitation letter. If you are in need of an Official Invitation Letter from the Sarnoff 2009 Symposium for visa application purposes, please fill out and send the Invitation Letter Request Form (

).
Please fill out a separate form for each person requesting a letter.
Send electronically to email address provided on the form.
All letters of invitation will be sent by airmail and by email (as a PDF attachment) unless a courier account number or credit card number with expiration date is provided with the original request.
Please allow up to 6 business days to process your request.
IEEE and the Symposium Technical Committee can not contact U.S. Embassies in support of an individual attempting to gain entry to attend the meeting.
NOTE: We recommend that you secure your travel visa before registering for the conference as cancellations after the pre-registration cutoff may result in a cancellation fee.