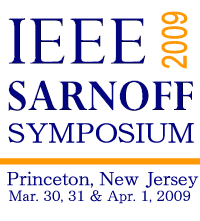 2009 IEEE Sarnoff Symposium
Mar. 30, 31 & Apr. 1, 2009, Nassau Inn in Princeton, NJ, USA
Sponsored by:

Visa and Travel Matters
Critical information for all visitors from outside the United States Effective January 12, 2009, travelers from Visa Waiver Program countries need to obtain an electronic travel authorization prior to their departure to the United States. This includes travelers from the UK, Germany, Japan, and many other countries.
Visa Information and Invitation Requests
Apply early for your Visa!
If you need a travel visa, begin the visa application process as soon as you get a confirmation your paper has been accepted. You need to allow a minimum of 6 weeks processing time. Advance travel planning and early visa application are important, since visa applications are subject to a greater degree of scrutiny than in the past. See links below for more information about Visa and passport requirements for travel to the United States.
U.S. to Add New Visa Requirements; Europe to Follow
Beginning 12 January 2009, visitors to the U.S. from visa-waiver countries, most of which are in Europe, will be required to register online and to be screened and authorized for entry. The European Commission is considering a similar system later for visitors from the U.S. and other countries. The new Electronic System for Travel Authorization (ESTA) was ordered by the Department of Homeland Security to identify visitors who might be a threat. Authorization is good for two years or until one's current passport expires. The initial registration can take place any time before the first trip to the U.S. after the system goes into effect.

Register Online for entry to the United States
US Department of State Visa information home page: http://travel.state.gov/visa
A Visas Mantis may be required: http://www.state.gov/r/pa/prs/ps/2005/42212.htm
Estimated wait times for interview appointment and visa processing:

http://www.travel.state.gov/visa/temp/wait/tempvisitors_wait.php
Do you need a Visa? See information for temporary visitors to the United States to find out:

http://www.travel.state.gov/visa/temp/temp_1305.html
The National Academies Visa information pages: http://national-academies.org/visas