Immediately following the NSS Plenary Session on Monday (10 November), we will be holding the traditional NSS luncheon in room 6A. During the latter part of the lunch, we will have a short awards ceremony followed by a special luncheon speaker. This year we were determined to find something different - something both relevant and highly entertaining - and we believe that we have found a truly unique and exciting presenter!
We are certainly looking forward to seeing you at the 2014 NSS Luncheon.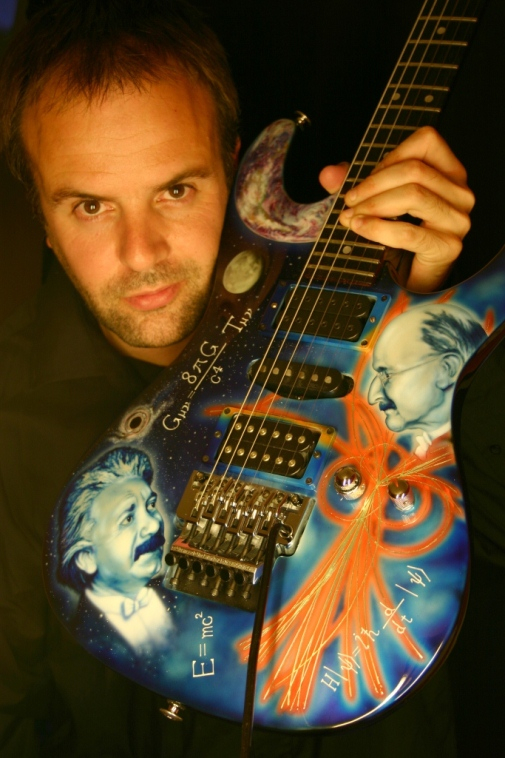 Rock Guitar in 11 Dimensions - Dr. Mark Lewney
'Rock Doctor' Mark Lewney presents the physics of rock guitar using riffs from AC/DC, Slayer and Jimi Hendrix through amplifiers turned up to 11. A vibrating string is a beautiful mathematical object whose 'bound states' provide an invaluable and intuitive paradigm for people interested in physics. Holographic analysis of guitar bodies then applies the same principle to two or three dimensions, and then extending it to 10 or 11 dimensions provides a possible candidate for Quantum Gravity. Less a lecture and more of a performance, simple props such as a music box, a slinky, a bullwhip and a brick on a rope are used to explain complex concepts like impedance matching, acoustic singularities and the Higgs field, culminating in a dramatic finale.
Biography
Dr Mark Lewney studied physics at Edinburgh University and a PhD in Guitar Acoustics at Cardiff University before winning FameLab, a nationwide competition to find new science presenters in the UK. He has since appeared on TV (search "Einstein Meets Hendrix") and at conferences and festivals worldwide including Tokyo, Las Vegas and Montreux Jazz Festival in 2013. He has now left academia to work at the UK Patent Office dealing with new inventions in telecoms - a kind of Einstein in reverse.